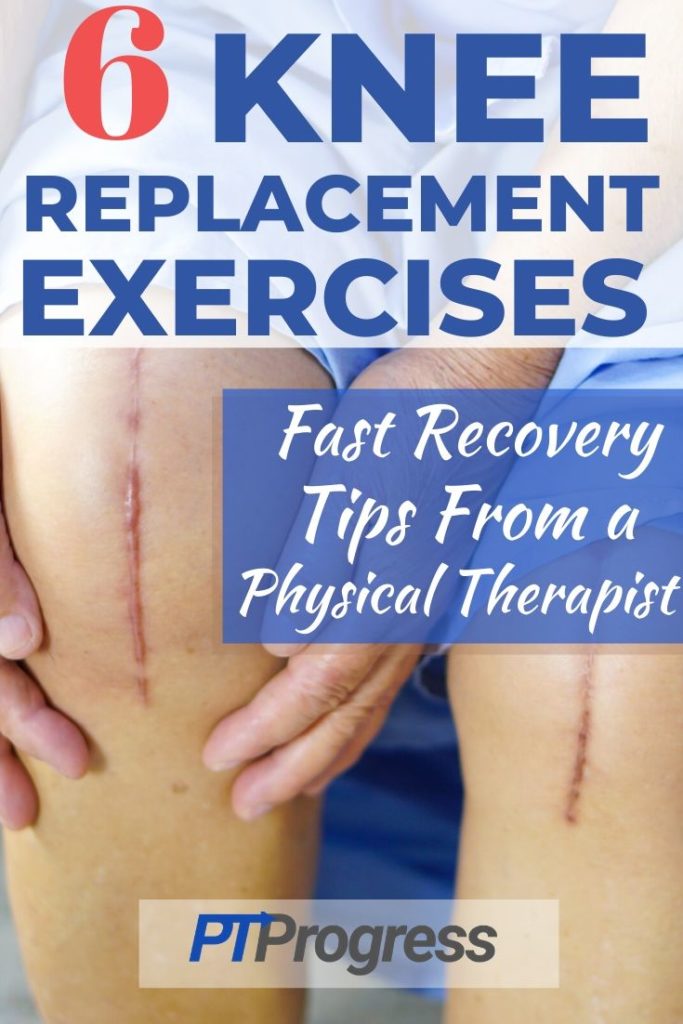 Today we're going to look at the top 6 exercises you can expect to perform following a knee replacement. These knee replacement exercises apply to both total knee replacements and partial knee replacements.
As a physical therapist, I've worked with patients within the hospital on day ONE of their surgery and have progressed patients in both the home health setting and within a physical therapy clinic.
While I've seen hundreds of surgical patients this is most likely your first time having a knee replacement.
And it can be a little bit scary because you're not quite sure what to expect.
In this article, I'd like to cover 6 of the most important exercises you can expect to perform immediately after your knee replacement, so let's dive into the first exercise.
Top 6 Knee Replacement Exercises
Take a look at the full video below and use the images below as a reminder of the 6 key moves to do after a knee replacement.
Ankle Pumps
The first exercise is ankle pumps. The reason we do this exercise is to promote blood flow and to prevent blood clots. The pumping motion works to draw fluid back up towards the heart and promotes good circulation.
Your goal should be to perform 10 to 20 ankle pumps on each leg every hour that you are awake. It's a good idea to stay mobile during the day so standing every hour and performing ankle pumps every hour should be a part of your new routine.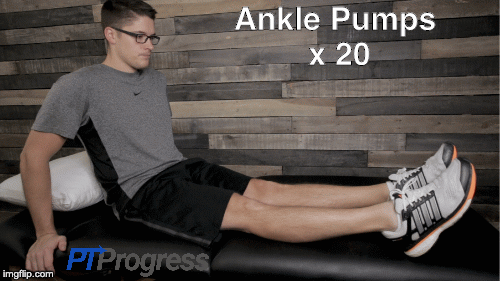 Quad Sets
This next exercise is called a quad set or quadriceps contraction. The idea here is to restore strength to the quadriceps muscle so that you knee can fully extend your knee and avoid buckling when you're standing.
To perform a quad set, position a small towel roll under your ankle. Now tighten the muscle on the top of your leg as though you're trying to touch the back of your knee to the bed. Hold this for 5 seconds and relax the leg completely, repeating this sequence 10 times.
One trick to performing this exercise is to tighten the opposite leg muscle at the same time. In physical therapy we call this co-contraction, and it's a great way to improve the strength of your surgical leg.
For this exercise, perform 10 repetitions 2 to 3 times a day.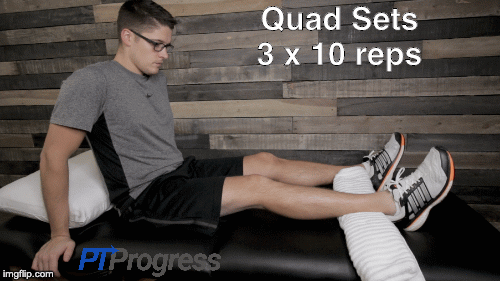 Straight Leg Raise
Ok the next exercise is called straight leg raise and it pairs perfectly with the quad set exercise you just completed.
To perform the straight leg raise properly, lie on your back with your surgical leg straight and your opposite knee bent.
Tighten your thigh muscle and lift your surgical leg off the bed as high as you can or until it meets your opposite knee. Lower your leg and completely relax the muscle before repeating this movement for 10 repetitions.
It's important to avoid holding your breath while performing these exercises so think about exhaling or breathing out while you lift your leg.
Try to perform 10 repetitions of this exercise 2 to 3 times a day.
Ok, we're exactly half way through the exercise. So far we've covered ankle pumps, quad sets, and the straight leg raise. Now let's look at the other three knee replacement exercises you can expect to do right away after your surgery.
Heel Slides
The heel slide exercise is one of the most important exercises to perform after your surgery.
While lying on your back with both legs fully extended, try to slowly slide your heel up towards your buttock, bending your knee as much as possible.
It's ok to use your opposite foot to help assist in this motion and it's even better if you're able to do this with a slick surface under your foot. Some patients like using a plastic bag on their foot to slide easier, while some use a paper plate under the foot.
This exercise may be progressed with a towel behind the knee to assist the knee into greater flexion.
If you find that you can't go much further, try a few slow ankle pumps when you've reached maximum knee flexion. This is a nice trick to achieve just a little more ROM in the knee during a heel slide.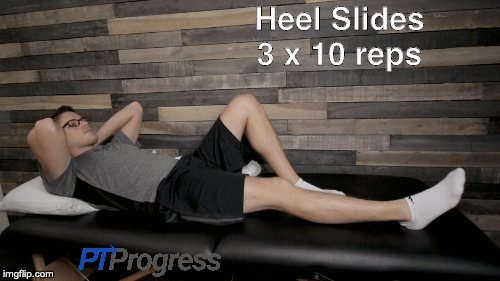 SAQ: Short Arc Quads (Mini Kicks)
The short arc quad exercises works to strengthen the muscle on the top of your thigh, your quadriceps.
To perform short arc quads, position a towel or folded pillow under your knee while your leg is extended. In this position, tighten your thigh muscle and try to fully straighten out your leg, but avoid lifting it off the pillow completely. Hold this position for 3 to 5 seconds and lower your leg back to the surface.
Now just like the other exercises, avoid holding your breath and aim to perform 10 repetitions 2 to 3 times a day.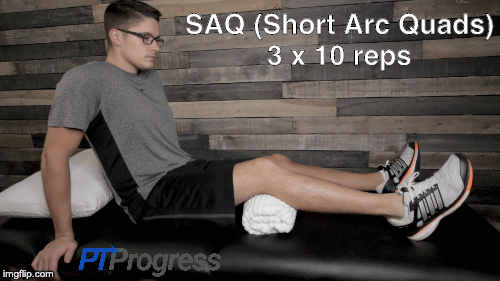 Seated Knee Flexion
Before we get into the last knee replacement exercise, I want to share something really quickly about sitting.
I always encourage my patients with knee replacements to keep the knee in one of two positions: fully straight or fully bent as much as possible. Resting your knee in the middle somewhere is tempting because it will feel most comfortable. But you only have a short window of time over the next few weeks to achieve the ROM you need before scar tissue prohibits you from making any more progress.
So this exercise of seated knee flexion seems very simple, but it's very effective for restoring your ROM.
How to Perform: Find a chair to sit in so your surgical leg just reaches the floor. Bend your surgical knee as far as you can, then slide your foot forward so it straightens fully. Perform 10 repetitions of this exercise, 2 to 3 times a day.
Similar to the heel slide exercise, you can mix in a few ankle pumps at the end range flexion to make this exercise more advanced.
So there you have it, the 6 basic knee replacement exercises you can expect to perform right away after your partial or total knee replacement surgery.
If you haven't had your surgery yet, it's a good idea to give these simple exercises a try now so you have a better idea on how they should feel when you're ready to do them on your own. Of course, your physical therapist will guide you through an appropriate progression based on your recovery.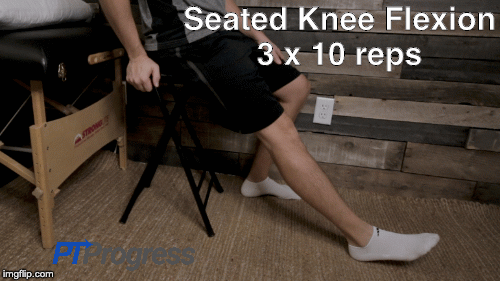 Knee Replacement Exercises: A Review
Here's the list of exercises one more time:
Ankle Pumps: x20 every waking hour
Quad Set x 10 – 3 sets a day
Straight Leg Raise x 10 – 3 sets a day
Heel Slides x 10 – 3 sets a day
SAQ (Short Arc Quads) x 10 – 3 sets a day
Seated Knee Flexion x 10 – 3 sets a day