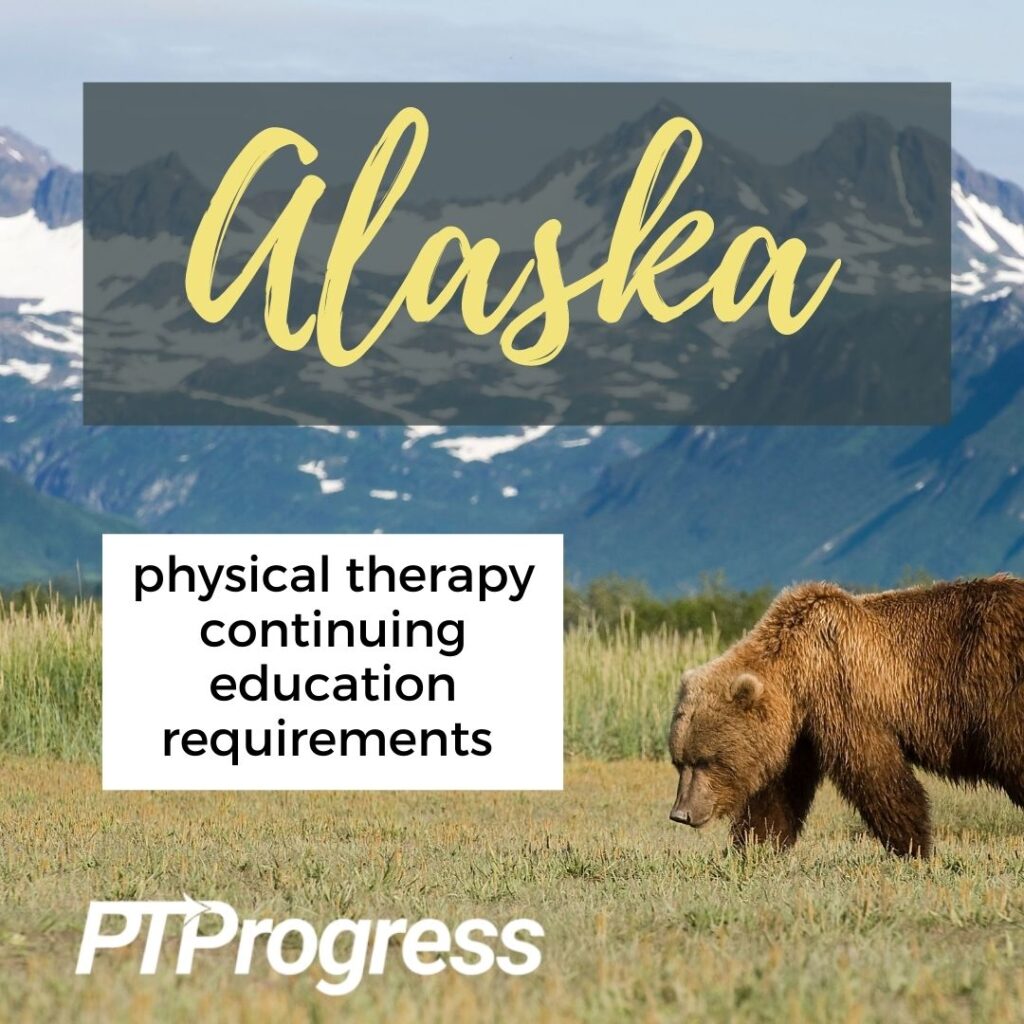 Are you a PT or PTA in Alaska? In this article, we'll cover all the details for your license renewal, from Alaska physical therapy continuing education to renewal fees and deadlines.
As a Physical Therapist in Alaska, you must complete 24 continuing education hours every two years by June 30th of even-numbered years. A Physical Therapist Assistant needs to complete 24 hours also.
You must earn at least half of your CEUs (12) through coursework from approved CEU providers.
At a glance:
Alaska – 24 PT CEU hours every 2 years by June 30th of even years.
Alaska Physical Therapy CEU Requirements
From the Alaska Physical Therapy Practice Act Website:
"An applicant for renewal of a physical therapist or physical therapy assistant license who has been licensed for 12 months or more of the concluding licensing period shall have completed during that period 24 contact hours of continuing education.
"An applicant shall complete at least one-half of the required contact hours in courses or programs offered by an accredited academic institution or a professional organization approved by the board."
What CEU Courses are Allowed in Alaska?
To qualify towards your CEU requirement, continuing education courses or activities must be directly related to the knowledge, skills, principles, or methods of physical therapy.
Additionally, at least half of your Alaska physical therapy continuing education should be earned through approved coursework. Such coursework must be recognized or provided by one of the following entities:
Alaska Physical Therapy Association
American Physical Therapy Association (APTA)
Federation of State Boards of Physical Therapy (FSBPT) or other state physical therapy associations or licensing boards
All courses must be directly related to patient care. Courses on documentation, marketing, or business growth will not count as continuing education. You can use this worksheet to help you track and verify your courses.
If you're unsure whether a course or activity qualifies for continuing education, contact the Board.
Can I Use MedBridge in Alaska?
Yes, you can use an online CEU company like MedBridge Education to complete CEUs for your Alaska Physical Therapy license renewal. A quick check on the MedBridge website shows hundreds of approved courses for Alaska PTs looking to renew their license.
Because MedBridge is an approved provider, you'll be able to complete all your CEUs in one place, for one price.
Whether you're a PT or a PTA, you can find plenty of eligible courses on MedBridge. Use the MedBridge promo code PTProgress to save 40% on unlimited CEUs.
Do I need to submit proof of my completed CEUs?
Every valid CEU provider, including MedBridge, will give you a certificate of completion when you finish a CEU course or activity. The Alaska Board of Physical Therapy does not require that you submit this document or any other proof of your CEU completion with your license renewal.
Instead, you will simply report the CEU information on your application and keep the records for a few years after your renewal period ends. Be sure to store these documents safely in case the board selects you for a continuing competency audit.
How much is the renewal fee?
It costs $200 to renew a PT license and $130 to renew a PTA license.
When does my Alaska Physical Therapy license expire?
All Physical Therapy licenses expire June 30th on even-numbered years.
How long does it take to renew a Alaska Physical Therapy license?
For many states, it can take 4-8 weeks to process your request, so start the process early!
Compare Physical Therapy CEUs by State
Take a look at all of the state-specific CEU requirements in this comprehensive article.