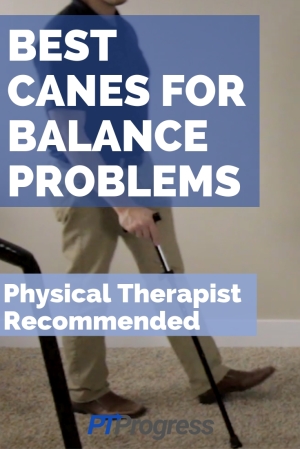 One of the most common questions I hear from my patients is, "what is the best cane for balance problems?"
Using a cane can significantly improve your overall stability, especially if you are experiencing balance problems. You might also need to use a cane after a knee replacement or surgery.
Using a Cane for Balance Problems
One of the best ways to improve your balance is to use a cane. Some people may need a cane for a short period of time, while others may require a cane for balance indefinitely.
When we use a cane, we increase our balance by adding an extra touchpoint to the ground. This increases our base of support, improving our stability.
Using a cane can also take pressure off of a joint, which can affect our balance in a positive way as well.
As we age, our balance decreases due to multiple factors including;
Decreased vision
Loss of muscle mass and strength
Slower reflexes and decreased coordination
Vestibular system dysfunction
For people who are experiencing balance issues due to muscle weakness, a cane can be a good solution as you work with a Physical Therapist to restore your strength.
What are the Best Canes for Balance?
When selecting a cane for balance issues, you want to keep in mind the following:
The cane should be: sturdy, comfortable, and fitted correctly.
Most canes are adjustable, which allows you to fit it correctly to your height.
Some people like the look and feel of a wooden cane, which can great if it's the correct height.
The handle of the cane should reach the crease at your wrist when your arm is placed at your side. If the cane handle is taller than your wrist crease, the cane is too high and may lead to wrist or elbow pain with use.
Stability: Single Point vs 4 Point Cane
A standard cane will have a single point base. Some canes will include a wider base or larger 'foot' of the cane that provides increased stability than a single point cane.
Is the Hurrycane a good option?
The Hurrycane has a wide foot with three points of contact that meet the ground. While this is good in theory, the problem I have with this cane is the unstable base. The cane is marketed as an 'all terrain' cane with a base that has some mobility to it.
A cane should be stable throughout, not a shock absorber or bendable at a point. Some people confuse the Hurrycane's claim to stand upright with stability. You can watch my full Hurrycane review on YouTube to get my full opinion of this cane.
Should I Get a 4 Point Cane?

You might have seen a cane with four small legs on it. Those are called quad canes or 4 point canes. These provide significant stability but may take a little practice to use at first. If you're comfortable using a single point cane but still having trouble keeping your balance, you might consider a 4 point quad cane.
Who should use a quad cane?
People use quad canes for various reasons, including:
Need for greater stability
Difficulty coordinating movement after a stroke
Transitioning from a walker to a single point cane
Do I really need to use a cane?
If you have difficulty keeping your balance or if you feel like your knee or leg wants to 'give out' at times, you should try using a cane for a while.
You may only need to use a cane temporarily while you restore the strength in your leg or improve your balance. Your Physical Therapist can recommend how long you should use a cane based on your situation.
Here are some of the top canes as recommended by Physical Therapists:
Medline Folding Cane, Black
Folding capabilities make this cane perfect for fitting in a suitcase or carry-on luggage
250-lb. (113 kg) Weight capacity; Height adjustment, 32"-36" (81 cm-91 cm); Cane weight, 1 lbs. (0.5 cm)
Medline Quad Cane, Small Base, Black
Canes with four feet allow for greater weight-bearing and stability than single-point canes
Non-skid rubber tips on all four feet ensure long life
Medline Offset Handle Cane, Black
Offset handle design centers the user's weight over the strongest part of the cane
Ergonomically designed to provide comfort and support for partial weight-bearing users