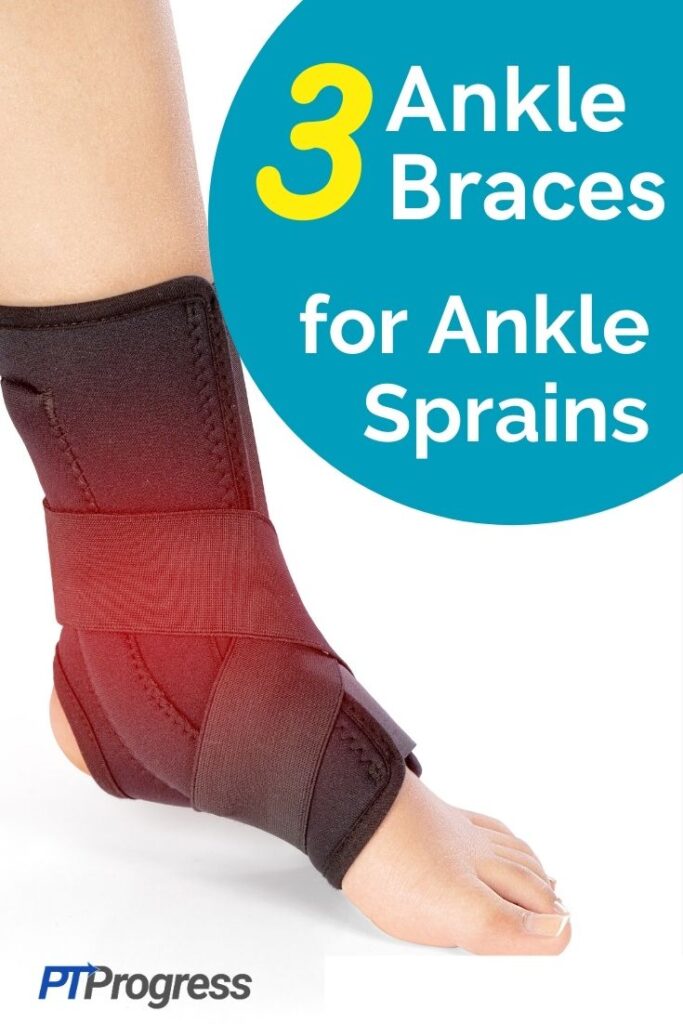 So you're looking for an ankle brace because you've recently sprained your ankle or have chronic ankle instability. How do you know which brace to buy? As a Physical Therapist, I work closely with patients recovering from ankle sprains or with general ankle instability. I've tested out a wide variety of ankle braces but narrowed my favorites to these three.
Why Use an Ankle Brace?
As you may well know, an ankle sprain causes painful swelling and debilitating fatigue in your ankle muscles. As you recover, you may be susceptible to a recurring sprain. A brace stabilizes your ankle from eversion or inversion – the motions you need to prevent after a sprain – while supporting your ankle for rehabilitation.
If you sprain your ankle often, you'll probably need more than just a brace to strengthen and stabilize your ankle. But an ankle brace is a good first step towards healing; by preventing further injury, you will be able to gradually build strength.
Please keep in mind: This blog post isn't meant to give you a diagnosis. If you have an ankle injury, go see a doctor or a Physical Therapist who can assess the severity of your injury. If they suggest you wear a supportive ankle brace, I recommend one (or two!) of the following options.
3 Ankle Support Braces to Consider
You may already be familiar with the ACE Brand for its many quality products. In the spotlight today is their Deluxe Ankle Stabilizer. Don't let the minimal design fool you; it may be slim enough to fit in a shoe, but it's supportive enough to stabilize activities such as walking, hiking, or sports.
Some favorite features:
A bilateral brace that you can wear on either foot
Limits lateral motion with lateral support stays
Features comfortable, breathable material
Minimal design – it fits even in a snug shoe
You can buy it almost anywhere: Walmart, Walgreens, Amazon, etc.
Won't break the bank – costs under $15
The ACE ankle stabilizer is low-profile and low-cost, making it one of the most accessible braces out there. However, it's not designed to give you as much support as a tie-up ankle brace.
For more moderate ankle sprain injuries, I recommend a tie-up brace. Also called "The One Ankle Brace," this particular brace by Mueller is made with exceptional quality, which you'll see and feel right away.
Some favorite features:
Ties up using high-quality laces and velcro
Stabilizes your ankle with full-length straps instead of hard stays
Designed to support multiple types of ankle sprains
Soft-to-the-touch and comfortable for all-day wear
Fits in tennis shoes and dress shoes alike
Comes in 8 different sizes (try a Large if you wear a 11.5 or 12 shoe)
Priced just under $30 – twice the cost of ACE's, for twice the support
How to Wear This Ankle Brace
Loosen the brace as much as possible before you slip it over your sprained ankle. Once you have it on, carefully tighten the laces as you would for tennis shoes. Take care not to lace it up so tight that your feet lose circulation. Then, wrap the full-length straps around your foot and under your arch and secure them to the sides of the brace.
Mueller even gives a recommendation as to which strap should be wrapped around first, depending on your injury. For a lateral ankle sprain, start with the outside strap or the strap closest to the pain. If the pain is along the inside of your ankle, do the opposite and start with the inner strap.
Comparing the two Ankle Braces
The major difference between this brace and the ACE ankle stabilizer is the degree of support. The One Ankle Brace has greater overall stability in preventing inversion and eversion, motions that can worsen your ankle sprain. Although you'll be twice the amount as you would for an ACE ankle stabilizer, you'll be getting twice the support.
As an alternative to the Mueller brace, the Z Athletics Zenith tie-up brace bears a similar style and function to the One Ankle Brace. Although they're similar in price, these two tie-up braces differ significantly in comfort and quality.
For example, despite the overload of grommets and laces, the Z Athletics brace doesn't tie up as snugly as the Mueller brace. Moreover, the stitching is rough around the edges where the tongue of the brace attaches. In contrast, the tongue on Mueller's brace is looser and the material softer, with subtler stitching.
While both tie-up braces provide good stability and support for your ankle, the Mueller brace is more comfortable and less likely to scratch your foot. If I were you, I'd choose the comfortable brace that I'm more likely to wear. But if the Zenith Brace is the only one available to you, be assured that it, too, will provide the support your ankle needs to heal.
Final Thoughts: Choosing the Best Ankle Brace
The One Ankle Brace by Mueller is your best option for support immediately after a moderate ankle sprain. If you can afford to buy two braces, I recommend starting with a tie-up brace like Mueller's The One Ankle Brace or Z Athletics's Zenith Ankle Brace, then transitioning to a lighter ankle stabilizer like ACE's.
As you rehabilitate your ankle, you'll need different degrees of support. A couple of different ankle stabilizers, in tandem with strengthening exercises in rehab, will give your ankle the support it needs to fully heal. Keep reading for insights on how long to wear an ankle brace.