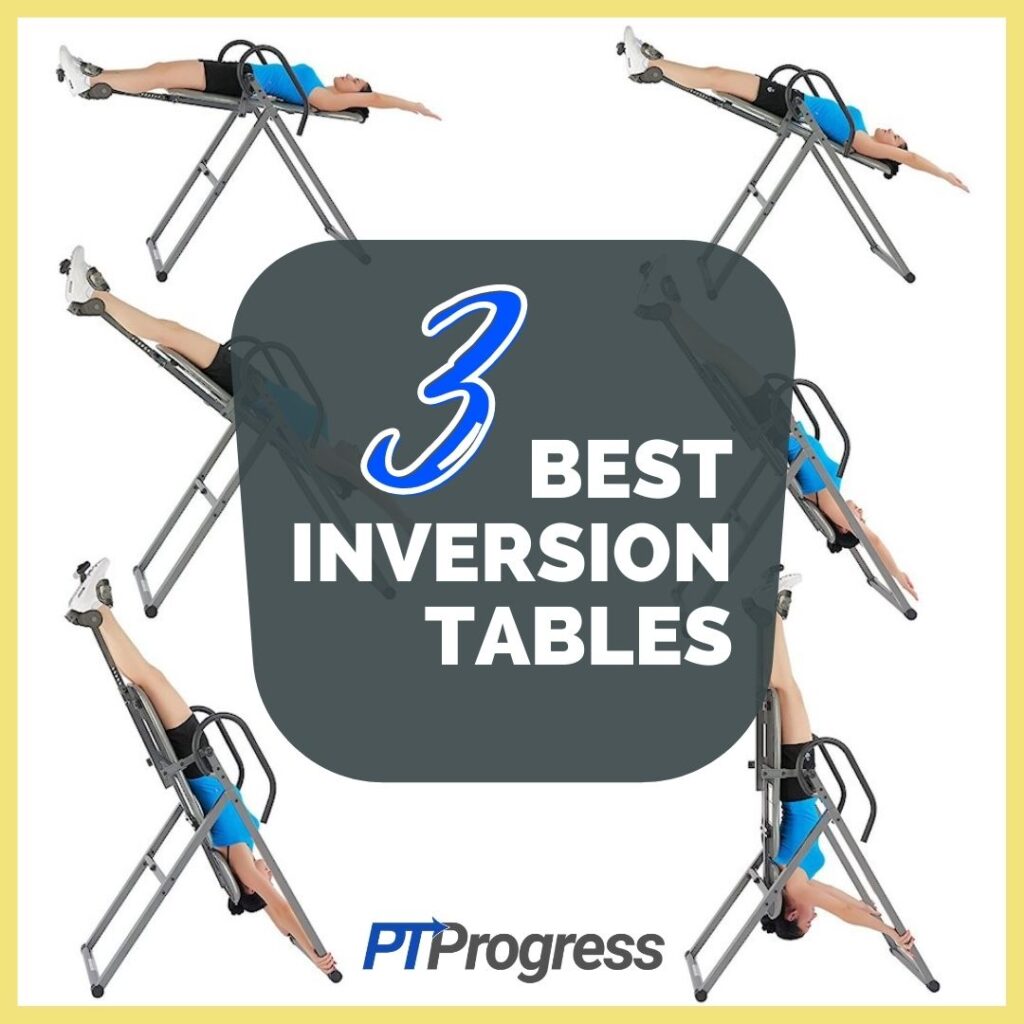 If you're curious about inversion therapy, don't worry—it's not a gimmick. In this article I'll explain why using an inversion table at home could help you relieve your back pain. And when you're ready to give it a try, scroll on down for my review of 3 great inversion tables.
Back Pain and Inversion Therapy
Have you ever come home from a long day at work to immediately hit the recliner and put your feet up? There's something about lying back and elevating your feet that is particularly therapeutic for the body—especially the back.
That's one of the ideas behind inversion therapy, an age-old technique of spinal decompression that uses the upside-down pull of gravity to straighten and stretch the spine. By "inverting" or lying upside down, you can decompress your back and give it a quick break from its usual upright orientation.
Why it Works
A lifetime of sitting, driving, and standing in place can do a job on your spine. In fact, one day of standing can compress the cartilage in your spine enough to shorten your height by a full centimeter. (Don't worry, you'll get that centimeter back when you sleep, once your body can relax and the discs between your vertebrae can rehydrate.)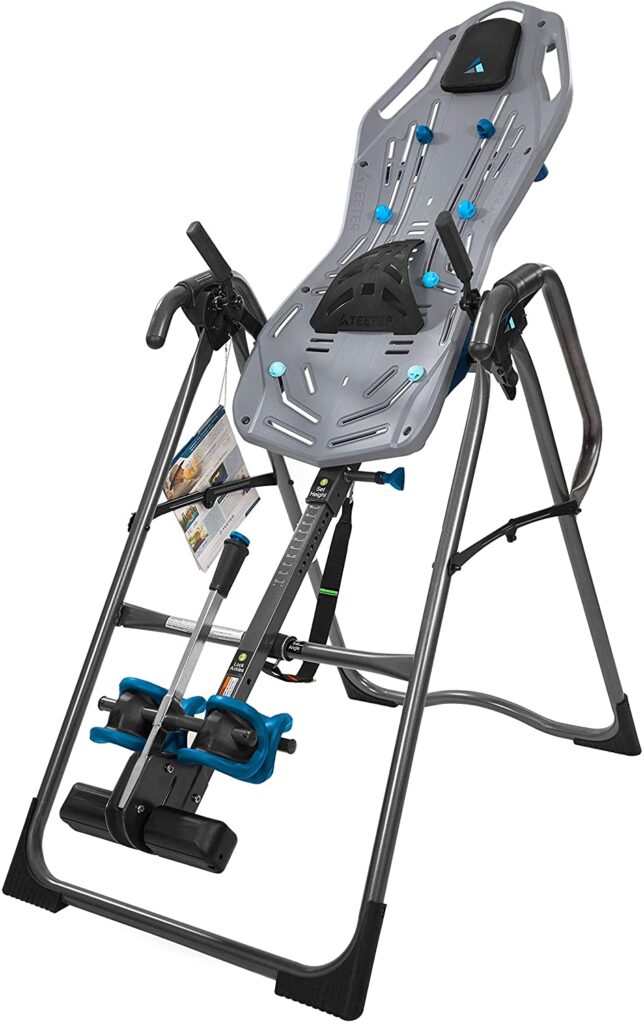 An inversion table capitalizes on this effect. With your ankles in place and your head below your heart, on an inversion table your spine has a chance to stretch out. This decompression helps restore cervical fluid and blood flow to your vertebrae and discs while offloading the overworked muscles in your neck, back and legs.
Granted, you can achieve some of the benefits of inversion through other traction devices, such as the Saunders cervical traction unit for neck pain. Depending on your fitness level and risk tolerance, you might be drawn to gravity boots—footwear that mounts to the top of a doorframe so you can hang upside down. Even some yoga poses can help reverse the painful effects of gravity and help you decompress.
But inversion tables are easy to use, easy to control, and suitable for users of many shapes and sizes.
Research Behind the Benefits of Inversion
Firstly, as with most medical devices, inversion tables advertise more benefits than they can prove. Inversion therapy is generally ineffective for resolving back pain 100%. However, just because it isn't a cure doesn't mean it can't temporarily relieve pain. In my experience, I've found that people with back pain or sciatica tend to see marked improvement in pain, mobility, and quality of life when they regularly use their inversion table.
It makes sense. A recent experimental study concluded that intermittent traction therapy, when performed 10 times over a period of two weeks, can reduce chronic low back pain. While inversion therapy isn't quite the same as traction therapy, it can achieve a similar effect on the spine.
Besides relieving pain, decompression may also improve your flexibility and strength. In fact, a 2012 study used inversion therapy to treat 47 women with chronic low back pain. Their control group inverted at 0º—essentially supine, or lying flat on your back. The other two groups inverted at 30º and 60º, all for 3 minutes each day, 3 times a day. After performing their respective therapies 4 days a week for 8 weeks, only the 60º inversion group reported decreased pain, demonstrated greater flexibility, and exhibited better torsal strength.
When combined with physical therapy, inversion therapy might even help prevent or reduce the need for surgery, according to this 2014 study of patients with protuberant disc disease. More on that later.
But despite the above studies' glowing results, the fact is that traction provides—at best—temporary relief. Chronic low back pain is a complex condition that can be tricky to treat. You will likely need an arsenal of stretching, exercise, and key lifestyle changes to eliminate back pain for good.
That being said, the relief brought by an inversion table is real; it's no placebo effect. And generally speaking, inverting is better for your body than popping pain pills all day. Even if you don't have any pain to relieve (hard to believe), you may benefit from an inversion table simply from the unique stretches you can do on it.
How To Use an Inversion Table
For all its bells and whistles, an inversion table is a very simple device. You use your own bodyweight and momentum to fully control the speed and extent of each tilt. To prevent the table from fully inverting or going upside down, you can preset your desired angle. Most models use a tether or pin to interrupt the inversion process.
Here are the general steps to using an inversion table:
Adjust the table to your height (depending on the model, this may require more than one adjustment).
Preset the table's inversion angle.
Mount the inversion table and lock in your ankles.
Lean back and lift your arms to initiate the tilt.
Rest for a determined amount of time, during which you may stretch or do some crunches. Don't fall asleep.
Return your arms to your side, bend your knees, or use the handles to pull yourself back up. You should easily float back to the upright position.
If the table doesn't invert easily or inverts too quickly, that means it's off-balance. Simply adjust the length of the table in either direction until it evens out.
Inversion Therapy Precautions
Before shopping for an inversion table, it's important to make sure you don't have any "contraindications" that could put you at risk when inverting.
Hanging upside down slows the heart rate and increases blood pressure, so inversion is not a good therapy for anyone with heart disease or hypertension. Plus, because the eyeballs bear the brunt of this upside-down increased blood pressure, inversion tables are not recommended for anyone with glaucoma or a detached retina.
As always with any medical equipment, check with your doctor before purchasing or using an inversion table.
Tips When Starting Out
Now, when you first start using your inversion table, don't immediately go upside down. It's actually not as helpful as the other angles and could be dangerous.
Instead, start at the lowest setting (say, 15º), and invert for just a couple minutes at a time. It's better to invert frequently for short periods of time than to invert less frequently for long durations. Finally, when you pull yourself upright, go slowly, and make sure you aren't dizzy or lightheaded before dismounting.
Another reason to ease yourself into inversion therapy is that it can be uncomfortable. Lying down in a tilt (especially at extreme angles) puts pressure on your ankles, which are essentially keeping you in place. You may need time to build up ankle strength before inverting for more than a couple minutes at a time.
Best Inversion Tables
Forty years of business has made American company Teeter a household name in inversion tables. Over the years, they've developed several top-of-the-line design features, including their lightweight FlexTech bed. Instead of sinking into solid foam, with Teeter you'll glide on an elevated, precision-balanced bed, outfitted with handles to accommodate inverted stretches and exercises.
The FlexTech bed also accommodates different accessories that come with the X3, such as the lumbar cushion and snap-in acupuncture nodes. Another great feature is the Deluxe EZ-Reach ankle ratchet, which allows you to secure your ankles without bending over.
Teeter claims to be the only inversion table brand to be certified to UL safety standards and FDA-registered as a 510k medical device. Besides top-tier equipment and the certification to back it up, your Teeter table will also come with a coaching app and a 5-year full warranty.
The catch? Teeter is considerably pricier than other models. But a quality inversion table might be worth the investment. Users love how easy it is to assemble and control, and generally felt it was worth its high price tag.
Specs:
Deluxe EZ-Reach ankle ratchet
FlexTech bed with traction handles
EZ-Angle tether (full range to 90º, with presets at 20º, 40º, and 60º)
Accommodates users from 4'8–6'6, 300 pounds
Weighs 65 pounds; folds up for storage
5-year full warranty
$469
You don't have to be rich to be pain-free. At least, that's what the Innova inversion table suggests. For a third of the price of a Teeter, the Innova ITX 9600 gives you a padded vinyl bed on a sturdy frame made of 35mm steel tubes. Despite being solid enough to support up to 300 pounds of user weight, the ITX 9600 itself weighs only 52 pounds—remarkably lightweight for an inversion table.
Like the Teeter, the ITX includes a lumbar support pillow (this one's built in), large handles to facilitate getting in and out, and cozy ankle supports. What's different about the ITX is its 6-pin positioning system. Instead of a tether, for which you must dismount to set and change, Innova's unique pin system sits right at your fingertips. It's also easy to find the perfect fit because the ITX features an adjustable headrest and adjustable footrest in addition to the usual table adjustments.
So what are you not getting? Firstly, the baseline ITX has basic ankle cushions and a small locking ratchet (although you can pay $42 more for a long handle on the premium version). The Innova models do not fold up for storage and they come with only a 1-year limited warranty. Finally, there is quite a bit of assembly required, and you'll pay double to have someone assemble it for you.
Overall, however, the ITX 9600 is one of the best-selling tables on Amazon. Users laud Innova's excellent customer service and say the table feels well-built and solid. I guess comfy ankle supports aren't everything.
Specs:
Standard ankle ratchet
Vinyl foam bed with lumbar support
6-pin positioning system (sets at 15º, 30º, 45º, 60º, 85º, and 90º)
Accommodates users from 4'8–6'6, up to 300 pounds
Weighs 52 pounds; doesn't fold up
1-year limited warranty
$130
For a plush inversion experience, the bed on the Ironman Gravity 5000 features 2.5" of memory foam and a removable lumbar cushion. But perhaps the comfiest of features is their AirSoft ankle cushions. Claiming a no-pinch, no-pain inversion, these AirSoft cushions are made of interconnected air chambers that mold to your ankles and evenly distribute your weight.
To lock your ankles in, you'll use an easy-reach ratchet as long as Teeter's. What's unique about the Ironman, however, is its weight capacity. Most inversion tables can support only 300 pounds, but the Ironman Gravity 5000 is built to hold 350 pounds; some users have even pushed that limit. Clearly, the heavy-duty steel frame stands up to its name.
On the other hand, users also found that some of the smaller parts—such as the carabiner for the tether—were weak and prone to break off. Luckily, these parts are easy to replace at any hardware store, and you may choose to upgrade the hardware before you lock into the table yourself. It pays to be handy, because this table too requires extensive assembly (priced at $147 if you have an expert do it).
Specs:
SureLock adjustable ankle ratchet
AirSoft ankle cushions for fit and airflow
2.5" memory foam bed with removable lumbar support
Tether (full range up to 90º; no presets)
Accommodates users as tall as 6'6, up to 350 lbs
Weighs 75 pounds; folds up for storage
1-year limited warranty
$236
Inversion Therapy + Physical Therapy for Back Pain
Overall, inversion therapy provides a safe, relatively inexpensive way to relieve back pain. When used consistently and properly, any one of these three devices could help improve your quality of life.
However, inversion therapy is most effective when combined with strength-training and stretching—which is free. Right here on the blog you can learn exercises and stretches from a physical therapist who knows more than a thing or two about chronic back pain.
Be sure to also check out these ergonomic, back-pain-friendly office chairs, as well as these back braces to wear when you're not inverting.