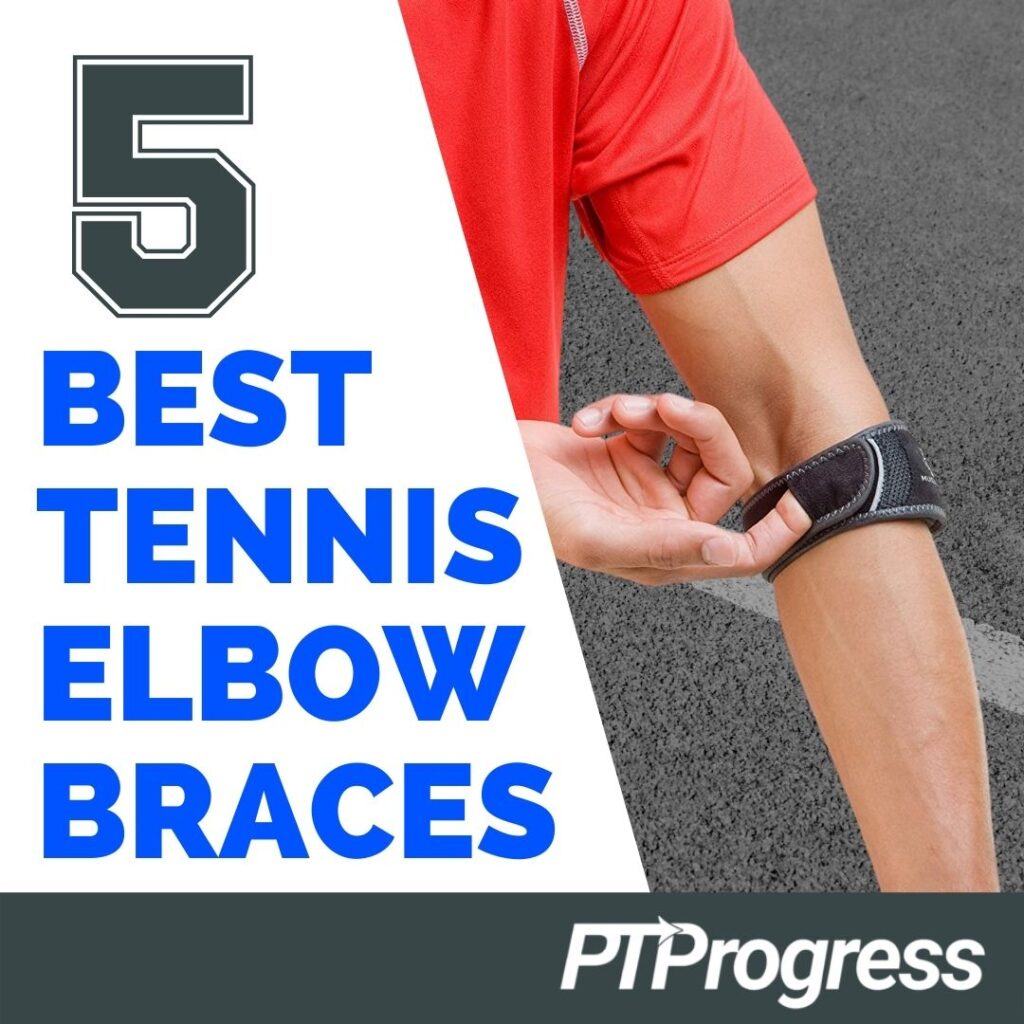 If you feel pain and tenderness on the outside of your forearm, you may have tennis elbow. A compression sleeve or tennis elbow brace can help promote healing and relieve pain as you work to rehabilitate your injury.
I've scouted out some of the top-rated braces on Amazon, so if you're looking for the best tennis elbow brace, keep reading!
What is Tennis Elbow?
As the most common cause of elbow pain, tennis elbow afflicts up to 3% of the population each year. And don't be fooled by the name—although it's common among athletes, tennis elbow can arise from any number of activities that wreak repetitive stress on the elbow joint, whether it's playing sports, typing, playing a musical instrument, or using hand tools.
Technically, tennis elbow is inflammation of the common extensor tendon, which connects your forearm muscles to your humerus bone at the lateral epicondyle. When the inflammation is on the outside of your elbow, it's called lateral epicondylitis, or tennis elbow. By contrast, if you feel sharp pain on the inside of your elbow, it may be medial epicondylitis, or "golfer's elbow."
Tennis elbow = lateral epicondylitis, inflammation of the common extensor tendon on the outside of the elbow that allows you to lift up or extend your wrist.

Golfer's elbow = medial epicondylitis, inflammation of the common flexor tendon on the inside of the elbow that allows you to flex or bend down your wrist.
Whether it's tennis elbow or golfer's elbow, epicondylitis is painful. Through repetitive overuse, your forearm tendons could become overloaded, irritated, and then inflamed, causing pain that throbs or radiates down your arm. Tennis elbow could even result in a partial tear of the tendon if left untreated.
Although it can be debilitating, this common ailment is usually totally reversible through rest, proper stretching, and strategic strengthening exercises.
How to Treat Tennis Elbow
First, you'll want to stem the pain. For immediate pain relief, ice packs can help reduce inflammation and numb any irritation. But for even better results, add a compression brace.
Compression is essential for treating a musculoskeletal injury. Steady pressure will help reduce the swelling and allow better blood flow to the injured area, thereby relieving inflammatory pain.
A compression brace can also help support your joint and prevent further irritation, especially for whenever you do the activities that typically cause or worsen your pain. If your compression brace includes a sleeve, it could additionally benefit your muscles by keeping them warm and relaxed.
Types of Elbow Braces
The most common type of elbow brace is a narrow, soft wrap worn below the elbow. Also called a "counterforce brace," the wrap is usually made of nylon or neoprene and secured with velcro straps.
Some soft braces include a gel insert, which you'd position over the painful area. You may even find a compression brace that holds an ice pack. Either way, soft braces are popular because they provide targeted compression while taking up relatively little space on your arm.
The drawbacks to a soft brace are that, because it's so narrow, you may need to adjust the brace throughout the day in order to keep it "on target." And compression braces can get bulky, especially if you use a one-size-fits-all wrap on a slender arm.
| | | |
| --- | --- | --- |
| Brace Type | Pros | Cons |
| Soft brace | May include inserts, has a minimal footprint | Bulky under clothing, may need adjusting |
| Hard brace | Protects joint, may treat both sides of elbow | Bulky under clothing, difficult to wash |
| Compression sleeve | Warms arm, conceals easily, slips infrequently | Compression is mild; not size adjustable |
Made of a plastic shell and dense padding, a hard brace protects the painful area while providing moderate compression. Although trickier to keep clean and conceal, a rigid brace might be a better choice if you need more compression than what only a strap can give.
For milder treatment, a compression sleeve insulates the elbow joint and encourages blood circulation, crucial in reducing pain and inflammation. However, without a bracing element, the compression is distributed throughout the arm and not concentrated on any one area.
But there's no reason why you can't use both a sleeve and a brace—in fact, the sleeve might help keep the brace in place and improve circulation.
How to Use a Compression Brace
As a rule, you should defer to the instructions that came with your specific brace, or you can consult your physician or physical therapist to learn more about proper use.
But if your brace comes with insufficient instructions or you need a refresher, remember that your compression brace should wrap around your forearm one thumb's breadth below the painful spot on your elbow. (In this case, "below" means towards your hand.) The fit should be snug but not tight; if you have numbness, tingling, or discoloration in your hand, then it is too tight.
Results should be immediate when wearing a compression brace properly. So if the pain feels no better, either the brace is too loose or your problem isn't tennis elbow.
Best Tennis Elbow Brace: 5 options (and 2 sleeves)
Senteq Tennis Elbow Brace
Wider than most elbow braces, the Senteq promises comfortable compression and worry-free wear. The sturdy hook-and-loop closure will keep your brace in place, and if it rips within the first year, Senteq will replace it.
Features:
Soft wrap with velcro strap
Elastic neoprene; latex-free
Includes a gel pad insert
One size; one color
Price: $18 for 1; $30 for 2
The good: Wrap is notably thick and comfortable; velcro is sturdy
The bad: No instructions are included; the "universal" size tends to fit big
Simien Tennis Elbow Brace
At an unbeatably low price, Simien offers two braces, a sweatband, and an instructional ebook with each purchase. Even if you don't need to wear two braces, you can keep the second one at work or use it whenever you need to wash the other one.
Features:
Soft wrap with velcro strap
Elastic neoprene and nylon
Includes a gel pad insert
Machine washable
One size; one color
Price: $20 for 2
The good: Great price and even better customer service; includes freebies
The bad: Buckle shifts easily; needs frequent adjustment
One of the best-selling braces on Amazon, Sleeve Stars Elbow Support provides compression through strong stitching and a supportive pad insert. Although the brace is one-size-fits-all, it comes with three straps of different lengths so that you can achieve the perfect fit.
Features:
Soft wrap with velcro strap
Nylon and rubber
Includes a gel pad insert
Machine washable
One size brace with 3 strap lengths; one color
Price: $14 for 1
The good: Size adjustable; sweat absorbent
The bad: Thin coverage; velcro wears out quickly
Mueller Hg80 Premium Tennis Elbow Brace
The Hg80 line of premium braces from Mueller use high-performance HydraCinn fabric, designed to provide moisture-wicking comfort and durable support. But no matter the particular product, Mueller is a reliable brand that I've turned to again and again.
Features:
Soft wrap with velcro strap
Nylon, polyester, and spandex
Latex-free and reflective
Includes a gel pad insert
Two sizes; one color
Price: $12 for 1
The good: Easily adjustable, in two sizes; stays in place
The bad: Velcro wears out quickly; compression is mild
The compression strap from OTC is high quality, made in the USA, and more durable than its competitors. Plus, it's designed to treat both sides of your epicondyle, so you don't have to choose between relieving your tennis elbow or your golfer's elbow.
Features:
Hard brace with velcro strap
Plastic shell with high-density foam
Includes two compressors for either side
One size; one color
Price: $28 for 1
The good: Comfortable, with thick padding; helps both sides of elbow
The bad: Bulky under clothing; slips when sweaty
Kunto Fitness Compression Sleeve
The Kunto sleeve provides an even distribution of comfort and insulation to your entire elbow, in a well-ventilated, machine-washable fabric weave. Choose from five sizes and three colors to find your favorite.
Features:
Compression sleeve
Four-way stretch fabric
Nylon, spandex, and rubber
Machine washable
5 sizes; 3 colors
Price: $20 for 1
The good: Stays put; comfortable; breathes well
The bad: Material is thin; not size adjustable
Rymora Elbow Compression Sleeve
With almost 3,000 five-star ratings globally, the Rymora compression sleeve is well-loved for its ease of use and near-instant pain relief. Just keep the fabric clear of velcro, which could easily snag it.
Features:
Compression sleeve
Polyester and nylon blend
Machine washable
6 sizes; 1 color
Price: $13 for 1 or $18 for 2
The good: Excellent customer service; comfortable, strong compression
The bad: Weave leaves imprints on skin; fabric snags easily
Treating Tennis Elbow for the Long-term
The above tennis elbow braces, and many others like them, could provide at least a few months of consistent pain relief for lateral epicondylitis. Ultimately, however, you need to be able to use your wrist without pain.
Ice, compression, and immobilization are not long-term solutions. To get rid of your tennis elbow for good, you need to treat the problem at its source.
Speaking from my experience as a PT, I know that physical therapy can work wonders on a tennis or golfer's elbow. Light, strategic exercise not only encourages blood flow, it also helps strengthen proximal muscles that can offload your elbow joint and reduce the chance of it getting overused so easily in the future.