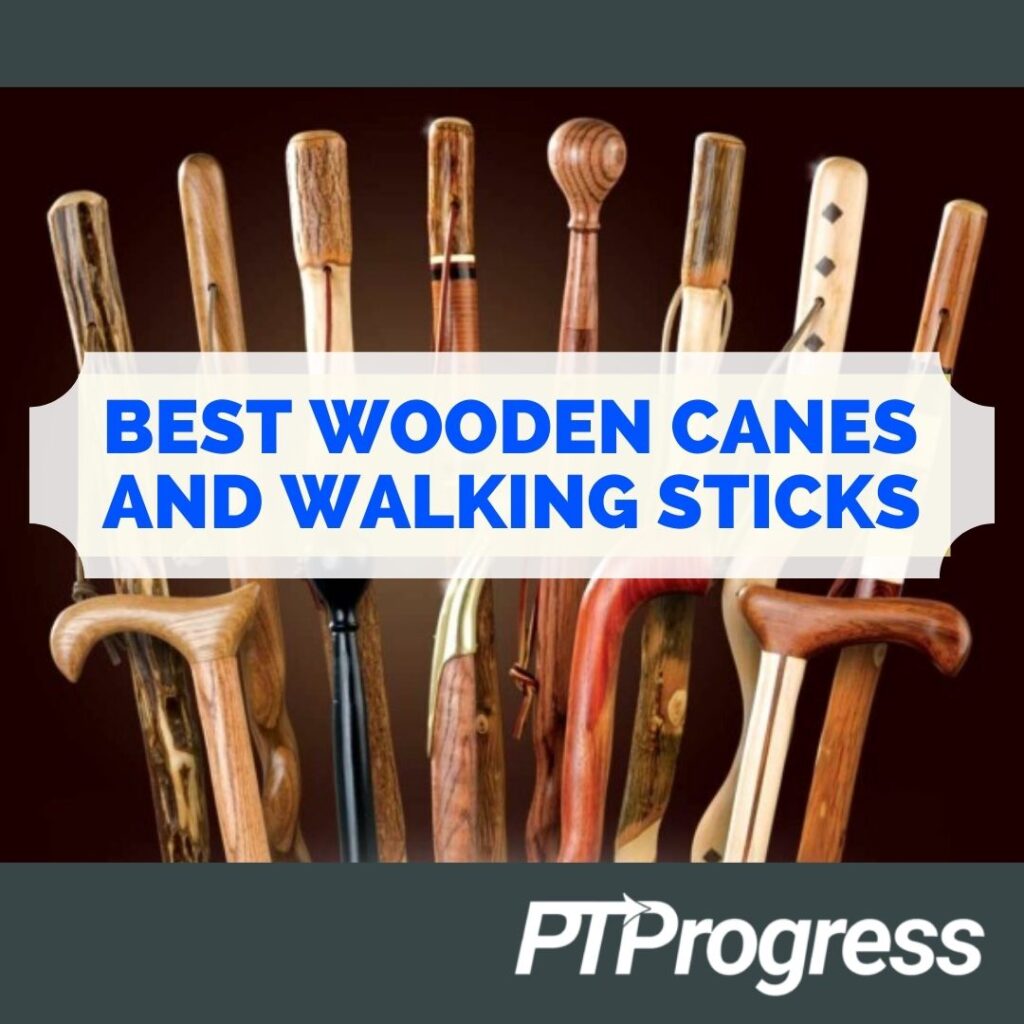 So you're looking for a wooden cane or walking stick? Want to exude style, confidence, and good taste – without compromising support? Then you have to check out Brazos! Whether you're embarking on a hike or getting up from a chair, Brazos can support your needs with classic, handmade wooden canes and walking sticks.
Brazos Wooden Canes
When you need support, you want to be sure that the cane you reach for is a solid choice. That's why it's important to select a cane not just for its appearance, but also for its structure and design.
The design of a Brazos Walking Cane is simple and sound. No gimmicks here – just a solid, handcrafted piece of hardwood that will lend you the support you need without making a fuss.
Types of Wooden Canes
It's hard to improve on a time-tested design, but Brazos offers a few varieties to their handmade wooden cane.
The derby-style handle on this cane provides perhaps the most popular hold. With a moderate crook, the Derby walking cane is a good choice for anyone needing balance support, assistance around the house, or a stylish accessory for an evening stroll.
Several of the canes at Brazos sport the Derby look. Besides their top-selling Craftsman Cane, Derby handles feature on their Twisted Derby Walking Cane and Sapling Walking Cane.
If you've always loved the look of a full staff but at times need the support of a derby handle, then Brazos' Dual-Purpose Walking Staff is for you. From the bottom up, this staff looks just like a Derby cane, except that the main shaft extends past the handle to reach shoulder height. Perfect for adventures both indoors and outdoors, the dual-purpose walking staff allows you all the support you need no matter your activity.
For a more traditional look, consider Brazos' Crook Neck Cane. With this cane, you can enjoy the simple elegance of a shepherd's crook while benefiting from the solid support of a fine hardwood. A cane in this style is sure to turn heads!
The Crook Neck Cane is made with oak wood, one of the sturdiest, most time-tested materials available. And it's pretty, to boot.
If you want something unique, you should definitely check out Brazos' Natural Hardwood Root Cane. The shape of this cane's handle matches the authenticity of its naturally-sourced material, giving it a straight-from-the-woods look.
The handle comes in two main varieties: Knob and Root. The Knob is the most minimal of all the handles on this list, providing just enough leverage without compromising the natural shape of the staff. The Root handle, by contrast, follows the contour of a Derby – without the contrived curves.
Handmade Walking Sticks
Maybe you like the look of the Natural Hardwood Root but don't want a cane. No matter your fitness level, a wooden walking stick comes in handy when trekking through trails or navigating tough terrain. In addition to their handmade canes, Brazos offers a wide variety of walking sticks – each with a style and function all its own. Below are a few highlights from their collection.
A best-seller, the Brazos Backpacker Walking Stick is the perfect companion for your trips across the great outdoors. Designed for durability, this staff will outlast any trek you plan, providing support and stability every step of the way. Calling it a mere "stick" does it a great disservice.
Planning a walkabout on the other side of the world? Afraid you might have to leave your walking stick behind for lack of space in your suitcase? The Traveler's Walking Stick offers a clever workaround: simply unscrew it into three pieces. Whether traveling by plane or by car, you can bring your staff with you wherever you go.
Just because you use walking support doesn't mean you can't stride in style. The Royal Walking Stick is more than a staff – it's a scepter, topped with a polished oak knob that will give your walk a regal flair.
Check out the Brazos website for more designs!
Wooden Canes Made From Natural Hardwood
Although I love the simplicity in the design of a Brazos cane or walking stick, I love even more the material from which they're crafted. It's rare these days to find something made of real, naturally-sourced hardwood.
The wood from each Brazos cane is sourced from Central Texas's Brazos River Valley. You can both see and feel the difference this natural material makes. No plastic, aluminum, or imitation wood here. That kind of authenticity is unusual, especially when it comes to personal medical equipment.
Types of Wood
Brazos restricts themselves to wood, but they give you plenty of options for what kind of tree you'd like your cane or walking stick to come from.
Here are some of the wood grains you can expect to find from Brazos cane and walking sticks:
| | | | |
| --- | --- | --- | --- |
| Aromatic Cedar | Dogwood | Maple | Sweet Gum |
| Bamboo | Hawthorne | Oak | Walnut |
| Bocote | Hickory | Padauk | Zebrawood |
| Cherry | Ironwood | Sassafras | |
| Cocobolo | Jatoba | Sumac | |
With such a wide variety in wood types, Brazos is sure to have the style and shade you're looking for in your walking accessory.
Some of the canes and walking sticks feature a striking "Twist" in the wood for an overall rustic look. Other options include the Sapling design, complete with ridges and pits, or the Classic straight cut. No matter its style, every Brazos cane and walking stick provides ample support; all you have to do is pick the one you like best!
Locally-Sourced Wooden Canes and Walking Sticks
You might notice that some of the wood types on the list above are considered exotic. Rest assured – Brazos doesn't outsource its materials.
Of the trees that aren't indigenous to the Central Texas Valley, Brazos grows their own. This ensures that each stick or cane is handcrafted with the quality and ethics of a 100% American company.
Brazos handmade canes and walking sticks are made one at a time by local Texas artisans. Once the wood has been handpicked, fired, and shaped, the cane or stick is finished with a protective coat of clear lacquer.
For every product, Brazos includes an authentic leather tag and an inset medallion to ensure premium, handcrafted quality.
Personalizing your Wooden Cane or Walking Stick
Every piece of wood is itself unique; no two Brazos canes are exactly alike. However, you can distinguish your cane or walking stick even further with personalization.
Brazos offers laser engraving for each and every cane or walking stick on their website. But you're not confined to a monogram: you have 4 fonts and 17 emojis or symbols from which to choose.
The Legacy Staff offers even more customizable options. Perfect for a retired service worker, the Legacy Staff can be personalized with engravings and medallions from military, sports, first-responder, and other occupational symbols.
Each Brazos stick or cane includes a rubber ferrule on the end to provide grip and stability on slippery floors. However, you can customize this feature and opt for a spike instead. Spikes are helpful for outdoor hiking, gardening, and anywhere the ground is pliable.
Wooden Cane Height
The prettiest, sturdiest cane in the world is useless to you if it's the wrong height. Too tall, and you're likely to strain your wrist or elbow. Too short, and you'll hunch over and develop poor posture.
One of the strengths in a Brazos cane is also its drawback. Because each cane is solid wood and not made of movable parts, it's not adjustable. That's why sizing your cane before buying it is vital to ensuring a satisfactory product.
How to Size Your Wooden Cane
Stand tall. If possible, have someone else measure the distance from the floor to the crease in your wrist. Based on this measurement, select the cane option that is closest to your needs.
Many outdoor retailers now feature Brazos canes, so if you're unsure which height would be better, you could try one out in person. Check out your local Ace Hardware, Bass Pro, Cabela's, or True Value store to see if they have some Brazos canes you can try.
Best Handmade Canes and Walking Sticks
There are so many reasons to love Brazos wooden canes and walking sticks: the look, feel, durability, and customizability are just a few of them. What sets Brazos apart from other wooden cane retailers is the fact that every product is handcrafted, one at a time, in America, by a family-owned business.
As a woodworker and PT, I really admire the quality of Brazos canes. They work well, feel great, and last a lifetime. I wouldn't hesitate recommending one of these canes or walking sticks for a friend, patient, or family member.