Are you an Athletic Trainer needing to renew your ATC license? Feel overwhelmed? It might seem like there's a lot to do to recertify a license, but you can find out all you need to know in this article. We'll cover the reason for recertification, how to do it, and what resources are best to use.
Athletic Trainer Recertification: Tedious but Necessary
Athletic trainers (ATs) are important healthcare providers certified and licensed to practice in the field of sports medicine. Since 1990, the American Medical Association has recognized Athletic Training as an allied healthcare profession.
Athletic Trainers become licensed practitioners by earning an Athletic Training Certificate (ATC) and passing the Board of Certification (BOC) exam.
As an AT, you know that passing the exam and earning your license wasn't the end of your credentials. You must keep your license current by renewing it, or "recertifying" every couple of years. The standards and requirements for recertification are set by the BOC.
What is the BOC again?
The BOC is a credentialing agency that not only certified you as an Athletic Trainer but also approves your credential recertification.
Committed to staying current, the BOC undergoes periodic review by the National Commission for Certifying Agencies. Every 5 years, BOC's accreditation is updated to account for changes in medical research and technology. All practicing ATs have to similarly update their working knowledge and continue their education to keep in step with the BOC.
*** Update 1/3/2023 ***
Athletic Trainers can get unlimited Category A continuing education for the 2023 renewal year at MedBridge with the promo code "PTProgress". Grab the coupon for MedBridge below and complete all your Athletic Training CEUs online.
How Do I Recertify?
Your license is only current for two years. Here's what you'll need to do to update it:
Pay a recertification fee

$55 through BOC Central, now through December 31, 2023
Or $39 as a new or renewed NATA member by June 30, 2023

Complete your recertification course requirements (more info below)
Report your completed courses

Log into BOC Central and submit information for free
Or Send by mail for a $25 fee, postmarked December 1st, 2023
If you miss the December 31, 2023 deadline, you will have until February 29, 2024 to submit a late report and pay a $25 late fee.
Make sure you retain all documentation and certification cards for two years following your certification. You may need to provide this information to BOC in the case of an audit.
As part of your recertification requirements, you'll need to renew your ECC (Emergency Cardiac Care) certification and complete a certain number of CEUs (Continuing Education Units). Each CEU equals one "contact hour."
Both types of courses can be done in-person or online, although the exam for ECC must be done in-person with a certified ECC instructor. In order to count for your AT license, CEUs must be provided by a BOC-accredited organization.
BOC Athletic Training CEU Requirements
The CEU requirements for license renewal vary based on how recently you were licensed. The more recently you were certified, the fewer CEUs you need to complete.
If you were certified in 2021 or earlier, you'll need to complete at least 50 CEUs. Of these, 10 CEUs must be considered Category A.
If you were certified in 2022, you'll need to complete at least 25 CEUs, 5 of which must be considered Category A.
These numbers may vary based on your individual state's requirements. Note that the certification period ends on December 31 of the 2023 renewal year.
CEU Levels
When it comes to Athletic Training, there's a lot to learn – and a lot to review. The topics for Continuing Education courses are myriad, but the categories comprise two different levels.
Level 1 refers to BOC-approved courses: Category A courses.
Level 2 refers to courses that are not BOC-approved: Categories B, C, and D.
Although all CEU-providers must be accredited by the BOC, not all courses are BOC-approved. However, you can still use these courses towards your partial CEU requirement.
Evidence-Based Practice CEUs for Athletic Trainers
Evidence-Based Practice aims to integrate research and methodology into clinical practice and promote informed decision-making for patient care. The material covered in a Category A course satisfies the evidence based practice standard and is considered essential to AT certification. A minimum of 20% of your CEUs must be BOC-approved Category A courses.
Again, for a deficit of 50 CEUs, you must complete at least 10 Category A courses. For a deficit of 25 CEUs, you must complete at least 5 Category A courses. You can find valid Category A course providers in BOC's directory.
Besides a course, you can fulfill Category A credit by completing a doctoral dissertation with a focus on athletic training. A residency or fellowship may also count towards your Category A requirement.
Finally, ATs may receive Category A credit for authoring a peer-reviewed journal article on "patient-oriented clinical research or translational research."
Although there is a minimum for Category A requirements, there's no maximum; you could cover your 25- or 50-CEU requirement using Category A courses alone.
Other CEU Categories
There are other types of CEUs creditable for recertification. However, you can use only a certain number of Level 2 CEUs toward your overall count. Remember: Category A courses or programs should make up 20% of your total CEUs.
Here are the level 2 CEU categories:
Category B – Professional and Scholarly Activities
For Category B CEUs, you can count academic activities such as speaking engagements, conference presentations, authorship of a textbook or peer-reviewed journal article, publication reviewer, and other similar ventures. See the full details of what qualifies here.
Category C – Post-certification College/University Coursework
If you complete a university or college course post-certification, you may be able to count those credits as "Category C" CEUs. Eligibility is determined by the content of each course, which you can read about more on this page.
Category D – Non-BOC-approved Provider Programs
For the final category, BOC will count as "Category D CEUs" courses that are approved by outside organizations, so long as the content is relevant to BOC's specific requirements.
Only a limited number of CEUs from each of these categories will count toward your recertification. See the table below for the breakdown.
| | | |
| --- | --- | --- |
| CEU Category | Maximum out of 50 | Maximum out of 25 |
| Category A | no max (50) | no max (25) |
| Category B | 33 | 17 |
| Category C | 40 | 20 |
| Category D | 28 | 14 |
Number of CEUs creditable to overall count, by category
Remember, at least 20% of your CEU credits must be Category A. You may need to draw from multiple categories to complete your certification requirements. Variety is key!
Online CEU for Athletic Trainers
Online CEUs for Athletic Trainers
It's hard to top the convenience of an online course. Although you will need to show up in-person for your ECC renewal, you can complete the majority of your CEUs online if you prefer.
However, an online course isn't automatically cheaper than an in-person one. Below I've compiled a short list of BOC-approved providers of online CEUs which you can use for any of your CEU category requirements. You can also check Athleticare for more Continuing Education resources.

The largest provider of BOC-approved Category A (formerly Evidence-Based Practice) courses is MedBridge Education. With access to more than 250 BOC-accredited courses and over 620 hours of Category A courses, you'll be sure to find relevant Level 1 CEUs to renew your Athletic Training certification.
You can make the MedBridge library of AT content your one-stop shop for AT license renewal!
Browse courses on their catalog here. You can also filter by your state and course type (such as "Category A" or "BOC-approved").
Medbridge Promo Code for Athletic Trainers
As a healthcare provider, I personally use MedBridge to complete over half of my CEUs each year. If you are interested in MedBridge Education, you can save over $150 with the discount below.
MedBridge Promo Code ATC: "PTPROGRESS"
Athletic Trainer 360 offers over 60 Continuing Education courses for Athletic Trainers. You can purchase courses individually or bundled as course "packs" designed around a specific topic.
AT360 includes Level 1 courses: Category A CEUs and courses that are BOC-approved for Category A.
If you certified in 2021 and need 20 Category CEUs, you can do them all in one AT360 bundle for $58. But you'll pay extra for the optional book – and for all your other CEUs!
Athletic Trainer CEU Free Resources
What's better than cheap CEUs? Free CEUs! You can hunt for free Athletic Training CEUs through the following providers:
The National Athletic Trainers' Association offers free CEUs to NATA members: up to 10 CEUs for those certified in 2021 and 5 for those certified in 2022.
A NATA membership will cost almost as much as unlimited access to MedBridge with my discount, so this isn't a great deal if you aren't already a member. However, membership with NATA includes several other benefits you may or may not value.
GSSI offers 15.75 hours of free CEU credits, 2 of which count towards your Category A credit. All you have to do is create an account to get started.
In order to get CEU credit, you'll need to score 10/10 on each quiz or watch 100% of the webinar, depending on the format. Then, you'll mail in the form for BOC-accreditation.
Athletic Trainers can earn up to 4 CEUs for free through Medco. Their 5 courses and quizzes can be printed out and mailed to BOC for approval.
My Advice? Use the Medbridge Promo Code for Athletic Trainers
As much as I love free courses, I have to reemphasize the quality you'll get in a MedBridge course. None of these freebies will cover all your CEU requirements. Since you have to pay something, why not go with a place where you can get unlimited access for one flat fee?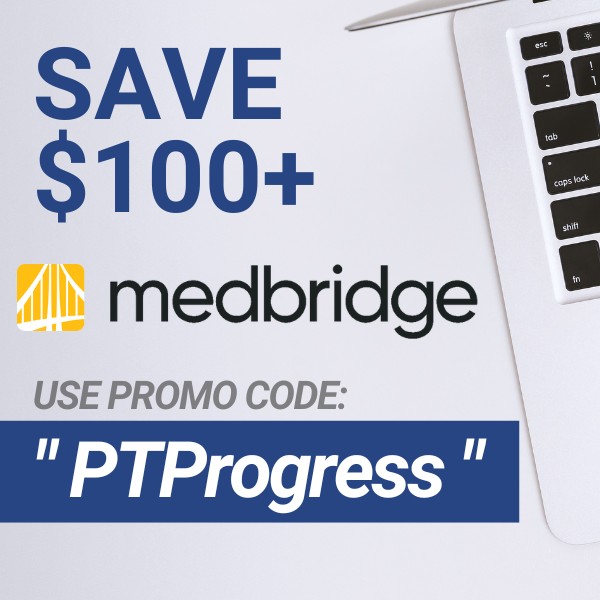 I wouldn't recommend these courses if I didn't personally know they were worth the expense – and with my discount, completing CEUs through MedBridge is a no-brainer.
The cost of unlimited Athletic Training CEUs through MedBridge is just $225 for the year when you use the promo code PTProgress.