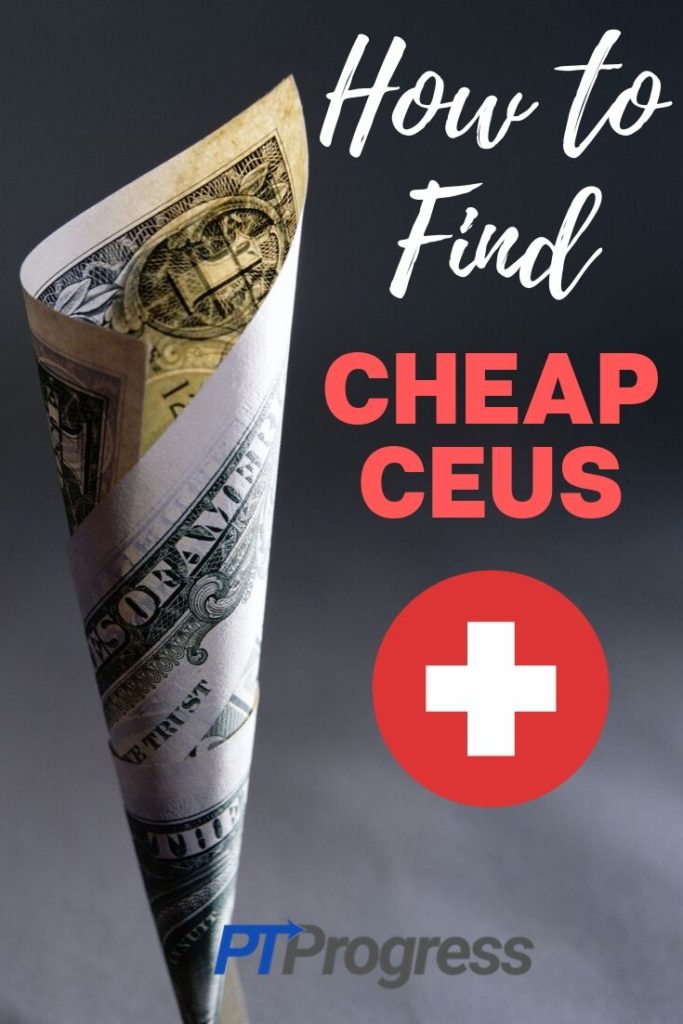 As a medical professional, you are required to complete a certain number of Continuing Education Units (CEUs) in order to keep your license current.  Paying for these classes can add up over the course of your career, so it's no wonder the search for cheap CEUs is so popular.
I, too, was on the hunt for cheap CEUs to keep my license current, until I found an unbeatable deal that's too good not to share.
Today I'll show you a legitimate way to pay less than $9 per CEU. Yes, I'm an actual Physical Therapist licensed in Michigan and I don't pay more than $9 per CEU.
** Update January 2021 ** Now you can get the same deal on cheap CEUs with the MedBridge promo code: PTPROGRESS and you'll save 40% on MedBridge!
First, How Many CEUs Do You Need?
Each state sets its own requirements for medical license renewal, so check with your state to determine the exact number of CEUs you're required to complete. For medical professionals in Nursing, Physical Therapy, and Occupational Therapy, most states require about 24 CEUs every 2 years.
By contrast, some states require up to 40 CEUs for PTs, while others require as few as 10 CEUs – or none at all. Plus, your state may specify what proportion of your CEUs can be online rather than in-person (e.g., allowing up to 20 online CEUs out of 24 total). Make sure you know the requirements for your own state, and if you're a PT, you can check this post to find out.
Finding Cheap CEUs
Ok, now you know how many CEUs you need. But how much will it cost to complete them?
That depends on where you go for your continuing education.
To appreciate the price of a cheap CEU, compare it to the market. Let's say you register for 3 in-person courses that are worth 8 CEUs each. Each course costs $150, totaling $450 for 24 CEUs. At $18.75 per CEU, you'll pay a reasonable price for license renewal.
However, some courses run much higher, even $300–$500 (or more!) for a weekend course worth 24 CEUs. At $500, a 24-CEU course would cost you $20.83 per CEU.
Just like you do at the supermarket, in order to land a good deal on cheap CEUs you need to compare your options at the price-per-unit level. Consider the following price points:
Reasonable: $18.75 per CEU
Pricey: 20.83 per CEU
My Price: $8.33 per CEU (Seem impossible? Keep reading!)
Cheap CEUs for Occupational Therapists, Physical Therapists, and Nurses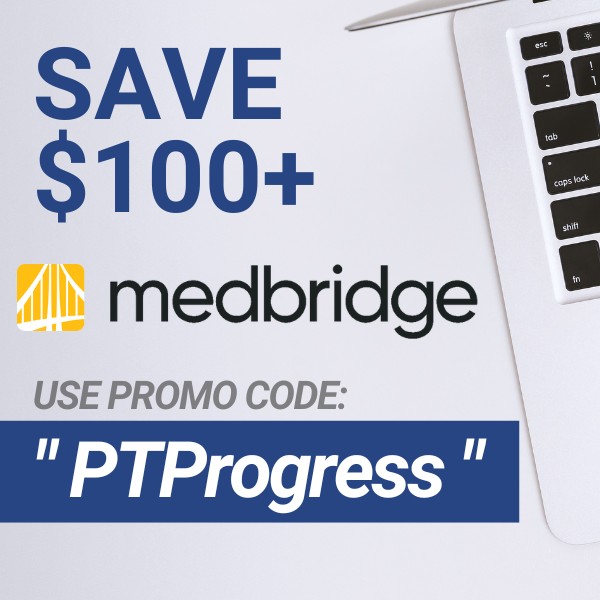 So how do I manage to pay less than $9 per CEU?
Really it's pretty simple: I just use MedBridge!
As a leading provider of online continuing education courses, MedBridge is my source for license renewal and has my recommendation for every PT, OT, and Nurse looking for cheap CEUs.
With the MedBridge promo code: PTPROGRESS, readers of PTProgress can reduce the price of MedBridge CEUs from $375 to just $200 – that's a 40% discount!
So let's return to our price comparison. With my discount, that same 24-CEU requirement at MedBridge costs $200 – amounting to just $8.33 per CEU.
If you're looking for cheap CEUs for Physical Therapy licensing without sacrificing quality, this is the deal for you!
How to Save Even More Money On CEUs
Here's how to get the most out of this deal:
Register on MedBridge the year your license renewal is due.
Complete your CEUs online, per your state's requirement.
Once your license renews, take additional courses to apply towards your next renewal cycle.
If you do this all within the same year, you can use the single MedBridge purchase to cover almost 4 years of CEUs, reducing the cost of each CEU to $5–$6. That's about as thrifty as it gets!
Quality CEUs vs Cheap CEUs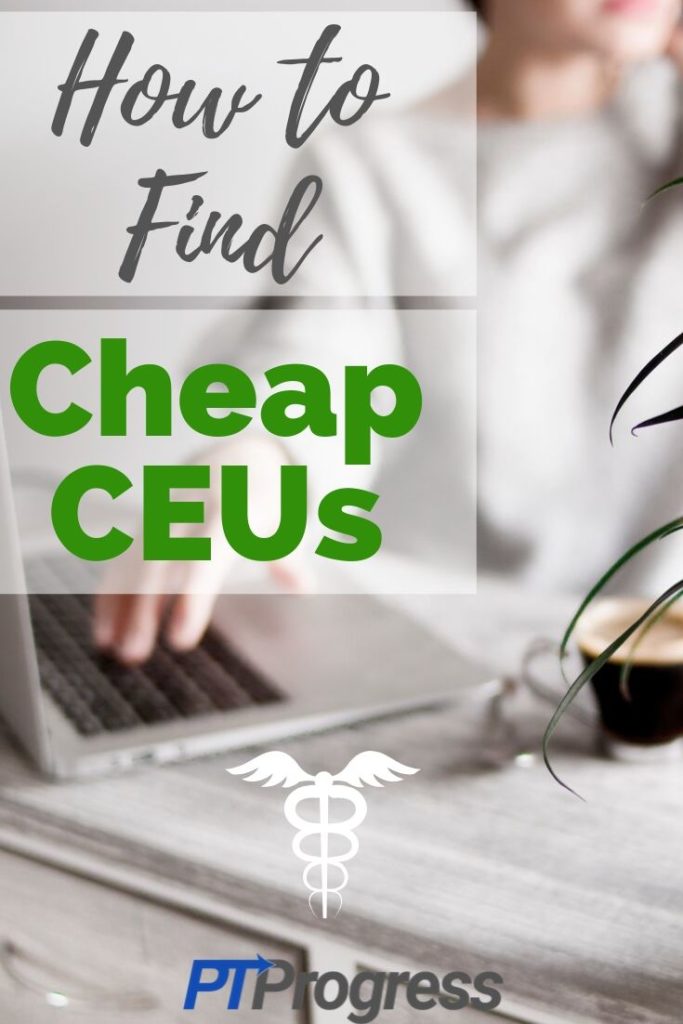 Be careful not to equate quality with price here; just because these courses are affordable doesn't mean they're low-quality.
Of course, you cannot compare the quality of a live course to that of an online course. Let's not compare apples to oranges.
But in terms of online CEUs, the quality of a MedBridge course is top-notch. Featuring the best instructors in the field, Medbridge courses specialize in all areas of Physical Therapy, Occupational Therapy, Speech, ATC, and Nursing. Besides the excellent course material, MedBridge's user experience is intuitive and easy to navigate.
Think back to that pricey, $500 course you were considering. MedBridge doesn't need to charge you $500 – there's no classroom to rent. No lunch to provide. No registration staff to employ during a live session. By saving on all that overhead, MedBridge can focus on delivering a quality course at an affordable price.
Finding CEUs for Less:
3-Second Summary: For cheap CEUs of top quality, you can't beat MedBridge CEUs.
To get the best value on inexpensive CEUs, check out MedBridge. When you sign up with the Promo Code PTProgress, you'll save 40%!
If you want to learn more about MedBridge, check out my full MedBridge Review here.