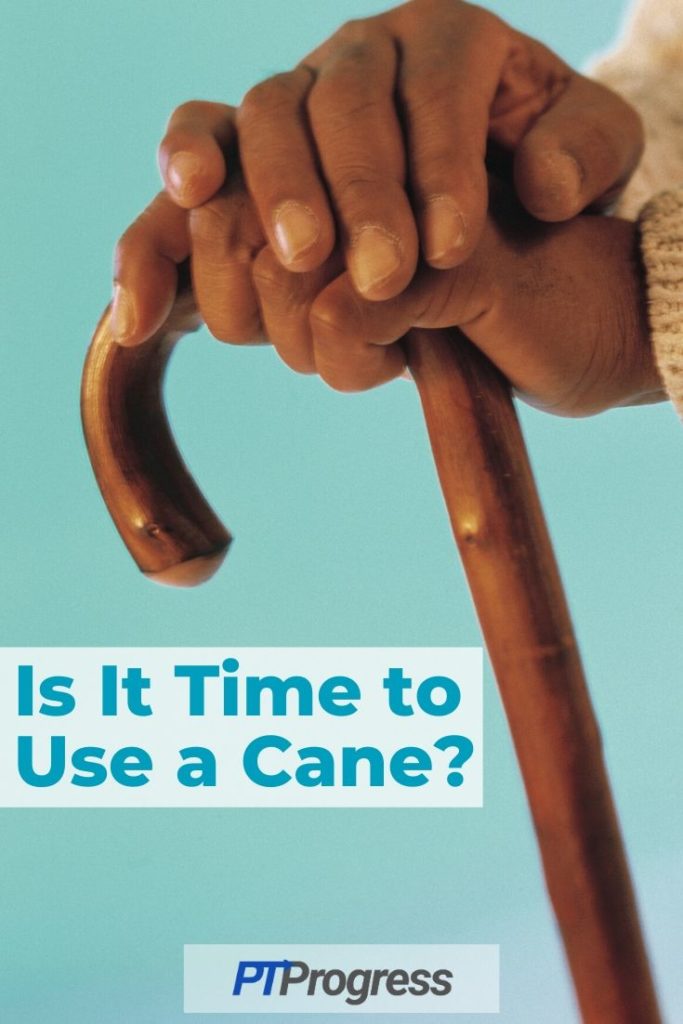 I have a simple 3 question formula for figuring out if someone should use a cane. 
People are usually surprised how easy my assessment is, but it's pretty straightforward.

Oh, and it has nothing to do with age!

As a Physical Therapist, I've recommended canes for 42-year-olds and have worked with people who are 92 and don't use a cane!

But without a doubt, this is the first question I ask when someone says "should I get a cane?"
1: Do you reach for furniture or counters when you walk room to room?
As a physical therapist, I've worked with a lot of people in their homes and watch how they move around. When I see someone reaching for furniture or countertops when walking from room to room, it's a good indicator they could use a cane.

Now most people will say, "I'm fine, I just need a little support when I first get up." And that's true…because most falls happen when you first get up!

Your brain is doing a good job trying to stabilize you as you scope the room to look for something stable to hold onto.

And this is exactly why it's one of the best indicators that someone would benefit from using a cane.

Even though you feel comfortable in your own home, navigating from room to room by holding onto furniture, you are still at risk for a fall.

The last thing you want is to reach for that familiar chair or piece of furniture and to have your hand slip and fall. A sturdy grip onto a cane would have most likely prevented this accident.  Unfortunately, a lot of these accidents result in falling onto your wrist or arm and possibly breaking a larger bone in the hip. 
2: Have you fallen more than once in the past month?
The second question I ask is this: have you fallen or almost fallen more than once in the past month? Yes, "almost falls" count in this case, even if you caught yourself or landed on a bed or couch.

The fact is, if you've fallen more than once in the past month or have almost fallen, you are at risk for falling again very soon.

Don't wait to fall and sustain an injury before considering a cane.

I don't say this to scare people, but if you do fall and injure yourself, there's a good chance you'll need a walker, not a cane. So you would have been better off using a cane and working on your balance in order to prevent a fall from happening again!
3: Is it painful to walk or to go up and down stairs?
The third question has to do with activities of daily living or ADLs. Is it painful to walk for 5 to 10 minutes at a time? Is it painful to walk up and down stairs or uneven surfaces?

For many people, arthritis pain in the hip, knees, or back can cause a lot of discomfort with walking or navigating stairs.

Using a cane has been proven in research to take pressure off of joints and to decrease pain associated with arthritis or degenerative disc disease.

From a functional standpoint, I encourage people to consider a cane if they're having difficulty performing activities because of joint pain or discomfort.

But Won't My Balance Get Worse With a Cane???

People are usually afraid to use a cane for two reasons:
They don't want to look old or frail
They think they'll just get worse with a cane
Let's address #2
Using a cane won't make your balance worse.

If anything, a cane will help you become more stable and increase your ability to be more active.

Being active, exercising, and walking will generally help to improve your balance!

If you aren't able to do any of those things regularly and choose not to use a cane, there's a higher chance your balance will continue to decline!

Using a cane will NOT cause you to spiral into decline.
Choosing to avoid a cane may be a dangerous decision that leads to a fall.

Does a cane make me look old?
No. But honestly, limping and crouching over because of pain or bad balance draws more attention to yourself than a cane.

Here's the thing, you can find really nice canes that actually show off your personality.

I personally love woodworking and admire some of the hand crafted wooden canes I see my patients using.

I also love to see some of the colorful canes and others with designs that highlight their personality perfectly.

My encouragement to you:
Be honest when answering the three questions above.

There are ways to improve balance, and using a cane can be one of the best ways to start.

If you choose to use a cane, be proud of the fact that you are taking action to address your balance!

If you agree with the idea of using a cane to help with your balance (whether it's temporary or it's ongoing), I'd encourage you to look at some of these high-quality canes. 
I share my recommendations for finding the best walking canes in this article.

Pro tip: When it comes to finding a cane, you are going to see a lot of 'fancy' features.  Avoid the fancy features and stick with a classic style. You're better off with a stable cane that looks fashionable or matches your personality or style.

Sale