It's one of the most common questions I hear in the clinic:
Can my balance actually improve?
Balance most often declines during these events:
After a surgery or injury
As we age (usually 50+)
Change in medication
Or Disease (vertigo, meiner's, etc)
In ALL of these situations, there are proven ways to get better balance!
• Repetition
• Speed
• Resistance
These three factors play a huge part in the balance training techniques I teach my patients.

Take a look at how I use repetition, speed, and resistance with balance training.

Repetition: Key to Better Balance
When you want to improve your strength, you need to exercise beyond one repetition. It's common sense that building muscle takes time and consistency.

Building better balance also requires you to be consistent in your training, and repetition has been proven to be a major factor for balance improvement.

A recent study showed that high repetition, low resistance training was effective in improving balance among people age 55+. This is really promising because it means the average person can see improvements in balance without heavy weights or intimidating gym equipment.

What do you mean by repetition?

In the clinic, when I work with people who have poor balance, one of the first things I do is to test their ability to stand on one leg.

I have them try both sides and count how many seconds they can do this.

Then I have them repeat it on each leg. If they've demonstrated some improvement (which many do), I have them try again.

Most of the time, people will improve their ability to remain stable on one leg just after a few seconds.

The simple act of deliberately standing on one leg, focusing to maintain your balance became easier the second and third time around.

It's usually easy for the patient to see the difference, which makes my job easier when I recommend they continue to practice this drill every day at home.

But repetition goes beyond standing on one leg a few times.

I also incorporate dynamic stability drills that challenge them to control their foot placement while tapping various heights.

Cone Taps on Balance Pad

Here's an example of an exercise performed 20-30 times each leg.

Position: Stand on the balance pad with one or two hands on a counter for support.

Movement: Tap a cone or a cup aiming to control your movement with a very light tap.

Repeat: 20-30 times each leg or alternate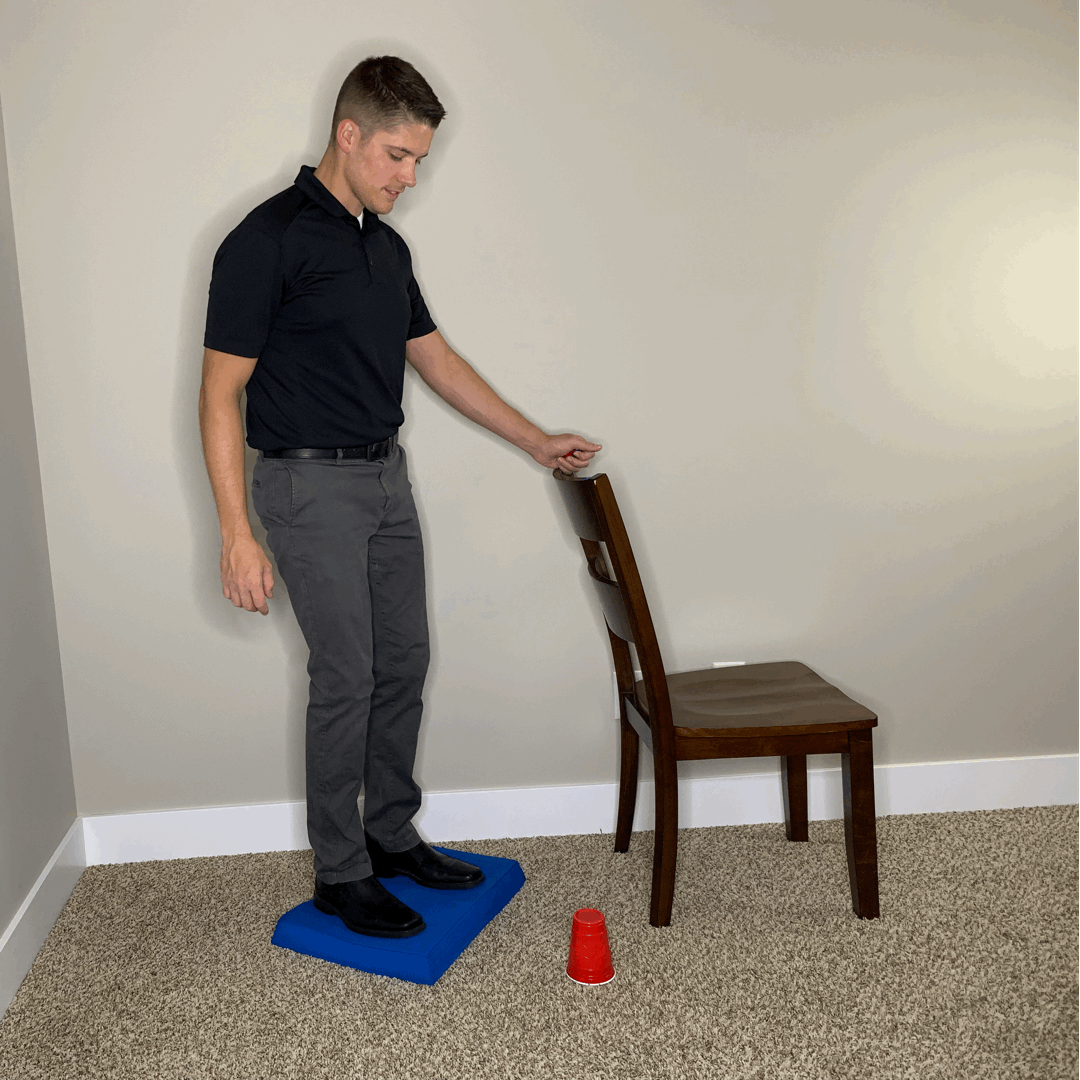 Balance Pad: You can find this balance pad on Amazon
Cone – Use a plastic cup or cone as a target to tap your foot.
Speed: Slow down for better balance
It's almost always more difficult to perform a movement or balance exercise slowly than quickly.

When we slow down and focus on good movements, we put ourselves in the best position to train correctly.

Slowing down to engage leg and glute muscles before balancing on one leg can make a huge difference!
Try this: Stand on one leg (hold onto a countertop if you need it). Now return to standing on both legs.

This time, squeeze your buttocks muscles. Now, stand on one leg while you're squeezing your buttocks muscles – most people feel more stable this way!

In both cases you were able to perform a single leg stance. But when you take the time to slow down and engage your core stabilizer muscles, you have better control and ultimately have more stability!
I see this a lot with the balance board exercise. Using a balance board can be a great way to work on balance at home. But the most effective way to use the balance board is by working on a slow movement to control the motion.
Does everything have to be slow?

Going slow is a good way to start your balance training. Focusing on smooth, clean, and precise movements is a great way to improve your balance and stability.

But you can also improve your balance through varying speed training.

For example, setting a metronome to click at a higher rate and performing foot taps to varying surfaces is a great way to work on accuracy as well as coordination and timing.

Generally, I recommend starting slow and focusing on smooth, controlled movements and adding speed and variation as you make progress.

Resistance: Improving Balance and Strength

Multiple studies (here and here for example) have found significant improvements in balance when people perform strength training.

Improving the strength of your legs, hips, and trunk muscles is a great way to improve your balance.
Proprioception is used to describe our body's ability to know it's position in space at any given moment. We commonly refer to this as body awareness.

Think of standing at the bottom of the stairs at your home. If you want to tap your foot on the step, you'd simply lift and touch the step.

But do we have to think about each step focusing on how or where our foot will go each time?

Our body can adapt and navigate stairs because the muscles, tendons, and joints receive the feedback from the different positions and movements we make.

Strengthening through resistance training not only improves our muscles but also has a positive effect on our bones and joints.

This is why it's so important to assess strength when someone comes into the clinic with balance as their primary diagnosis.

Can I Get Better Balance Faster?

Your balance will not improve overnight, but can improve over a few weeks. I encourage my patients to take balance training seriously for at least 3 to 4 weeks before expecting to see significant results.

But like most strengthening or exercise routines, it can take upwards of 8 weeks to see and feel a difference physically.

Balance can be improved. With time and focus on repetition, speed, and resistance, you and your physical therapist can come up with a good plan to improve your balance.

Read Next: Do I Need a Cane?