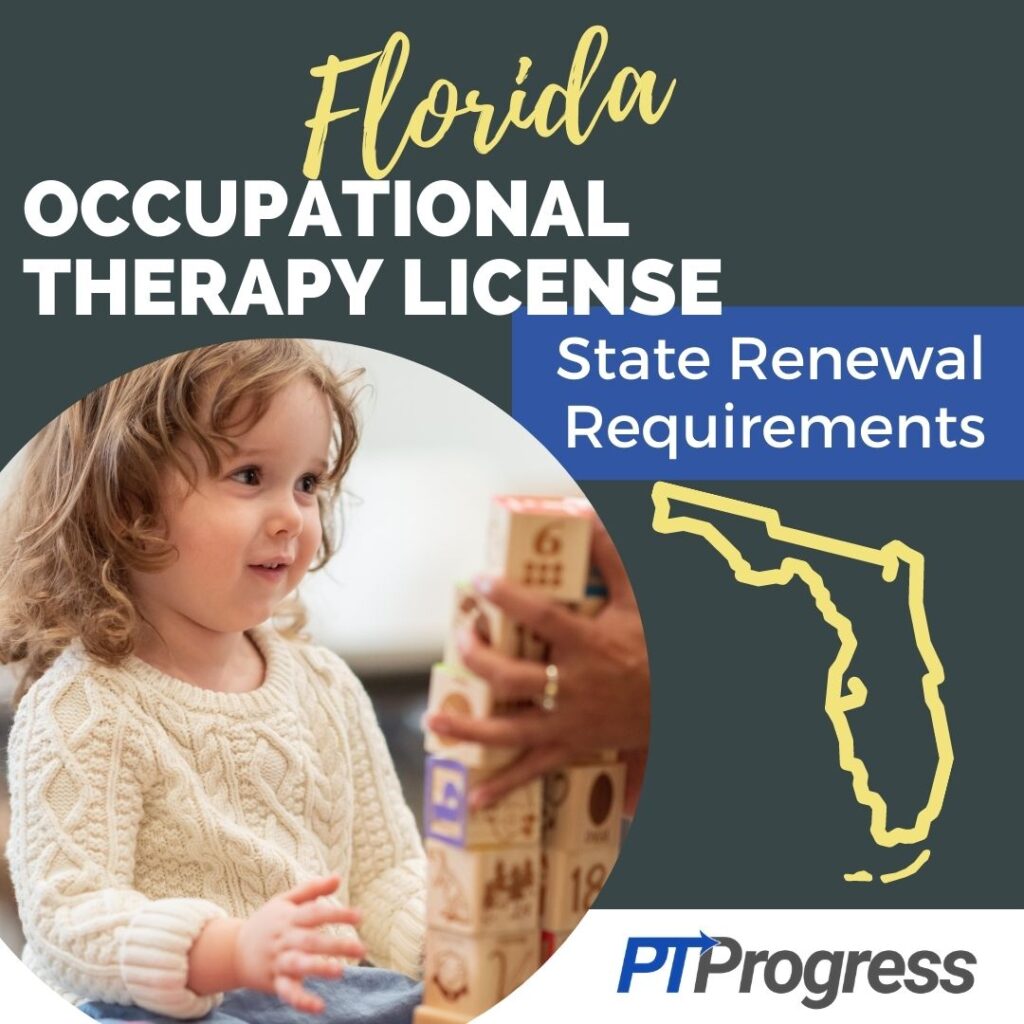 Before you renew your Florida Occupational Therapy license, you must complete some continuing education requirements. These aren't nationally standardized, so they vary from state to state. This guide will help you understand what the Florida Board of Occupational Therapy requires for OT and OTA license renewal, including the kinds of Florida OT CEUs you can get online.
Florida OT License Renewal Requirements
In short, the renewal requirements for an OT license in Florida are as follows:
26 Continuing Education Units ("CEUs")

2 of which must be on prevention of medical errors
2 of which must be on jurisprudence
1 of which must be on human trafficking identification
1 of which must be on HIV/AIDS education (a one-time requirement)
No more than 12 of which may be from home study (14 CEUs must be "live")
These requirements are the same for OTs and OTAs alike.
How do I complete my Florida CEUs?
There are many ways to fulfill your 26 CEU requirements. Although Florida does stipulate a few courses in particular, such as Prevention of Medical Errors, you'll enjoy some flexibility for the majority of your CEUs.
You could attend a class, webinar, or workshop, so long as the course qualifies as a CEU and you receive a certificate of completion. An academic or professional activity may also count towards your continuing education. That could include activities such as attending a board meeting, editing a book, or participating in research.
For more details on Florida CEU options, check out the Florida Board of Occupational Therapy page.
Can I complete Florida OT CEUs online?
Nowadays, continuing education occurs in all kinds of formats, whether as a weekend workshop or a virtual webinar. The Florida Board of Occupational Therapy only cares whether the course is considered live. Technically, you could complete all of your CEUs online, as long as 14 of those CEUs are live (i.e., interactive and occurring in real time).
Best CEU Provider: MedBridge
Compared to other states, the Florida Board of Occupational Therapy is picky about the topics and formats that qualify towards continuing education. However, if you've chosen a good online CEU provider like MedBridge, you won't need to worry about finding the right courses.
MedBridge is a leading provider of OT CEUs for a number of reasons, one being how easy it is to filter courses for a particular state and discipline. With a library of 1300 courses for OTs and OTAs, MedBridge offers a wide variety of CEU topics. Their course offering is available to browse even before signing up!
As a Physical Therapist myself, I use MedBridge to satisfy my state's CEU requirements each license renewal period. I've found that the quality of these CEUs is top-notch. You'll learn from some of the best in the field, through professional video presentations and a user-friendly format. For my full review on MedBridge Online CEUs, check out this article.
If you want to give MedBridge a try for your next renewal year, you can save $150 on your subscription with the promo code "PTProgress."
MedBridge Online CEUs for Florida
MedBridge can help you satisfy even state-specific requirements. For instance, in Florida you must complete at least 2 CEUs on Human Trafficking Prevention education. To fulfill that requirement, you could take Human Trafficking for Health Care Professionals: Florida by Hanni Stoklosa. This course counts for 2.5 CEUs and will cover everything you're expected to know as a current OT practitioner.
Worried about meeting Florida's "live" course requirement? According to the Florida Board of Occupational Therapy, an online webinar will count as a live CEU if the course is both interactive and occurring in real time.
Well, the good news is that in addition to their streaming courses, MedBridge offers live webinars every month. They're included in a MedBridge subscription, so all you'd need to do is sign up!
With MedBridge, you'll fulfill not just your CEU course requirements but also your live CEU requirements. Plus, you'll enjoy the variety of courses available and the convenience of online learning.
Don't forget to save $150 on a yearly MedBridge subscription with the promo code: "PTProgress."
How do I record my Florida OT CEUs?
As you complete your continuing education requirements, you'll need to track them through CE Broker. This online tool will help you keep your CEU reporting information organized and up-to-date. CE Broker is available for free or as a paid subscription.
When does a Florida OT license expire?
Your OT license is valid for two years, and all licenses expire biennially on February 28 of odd-numbered years.
How do I renew my OT license?
You may apply for your license renewal online through this portal.
How much is the renewal fee for a Florida OT license?
Both OTs and OTAs in Florida must pay a $60 license renewal fee.
Florida OT License Renewal Requirements
For more information on renewing your OT license in Florida, contact the Florida Board of Occupational Therapy Practice.