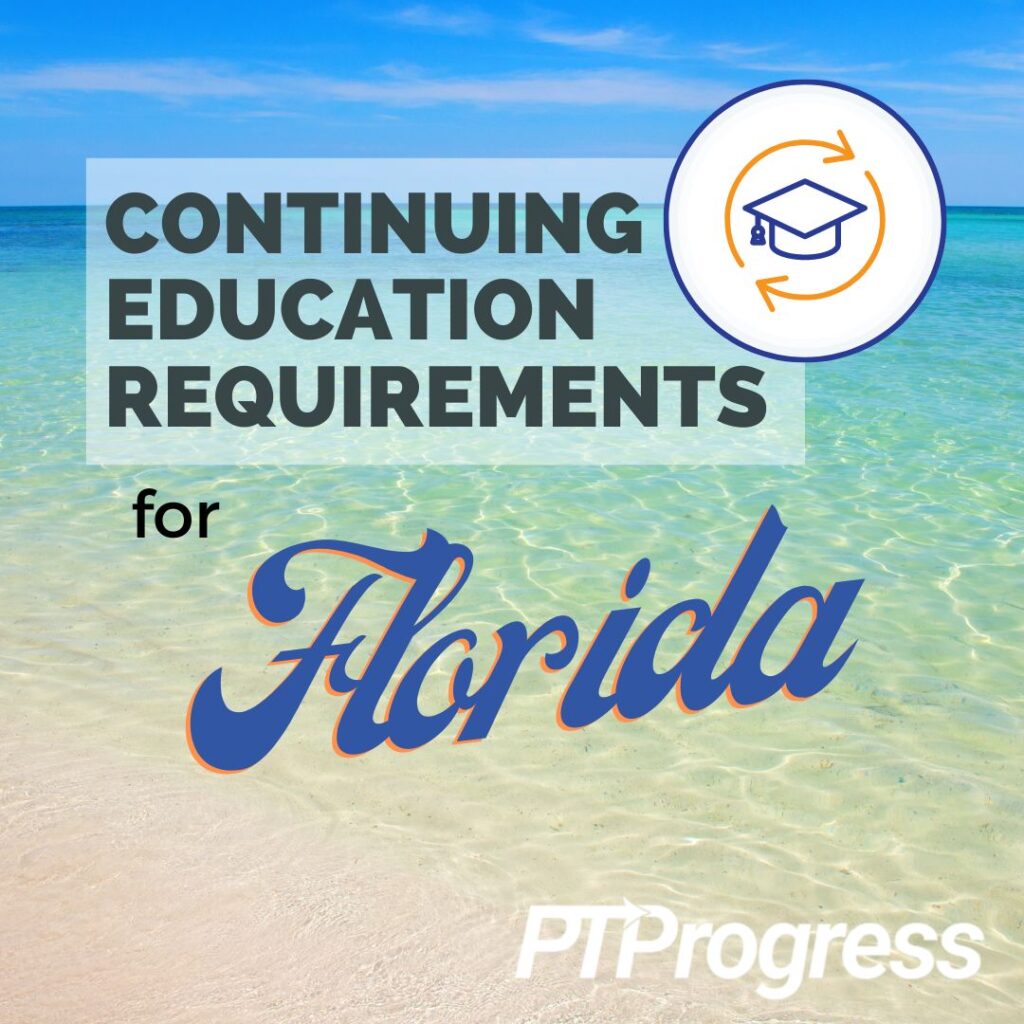 To practice physical therapy in Florida, you'll need to renew your license every odd-numbered year. Along with a fee and an application, license renewal requires 24 hours of continuing education. PTs and PTAs alike must complete 2 hours in the Prevention of Medical Errors as part of their 24-hour requirement. Keep reading for more information about Florida physical therapy continuing education requirements!
At a glance:
Florida – 24 CEU hours every 2 years by November 30th of odd years.
Florida Physical Therapy CEU Requirements
From the Florida Physical Therapy Practice Act Website: (FL source)
"Twenty-four (24) contact hours of continuing education (CE/CEU*) must be completed within the current biennium for which the license is being renewed. (Bienniums run from 12/1/odd year-11/30/next odd year.)
"All licensees must complete 2 hours on the Prevention of Medical Errors for each licensure renewal cycle.
No more than 12 hours can be earned by home study/online courses.
No more than five contact hours of courses in risk management shall be accepted within a biennium.
No more than three contact hours in HIV/AIDS education.
No more than three contact hours in prevention of medical errors education.
"Licenses issued in the second half of the biennium are exempt from the renewal requirements with the exception of 2 hours of Prevention of Medical Errors."
If this is your first renewal, you'll also need to make sure at least 1 contact hour is devoted to HIV/AIDS education.
What CEU Courses are Allowed in Florida?
Although there are many avenues for earning continuing education, coursework is the most common. The Board of Physical Therapy asks that you ensure all continuing education is sourced from a provider they approve.
The following types of courses will automatically be approved for Florida continuing education:
Courses approved by APTA or any of its state chapters, such as the FPTA
Courses sponsored by a college or university with an accredited physical therapy program
You can consult this list from the FPTA website of courses they approve. They also keep a running list of approved courses on CE Broker.
No matter where you source your CEUs, keep in mind that you're only allowed 12 hours of online continuing education. At least half of your CEU credit must be earned from live or in-person activities. Although the Board lifted this requirement for the November 30, 2021 renewal, it looks like they're planning to reinstate the 12-hour limit for November 30, 2023.
For more information, or to check if a course or activity qualifies, contact the Board. Licensees seeking approval for a CEU course or provider should reach out to the FPTA.
Can I Use MedBridge in Florida?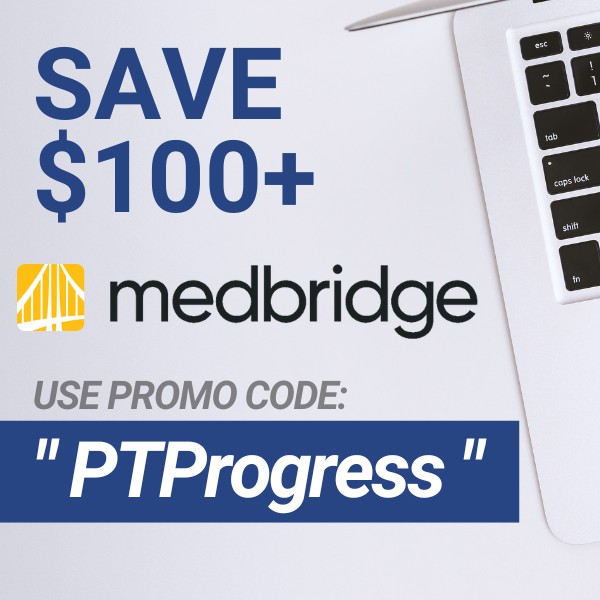 Yes, you can use an online CEU company like MedBridge Education to complete your Florida Physical Therapy continuing education. A quick check on the MedBridge website shows hundreds of courses for Florida PTs, including courses that cover state-specific topics.
For example, check out the course Preventing Medical Errors: Education for Florida State Clinicians by Nancy Allen. This 3-hour course will cover in one fell swoop everything the state expects you to know on this topic.
The same presenter offers another course, called HIV and AIDS: Education for Florida State Clinicians worth 1.5 contact hours—perfect for meeting the requirements of a first-time renewal.
Besides your 12 hours of coursework, you can use MedBridge to satisfy your live course requirement as well. That's because MedBridge offers live, interactive webinars as part of their annual subscription. Despite being online, these webinars qualify for live coursework, which means you can fulfill all your Florida continuing education in one place, for one price.
Whether you're a PT or a PTA, you can find plenty of eligible courses on MedBridge. Use the MedBridge promo code PTProgress to save 40% on unlimited CEUs.
Do I need to submit proof of my completed CEUs?
Every legitimate CEU provider, including MedBridge, will give you a certificate of completion when you finish a CEU course or activity. The Florida State Board of Physical Therapy requires that you submit this document when you report your CEUs through CE Broker.
It's always a good idea to retain proof of your continuing education for at least four years after your renewal, in case you are selected for a formal audit.
How much is the renewal fee?
It costs $80 to renew a Florida PT license.
When does my Florida Physical Therapy license expire?
Your Physical Therapy license expires biennially on November 30th of odd years.
How long does it take to renew a Florida Physical Therapy license?
For many states, it can take 4–8 weeks to process your request, so start the process early!
Compare Physical Therapy CEUs by State
How does your state compare? Take a look at all of the state-by-state CEU requirements in this comprehensive article.