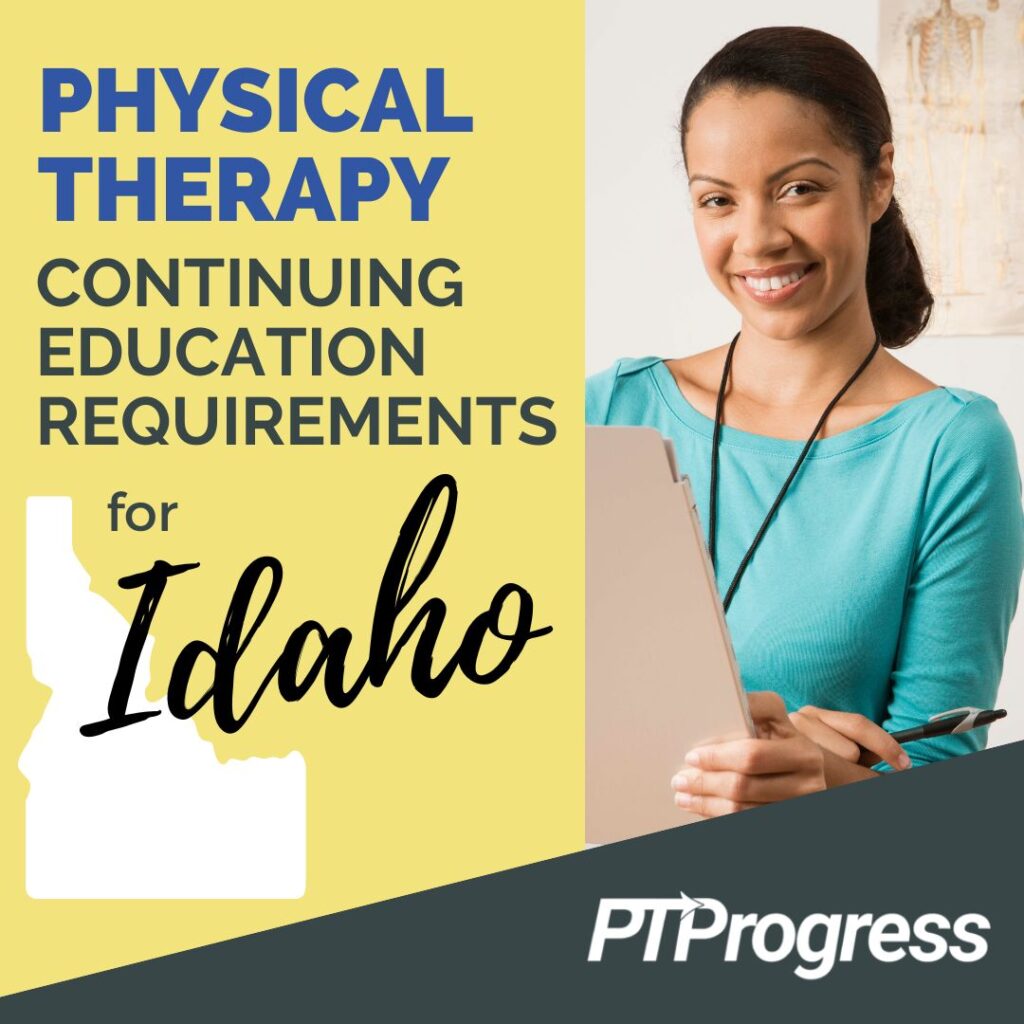 Every year, Idaho PTs and PTAs alike must complete 16 hours of continuing education. This requirement ensures all licensees are kept up to date. Keep reading for more information on Idaho physical therapy continuing education, including deadlines, fees, and CEU specifics.
At a glance:
Idaho – 16 CEU hours every year by the license holder's birthdate.
Idaho Physical Therapy CEU Requirements
From the Idaho Physical Therapy Practice Act Website: (ID Source)
"The annual completion of 16 hours of continuing education (CE) is required to maintain a license to practice physical therapy in Idaho.
"The contact hours of continuing education must be obtained in areas of study germane to the practice for which the license is issued as approved by the board.
"If you are audited, you must submit a listing of all continuing education courses completed during the previous year AND proof of attendance documentation for each course…Failure to submit the required documentation may result in Board action against you."
What CEU Courses are Allowed in Idaho?
The Idaho Board of Physical Therapy recognizes that continuing education can take many forms. Completing specialty certification, teaching a course, and supervising a PT student are all acceptable forms of continuing education.
But by far, most Idaho PTs fulfill their continuing education through coursework. And the Idaho Board of PT is flexible in what kind of courses you can take. As long as the content is "germane to the practice of physical therapy" and from an approved provider, it can count towards your continuing education.
How do you know if a course is approved? One dead giveaway is if it has APTA approval. The approval of other health organizations and governing bodies, such as CAPTE or state chapters of APTA, is another good sign. But if it's from a reputable provider, the course itself will clarify whether it qualifies for continuing education in Idaho.
When in doubt, you can always consult this list of courses the Idaho Board approves. Or, contact them directly if you want to make sure.
Can I Use MedBridge in Idaho?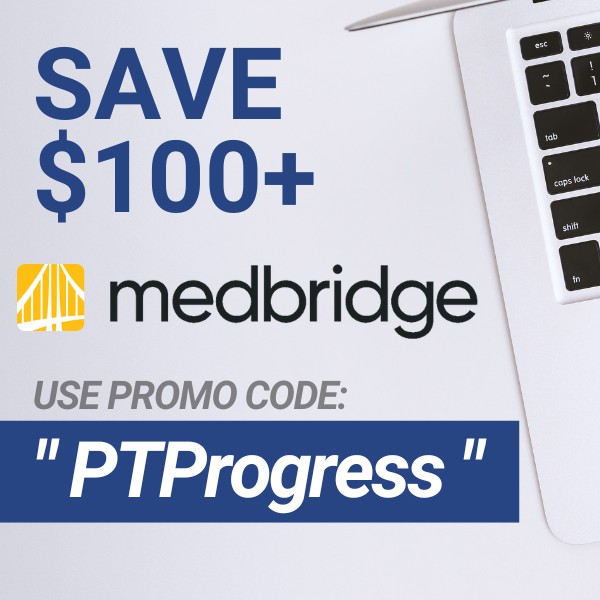 Yes, you can use an online CEU company like MedBridge Education to complete your Idaho Physical Therapy continuing education. A quick check on the MedBridge website shows hundreds of courses for Idaho PTs and PTAs.
MedBridge courses feature a wide range of topics, from clinical, evidence-based practice to business management, ethics, and self-help courses. Whether you're a PT or a PTA, you can find plenty of eligible courses on MedBridge. Use the MedBridge promo code PTProgress to save 40% on unlimited CEUs.
Do I need to submit proof of my completed CEUs?
Every legitimate CEU provider, including MedBridge, will give you a certificate of completion when you finish a CEU course or activity. But the Idaho State Board of Physical Therapy will only ask for this document if you are late submitting your CEU information or if they select you for an audit. In that case, it's a good idea to store all proof of continuing education for at least three years after your renewal.
May I carry over any excess CEUs?
Idaho PTs and PTAs may carry over up to 16 excess CEU hours into a future renewal period, so long as those hours were earned in the 12 months preceding the license expiration date.
How much is the renewal fee?
In Idaho, it costs $25 to renew a PT license or $20 to renew a PTA license.
When does my Idaho Physical Therapy license expire?
Your Idaho Physical Therapy license expires annually on your birthday (happy birthday!).
How long does it take to renew a Idaho Physical Therapy license?
For many states, it can take 4–8 weeks to process your request, so start the process early!
Compare Physical Therapy CEUs by State
How does your state compare? Take a look at all of the state-by-state CEU requirements in this comprehensive article.