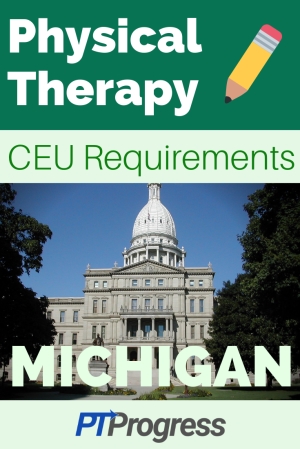 To renew your license as a Physical Therapist or PTA in Michigan, you must complete 24 PDR credits within 2 years immediately preceding renewal. PDRs, or Professional Development Requirements, are for licensure renewal, not the initial PT/PTA license.
The Michigan Physical Therapy continuing education requirements are listed in detail below.
Michigan – 24 PDR credits every 2 years by July 31.
1 PDR = 1 CEU hour.
At least one hour must be from a course in pain management. In addition to the 24 PDRs, you'll also have to complete a one-time course in identifying victims of Human Trafficking.
Michigan Physical Therapy CEU Requirements
The following is from the Michigan Physical Therapy Practice Act Website:
You can earn a maximum of 20 PDR credits through Activity 1/Continuing Education. The credits can be earned through onsite or online continuing education courses. Please note: No more than 12 PDR credits shall be earned for approved online continuing education programs or activities during one 24-hour period. Otherwise there is no limit to online courses.
"No PDR credits for substantially identical programs and activities during the same renewal period. 1 PDR must be earned in the area of pain and symptom management
"Additional One Time Requirement separate from PDR's: Licensees must take a course in the area of identification of human trafficking victims. Michigan law requires that all licensed health professions take a course."
Michigan PT CEU Requirements
There are currently 18 activities that meet PDR requirements, and each has a limit or guideline for applying it towards your license renewal.
Maximum Limits of PDRs and Guidelines
▪ Continuing Education Units (CEUs) – Maximum of 20 PDRs; 1 CEU = 1 PDR
▪ Post-graduate academic courses: Maximum of 20
▪ Reading and evaluating professional PT articles: Maximum of 6; 1 PDR for each article
▪ Viewing and evaluating professional PT media: Maximum of 6; 1 hour = 1 PDR
▪ Presenting an approved CEU course: Maximum of 12; 1 hour = 1 PDR
▪ Presenting a scientific exhibit/paper at a conference: Maximum of 12; Each presentation = 2 PDRs
▪ Writing a professional article that is published: Maximum of 12; 1 article = 6 PDRs
▪ Writing a professional chapter published in a book: Maximum of 12; 1 chapter = 6 PDRs
▪ Completing American Board of PT Specialties: Maximum of 23
▪ Participating in a minimum of 1,000 hours in post-graduate clinical training: Maximum of 12 PDRs
▪ Participating in a healthcare organization's committee related to physical therapy: Maximum of 6; 1 hour = 1 PDR
▪ Serving as a guest lecturer: Maximum of 6; 1 hour = 2 PDRs
▪ Serving as a Clinical Instructor or Supervisor: Maximum of 12; 40 hrs = 3 PDRs
▪ Identifying, researching, and addressing a PT issue: Maximum of 6; 1 PDR for each event
▪ Participating in a task force, board, or council related PT: Maximum of 12; each event = 4 PDRs
▪ Participating as a surveyor for an external agency – PT: Maximum of 12; 1 hour = 1 PDR
▪ Performing volunteer work (without pay) related to PT: Maximum of 6; 1 hour= 1 PDR
▪ Serving as a Center Coordinator – Clinical Education: Maximum of 4; 1 year = 2 PDRs
What CEU Courses are Allowed in Michigan?
The Michigan Physical Therapy Association must approve continuing education courses for them to apply to the 24 PDR requirement. They've provided a list of approved courses here. If you are in MI, the CEU course should make it clear that it has been approved by the MPTA. However, it's ok to contact the MPTA to confirm approval if you are unsure of the eligibility. If you are interested in conducting a CEU course in Michigan, you must complete the Michigan Physical Therapy Continuing Education Application.
Can I Use MedBridge in Michigan?
Yes, you can use an online CEU company like MedBridge to complete required CEUs for your Michigan Physical Therapy license renewal. A quick check on the MedBridge website shows hundreds of approved courses for Michigan PT license holders looking to renew their license.
For example, if you need to satisfy the PDR requirement for pain management, you could complete the following course on Medbridge:
Mind Over Matter: Managing Pain without Medications by Sarah Murray
Use the MedBridge promo code PTProgress to save 40% on unlimited CEUs!
How much is a Physical Therapy License in Michigan?
It costs $194.70 to renew a PT or PTA license.
When does my Michigan Physical Therapy license expire?
In order to practice Physical Therapy, you must have a renewed license after midnight on July 31 of your renewal year.
How long does it take to renew a Michigan Physical Therapy license?
If you file your renewal electronically, the process can be completed in about 7-10 days. If you do it by mail, it can take 3 to 6 weeks to process your request, so be sure to start the process early!
Compare CEUs by State
Take a look at all of the requirements for CEUs based on your state in this comprehensive article.