Consumers are starting to wise up and they're cutting the cord to cable faster than you think!
The average cost of cable and satellite is roughly $123 per month (NPD group), an increase of nearly 10% annually since 2011.
Not cool cable companies, not cool.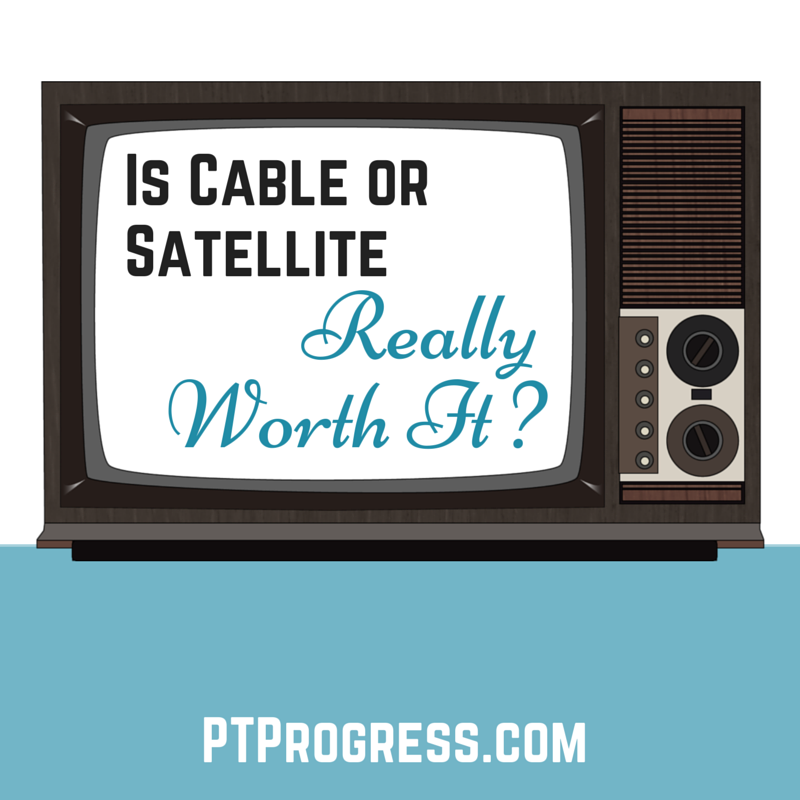 We cut cable in 2013 and haven't looked back. For us, it lowered our monthly expenses by $69 each month. Now we simply pay for internet, which is about $40 a month.
I admit – disconnecting cable left a gaping history-channel-shaped-hole in my evenings, along with our other favorite shows on Discovery and the Food Network.
But when we realized how much TV we were watching in addition to our favorite shows, it was actually a good thing that we stopped cable.
Satellite and Cable TV Alternatives
Just because you cut cable doesn't mean you have to miss your favorite shows. Here's our current setup and substitute for cable.
1. HD Antenna for Broadcast TV
There are still a lot of great shows on broadcast TV, so an antenna is worth setting up. We bought our HD antenna for about $75 and it paid off in the first two months. No, it's not ESPN, but we get football in the fall and the local news isn't terrible. Besides, who really wants to watch the big news broadcasters anyways? Just read their websites and save your night!
Even if you don't own a TV, you can still watch a lot of episodes of popular shows straight from ABC, CBS, or NBC online.
2. Hulu
Here's why we love Hulu: fewer commercials and full episodes of new shows. If you're watching a season of a show and miss an episode, you can count on Hulu to have the latest episode on demand. This is great because we don't have a DVR, so Hulu wins here!
Cost: $7.99 a month
3. Netflix
We actually don't use Netflix as much as Hulu. There are occasionally movies that we watch from Netflix, but to be honest, we'll probably cut it and save the $10 a month. RedBox pretty much has what we want from Netflix so that's the biggest reason we'd drop it.
4. Amazon Prime
We've been using Amazon Prime for a few years and are hooked! We really use it mostly for the free Prime shipping and student rate of $49 per year. As a member of Prime, you get access to a TON of shows from HBO, AMC, Bravo, and TNT. It's definitely worth having if you like a few specific shows.
Cost: $49 – $99
5. MLB TV
The last piece of our cable cutting setup is MLB TV. We love watching baseball but hate the idea of spending hundreds of dollars a month plus more for extra sports packages. MLB.tv let's us watch our favorite games (GO Mets!) for about $125 a year.
6. The Public Library
Ok, this is a stretch, but seriously check out your library. They might have some movies you haven't seen – especially kids movies. Plus, with all that extra time you save not glued to your cable, you can read a book or two.
The Verdict…
When it's all said and done, cutting cable saved us about $69 x 12 months, a total of $828 per year.
Of course, we need to subtract out the annual cost of Hulu ($8 x 12months) Amazon ($49 / year), MLB TV ($125 / year). That's about $270 per year.
All in all, that's about $550 a year that we're saving. If you follow our setup, you might have even more savings depending on your cable or satellite bill.
Is Cutting Cable Worth It?
For us, the answer was yes. Here's my reasoning:
Yes, an extra $550 in savings per year is nice! But unless you're setting it aside in a savings account, you'll probably just spend it somewhere mindlessly… If you really want to see this savings add up, automate your savings by bumping up your automatic withdrawal into an investment account at Betterment like we do.
The best savings for me has been time. I spend fewer in front of the TV mindlessly watching multiple shows on my favorite channels like the Food Network and Discovery. Now we just spend an hour on the exact show we want.
What about you? Does cutting back cable make sense to you? Or is it worth spending the money for it as a form of entertainment? Share your thoughts in the comments.