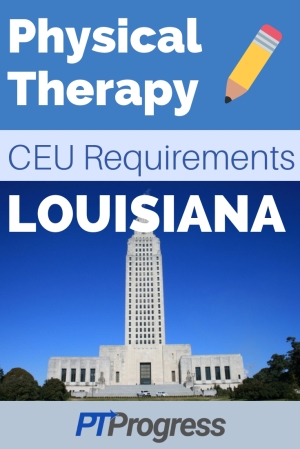 To renew your license as a Physical Therapist in Louisiana, you must complete 30 continuing education hours every two years by March 31st in odd- or even-numbered years, depending on your birth year. Physical Therapist Assistants in Louisiana must take 30 continuing education hours every two years as well. The Louisiana Physical Therapy continuing education requirements are listed in detail below.
Louisiana PT License Renewal:
 30 CEU hours every 2 years by March 31st in odd or even years based on PT's birth year.
You'll also need to make sure at least 2 of your contact hours are from Ethics or Professionalism courses, and at least 2 are from jurisprudence courses. No more than 8 of your contact hours can apply to administrative courses.
Louisiana Physical Therapy CEU Requirements
From the Louisiana Physical Therapy Practice Act Website:
"Unless exempted, licensees shall successfully complete, document and report to the board at least 30 hours of board-approved continuing education courses or activities in the biennial renewal period. No carryover of continuing education hours from one renewal period to another shall be allowed. Continuing education will be granted in the reporting period in which the academic coursework, clinical instruction, tool, residency, or fellowship is completed.
"The four types of approved courses or activities and requirement for each are:
1. jurisprudence ― a minimum of two contact hours;
2. ethics or professionalism ― a minimum of two contact hours;
3. clinical/preventive ― a minimum of 18 contact hours, up to six of which may be earned by completion of a board-approved self-assessment tool
4. administrative ― a maximum of eight contact hours may be applied during each renewal period. Additional clinical/preventive hours may be substituted for administrative.
"No more than 15 hours of continuing education submitted to the board shall be home study, internet or online courses or by other distance learning methods. This excludes the jurisprudence requirement, if taken online."
What CEU Courses are Allowed in Louisiana?
You may take both online and in-person CEU courses, but no more than 15 hours of continuing education can be earned online. If you complete the jurisprudence requirement online, it won't contribute towards the 15-hour limit.
Can I Use MedBridge in Louisiana?
Yes, you can use an online CEU company like MedBridge to complete required CEUs for your Louisiana Physical Therapy license renewal. A quick check on the MedBridge website shows hundreds of approved courses for Louisiana PT license holders looking to renew their license.
Here are a couple courses MedBridge offers that satisfy the Louisiana ethics CEU requirement:
Professionalism in Practice: Examining Common Ethical Challenges by Ellen R. Strunk
Ethics in Practice: Resources for PTs and PTAs (2021) by Ellen R. Strunk
Use the MedBridge promo code PTProgress to save 40% on unlimited CEUs!
How much is a Physical Therapy License in Louisiana?
It costs $140 to renew your PT license.
When does my Louisiana Physical Therapy license expire?
Your Physical Therapy license will expire biennially on May 1st in odd- or even-numbered years based on your birth year. In order to avoid a late fee, renew by March 31st.
How long does it take to renew a Louisiana Physical Therapy license?
For some states, it can take 4-8 weeks to process your request. Louisiana does not provide an average time for renewal, so be sure you start the process early!
Compare CEUs by State
Take a look at all of the requirements for CEUs based on your state in this comprehensive article.