To renew your license as a Physical Therapist in Maryland, you must complete 30 continuing education hours ("3 CEUs") every two years by March 31st. A license ending in an odd number will renew on odd-numbered years, whereas a license ending in an even number will renew on even years.
Similarly, Physical Therapist Assistants in Maryland must take 20 continuing education hours ("2 CEUs") every two years. Keep reading for more details about the Maryland Physical Therapy continuing education requirements!
Maryland – 30 CE hours every 2 years by March 31st.
Maryland Physical Therapy CEU Requirements
From the Maryland Physical Therapy Practice Act Website:
"Licenses are renewed biennially on an odd-even basis via on-line system. License numbers ending with an odd number renew in odd-numbered years. License numbers ending with an even number renew in even-numbered years.
"Continuing education is a requirement for renewal or reinstatement of licenses…and may be obtained by:
Postgraduate studies;
Attendance or presentation at seminars, conferences, or workshops;
Authoring, co-authoring, or editing of a book, book chapter, refereed article, or abstract; or
Home study, including internet courses.
"Professional education eligible for continuing education credit shall be relevant to the clinical practice of physical therapy and directed to a professional audience. The Board shall have final approval of the relevancy of the program to the practice of physical therapy."
What CEU Courses are Allowed in Maryland?
To qualify towards the CEU requirement, all continuing education courses must be approved by the Maryland Board of Physical Therapy Examiners. They've provided a list of courses they already approve here. But it's ok to contact the board to confirm approval if you're unsure.
Can I use MedBridge in Maryland?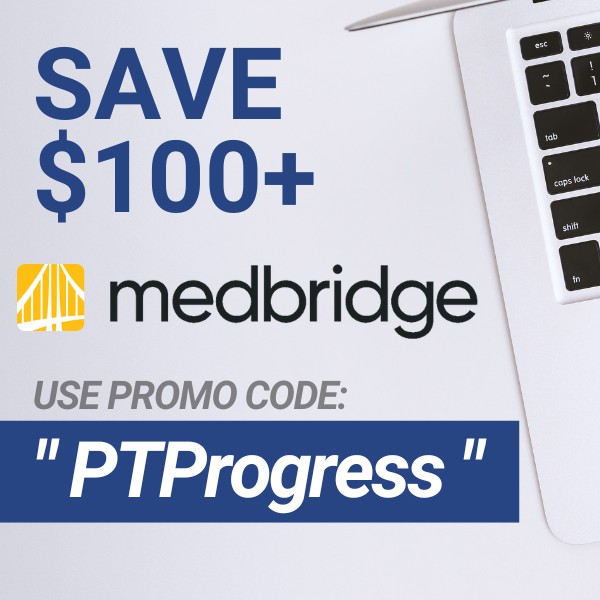 Yes, you can use an online CEU company like MedBridge to complete required CEUs for your Maryland Physical Therapy license renewal. In fact, a quick check on the MedBridge website shows hundreds of approved courses for Maryland PT license holders looking to renew their license.
To save 40% on an annual subscription to unlimited CEUs, use the MedBridge promo code PTProgress.
How much is a Physical Therapy License in Maryland?
It costs $325 to renew your PT license and $300 to renew a PTA license.
When does my Maryland Physical Therapy license expire?
In order to practice Physical Therapy, you must you renew your license by midnight on May 31st of your renewal year. But all CEU hours need to be completed earlier, by March 31st.
How long does it take to renew a Maryland Physical Therapy license?
If you file your renewal electronically, the process can take about 7-10 days. If you do it by mail, it may take 3 to 6 weeks to process your request, so be sure to start early!
Compare CEUs by State
Take a look at all of the requirements for CEUs based on your state in this comprehensive article.