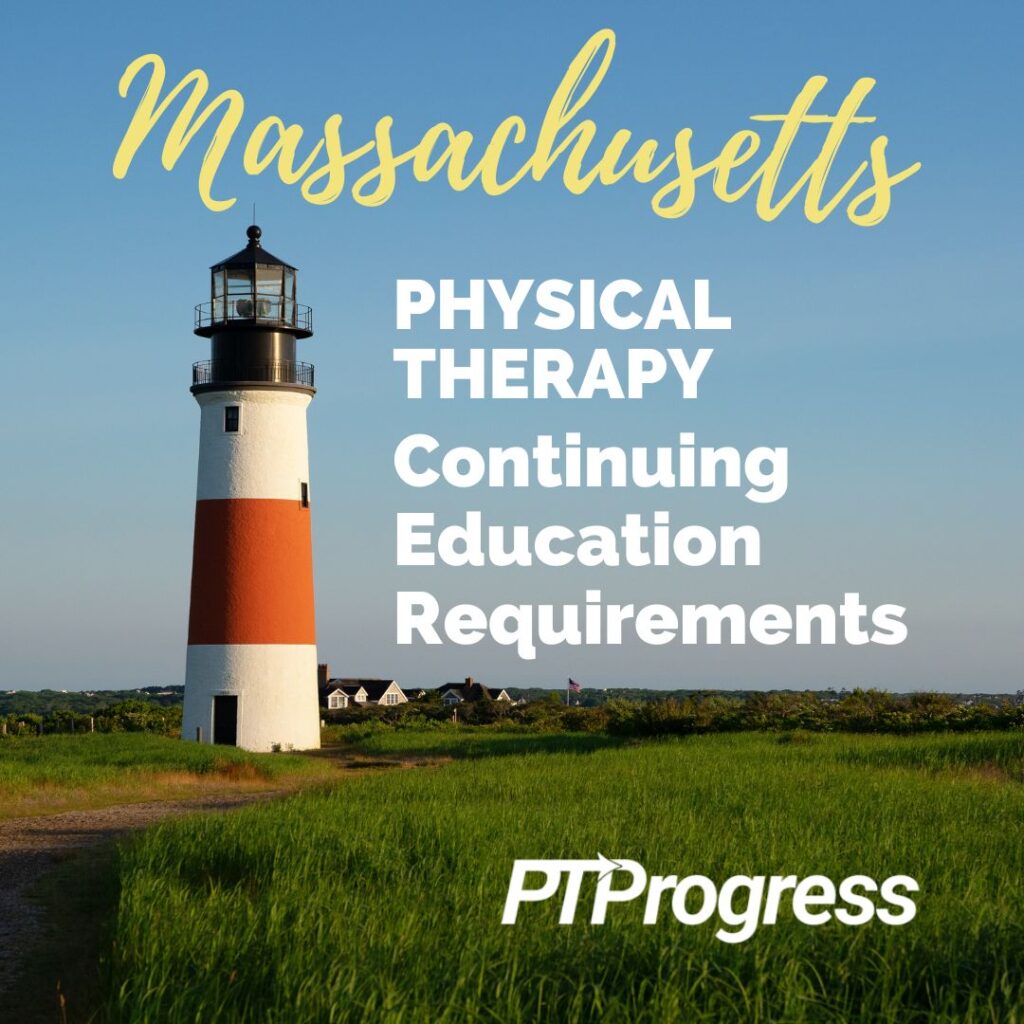 Until recently, PTs and PTAs in Massachusetts didn't need to complete continuing education to renew their licenses. But that all changed in the spring of 2022, when the state issued new Massachusetts physical therapy continuing education requirements. Keep reading to learn all about it!
At a glance:
Massachusetts – 24 PT CEUs every 2 years by the license holder's birthday
Massachusetts Physical Therapy CEU Requirements
From the Massachusetts Physical Therapy Website: (MA source)
"Licensed physical therapy and occupational therapy professionals are required, as a condition of license renewal, to complete a minimum of 24 points of Board recognized activities for maintaining continuing competence during the preceding biennial renewal period.
"For each renewal period, each physical and occupational therapy professional's continuing competency points must include two points in ethics, laws and regulations governing practice in the Commonwealth of Massachusetts, or some combination thereof.
"For new physical therapy or occupational therapy professionals licensed by examination, this continuing competence requirement commences following their first renewal period after initial licensure."
New Massachusetts CEU Requirement: Phase-In Details
As of May 2022, the Massachusetts Board of Allied Health Professions has decided that their licensees should complete continuing competency as a condition of license renewal. For PTs and PTAs, that requirement shakes out to be 24 hours of continuing competency activities, such as coursework, conferences and workshops, or select activities of academic and professional development. The Board asks that at least 2 hours be from courses covering ethics or Massachusetts law/jurisprudence.
Because this is a relatively new ruling, the Board is phasing in the requirement. Until August 2024, the Massachusetts physical therapy continuing education requirement will be prorated, so follow this link to determine how many CEU hours you'll need to complete.
Additionally, the Board will begin enforcing the 2-hour ethics requirement after July 2024. So if your license is due in August 2024, make sure that you complete all 24 hours and that at least 2 of those hours cover ethics or jurisprudence.
What CEU Courses are Allowed in Massachusetts?
In order to qualify towards your license renewal, all continuing education should be related to physical therapy and come from an organization the Board approves. That includes coursework that is accredited or approved by the following:
CAPTE
FSBPT, APTA, or other physical therapy association
Another state's licensing board
Another governmental health agency or teaching hospital
CEU providers who are not automatically on this list can seek approval by the board, which could allow any hours you earn through them to count towards your license renewal.
For more information, or to check if a course or activity qualifies, contact the Board.
Can I Use MedBridge in Massachusetts?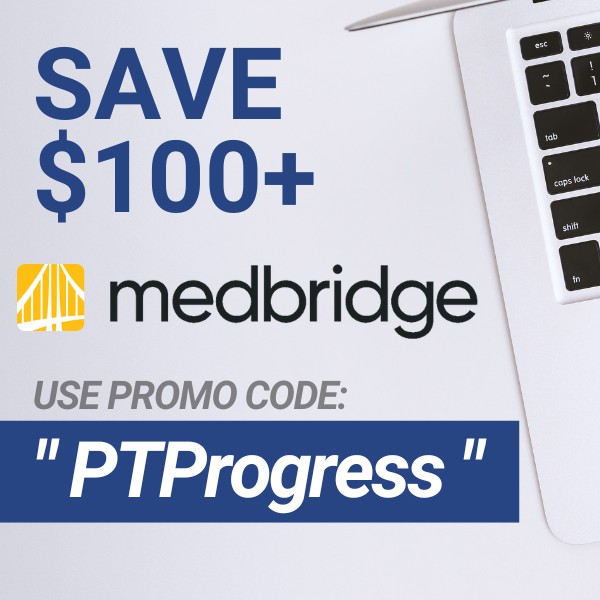 Yes, you can use an online CEU company like MedBridge Education to complete your Massachusetts Physical Therapy continuing education. A quick check on the MedBridge website shows hundreds of courses for Massachusetts PTs and PTAs looking to renew their license.
At MedBridge you'll discover a wide range of topics for your continuing education, including those your state requires. For example, the course Ethics for Physical and Occupational Therapy Professionals by Ron Scott will cover the 2-hour ethics requirement set by the Massachusetts Board.
From patient adherence and pain management to documentation and telehealth, there's no shortage of subjects to keep you engaged. Whether you prefer self-guided study or a live experience, MedBridge offers both formats all year long. An annual subscription grants you unlimited access to their vast library of CEU courses and a front-row seat to their live, interactive webinars. Use the MedBridge promo code PTProgress to save 40% on unlimited CEUs.
Do I need to submit proof of my completed CEUs?
Every legitimate CEU provider, including MedBridge, will give you a certificate of completion when you finish a CEU course or activity. The Massachusetts Board of Allied Health Professions does not require this document with your renewal. However, you should store it, along with any other proof of continuing education, for at least 5 years after your renewal in case you are selected for a formal audit.
How much is the renewal fee?
It costs $100 to renew a Massachusetts PT or PTA license.
When does my Massachusetts Physical Therapy license expire?
Your Massachusetts PT or PTA license expires biennially on your birthday (happy birthday!).
How long does it take to renew a Massachusetts Physical Therapy license?
For many states, it can take 4–8 weeks to process your request, so start the process early!
Compare Physical Therapy CEUs by State
How does your state compare? Take a look at all of the state-by-state CEU requirements in this comprehensive article.