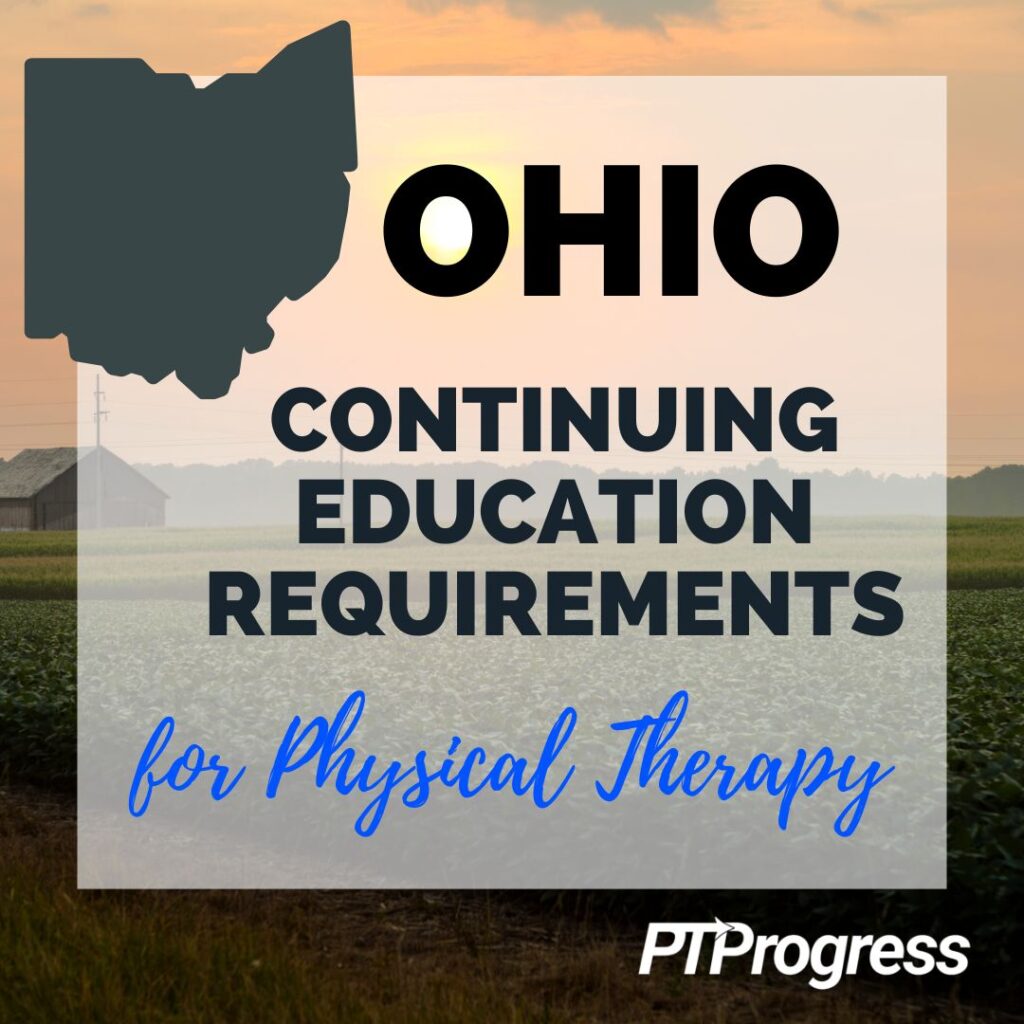 By the end of January, PTs and PTAs across the state of Ohio must renew their license before it expires. As part of that process, PTs have to complete 24 hours of continuing education, while PTAs need to complete 12 hours. Two of these hours will be covered by completing the jurisprudence module, mandatory with every renewal. Keep reading for all the details on Ohio physical therapy continuing education requirements!
At a glance:
Ohio – 24 CEU hours every 2 years by January 31st.
If this is your first time renewing your license, then the following CEU requirements are optional.
Ohio Physical Therapy CEU Requirements
From the Ohio Physical Therapy Association Website: (OH source)
"1 contact hour is one clock hour spent in a continuing education activity. Physical therapists are required to complete a minimum of 24 contact hours per renewal cycle. Remember that all continuing education activities require valid Ohio Approval Numbers issued by the OPTA (www.ohiopt.org).
"NOTE: The two-hour ethics requirement can be met by taking the jurisprudence assessment module (JAM). The JAM is required for PTs starting with the 2022 license renewal; required for PTAs starting with the 2023 license renewal."
What CEU Courses are Allowed in Ohio?
To count towards your license renewal, all CEU courses must have "Ohio approval numbers," which is regulated by the Ohio chapter of APTA, or OPTA. Most CEU providers will have this information readily available before you sign up for their course.
If your course doesn't have these approval numbers yet, you may be able to still have it count towards your CEUs. Just submit an application for approval to OPTA, along with a processing fee, at least 60 days before your renewal is due. (And call ahead to ask if the course is already under review!)
The easiest way to ensure your coursework meets the criteria is by checking the OPTA's running list of approved courses and providers. They've also included a list of denied courses.
Besides coursework, you can rack up CEU hours through many other academic and professional activities, such as completing a specialty certification, serving as a clinical instructor or mentor, or volunteering at a free clinic or non-profit. Each of these activities comes with its own set of regulations and limits, which you can read all about here.
If you're unsure whether a course or activity qualifies for continuing education, just contact the Board.
Can I Use MedBridge in Ohio?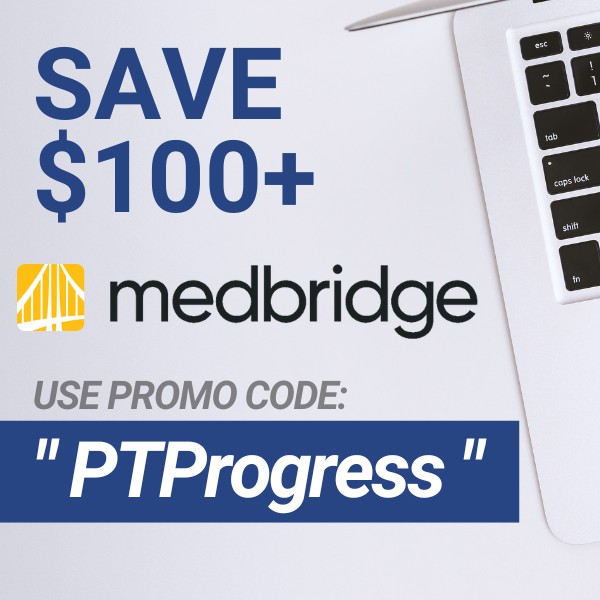 Yes, you can use an online CEU company like MedBridge Education to complete your Ohio Physical Therapy continuing education. A quick check on the MedBridge website shows hundreds of courses approved by OPTA for PTs and PTAs in Ohio.
Although you'll still need to complete your two hours of jurisprudence through the FSBPT module, MedBridge can take care of all remaining CEUs. An annual subscription to MedBridge Education grants you unlimited access to their vast library of CEU courses, as well as free registration for live and interactive webinars all year long. Whether you're a PT or a PTA, you can find plenty of eligible courses on MedBridge. Use the MedBridge promo code PTProgress to save 40% on unlimited CEUs.
Do I need to submit proof of my completed CEUs?
Every legitimate CEU provider, including MedBridge, will give you a certificate of completion when you finish a CEU course or activity. The OTPTAT Board asks that you retain this document for a few years after your license renewal period is over. They'll request this proof if you are selected for a formal audit.
May I carry over any completed CEUs?
No. PTs and PTAs in Ohio may not carry over any excess CEUs from one renewal period to the next.
How much is the renewal fee?
It costs $70 to renew a PT or PTA license in Ohio. Make sure you set aside an additional $48 to cover the cost of the JAM module.
When does my Ohio Physical Therapy license expire?
Licenses expire every two years on January 31st.
How long does it take to renew an Ohio Physical Therapy license?
For many states, it can take 4–8 weeks to process your request, so start the process early!
Compare Physical Therapy CEUs by State
How does your state compare? Take a look at all of the state-by-state CEU requirements in this comprehensive article.