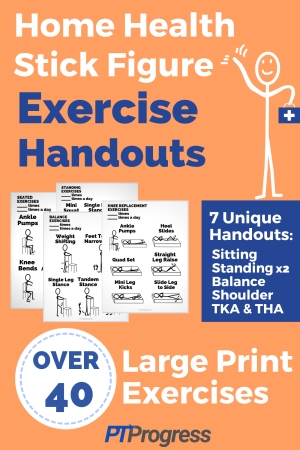 As a home health Physical Therapist, I try to make each home exercise program unique.
After years of practicing in the clinic and in the home health setting, I found that many people benefit from similar sequences of simple exercises – the ultimate goal is movement right!
So I developed my own home health exercise handout and started using it with my patients.
Unfortunately, many stock images always seemed to be so small and difficult to see with multiple exercises on one page. Sure I could print out the HEP with one exercise per page, but patients did much better with fewer pages to sift through.
I started to create stick figure exercises large enough for people to see on a single page.
It worked like magic!
I could start with a simple sequence in sitting and progress to the standing exercise page, then the balance page and even an advanced standing exercise page.
These one page handouts with large stick figures are easy to understand, simple to follow, and great for progressing the patient for follow up visits.
Save 15 Minutes a day!
If you spend even 3 minute drawing or writing out exercises, these handouts can save you 15 minutes a day.
That's an extra hour a week saved! Apply that time towards writing a few notes and you'll finish your day with less documentation.
These exercise handouts are a perfect complement to the Home Health Documentation Templates.
Become a more efficient Home Health Therapist with these easy to follow stick figure exercise handouts.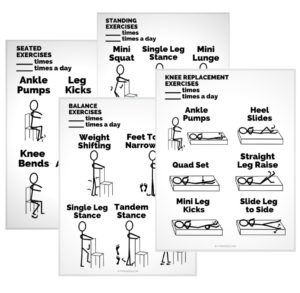 Stick Figure Home Exercise Handouts
What's Included?
7 Handouts to include:
Seated Exercises

Standing Exercises (Basic and Advanced)

Balance Progression

Shoulder Exercises

Total Knee Replacement

Total Hip Replacement
Over 40 Exercises!
Each handout includes individual exercises that are easy to follow and simple to understand.
Progress your patients with new challenges each week using these handouts. Get the handouts here.