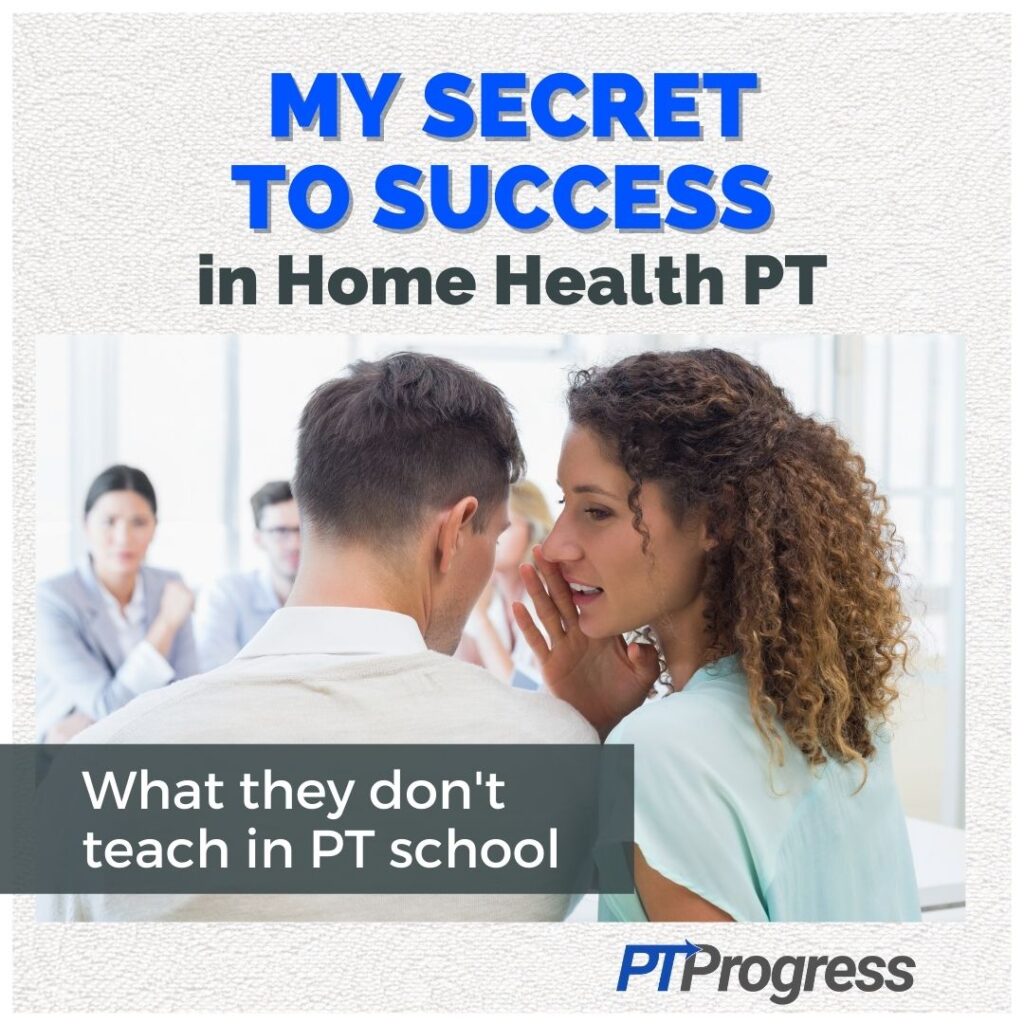 There's one trick they don't teach you in PT school, but it could save you precious time as a home health physical therapist. It took me eight months working in home health on the weekends and almost two years working in the clinic before I knew this trick. Keep reading to learn more!
How I Became a Successful Home Health PT
It's funny to look back at the things we say we'll never do, yet somehow end up doing them anyway. For instance, when I started my first job as a PT, I swore I'd never work in home health.
Never say never, right? Because fast-forward only one year into my career, and there I was working a weekend job as a home health PT.
Home health wasn't as bad as I expected. I actually really enjoyed the freedom to work with patients one-on-one, and driving around town was honestly a nice change of pace.
But there was one major drawback: the documentation. 
The Drain of Home Health Documentation
The rumors are true; home health documentation is a drag. It's time-consuming, inefficient, and – worse – unpaid.
After starting my job as a home health PT, I felt like my whole life was writing documentation. I would be writing notes all week in the clinic, and then coming home on the weekend just to write more notes for home health. To make matters worse, my two jobs used different EMRs and followed different documentation requirements.
Although my hourly rate was better as a home health PT, my work/life balance was not, and the documentation duties started to really drain my free time.
I knew I needed to streamline my documentation process, but it took me a while to learn the trick behind it. I didn't learn it in PT school, so I'll bet you haven't either!
PT School Doesn't Teach You How to Write
To get faster at my documentation and improve my time management, I needed to have a better framework. So I started to take notice of my notes both in the clinic and in the home health setting.
I realized that most of the time spent writing my notes was wasted time, as I repeatedly struggled to put my skilled treatment into satisfactory words. Besides, after a long day working in the clinic or driving around town, my brain was tired and my writer's block acute.
This near-daily occurrence made me reflect on how, as PTs, we attended PT school to learn how to deliver skilled treatment – not craft well-written documents. Yet, writing is such an essential part of our job. From daily notes to evaluation assessments to progress reports, the life of a PT seemingly revolves around the written word.
In PT school, you'll learn how to be a skilled clinician, but I doubt you'll find a good class on how to be a skilled writer.
Better Documentation = Time Saved
I came up with my own solution to this oversight. As I wrote my documentation each day, I began retaining my notes and building templates for writing my future documentation faster.
My idea worked. By recycling my documentation phrases and retaining a general documentation template, I shaved off 5-7 minutes of documentation time per patient.
If that doesn't sound like much, think about how that little bit of time can multiply throughout the day. If you see 6 to 8 patients each day like I was, my documentation templates will save you 30 to 60 minutes every day.
For me, saving one hour each day meant I could finish early and enjoy my evenings – or see an additional patient. As a home health PT, I averaged about $50 an hour on a good day. By fitting in an additional patient, I was able to work more efficiently and achieve a higher hourly wage.
PT Documentation Cheat Sheets
I wish PT school taught us how to develop a better framework for faster documentation; it would do a world of good for so many new grads learning the trade. PTs should be able to consult a cheat sheet or similar resource to translate their skilled treatments into skilled writing.
In lieu of an official cheat sheet, I suggest you take the time to create your own. You can do what I did and spend 3-4 months going over your notes to create over 60 pages of documentation cheat sheets. Or, you can download mine as a PDF and immediately start saving 30 minutes a day on your notes.
If you're a new grad, or you're looking to streamline your home health workflow, this is some of the best advice I can give. Using a documentation cheat sheet is a time-saving trick worth its weight in gold, and you won't learn it in PT school.
Save Time: Use Mine!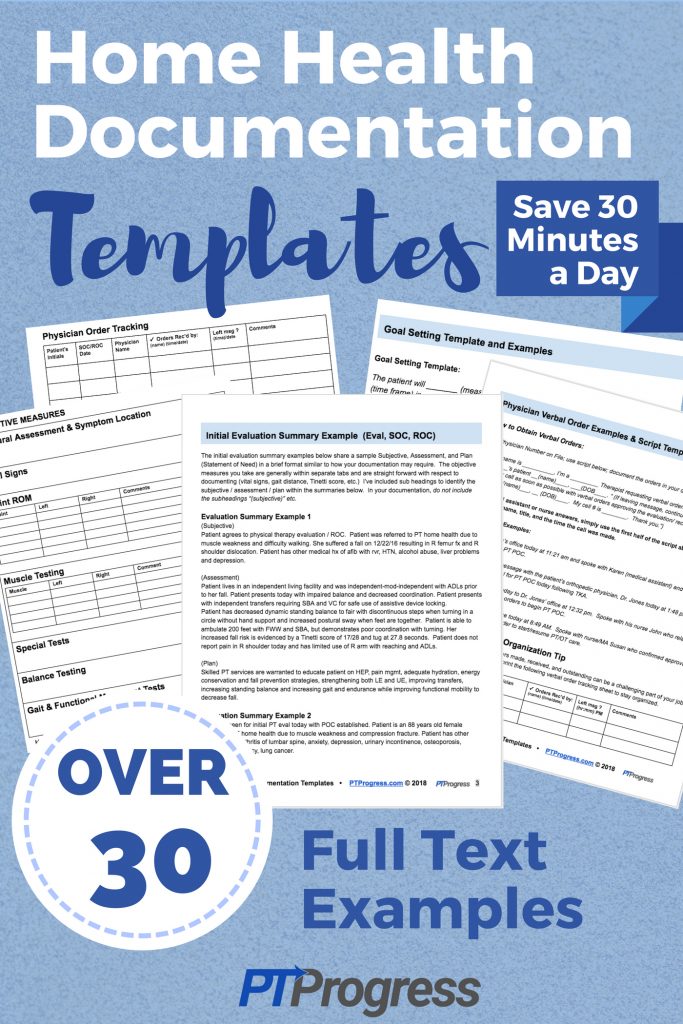 Instead of spending hours upfront to make a reference page or documentation template, you're welcome to use mine, available here. They're the exact templates I created for myself and I know they'll be a huge time saver for you.
The templates are digital and delivered as a PDF. There's no need to wait for them to arrive in the mail, so you can get started right away. Either save or print them to use as a reference as you're typing your notes. You could even copy and paste from the PDF into your own cheat sheet and make adjustments based on your go-to treatments.
My Secret to Success: Home Health Documentation Templates
So there you have it – the one trick they don't teach you in PT school and the key to becoming a successful, time-efficient home health therapist.
Because this strategy worked so well for me, I'm sure it'll likewise save you time, whether you work clinical rotations, provide home health on the weekends, or just need help coming up with good documentation phrases.
Check out my templates here!