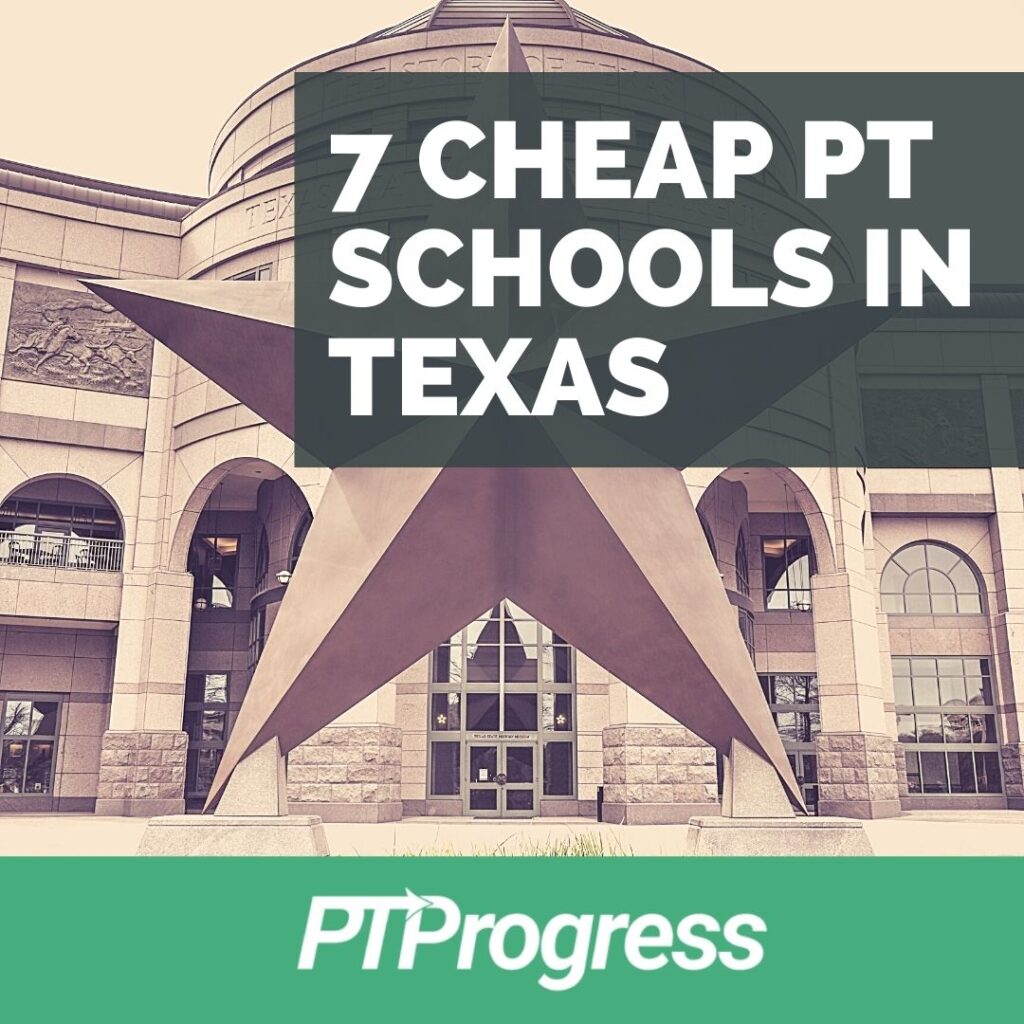 Everybody knows higher education is expensive, and for physical therapists, this is especially true. What's the secret to finding cheap PT Schools in TX? State universities. If you're a resident of Texas, you'll be able to cash in on these incredibly low tuition rates – a fraction of the cost of private school tuition.  
Cheap PT schools in TX > DPT Debt
Many PTs are broke due to the high cost of a DPT and a low starting salary with which to pay it off. Unless you choose a PT school carefully, you may end up with an endless – but avoidable – mountain of debt.
Schools love to brag about their (mostly made-up) ranking, but are shy about the high tuition they charge for it. Don't be fooled; your future employer won't care where you went to school, so long as you have good clinical experience, a DPT, and a board-certified state license. Even a cheap DPT program can provide these qualifications.
There are cheap PT schools in TX statewide, but where you live also matters to your overall program cost. In general, metropolitan areas require a higher cost of living than a small college town does. So as you price-compare, take notes on living expenses in the area and how it will affect your overall debt.
Paying for School with a PT Salary
Where you live also impacts your starting salary. For instance, in the Dallas/Fort Worth metro area, an entry-level PT can expect to earn $63,600 annually. However, the average starting salary for PTs across the entire state is much lower, at $52,670 – a full 10 grand below the national average.
My advice? Keep your debt-to-income ratio at less than 1:1. Don't accrue more debt in school than you'll earn in your first year as a PT. If that seems challenging, Texas makes it easy for its residents. I've counted 7 schools in the Lone Star State that charge less than $35k for total program costs – and one that's free!
7 Cheap PT Schools in TX
Based on 2020-2021 tuition rates. Subject to change.
Everything's bigger in Texas, including DPT tuition savings. As a resident of Texas, you don't have to move far from family in order to land a good deal on a DPT program. But if you want to, there's an affordable PT program in nearly every corner of the state.
Let's take a look at the cheapest PT schools in Texas by region.
PT Schools in West TX
El Paso
The first school on this list is potentially the most remote. El Paso is a city at the westernmost tip of Texas, with Mexico to the south and New Mexico to the northwest. Residents of El Paso enjoy the stark desert scenery, vividly displayed in the Franklin Mountains State Park and nearby Chamizal National Park.
But for our purposes, the main attraction is the University of Texas El Paso (UTEP) one of 14 institutions beneath the University of Texas academic umbrella. Despite the affiliations, UTEP's location right on the Mexican border gives DPT students an experience unique from that of their peers.
The program includes invaluable offerings: a state-of-the-art simulation center, university-wide interprofessional education, and the opportunity to perform clinical rotations in multilingual settings. Best of all, 100% of recent UTEP graduates passed the NPTE on their first try, landing a job within 6 months of graduating.
If that weren't enough to convince you, Texas residents pay just $32,091 for the 99-credit, 3-year tuition. What's more, the cost of living in El Paso is relatively inexpensive: average monthly rent for a 1-bedroom apartment hovers around $600-700. Students should budget about $21k for living expenses each year.
Lubbock
Moving further north on the west side of Texas, we come to Lubbock, a city of a quarter of a million Texans but the birthplace of rock-and-roll artist Buddy Holly. Besides this legend, Lubbock is home to a long list of national historic places, art centers, museums, and colleges. Texas Tech University, founded in 1923, has been the star of Lubbock for nearly 100 years. Its DPT program provides stellar quality at a low cost.
A DPT from Texas Tech University Health Sciences Center comprises 100 credits of coursework and 36 weeks of clinical experience and internships throughout the 3-year program.
You're not limited to Lubbock, however. Texas Tech offers the same cutting-edge, integrative learning experience at any of their three locations: Lubbock, Amarillo, or Odessa. Wherever you go, you'll be guaranteed a top-notch education, evident in the 100% NPTE pass rate and 6-month employment rate among recent graduates.
Tuition is cheap across the three campuses: $26,100. However, living expenses vary widely, so choose your campus carefully. Lubbock is relatively affordable, with monthly rent for a 1-bedroom apartment averaging $650-900 depending on proximity to downtown. Groceries are cheap, so budget $22k for yearly expenses.
Two hours further north in Amarillo, living expenses are much lower, with monthly rent for a 1-bedroom in the $450-550 range. In contrast, rent in Odessa two hours south is nearly three times as much at $1200-1450.
Either way, the low tuition means you'll be saving more money going to Texas Tech, no matter which campus, than you would nearly anywhere else in the country.
San Angelo
At the eastern frontier of west Texas, straddling the Texas plains, stands the city of San Angelo. This unique town features desert dirt and river oases, rodeos and art museums, and a close-knit community of 100,000 Texans who call San Angelo home. The resident university, Angelo State, was funded by the local community in 1928 after being passed up by Texas Tech as a university location.
The DPT program at ASU encompasses 100 credit hours of coursework and clinical practice at the university's brand-new Health and Human Services Building, outfitted with high-tech laboratories and state-of-the-art therapy equipment.
With an average cost of $235/credit hour, you'll pay just $23,930 for a DPT from ASU. Don't let the low price fool you; DPT graduates have shown 98% competency in passing the NPTE, and 100% of those licensed are now employed.
These tuition savings will help offset a slightly higher cost of living in San Angelo than the other west Texas towns on this list. Rent for a 1-bedroom apartment runs about $1000/month, so budget about $24k each year for living expenses.
PT Schools in South TX
The state's largest city, Houston, is a colossal metropolis sprawling 670 square miles of southeast Texas. Such a massive urban area has nearly everything you could ask for in a city: international diversity, economic prowess, excellence in arts and culture, and access to the finest cuisine around. Concerning physical therapists, Houston employs over 360,000 health care workers in the nation's largest medical center.
Texas Women's University, one of the cheapest PT schools in TX, makes good use of these resources. Now a diverse institution, TWU offers DPT candidates 33 months of coursework and clinical practice amounting to 98 credit hours. The 32 weeks of clinical rotations may be completed in Houston or at one of the 400 affiliated clinics region- and nationwide. In addition, DPT graduates may undergo a Neurologic Physical Therapy Residency in collaboration with area hospitals and UT Galveston.
Tuition costs for the 3-year DPT program total just $27,508, a steal compared to graduate tuition throughout the city. Plus, a starting salary in a metropolitan area such as Houston could fetch you $62k as opposed to the lower statewide wage.
Living expenses vary widely across the sprawling city, but in the downtown Houston area, monthly rent for a 1-bedroom apartment averages $900-1300. Food costs tend to be higher, especially if you like eating out, so budget $28k per year for living expenses.
For the same program price, TWU offers this DPT program and Neurologic Residency at their Dallas location in North Texas. Let's check out another school in the northern region that offers a DPT for cheap.
PT Schools in North TX
Historically, Fort Worth was identified as a 19th-century army base and a cowboy trading post, but today it's a major city housing nearly one million people. Along with neighboring Dallas, the Dallas/Forth Worth (DFW) metro area is the cultural and economic hub of the northern Texas region and the site of many urban parks, world-class museums, and prestigious universities.
Perhaps the most notable academic institution in the region, the University of North Texas sponsors a Health Science Center at Fort Worth comprising six healthcare schools. Their DPT program spans 33 months, covering 117 credits of coursework and 36 weeks of clinical rotations.
The UNT HSC also offers a class on Rural Health, equipping physical therapists to provide high-quality care no matter the setting. DPT candidates can practice their clinical rotations in the DFW area or around the country, even overseas. Recently, graduates of the Health Science Center demonstrated a 100% first-time pass rate for the NPTE, and all are employed.
This high-value education is a bargain at just $27,662 in total tuition. Living expenses are equivalent to other metro areas in Texas; you'd pay anywhere from $900-1300/mo. to rent a 1-bedroom apartment in Fort Worth. For annual expenses, including transportation and food, add another $27k to your total program cost.
DPTs in the San Antonio area
The first thing that comes to mind when you hear "San Antonio" might be the Alamo, a historic mission brave Texans defended in vain during the Texas Revolution.
However, the Alamo isn't the only thing for which San Antonio is remembered. Tourists flock to San Antonio for its beautiful River Walk, iconic Tower of the Americas, and ubiquitous Spanish culture. This southern city is the second-most populous in the state of Texas, and its many residents enjoy the cultural offerings and resources of multiple nearby universities.
UT Health San Antonio
The omnipresent University of Texas appears in San Antonio as UT Health. Earning your DPT from UTHSA requires 100 credit hours: 6 semesters of coursework and 30 weeks of clinical practice.
Graduating DPT candidates demonstrate consistently-rosy outcomes, with NPTE pass rates within 90% and ultimate employment at 100%. Tuition for in-state residents is, in true Texas-fashion, super cheap: $23,384 for the whole program.
Interested high school students should consider enrolling in one of two early-acceptance options at UTSA or Texas A&M. Instead of completing a 4-year Bachelor's degree, you'd complete an accelerated version in 3 years as part of a conditional admittance to the DPT program at UT Health San Antonio. By going this route, you'd save time, money, and the hassle of applying to a DPT program later on. However, you'll have to be decisive in your choice of UT Health and a PT career in general (so do your research!).
Texas State University
Another cheap PT school in this area is Texas State University in San Marcos, 50 miles northeast of downtown San Antonio. The two schools are classic rivals in sports, but happily the DPT programs prioritize patients over ranking. Texas State welcomes roughly 40 DPT candidates each year to their 3-year, 99-credit course.
You'll get experience treating all kinds of patients in the university-run PT clinic, with the option of staying on for an additional 52-week Neurological Physical Therapy residency after graduation. Tuition for the DPT at Texas State is a bit pricier than its San Antonio rival: $34,386 total.
Living expenses for the San Antonio and San Marcos areas are relatively similar, with 1-bedroom rental apartments costing $900-1300/month on average. No matter which school you choose, budget about $26k per year for total living expenses in San Antonio.
Army-Baylor
If you're dead-set against attending a state school in Texas for your DPT, but still expect to pay under $35k, you might consider the Army-Baylor DPT program at Baylor University – it's free!
What's the catch? The Army-Baylor program takes place at Fort Sam Houston in San Antonio, the location of a US Army base; so in order to earn your DPT for 0 dollars, you must enlist in the military. While training under Baylor's expertise, you'd subsist on the wages of a Commissioned Officer. No student loans necessary.
Throughout its history, physical therapy has collaborated closely with the military, rehabilitating wounded soldiers and returning immobilized troops to the battlefield. In 1971, the US Army enlisted the expertise of Baylor University to establish an entry-level physical therapy program, which is now at the doctoral level.
Today, the 30-month-long DPT program covers all the accredited coursework available elsewhere: 124 hours of credits, 36 of which are in clinical internships. As expected of the military, DPT graduates show exemplary excellence in their studies, demonstrating a 100% pass rate for the NPTE. After graduation, physical therapists serve an additional 90 months for their Active Duty Service Obligation.
In terms of living expenses, the Army has it covered. In fact, DPT candidates earn money by joining the program. You'll receive not only a military salary but also a housing allowance amounting to $1750/month. Considering the cost of living in San Antonio, such wages will more than suffice for all living expenses; who knows, you might even be able to pay off undergrad loans and finish debt-free!
Finding Cheap PT Schools in TX
Joining the Army isn't for everyone, so if you choose a state school, don't forget to budget living expenses. These range from $45k – $70k+ depending on where you live.
The tuition costs in this article are only estimates of the base rate; they don't cover the additional $5k – $20k you can expect in student fees. You'll also need to include mandatory health insurance, which ranges from $2000 – $3500 annually.
Be sure to include vehicle maintenance and gas in your total budget if you need a car to get around. Many metropolises such as Houston and San Antonio employ buses, but relying on public transit could limit your apartment selection and increase your rent.
Researching PT schools in TX
When shopping for an affordable DPT, it can be challenging to locate precise tuition information on a university website. You'll need a calculator and a renewable source of patience for converting credit hours, semesters and years into the dollar amounts listed on elusive university tuition pages. Many schools charge an additional departmental fee per credit hour for a DPT program, so be careful to track all fees, whether one-time or annual.
University websites try to convince you to apply to their school without telling you how much it'll cost. By choosing a Texas state school, you'll be much more likely to secure an affordable rate for your DPT tuition. And remember, it's not about where you go that matters to your career success. It's your clinical experience, license, and knowledge of physical therapy that will serve you in your PT career – not the fancy private school that put you in debt.