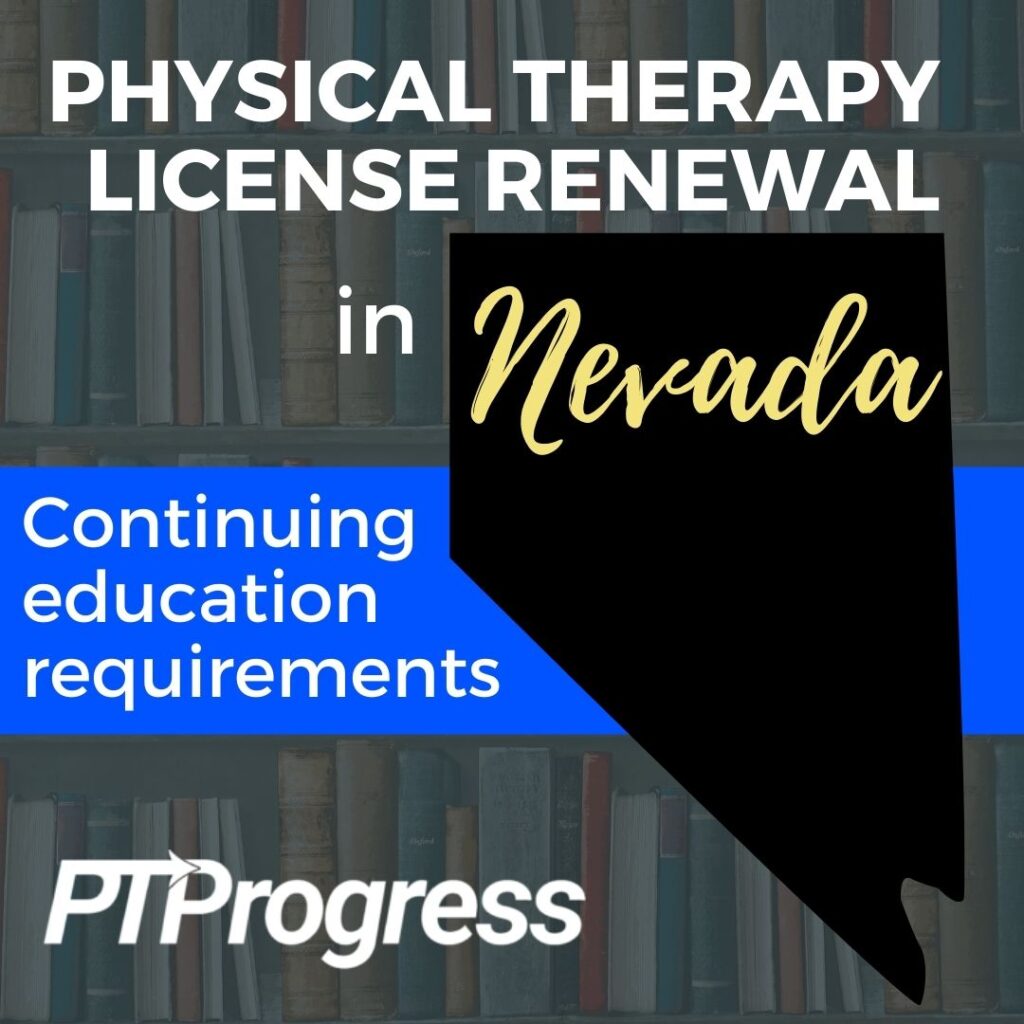 Are you a PT or PTA in Nevada? In this article, I'll review all the details you need to know to renew your license, including Nevada physical therapy continuing education. Let's jump right in.
NV License Renewal Requirements
As a Physical Therapist or Physical Therapist Assistant in Nevada, you must complete 15 continuing education hours every year by July 31st. Technically, these hours are considered "continuing competency units," or CCUs.
At a glance:
Nevada – 15 PT CEU hours every year by July 31st.
There are three types of CCUs:
Certified activities: conferences and courses certified by the ACCC (Advisory Committee on Continuing Competency)
Advanced competency activities: education or specialization, such as a fellowship or residency
Professional activities: publication, instruction, or committee work*
*You may earn up to 8 CCUs from professional activities. The other 7, at minimum, must be certified activities or advanced competency activities.
Nevada Physical Therapy CEU Requirements
From the Nevada Physical Therapy Practice Act Website:
"Each licensed physical therapist and physical therapist assistant is required to complete 15 hours of continuing competency within the year immediately preceding his or her application for renewal of a license. There are several options for licensees to satisfy their annual training requirements…Certified Activities, Advanced Competency Activities, and Professional Activities.
"CCU Documentation must be submitted with license renewal verifying 15 CCU/yr."
What CEU Courses are Allowed in Nevada?
To qualify as certified activities, CEU courses must be approved by Nevada's Advisory Committee on Continuing Competency (ACCC).
The ACCC automatically approves courses and conferences that are approved by APTA and FSBPT. If you'd like for the committee to review and approve a course that's not already on their list of approved courses, submit this form. Remember that, unless you're finishing an advance competency activity, at least 8 of your CCU hours must come from courses or conferences with ACCC approval.
| | | |
| --- | --- | --- |
| CCU type | Examples | Limits |
| Certified Activities | ACCC-approved conferences, individual CEU courses, and non-clinical CEU courses | no more than 8 in non-clinical |
| Advanced Competency Activities | passing ABPTS specialist exam; participating in accredited fellowship or residency | no limit |
| Professional Activities | Peer-reviewed publication, clinical instructorship, attendance at PT board meetings or in-service; and college coursework | no more than 8 total |
Otherwise, there are no restrictions on the format for your study. You can complete your continuing education in person, online, privately, or in group settings. Just make sure the course or activity meets the Nevada Board of Physical Therapy approval.
To check whether a particular course or institution qualifies, or to request pre-approval, contact the Board.
Can I Use MedBridge in Nevada?
Because the Board doesn't specify a course format, you can theoretically take all your continuing education online.
Therefore, you could use an online CEU company like MedBridge to complete your Nevada Physical Therapy license renewal. A quick check on the MedBridge website shows hundreds of Nevada-approved courses.
With so many courses on offer at MedBridge, you'll be able to fulfill all your CCU credits in one place, without needing to request board approval!
Use the MedBridge promo code PTProgress to save 40% on unlimited CEUs.
May I carry over any completed CEUs?
No. The Nevada Board of Physical Therapy does not allow any CEUs to be carried over to a future renewal period.
Do I need to submit proof of my completed CEUs?
Every approved CEU provider, including MedBridge, will give you a certificate of completion when you finish a CEU course or activity. You'll need to include this document with your license renewal application. Scroll to the end of this document to read in detail the documentation required for each type of CCU.
How much is the renewal fee?
It costs $150 to renew a PT license, and $100 to renew a PTA license.
When does my Nevada Physical Therapy license expire?
All Physical Therapy licenses expire annually on July 31st.
How long does it take to renew a Nevada Physical Therapy license?
For many states, it can take 4-8 weeks to process your request, so start the process early!
Compare Physical Therapy CEUs by State
Take a look at all of the requirements for CEUs based on your state in this comprehensive article.