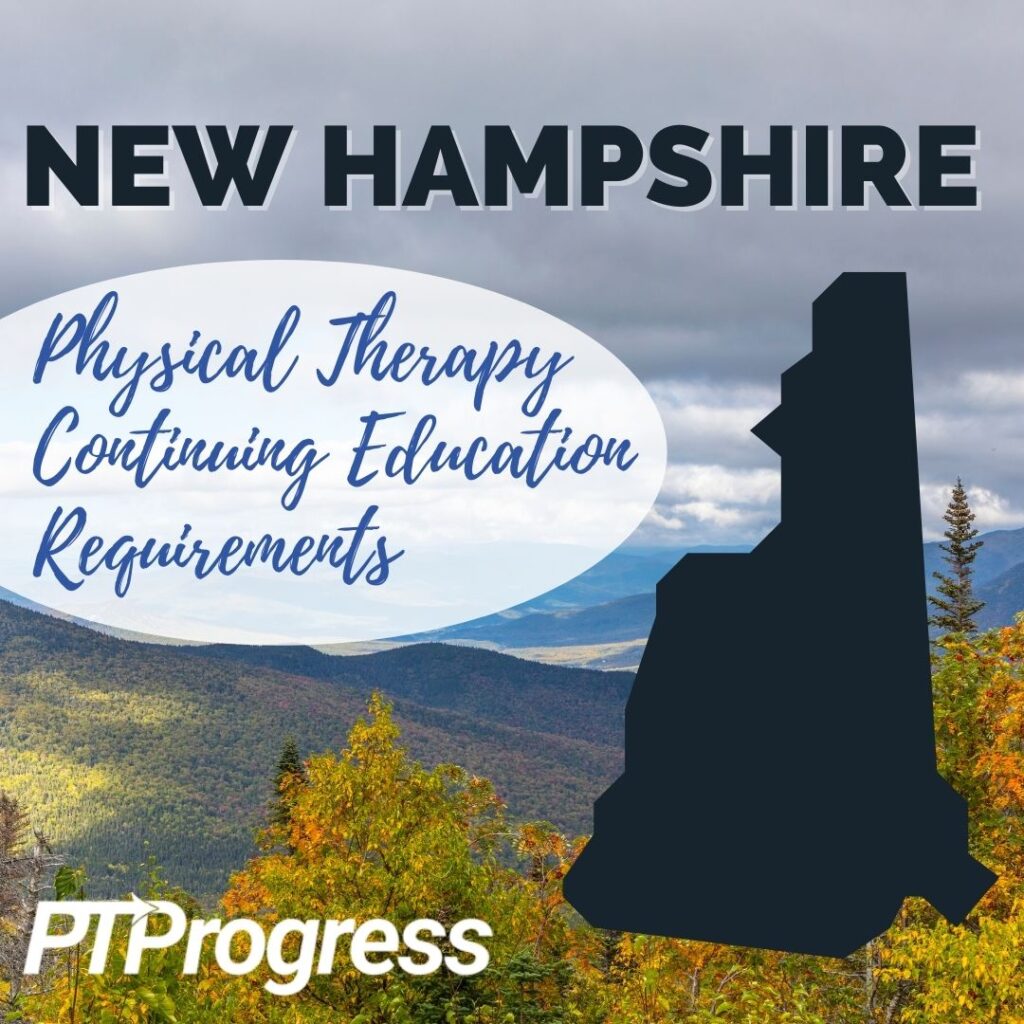 As a Physical Therapist in New Hampshire, you must complete 24 continuing education hours every two years by December 31st in even-numbered years. PTAs have to do the same amount of New Hampshire physical therapy continuing education.
On years ending in 5 or 0, you must also pass the New Hampshire Jurisprudence exam. When you do take this exam, it will count as 2 CEUs for your current renewal period.
At a glance:
New Hampshire – 24 PT CEU hours every 2 years by December 31st in even years.
New Hampshire Physical Therapy CEU Requirements
From the New Hampshire Physical Therapy Practice Act Website:
"A licensee wishing to renew his or her current license shall…have completed 24 hours of maintenance of continuing competence… and have taken and passed the jurisprudence examination… in the year ending in '0' or '5' immediately preceding the date of renewal.
"At least one half of the hours required… shall relate directly and primarily to the clinical application of physical therapy. The balance of the contact hours… shall relate to general physical therapy practice, including, but not limited to, supervision and consultation skills, curriculum development and trans-disciplinary issues or skills."
What CEU Courses are Allowed in New Hampshire?
The NH Physical Therapy Governing Board defines continuing education as "structured courses, activities, and experiences beyond entry-level professional preparation that are designed to maintain knowledge of advancements and enhancements in the field of physical therapy."
It's up to you to make sure your CEU providers meet this criteria, because the Board does not pre-approve particular courses or activities. They only specify how the continuing education should be documented.
If you're unsure whether a course or activity qualifies for continuing education, contact the Board.
Finally, the Board has set no limit on how many of your CEUs can be from distance-learning. You could therefore take all your CEUs online.
Can I Use MedBridge in New Hampshire?
Yes, you can use an online CEU company like MedBridge Education to complete your New Hampshire Physical Therapy continuing education. A quick check on the MedBridge website shows hundreds of approved courses for New Hampshire PTs looking to renew their license.
Whether you're a PT or a PTA, you can find plenty of eligible courses on MedBridge. Use the MedBridge promo code PTProgress to save 40% on unlimited CEUs.
Do I need to submit proof of my completed CEUs?
Every approved CEU provider, including MedBridge, will give you a certificate of completion when you finish a CEU course or activity. The NH Physical Therapy Governing Board does not require that you submit this document or any other proof of your CEU completion with your license renewal.
Instead, you will simply report the CEU information on your application and retain the records for a few years after your license renewal period ends. Be sure to store these documents safely in case you are selected by the board for a continuing competency audit.
How much is the renewal fee?
It costs $110 to renew a PT or PTA license before December 2. If you wait until the last minute, you might have to pay an additional late fee.
When does my New Hampshire Physical Therapy license expire?
All Physical Therapy licenses expire December 31st every even-numbered year.
How long does it take to renew a New Hampshire Physical Therapy license?
For many states, it can take 4-8 weeks to process your request, so start the process early!
Compare Physical Therapy CEUs by State
Take a look at all of the state-specific CEU requirements in this comprehensive article.