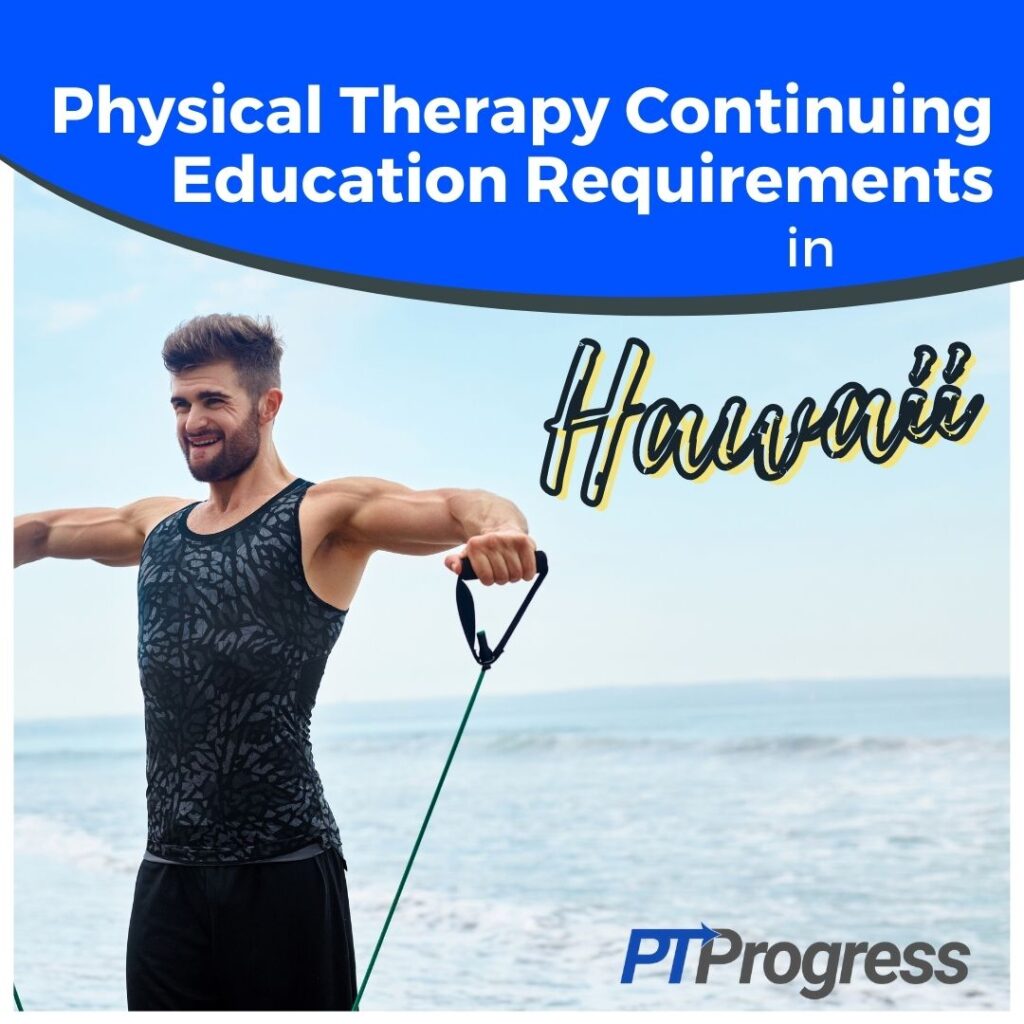 As a Physical Therapist in Hawaii, you must complete 30 continuing education hours every two years by December 31st of even-numbered years. Physical Therapist Assistants have the same Hawaii physical therapy continuing education requirements.
In Hawaii, continuing education hours are technically Continuing Competency Units (CCUs). Each CCU equals 50 minutes of instruction.
Of your 30 CCUs, 24 hours should be based on physical therapy practice and management. You'll also need to earn 4 hours from a life support class, equal to or better than that of the American Heart Association. Lastly, 2 of your CCUs must be in Ethics or Jurisprudence.
At a glance:
Hawaii – 30 PT CEU hours every 2 years by December 31st in even years.
Hawaii Physical Therapy CEU Requirements
From the Hawaii Physical Therapy Practice Act Website:
"Each physical therapist with an active Hawaii license is required to obtain at least thirty (30) units of approved continuing competence units ("CCU") in each two-year license renewal period.
"The thirty (30) units of CCUs are required to be obtained as follows:
At least twenty-four (24) CCUs in subjects related to either:

The professional practice of physical therapy… or
Patient/client management… and

Two (2) CCUs in ethics, laws, and rules (jurisprudence), or some combination thereof… and
Four (4) CCUs in life support for health care professionals; provided that such training shall be comparable to, or more advanced than, the American Heart Association's basic life support health care provider course."
What CEU Courses are Allowed in Hawaii?
Although there are many CEU courses available, in Hawaii only certain CEUs will count. Look for courses that are approved by one of the following:
APTA or the Hawaii Chapter of the APTA (HAPTA)
FSBPT's ProCert
Another state's physical therapy board or its equivalent
Any other provider or agency approved by the Hawaii Physical Therapy Board
Further, the requirements for your Ethics hours are even more stringent. Only Ethics/Jurisprudence courses approved by the Board itself will qualify as CCUs. Review their criteria here.
If you're unsure whether a course or activity qualifies for continuing education, contact the Board.
Can I Use MedBridge in Hawaii?
Yes, you can use an online CEU company like MedBridge Education to complete CEUs for your Hawaii Physical Therapy license renewal. A quick check on the MedBridge website shows hundreds of courses for Hawaii PTs looking to renew their license.
Luckily, the Board hasn't set a limit for online CEU courses or webinars. Because MedBridge is an approved provider, that means you can complete all 30 hours in one place for one price.
In fact, you can use MedBridge to complete your Ethics/Jurisprudence CEUs. One example is the 2-hour course "Hawaii Jurisprudence and Ethics for Physical Therapists" by Ron Scott. This course is Hawaii Board-approved and perfect for knocking out that specific requirement.
Whether you're a PT or PTA, you can find plenty of great courses on MedBridge. Use the MedBridge promo code PTProgress to save 40% on unlimited CEUs.
Do I need to submit proof of my completed CEUs?
Every legitimate CEU provider, including MedBridge, will give you a certificate of completion when you finish a CEU course or activity. The Hawaii Board of Physical Therapy does not require that you submit this document or any other proof of your CEU completion with your license renewal.
Instead, you will simply report the CEU information on your application and retain the records for at least 7 years after your license renewal period ends. Be sure to store these documents safely in case the board selects you for an audit.
How much is the renewal fee?
It costs $230 to renew a PT or PTA license.
When does my Hawaii Physical Therapy license expire?
All Physical Therapy licenses expire biennially on December 31st of even-numbered years.
How long does it take to renew a Hawaii Physical Therapy license?
For many states, it can take 4-8 weeks to process your request, so start the process early!
Compare Physical Therapy CEUs by State
Take a look at all of the state-specific CEU requirements in this comprehensive article.