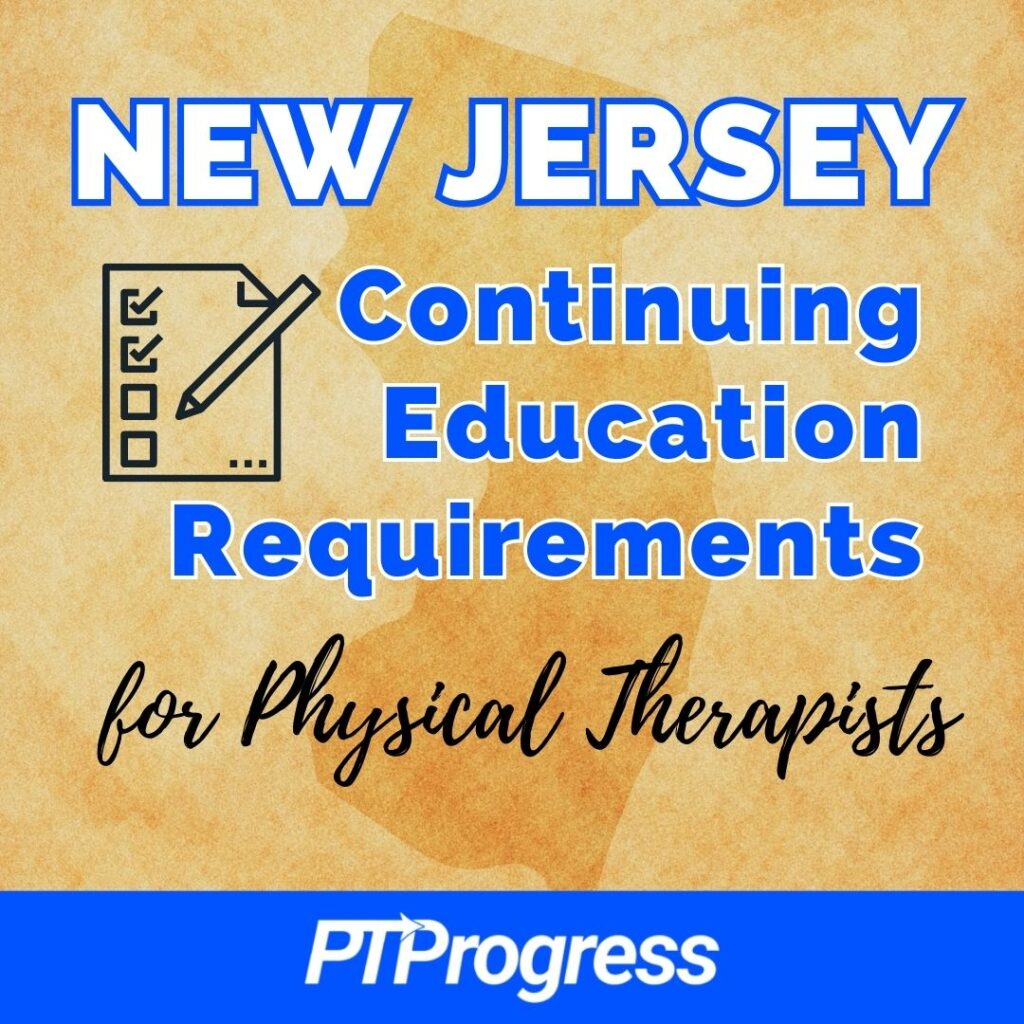 As a Physical Therapist or Physical Therapist Assistant in New Jersey, you must complete 30 continuing education hours every other year by January 31st. At least 4 of these hours should cover education in professional ethics and jurisprudence. Keep reading for more details on New Jersey physical therapy continuing education requirements!
At a glance:
New Jersey – 30 CEU hours every 2 years by January 31st in even years
New Jersey Physical Therapy CEU Requirements
From the New Jersey Physical Therapy Practice Act Website: (NJ source)
"…each applicant for biennial license renewal as a licensed physical therapist and as a licensed physical therapist assistant shall complete during the preceding biennial period a minimum of 30 credits of continuing education, which shall include four credits of jurisprudence and professional ethics."
"A maximum of 10 of the mandatory 30 continuing education credits from any or all of the following:
Videotape, audiotape, computer media, Internet, journal, or correspondence courses, programs or seminars;
Programs or seminars consisting of hands-on demonstrations of instrumentation when accompanied by didactic lectures;
Preparation and presentation of a Board-approved continuing education course, program or seminar;
Preparation of an educational or scientific article authored and published in a professional refereed journal;
Courses, programs or seminars in physical therapy practice management."
New Jersey Jurisprudence Assessment
As part of your license renewal, you'll need to complete the New Jersey Jurisprudence Assessment Module, or NJ JAM®. This online test, issued by the Federal State Boards of Physical Therapy, will count towards 1.5 hours of your 4-hr ethics requirement, but to pass, you'll need to score an 80 or better.
What CEU Courses Are Allowed in New Jersey?
Courses must have "significant educational or practical content" and "deal with matters related to the practice of physical therapy or with the professional responsibilities or ethical obligations of licensees," according to the NJ State Board of Physical Therapy Examiners.
Additionally, all courses should be approved by the Board in order to count towards your license renewal. They automatically pre-approve any continuing education courses from the following providers:
American Physical Therapy Association (APTA)
State chapters, such as APTANJ
An accredited academic or DPT program
Check out this list of Board-approved CEU providers and courses.
If you're unsure whether a particular course or activity qualifies towards your CEU credit, contact the Board.
Can I Use MedBridge in New Jersey?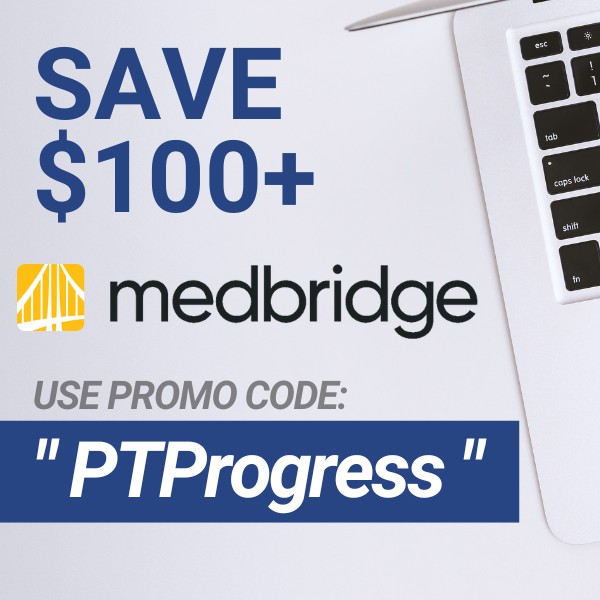 Yes, you can use an online company like MedBridge for your New Jersey Physical Therapy license renewal. As a leading provider of CEUs, MedBridge is pre-approved for New Jersey continuing education.
On MedBridge you'll find a treasure trove of CEU courses in all kinds of topics, from clinical research and patient management to telehealth technology and documentation strategies. There are plenty of ethics courses, too, to round out your state requirement. For example, check out the course Professionalism in Practice: Examining Common Ethical Challenges by Ellen Strunk. Pair this 2.5hr course with the NJ JAM® and you'll satisfy the 4hr ethics requirement easily.
Although you're limited to just 10 hours of online distance-learning, you can still use MedBridge to cover all your CEUs. That's because, in addition to their vast library of CEU courses, MedBridge conducts webinars every month that are both live and interactive. The Board does not consider these live webinars to be distance-learning, so you can count them toward your license renewal even after completing 10 hours of online courses.
With an annual subscription to MedBridge, you'll have unlimited access to hundreds of CEU courses as well as a front-row seat to every live webinar. Use the MedBridge promo code PTProgress to save 40% this year!
Do I need to submit proof of my completed CEUs?
Every approved CEU provider, including MedBridge, will give you a certificate of completion when you finish a CEU course or activity. The New Jersey State Board of Physical Therapy Examiners does not require this document with your renewal.
Rather, they ask that you retain all CEU records for at least 4 years after your license renewal period ends. Be sure to store these documents safely in case you are selected by the board for a formal audit.
How much is the renewal fee?
In New Jersey, it costs $110 to renew a PT license or $100 to renew a PTA license. Budget an additional $48 for the NJ Jurisprudence Assessment Module.
When does my New Jersey Physical Therapy license expire?
All Physical Therapy licenses expire biennially on January 31st in even years.
How long does it take to renew a New Jersey Physical Therapy license?
For many states, it can take 4–6 weeks to process your request, so start the process early!
Compare Physical Therapy CEUs by State
Take a look at all of the requirements for CEUs based on your state in this comprehensive article.