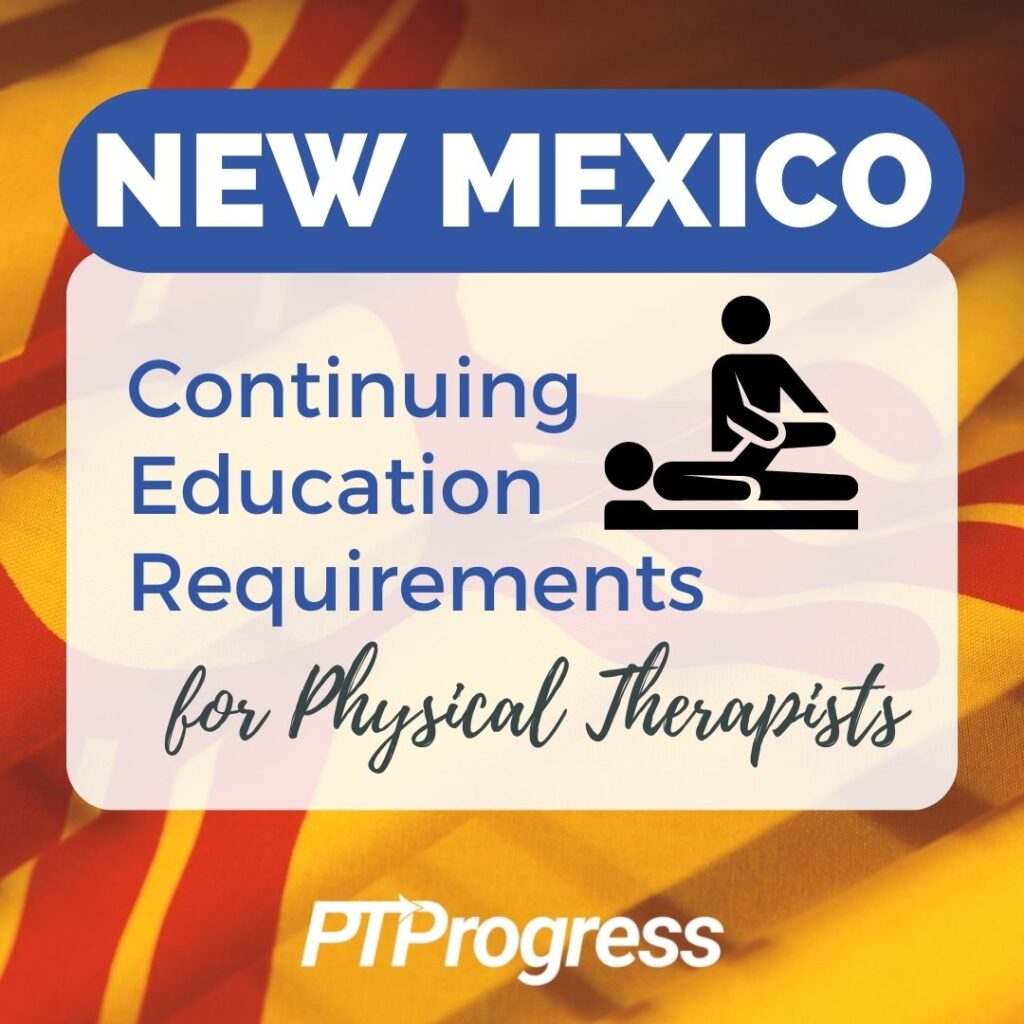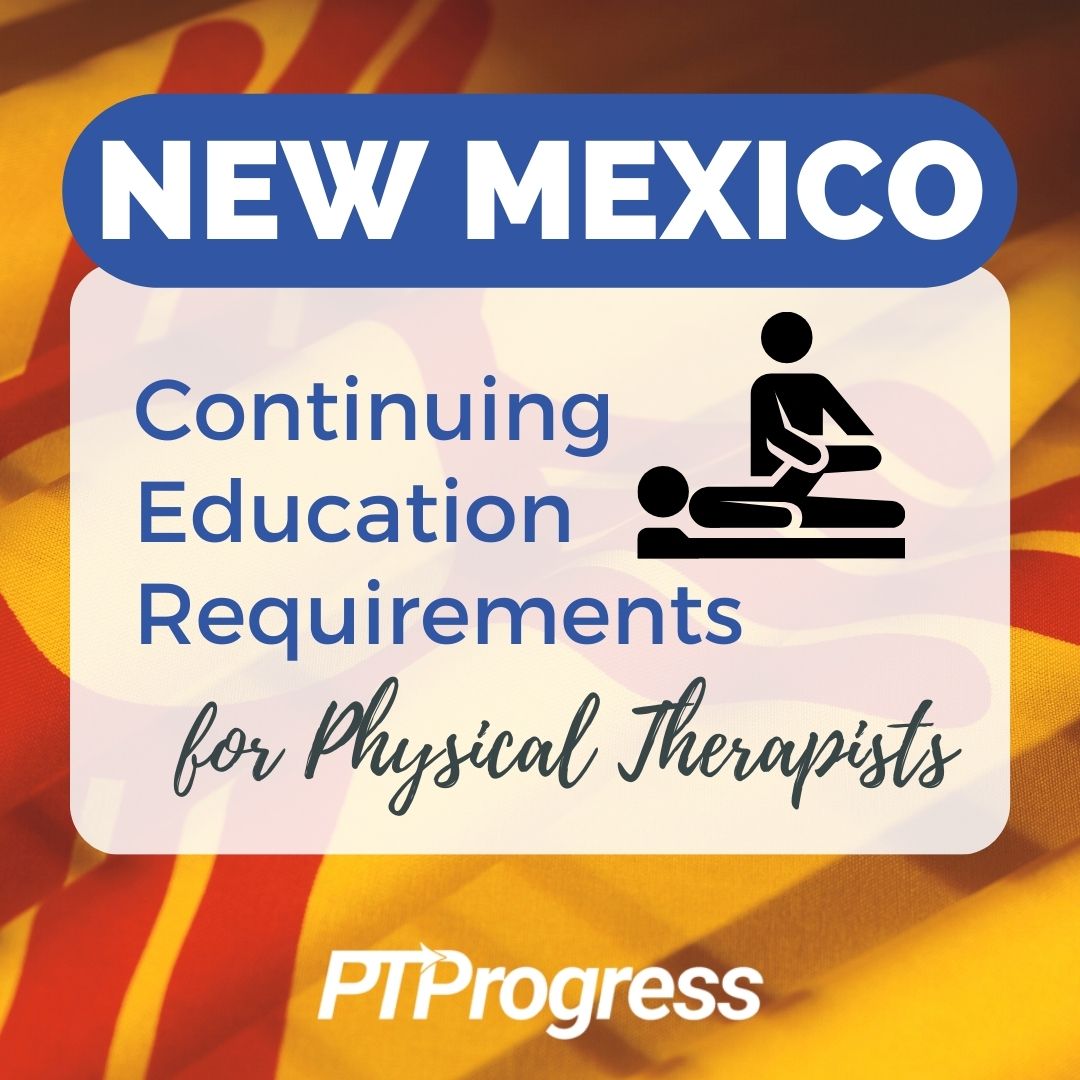 Every PT and PTA in New Mexico has to renew their license biennially. Part of that process will entail 30 hours of continuing education. Keep reading for more details on the specific requirements for New Mexico physical therapy continuing education!
At a glance:
New Mexico – 30 CEU hours every 2 years by January 31st, based on the license number (even years for a license ending in an odd number; odd years for a license ending in an even number).
Keep in mind that, if this is your first renewal, you won't need to complete the CEU requirement.
New Mexico Physical Therapy CEU Requirements
From the New Mexico Physical Therapy Practice Act Website: (NM Source)
"Thirty hours of continuing education will be required biennially, except those who will renew their license for the first time. No continuing education is required of those who are renewing for the first time. All continuing education hours must be earned during the current two year renewal period of February 1 through January 31.
"The board shall audit a percentage of renewal applications each year to verify the continuing education requirement. If the licensee is audited, proof of participation in or presentation of continuing education activity must be submitted along with a renewal form."
What CEU Courses are Allowed in New Mexico?
In New Mexico, it's the responsibility of the CEU course provider to obtain approval from the Board. But as the licensee, it's important that you know the Board's standards for continuing education.
CEU coursework must meet the following criteria:
Addresses problems/issues that PTs and PTAs face
Has relevant and written learning objectives
Is planned and conducted by qualified instructors
Requires participants to demonstrate what they've learned, like an assessment or quiz
Besides coursework, there are many ways to complete your continuing education. See the table below for an overview of the avenues you could take to renew your license:
| | |
| --- | --- |
| CEU Activity | Maximum allowed |
| Live programs, workshops, and conferences | 30 hours |
| University or college courses | 30 hours |
| Advanced specialty certification | 30 hours |
| In-service programs | 30 hours |
| Management courses | 15 hours |
| Presentation of a workshop/inservice | 15 hours |
| Conducting Physical Therapy research | 30 hours |
| Reading journal articles | 15 hours |
| Supervising a student in clinical rotations | 15 hours |
| Residencies, fellowships, and FSBPT examinations | 30 hours |
Finally, the board automatically approves any CEU activity that is sponsored or approved by APTA or its New Mexico chapter. For more information, or to check course approval, contact the Board.
Can I Use MedBridge in New Mexico?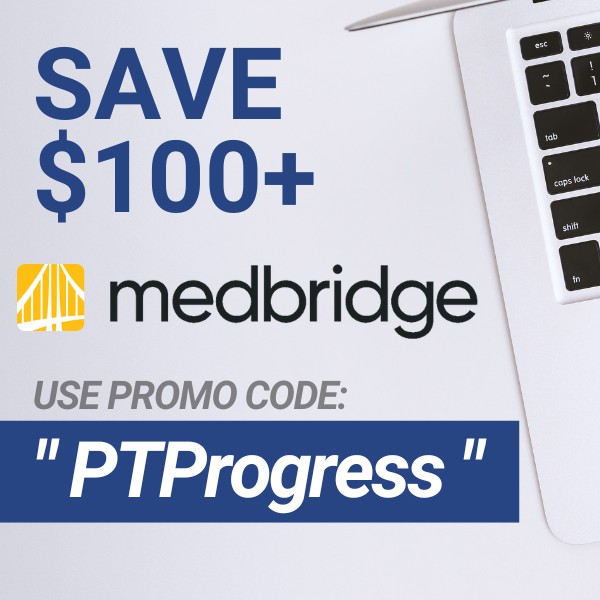 Yes, you can use an online CEU company like MedBridge Education to complete your New Mexico Physical Therapy continuing education. A quick check on the MedBridge website shows hundreds of courses for New Mexican PTs looking to renew their license.
At MedBridge you'll discover a wide range of topics for your continuing education. From patient adherence and pain management to documentation and telehealth, there's no shortage of subjects to keep you engaged. Best of all, MedBridge is pre-approved for New Mexico PT continuing education.
Whether you prefer self-guided study or a live experience, MedBridge offers both formats all year long. An annual subscription grants you unlimited access to their vast library of CEU courses and a front-row seat to their live, interactive webinars.
PTs and PTAs alike will love the convenience and quality of a MedBridge continuing education. Use the MedBridge promo code PTProgress to save 40% on unlimited CEUs.
Do I need to submit proof of my completed CEUs?
Every legitimate CEU provider, including MedBridge, will give you a certificate of completion when you finish a CEU course or activity. The New Mexico Board of Physical Therapy does not require this document with your renewal. However, you should store it, along with any other proof of continuing education, for at least 4 years after your renewal in case you are selected for a formal audit.
May I carry over any excess CEUs?
Unfortunately, you won't be able to carry over any CEUs from one renewal period to the other. All CEUs must be earned within the applicable two-year renewal period.
How much is the renewal fee?
In New Mexico, it costs $160 to renew a PT license or $120 to renew a PTA license.
When does my New MexicoPhysical Therapy license expire?
A New Mexico Physical Therapy license expires biennially on January 31st. Check your license for the exact year of your next renewal. Typically, if your license ends in an odd number, you'll renew in odd-numbered years; if it ends in an even number, then you'll renew in even-numbered years.
How long does it take to renew a New Mexico Physical Therapy license?
For many states, it can take 4–8 weeks to process your request, so start the process early!
Compare Physical Therapy CEUs by State
How does your state compare? Take a look at all of the state-by-state CEU requirements in this comprehensive article.