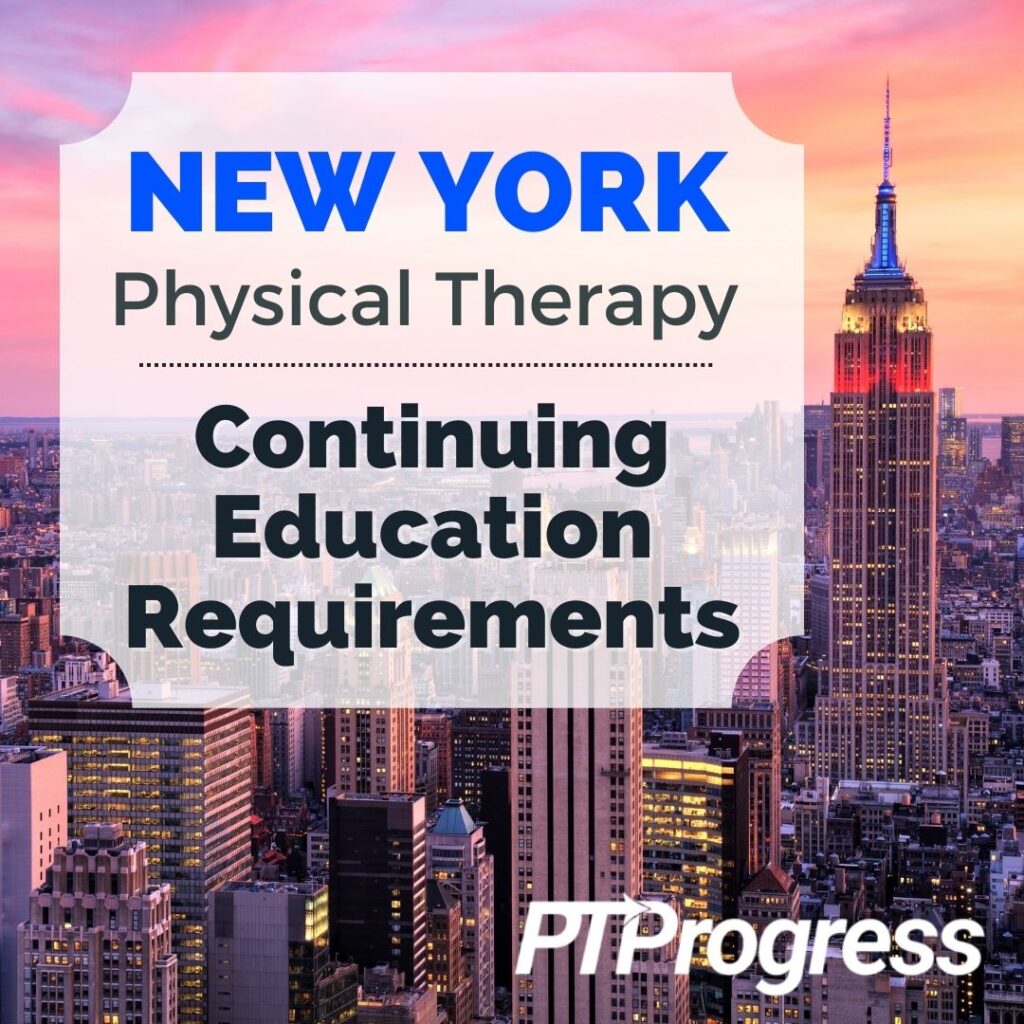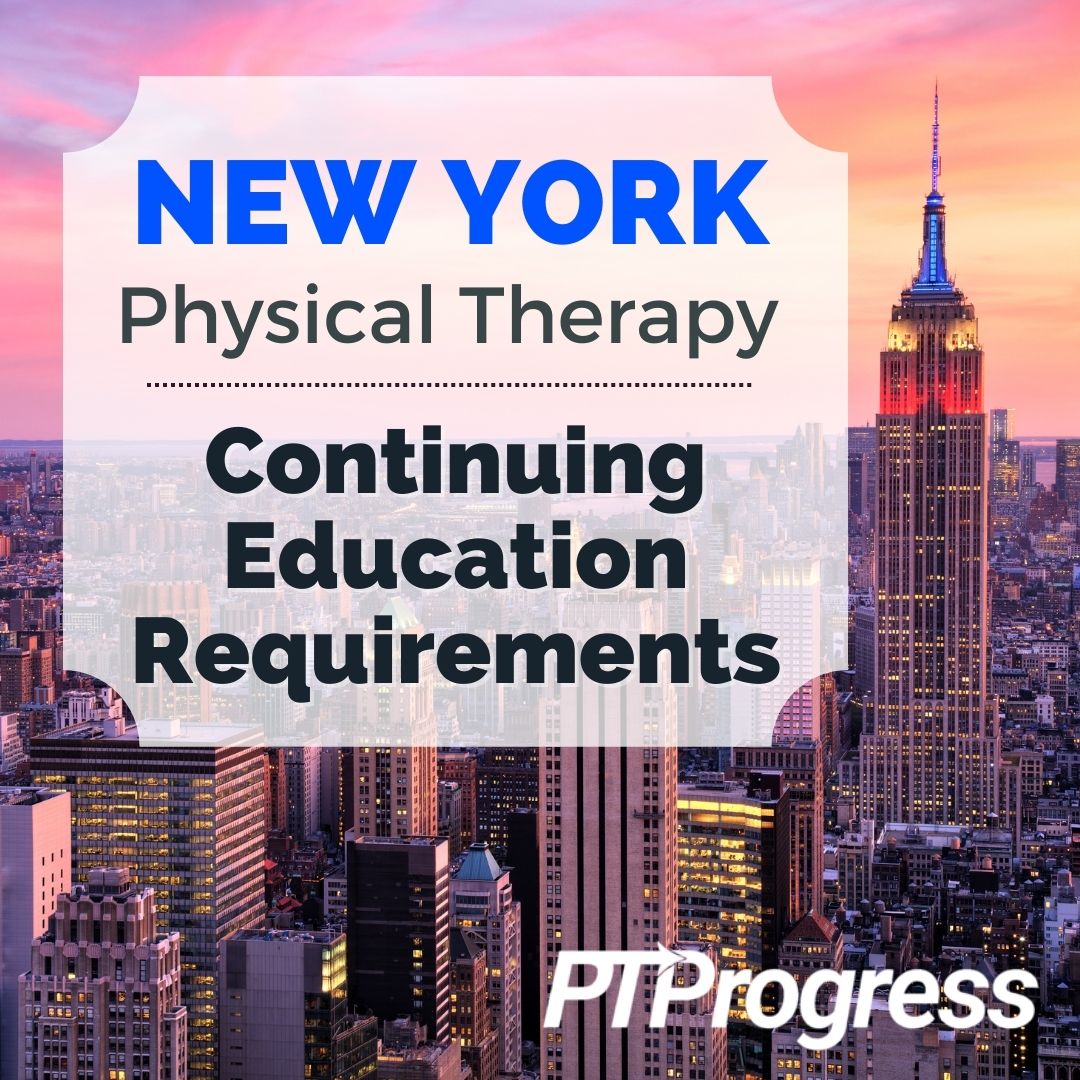 If you're a PT or PTA in New York, your license registration will expire every three years. To keep it current, you'll need to complete 36 hours of continuing education. Read on for more details on the specific requirements for New York physical therapy continuing education!
At a glance:
New York – 36 CEU hours every 3 years by the last day of the license holder's birth month.
Technically, a single Continuing Education Unit equals 10 contact hours, and one contact hour is equivalent to "50 minutes of an organized learning activity." In this post, I refer to CEUs primarily by their contact hour value.
Also, licenses in New York don't expire—they're good for life! But in order to practice, you must register your license with the New York State Board for Physical Therapy. Your registration, not your license, is what expires every three years.
New York Physical Therapy CEU Requirements
From the New York Physical Therapy Practice Act Website: (NY source):
"As a practicing physical therapist or physical therapist assistant, you are required to complete 36 hours of approved continuing education during each three-year registration period.
"The awarding of continuing education hours is based on a contact hour which is equivalent to 50 minutes of an organized learning activity."
"Also, if you are newly licensed, you will not have to complete continuing education coursework in the first three-year registration period; and if you have been inactive or have been practicing in another jurisdiction, the coursework required is pro-rated.
"There is no restriction as to the number of hours that can be achieved on-line or in person."
Types of New York Continuing Education Activity
As a New York PT or PTA, there are many ways to meet your continuing education requirements, from teaching a CEU course or publishing research to completing a clinical residency or passing a certification exam. See the table below for more examples of acceptable CEU activity and its equivalent in CEU hours.
| | |
| --- | --- |
| Activity | Continuing Education Credit Hours |
| Successful completion of a credit-bearing course at a higher education institution | 15 CEU hours per course credit hour |
| Teaching a credit-bearing course in a higher education institution | 2 CEU hours per in-class contact hour |
| Presenting a continuing education course for an approved provider | 2 CEU hours per in-class contact hour |
| Authoring an article published in a peer-reviewed journal | 15 CEU hours |
| Authoring a chapter in a published book | 15 CEU hours per chapter |
| Editing a multiple-author published book | 15 CEU hours |
| Professional specialty certification or recertification, that culminates in passing the certification examination | 10 CEU hours for initial certification; 5 for recertification |
| Supervision of a student (clinical instructor) | .5 CEU hours per two-week period of supervision per student, 10 hours max |
| Passing the Jurisprudence Test | 2 CEU hours |
| Completing a clinical residency/fellowship | 36 CEU hours for 12 months duration |
| A peer-reviewed poster or platform research presentation | 5 CEU hours |
| Cardiopulmonary Resuscitation (CPR) | 2 CEU hours |
What CEU Courses are Allowed in New York?
The most common way to complete continuing education in New York is to take CEU courses. If you go this route, make sure each course is administered by a provider that is approved by The New York State Board for Physical Therapy. You can check the list of approved providers here. In general, the board approves courses that are sponsored or approved by the following providers:
Additionally, the Board requires that all CEU subject matter be relevant to physical therapy, whether it's clinical intervention and patient communication or issues of law and ethics.
When it comes to the format of your CEU courses, New York doesn't have any restrictions for online or self-study coursework. That means you could complete all 36 of your requisite hours online if you prefer.
For more information, or to check course approval, contact the Board.
Can I Use MedBridge in New York?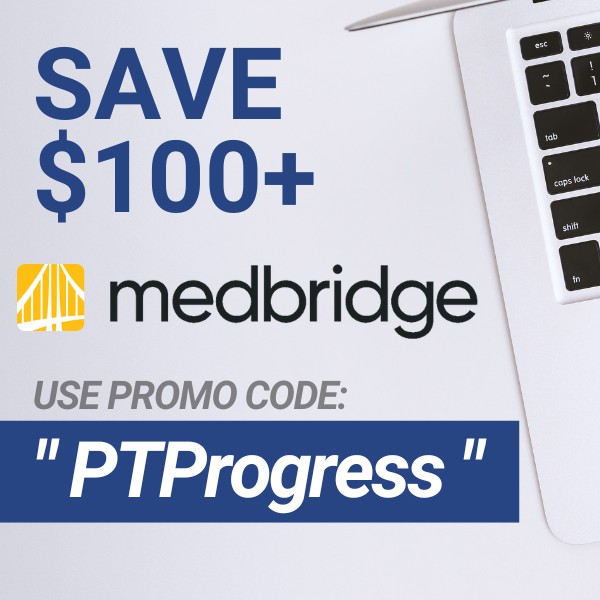 Yes, you can use an online CEU company like MedBridge Education to complete your New York Physical Therapy continuing education. A quick check on the MedBridge website shows hundreds of courses for New York PTs looking to renew their license.
At MedBridge you'll discover a wide range of topics for your continuing education. From patient adherence and pain management to documentation and telehealth, there's no shortage of subjects to keep you engaged. Best of all, MedBridge is pre-approved for New York PT continuing education.
Whether you prefer self-guided study or a live experience, MedBridge offers both formats all year long. An annual subscription grants you unlimited access to their vast library of CEU courses and a front-row seat to their live, interactive webinars.
PTs and PTAs alike will love the convenience and quality of a MedBridge continuing education. Use the MedBridge promo code PTProgress to save 40% on unlimited CEUs.
Do I need to submit proof of my completed CEUs?
Every legitimate CEU provider, including MedBridge, will give you a certificate of completion when you finish a CEU course or activity. The New York State Board for Physical Therapy does not require this document with your renewal. However, you should store it, along with any other proof of continuing education, for at least 6 years after your renewal in case you are selected for a formal audit.
May I carry over any excess CEUs?
Unfortunately, you won't be able to carry over any CEUs from one renewal period to the other. All CEUs must be earned within the applicable three-year renewal period.
How much is the renewal fee?
In New York, you'll pay two fees: one for registration and one for continuing education. See the table below:
| | | |
| --- | --- | --- |
| | Physical Therapist | Physical Therapist Assistant |
| Registration Fee | $179 | $58 |
| Continuing Education Fee | $45 | $45 |
| Total | $224 | $103 |
You can expect an additional 15% surcharge on your registration fee.
When does my New York Physical Therapy license expire?
Your license doesn't expire, but your registration is due every three years on the last day of your birth month. Check your license for the exact year of your next registration deadline.
How long does it take to renew a New York Physical Therapy license?
For many states, it can take 4–8 weeks to process your request, so start the process early!
Compare Physical Therapy CEUs by State
How does your state compare? Take a look at all of the state-by-state CEU requirements in this comprehensive article.