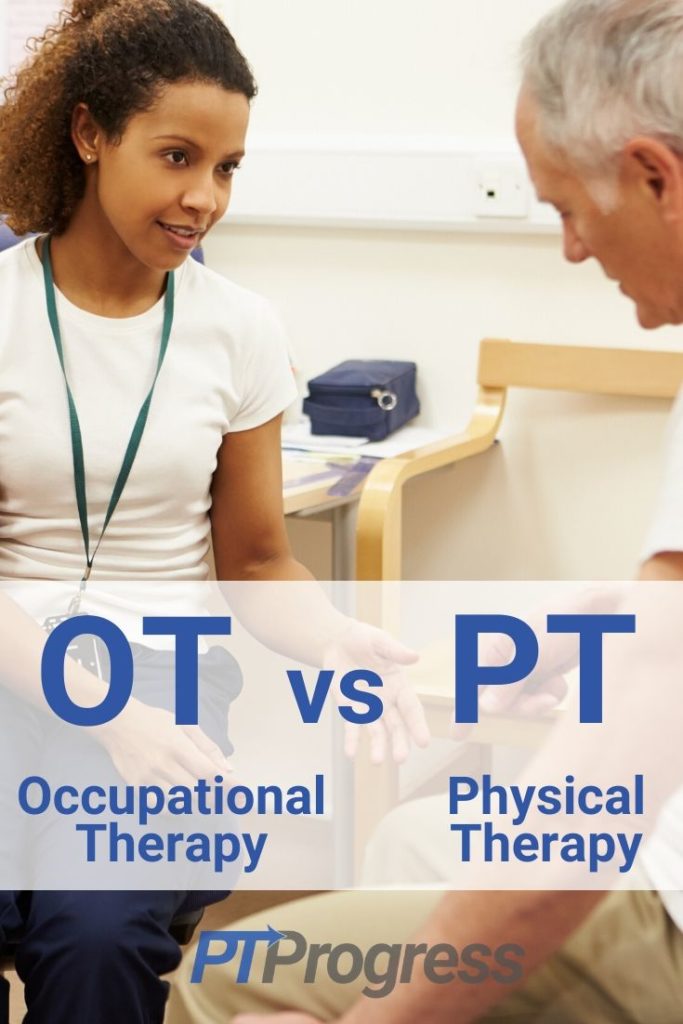 Is there a difference between occupational therapy and physical therapy? In this article, we'll compare occupational therapy vs physical therapy and highlight the similarities and differences regarding the training, career, and salary differences between PT and OT.
By the end of this article, I hope you have a better understanding of how PTs and OTs are similar, yet different and can answer this question with confidence: What is the difference between occupational therapy and physical therapy?
What Is the Difference Between PT and OT?
If you are a PT or an OT, the day will come where you find yourself frustrated with someone for not understanding the difference between physical therapy (PT) and occupational therapy (OT). Realistically, it's an easy mistake for someone to make. PTs and OTs are both rehabilitative professions, their title sound very similar, and the education requirements are comparable.
Some people believe, wrongfully, that occupational therapy is just physical therapy that is related to your job and going back to work after an injury or surgery. Though the confusion is understandable, this 'type' of rehabilitation is technically worker's compensation or work conditioning/hardening, both of which PTs and OTs can perform. Believe it or not, I've even spoken to physicians and surgeons who do not understand the difference (which I will return to later in this article).
If you're reading this, however, it's likely that you are curious about the career or you may be a PT or OT who wants a resource to compare or explain the differences to others. So, beyond just explaining some of the differences and similarities between the day-to-day work of Occupational Therapy vs Physical Therapy, in this article I will help you understand:
The career overview
The education requirements
The typical work settings
The salary and job growth
Occupational Therapy Vs. Physical Therapy
Quick Summary:
Physical Therapists are healthcare professionals that focus on restoring movement and function through exercise, manual therapy techniques, education, and other conservative approaches.
Occupational Therapists are healthcare professionals that focus on improving someone's ability to perform activities of daily living through an individualized, holistic treatment approach.
Quick Example of how a PT and OT may work together:
John is 75 and had a knee replacement and will see both a PT and an OT today. He is feeling very weak and the smallest of activities feel exhausting.
John's PT Visit: During the PT visit, John learns how to activate the muscles of his leg since he is very weak after his surgery. His PT goes through a few key exercises to restore his range of motion and works on movements such as squatting, walking, and staying balanced. On the next visit, the PT will help John go up and down the steps from his garage into the house using a walker.
John's OT Visit: During the OT visit, John discusses goals with his OT about activities he has difficulty performing. The OT teaches John efficient ways to transfer in and out of his bed and to safely maneuver around the bathroom. His OT shares some tips on how to save energy with tasks like dressing so he doesn't feel so exhausted after getting dressed. After the evaluation, John's OT recommends a raised toilet seat; his daughter will purchase and bring one over by the next visit.
This is just one example of how a PT and OT may work together and is certainly not exhaustive of the skill or scope of each clinician. Hopefully, it gives some insight as to the 'big picture' of each therapist and how they can work together with the same patient achieving different goals that are very important for the patient's recovery!
Quick Rant – What OT is NOT and What PT is NOT
On more than one occasion I have had a patient come in to begin physical therapy for a hand or wrist injury with a prescription for occupational therapy. When I ask the patient about it, they reply with something along the lines of "I'm not sure…I thought I heard the doctor said to start physical therapy. Why would they write occupational therapy? What's the difference"? After explaining the differences, I'll call the doctor and ask if there was a reason they had OT on the script. An upsetting number of these phone calls end with the doctor saying "well it's their wrist/hand. That's what OTs do right?….Do physical therapists treat that as well"?
Ask any PT or OT about this and they will both tell you it drives them crazy. Yes, physical therapists treat the hand/wrist. No, occupational therapists don't only treat from the elbow down. No physical therapists don't only treat lower body. To pigeon hole either profession like that would be a disservice to both. Occupational therapists and physical therapy treat different aspects of the whole patient, and frequently work together to achieve the same goal of creating a healthier, more mobile, and more physically capable world.
Career Overview: Physical Therapy vs Occupational Therapy
There are quite a few differences between the work, education, and career of a physical therapist vs an occupational therapist that go beyond this quick explanation. Let's take a closer look at the differences between OT and PT below.
Physical Therapy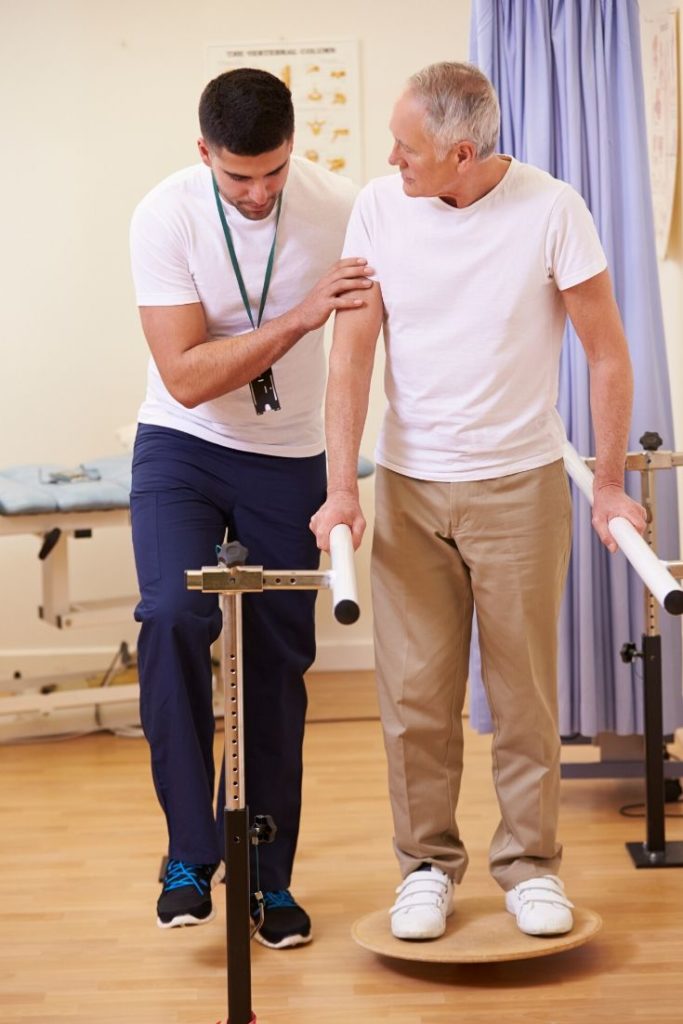 There is no shortage of resources on the PT Progress website or YouTube channel where you can go to look up valuable information on what physical therapy is and what a physical therapist does. However, since I have your attention at the moment, here is the gist of it…
Physical therapists evaluate, diagnose, and treat a myriad of musculoskeletal and neurological conditions depending on the setting in which they work. They provide education, manual interventions, and exercise prescription/instruction to help patients achieve their short term and long term goals- typically over the course of a few weeks to a few months.
Occupational Therapy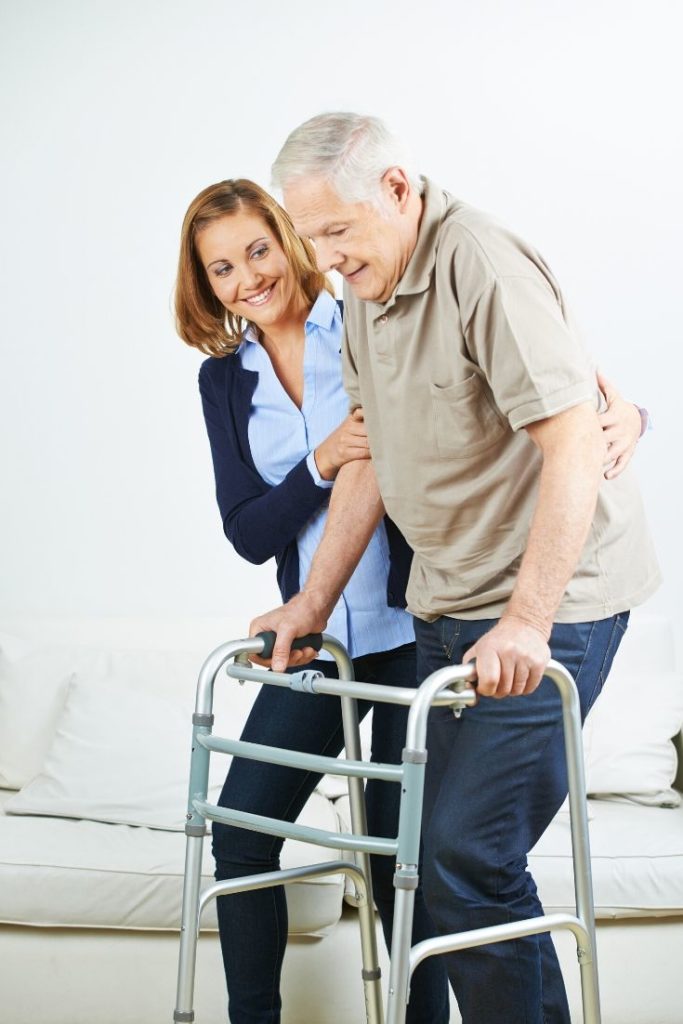 Much like PT, occupational therapists evaluate, diagnose, and treat a wide variety of injuries, surgeries, and conditions. The emphasis of OT is on helping people, from newborns to centenarians, improve and maintain skills necessary to perform activities of daily living (ADL's) and improve overall quality of life.
More often than is the case with physical therapy, occupational therapy teaches people how to effectively compensate for deficits and utilize the appropriate assistive devices to complete specific tasks. In other words, although there is much overlap in the scope of practice between PT and OT, PT is typically concerned with decreasing pain and restoring ROM to improve function, while OT is typically concerned with explicitly practicing and teaching compensatory strategies for ADLs. In many cases, these are patients who are learning to live with permanent disability.
Schooling/Training: PT vs OT
Physical Therapy
Physical therapy became popularized due in large part to injured soldiers returning home from WWI and from the treatment of patients with Polio. Since then it has advanced from a Bachelor to a Master to a Doctorate degree. While there are currently no Masters programs left in the United States, anybody who has a Bachelor or Master of Physical Therapy has been "grandfathered in" to practicing without being required to go back and get their DPT.
After completing 4 years of undergraduate education consisting of prerequisites like biology, anatomy/physiology, physics, chemistry, calculus, kinesiology, etc. you must then attend a DPT program accredited by the Commission on Accreditation in Physical Therapy Education (CAPTE). Although most programs are 3 years long, there are some that will admit college freshmen to a 6 year program with a PT focus from the first year. This option can save students a year of schooling and debt but would require that you are sure of your career choice much earlier on.
Once the 3 years of coursework and clinical rotations have been completed, in order to practice you must pass the National Physical Therapy Examination administered by the Federation of State Board of Physical Therapy (FSBPT).
The average cost of a public in-state PT school is ~$66,000/year, whereas out-of-state and private PT schools can cost as much as $180,000 a year!
Occupational Therapy
The 4 years of undergraduate work is largely the same as it is for physical therapists; with prerequisites in biology, anatomy/physiology, physics, chemistry, etc. However, the difference is where your education goes from there.
Prior to 2007, if you were interested in becoming an occupational therapist, you could practice with either your Bachelors, Masters, or Doctorate program. Since then, the Bachelors degree has gone by the wayside. However, you can still work as an OT with either a Masters (MOT) or a Doctorate (OTD). Not to be overshadowed by the relatively recent shift to the Doctor of Physical Therapy (DPT) being mandatory, American Occupational Therapy Association is planning to make all OT programs doctoral level programs by 2027.
Seeing as how there is really no significant difference in pay upon entering the workforce with either your MOT or OTD, it may be in your best interest to get your MOT if your plan is to begin working right out of school and you're uninterested in research or teaching. Earning your OTD will cost you 3 years after your bachelor program, versus the additional 2 of the MOT.
While the average cost of OT school is ~$37,000/year, this varies widely due to the differences between the MOT and the ODT programs.
Work Settings: PT and OT
Physical Therapy
When you ask someone to picture a physical therapist, most probably envision someone in khakis and a polo stretching a patient's shoulder in an outpatient clinic or perhaps a therapist helping an elderly individual to walk with the use of a gait belt in a hospital setting. Although these settings are quite common, they are by no means the only settings in which a PT can work.
Here is how the job settings of the ~250,000 working physical therapists breaks down:
| | |
| --- | --- |
| PERCENTAGE OF ALL PT's | JOB SETTINGS |
| 33% | Outpatient PT Clinics |
| 26% | Hospitals |
| 11% | Home Health Care |
| 7% | Nursing Facilities |
| 5% | Self-Employed |
Broad categories like "hospitals" are comprised of an array of different patient populations such as neurological, oncological, pediatric, etc. Within just about every category you can specialize as well. Examples of a specialization would include an Orthopedic Clinic Specialty (OCS) or a Neurological Clinical Specialty (NCS).
Occupational Therapy
While occupational therapists work in most of the same settings, they do so in very different concentrations. As you can see below, about the same percentage of PT's and OT's work in hospital and home health settings. The most significant difference perhaps is the large number of OT's who work in school settings.
Here is how the job settings of the ~133,000 practicing OT's breaks down:
| | |
| --- | --- |
| PERCENTAGE OF ALL OT's | JOB SETTINGS |
| 27% | Hospitals |
| 26% | PT/OT/Speech Offices |
| 11% | Elementary & Secondary Schools |
| 9% | Home Health |
| 5% | Skilled Nurse Facilities |
Salary and Professional Growth: PT vs OT
The PT vs OT salary comparison is one of the most commonly asked questions we hear from interested students. So, let's make this section more of a direct comparison as opposed to breaking it down separately by profession. Below are the average starting, median, and average "maximum earning potential" salaries you can expect for a PT and an OT.
| | | | |
| --- | --- | --- | --- |
| | Starting | Median | High End |
| Physical Therapist | $60-70,000 | $89,440 | $124,740+ |
| Occupational Therapist | $59,000 | $84,950 | $121,490+ |
*Obtained from the Bureau of Labor Statistics: Occupational Therapy Physical Therapy
How Much Do Physical Therapists Make?
Depending on the setting and years of experience, a Physical Therapist can expect to earn a starting salary in the mid $60,000 range and average around $89,000 annually. Working as a travel PT or a home health PT may provide opportunities to earn more as those jobs typically have a higher salary.
How Much Do Occupational Therapists Make?
As an OT, the starting salary is about $60,000 and increases to the mid $80,000 range on average. Similar to PTs, Occupational Therapists can earn more in the home health setting or by working as a travel OT.
Comparing Occupational Therapy vs Physical Therapy Salary
So, like most other aspects of this job comparison, PT and OT are quite similar on average. While a physical therapist does tend to make a little more, the difference is marginal at most.
So if the earning potential is comparable, how should you make your decision on which job to pursue? (If you skipped directly to this section, I'd recommend you go back and review what the careers are actually about). For a sizable percentage of individuals contemplating pursuing one of these careers, the decision comes down to what types of patients you want to treat, where you'd like to work, and if you're willing to spend that extra year in school to get your DPT versus your MOT (at least until 2027 when the OTD becomes mandatory).
The absolute best way to decide between PT and OT is to shadow multiple therapists at different clinics. Following multiple PTs and OTs at different clinics will help you make an informed decision between the careers.
Regardless of your decision to pursue PT or OT, you'll find a fulfilling job in healthcare that continues to grow year after year.
Employment for physical therapists and occupational therapists is expected to grow annually by 22% and 18% respectively. As our population ages, the need for those trained in providing pain relief, functional training, and improving quality of life will continue to rise.
Occupational Therapist Vs. Physical Therapist – Summary
Again, the best way to make an informed decision about which career may be right for you is to shadow both types of therapists. Shadowing is where you follow around a professional, in this case a physical or occupational therapist, for a few hours or days where you can observe what the day-to-day job is like. I would encourage anybody considering either of these careers to shadow therapists in multiple settings. Call the nearest therapy clinic, hospital, or school and ask how you can set up a shadowing experience. See first hand if it's something you're willing to invest years and many thousands of dollars into.
---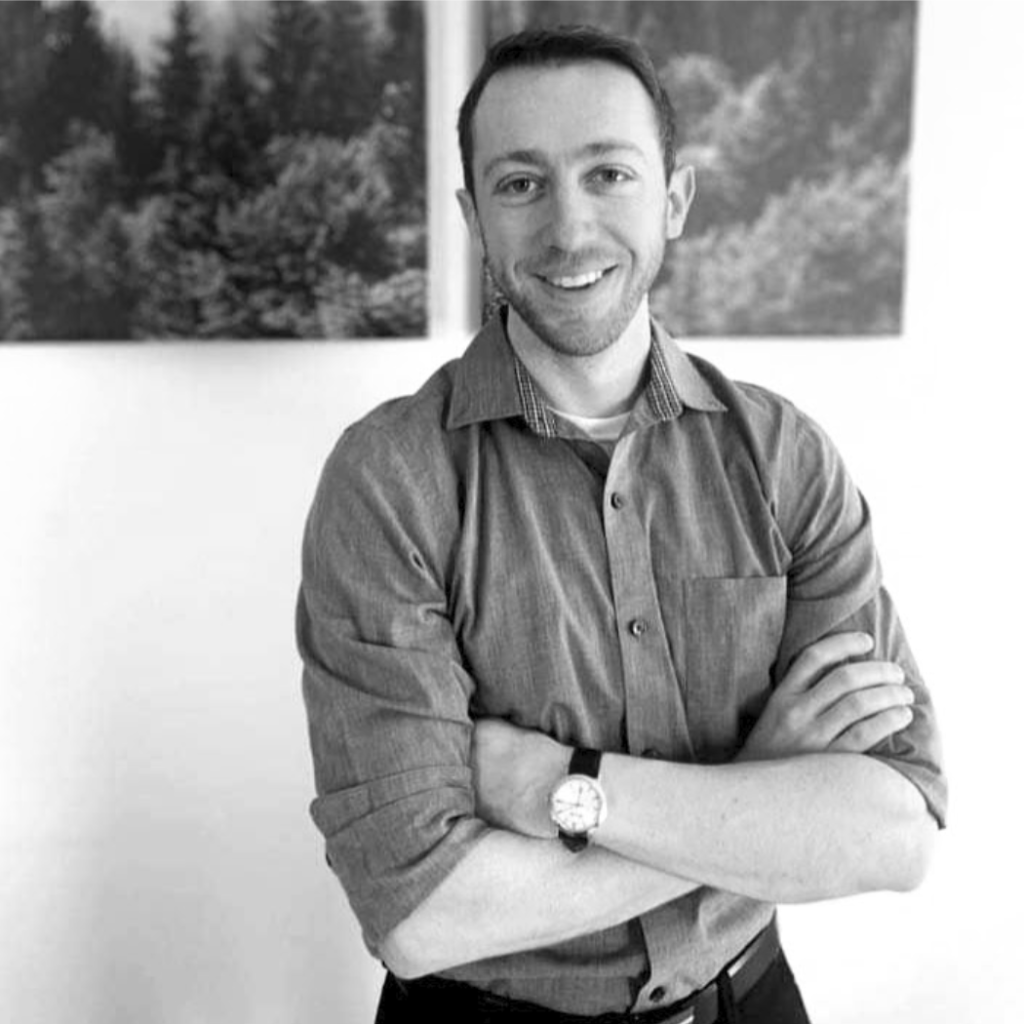 This article was written by Dan Murphy DPT, OCS. Dan graduated from Washington University in St. Louis in 2016 and lives just outside of Chicago with his wife and 2 year old son; though he and his wife are expecting a daughter in a few months! He enjoys playing board games and any outdoor activities with friends and family.

---