One of the most sought after Physical Therapy specialty certifications is the OCS or the Orthopedic Clinical Specialist certification. In this comprehensive guide, you'll learn how to obtain your OCS certification while also getting an insider's look into what it takes to pass the OCS exam.
---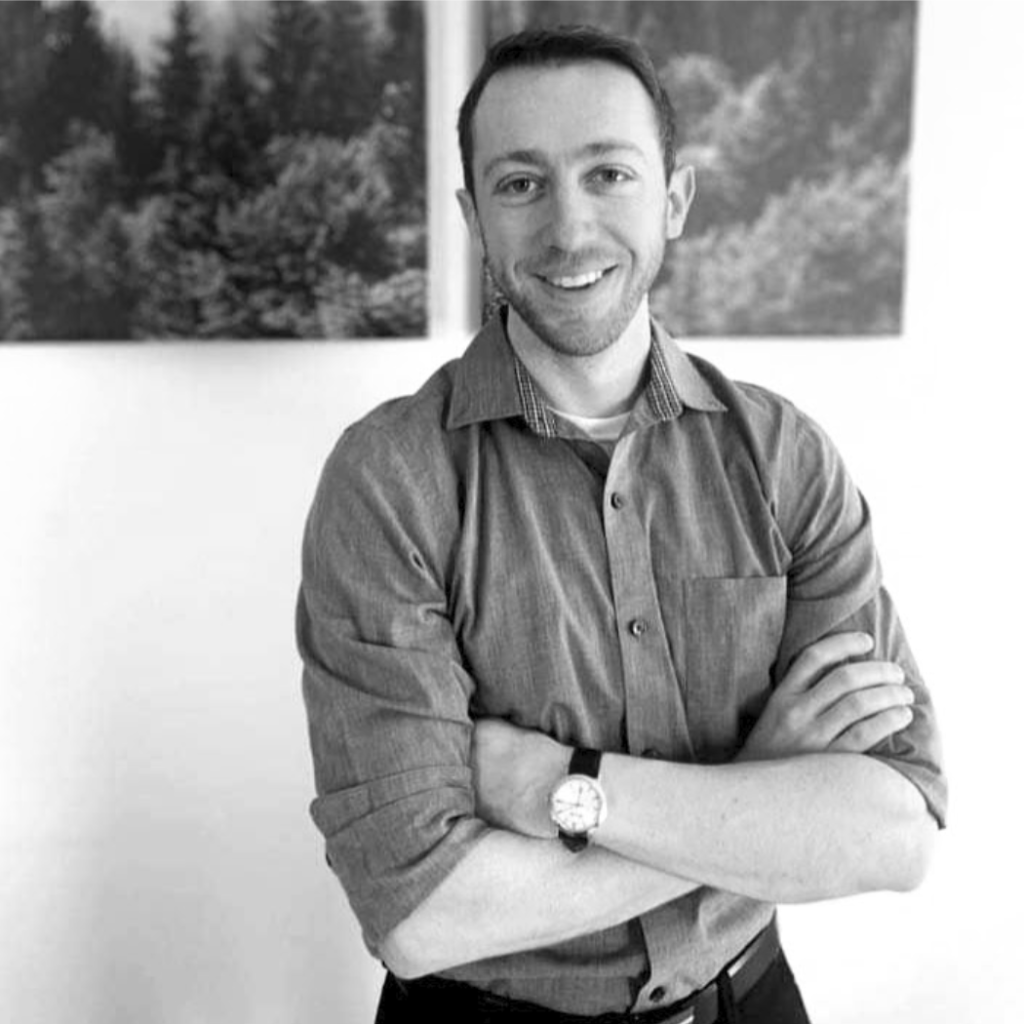 This article was written by Dan Murphy DPT, OCS. Dan graduated from Washington University in St. Louis in 2016 and lives just outside of Chicago with his wife and 2 year old son; though he and his wife are expecting a daughter in a few months! He enjoys playing board games and any outdoor activities with friends and family.

---
Like many of you, when I graduated PT school I was eager to get to work and put my newly acquired knowledge and expertise to use; only to feel a little overwhelmed once I actually began working in the clinic.
Believe it or not, real patients don't behave like your partners in class, your lab assistants, or case examples in a book. Real patients are often non-compliant with their HEP. They may miss appointments due to work or family matters. They are not as invested in their rehab as they should be (or as much as you are for that matter). And perhaps most frequent of all…patients often have a myriad of other health concerns, both physical and psychological, that hinder your ability to provide both the specific interventions and the overall quality of care you were taught to deliver.
Why I Decided to Pursue my OCS
The decision to pursue my OCS is rooted in a desire to become the type of clinician I imagined myself to be when I first began physical therapy school. The therapist who not only strives to provide their patients with the best care possible, but also the one who my colleagues can look to for answers when presented with a difficult case.
Odds are if you're reading this, you've either already finished PT school and are looking for your next challenge, or you are a PT student planning ahead for the potential opportunities you will have after graduation. Either way, you've no doubt heard someone describe techniques or certifications as "tools in your tool box". While the OCS certainly will provide you with more of these "tools", I see it as less of a tool in and of itself, and more as a way of learning how to use all of your tools more effectively. And in the case of an OCS residency, learning this from expert "craftsmen" if you will.
What is the OCS? (Orthopedic Clinical Specialist)
Once you've got your DPT, then what? What can you do to further hone your skills and set yourself apart from the thousands of other therapists out there just like you? How can you better market yourself to doctors or open up doors for career advancement?
What is the OCS? | Orthopedic Clinical Specialist
The OCS, which stands for Orthopedic Specialist Certification, is a post-professional certification designed to improve your knowledge and skills in a given area. This APTA certification indicates advanced knowledge and, in the case of a residency program, rigorous training beyond your DPT. Put simply, it communicates your level of expertise to others. 
What prerequisites must you meet to be eligible to sit for the OCS exam?
Here you have 2 options.
1. Submit evidence of 2,000 hours of direct patient care within the last 10 years in the specialty area you seek certification (of which, 500 hours must be from the last 3 years).
2. Submit evidence of successful completion of an APTA accredited residency program.
For a much more comprehensive look at specific APTA requirements, the application process, and testing procedure refer to the OCS Candidate Guide.
How to Become an Orthopedic Clinical Specialist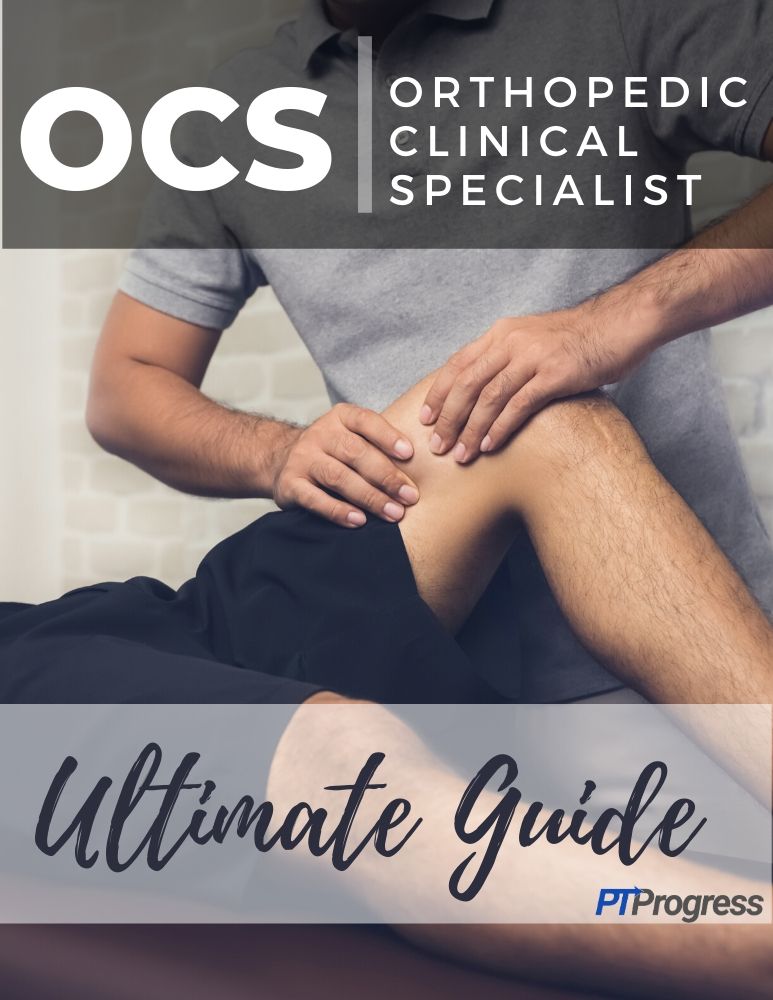 For the purposes of this article, I will discuss my own personal experience with OCS certification through a residency program. However, it is important to note that you can sit for the exam WITHOUT completing a residency program, as I noted above. There are currently 107 programs accredited by the ABPTRFE, and when it comes to the type of residency program you primarily have two choices:
1. "Brick and Mortar"/Traditional programs affiliated with a University or Institution.
2. Hybrid/Online Programs
In some instances, "brick and mortar" residency programs may require or encourage some amount of research and/or teaching within their DPT program. Additionally these programs require you to move to that particular location. There are many other pros/cons of this type of program, but since my experience has been with a hybrid/online residency, that will be my primary focus moving forward.
The reason I opted for a hybrid program over a more traditional program was that at the time I decided to do the residency, we were expecting the birth of our first child and had recently purchased our first home. Moving to a new city for an extended period of time wasn't in the cards for me. Therefore, I completed my program through Evidence in Motion (EIM).
Regardless of when or how you pursue the OCS, it is a rigorous experience demanding significant amounts of both time and effort. To choose what type of program is right for you, consider asking yourself these questions:
Am I interested in research or teaching?
Am I able/willing to relocate for 12+ months?
Do I study well on my own with online courses, or do I need live instruction?
Can I balance a hybrid course with my current work schedule/caseload?
Hybrid OCS Program Review
Hybrid residencies involve didactic online courses, considerable amounts of guided "self-study", occasional hands-on courses, and in-person 1-on-1 mentoring with an OCS clinician.
My experience with EIM included:
Finding an OCS clinician nearby within my company
Traveling to that clinician's location for several hours 1-2x/wk to obtain the required amount of mentoring hours (150+)
Online courses with required readings, instructional videos, and weekly discussions
"Weekend Intensives" where you spend 8-10 hours a day through a weekend to practice hands-on skills with expert instructors
Cost of a Physical Therapy Residency Program
The average cost of a Physical Therapy residency program is ~$12,000.
This does not take into account potential travel expenses, additional educational materials, or the actual test itself. However, oftentimes these costs can be substantially lessened through benefits provided by your employer, and it is important to ask your employer (or future employer) about their support of you through a residency.
I was fortunate enough to have the entire cost of the residency program covered by my employer. The decision whether or not to apply can be made much easier if the financial concerns are mitigated.
One stipulation to this sort of arrangement, is that your employer covers the cost of the residency or OCS test with a written agreement for you to remain with the company for a certain point of time.
For me this was a 5 year commitment. I had no intentions on leaving my company so it wasn't a huge concern, but for many this is something to seriously consider. Even if you don't plan to find a new employer, agreeing to stay for X number of months/years takes away your ability to use the potential for a new job elsewhere as a bargaining chip when negotiating yearly raises and bonuses, as they know you can't leave without incurring high costs.
How Long is an Orthopedic Clinical Specialist Physical Therapy Residency Program?
Residencies vary in length from 12-36 months, but typically do not exceed 18 months. "Brick and mortar" programs are usually 12 months long, whereas the hybrid programs are a little longer given some of the limitations of online learning and the need to obtain mentoring hours outside of your typical work schedule.

Expected Time Commitment
Throughout my residency I estimate that I averaged an additional 10-12 hours per week reading articles, completing assignments, participating in discussions, and studying on my own outside of my typical work schedule/caseload. You can expect this to increase to easily ~20-25+ hours a week in the ~4-5 months leading up to the OCS test.
However, you very much get out what you put into the program. If concepts come easily to you, you're a good test taker, or you have a terrific memory for say, things like the sensitivity and specificity of various special tests, you may do just fine in the residency and pass your test with a fraction of the time commitment.
But remember, an orthopedic residency should be something you pursue out of a desire to better yourself as a clinician and not because you think getting those letters after your name would look good on your resume. So, it would behoove you to put in time and effort reflective of someone who plans to make these habits part of a commitment to being the best evidence-based practitioner you can be throughout your career.
OCS Exam: What to Expect
How Much Does the OCS Exam Cost?
• APTA Member Application Review Fee: $525 | Nonmember Application Review Fee: $870 | Reapplication Review Fee: $170

• APTA Member Exam Fee: $810 | Nonmember Exam Fee: $1,535
However, as I previously mentioned, your employer can help to offset some of these costs. Therapists at my company are reimbursed the cost of both the application and the exam upon PASSING the exam. If you fail, it is your responsibility to pay these fees. Now, that may add salt to the wound should you not pass, but keep in mind that if you complete one of these hybrid courses while working full time and your employer is helping to cover the costs, they are investing in an OCS clinician. If at the end of that program they do not have this OCS therapist, it's not unreasonable to decline to cover the costs.
OCS Study Materials & Resources:
Most of your study materials will be provided for you throughout the residency whether it's a "brick and mortar" or a hybrid residency
If you're taking the OCS without having gone through a residency program however, there are still many resources at your disposal, varying widely in cost
Personally, I found that my own notes and the Evidence in Motion Prep courses were sufficient, although many of my fellow residents also did the MedBridge prep courses.
OCS Testing Procedure and Breakdown:
The OCS exam has ~200 questions in 4 sections. You're given 7 hours to complete the test with up to 50 minutes of optional break time
This is just me…but take those breaks. They will let you leave the room, just not the building. I ate a snack. Splashed water in my face. Even ran stairs in the stairwell. Anything I could do to keep me engaged and prevent losing my mind. You can only read one question so many times before you realize you're no longer focused
Question breakdown is highlighted nicely here.
Orthopedic Clinical Specialist Salary
So for all that lost sleep, the headaches balancing your work life with your residency (not to mention your personal life), and the countless hours reading article after article in the name of being the best therapist you can be… you're going to be looking at a pretty hefty raise right? Not necessarily.
For many newly certified therapists, myself included, there is no immediate raise or tangible monetary incentive outside of an employer's contribution to your tuition. So why bother? Why put yourself through all of that for nothing? You've already got your PT license. You can practice and not only make money, but make the same amount of money without the hassle of the residency.
Here's why: Of the 209,000+ practicing physical therapists, only ~15,000 (~7%) have their OCS. It is one of the oldest and most widely recognizable specialities among both therapists and physicians.
Stand Out as an Expert
When employers are looking to hire a new therapist in an outpatient clinic, that OCS immediately puts you at the top of the list. You're able to bring a level of expertise and training that the other candidates can't provide.
When your current employer is looking to hire a new clinic/regional manager, that OCS is an indication that you have both the ability to be a leader for the other therapists in your clinic and is a way for you to show that you're capable of balancing immense responsibility on top of your caseload.
The monetary gains may not be immediate, but the negotiating power for raises and better job opportunities in the future is very real.
Establish Trust & Rapport
What better way to quickly establish the trust of a new physician/surgeon in your area? Even those doctors who don't know exactly what OCS is, will still have an immediate appreciation for the training you went through when they understand you completed a residency program; as they've all been through a residency themselves.
It's highly unlikely any of your patients will know what the OCS is, but plenty will ask what the letters after your name mean. Explaining to them what a residency is and what it means for you to be an Orthopedic Clinical Specialist can go a long way to establish trust and rapport.
Become a Better Clinician
However, perhaps the most important reason you should still be interested in the OCS despite the fact that you may not get an immediate raise, is likely the same reason you're reading this in the first place.
You're hopeful the OCS/residency will make you a better clinician. And you'd be right.
The studying associated with the OCS, and more specifically the training involved in a residency program will vastly deepen your knowledge and skills in an outpatient setting.
Since completing my residency I feel more confident discussing conditions, surgeries, expectations, components of exercise physiology, pain neuroscience, and so much more with both patients and physicians.
Physicians want to discuss the progress of their patients? Discuss it at a level they aren't used to experiencing from a PT.
Colleagues are struggling with a difficult patient? Provide them with one of the immensely useful articles you just read on the subject or help them refine their own manual techniques.
Your own patients are struggling to understand why they've had pain for 10 years even though the doctor "can't find anything wrong"? Teach them about the neuroscience behind pain in a way you weren't previously equipped to do.
OCS Certification? Is It Worth It?
As you can probably tell, I am very happy with my decision to complete an orthopedic residency and sit for the OCS exam.
I am a stronger diagnostician and better all-around therapist, with improved manual therapy skills, for having gone through this training.
I feel more comfortable evaluating complex cases and treating those patients who seem to have endless comorbidities.
But how do you know if undertaking this endeavor is right for you? Here is a quick list of some pros and cons of both the OCS certification itself, and an orthopedic residency.

Pros of OCS
Hands on training from certified clinicians/experts (Residency only)
Improved clinical skills
Enhanced marketability of yourself and your expertise
Increased opportunities for professional growth
Improved negotiating power
Increased confidence in treatments and decision making
Develop a professional network of expert clinicians across the country (More so in the residency than to just sit for the exam)
Cons of OCS
Stressful
High cost of application and exam fee
Very high cost of the residency itself
Time consuming

~4-5 months of studying for the exam
~12-18 months for a residency

Prone to feeling burnt out/ poor work-life balance

Assuming a 40 hour work week, you can expect to put in 60-80 hour weeks while in a residency

Often times no immediate raise or promotion
May make less than a full time salary if at a "brick and mortar" residency program
Next Steps to Become an OCS Physical Therapist
You've made it this far and you're still interested in an orthopedic residency program. What's next? Looking at the process as a whole can feel daunting and overwhelming. Let's take it one step at a time.
First, you need to decide if you're interested in a residency or if you want to apply to sit for the exam through evidence of 2,000 hours of patient care (non-residency route).
Non-Residency OCS Route:
Make yourself familiar with the various ABPTS deadlines.
Submit your online application and allow for 6 weeks for review.
Once you're accepted and you have a test date in mind, it's time to start studying.
Consider the prep courses and study materials listed above under the "OCS Exam- What to Expect" section above (Study plans are typically at least 16 weeks on average.)
OCS Residency Route:
Decide if you're better suited for a traditional or hybrid program.
If traditional, begin looking at one of the accredited residency programs across the country and start the application process when you find a good fit.
If you're interested in a hybrid program, I would begin by asking your employer if they have any relationship with an accredited residency. (Many large PT companies have affiliations with different residencies, and they can help you get your foot in the door and/or begin to help you plan for the logistical and financial aspects of beginning a program.)
Final Word on the Orthopedic Clinical Specialist Certification
Residency programs are intense and the exams are grueling. In many ways, this process is more stressful and difficult than preparing for and taking your boards.
Deciding to undertake this challenge is a decision that should be thought over carefully and only pursued once you're confident that you can manage the time commitment and financial responsibilities.
Specialty certifications aren't the right thing for everybody. However, the way I see it…whether your plans include becoming the lead therapist at your clinic, climbing the corporate ladder, or opening a clinic of your own, a specialty certification like the OCS will help make you the most prepared and qualified candidate.
---
Thanks for the awesome insights Dan!
Hey there awesome PT – If you're seriously considering pursuing a Physical Therapy residency after reading this article, take a look at the ACCEPTED Physical Therapy Residency Prep Guide. It gives you a behind the scenes look at how to get accepted into a top rated residency. It also shares full application and residency essays to give you a leg up as you apply to physical therapy residencies this year. – Tim.