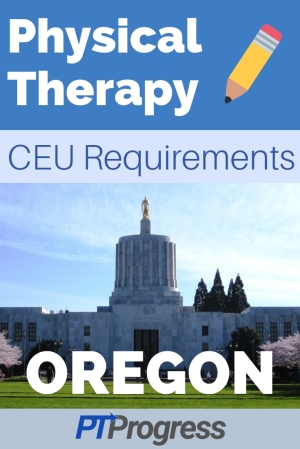 As a Physical Therapist in Oregon, you must complete 24 continuing education hours every two years by March 31st in even-numbered years. Physical Therapist Assistants must also complete 24 continuing education hours for license renewal. The Oregon Physical Therapy continuing education requirements are listed in detail below.
Oregon – 24 CEU hours every 2 years by March 31st in even years.
As part of the 24 hours, PTs and PTAs must complete at least 1 hour of cultural competency education. You'll also need to complete the online pain management module with each renewal, which counts as 1.5 hours.
Keep in mind that, if you only recently got your license, your CEU requirements may be prorated.
Oregon Physical Therapy CEU Requirements
From the Oregon Physical Therapy Practice Act Website:
"All licensed physical therapists and physical therapist assistants are required within each certification period to complete 24 hours of continuing competence consistent with the requirements, minimums and maximums. No single qualifying continuing competence activity may be less than .5 hours.
"All Oregon physical therapists and physical therapist assistants must complete the online pain management module provided by the Oregon Pain Management Commission.
"All licensed physical therapists and physical therapist assistants must complete a minimum of one hour of continuing competence that meets the criteria for cultural competency education."
What CEU Courses are Allowed in Oregon?
Concerning general continuing education, the Oregon Board of PT accepts courses approved by the Oregon Health Authority (OHA). They also accept CEU courses that other state boards approve, so long as they address the desired "attitudes and skills." 
That means courses that APTA approves—or another state board or health board—will most likely qualify as CEU credit in Oregon. However, it's ok to contact the Board if you are unsure of the eligibility.
When it comes to the cultural competency requirement, however, you'll have to choose from a provider on this list. Similarly, your only option for a pain management module is the one from the Oregon Pain Management Commission.
You can read more about continuing education activities, limits, and documentation requirements here.
Can I Use MedBridge in Oregon?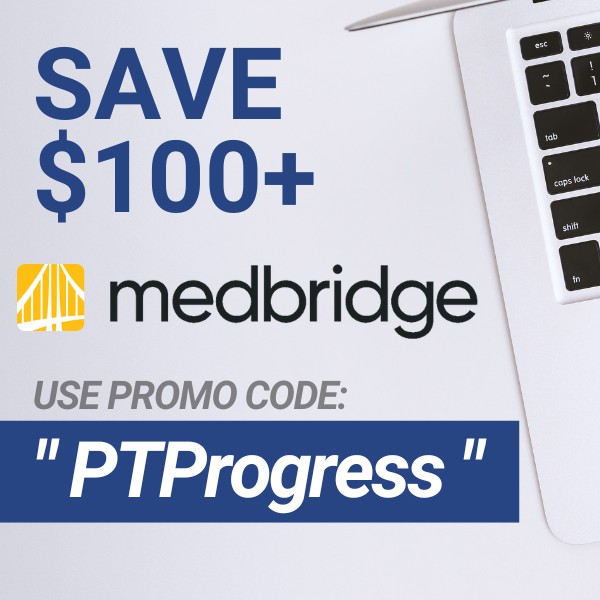 Yes, you can use an online CEU company like MedBridge to complete the CEUs for your Oregon Physical Therapy license renewal. A quick check on the MedBridge website shows hundreds of approved courses for Oregon PT license holders.
The Oregon Board of Physical Therapy has imposed no limits on online coursework, so you could theoretically complete all 24 CEU hours online, right at home!
Use the MedBridge promo code PTProgress to save 40% on unlimited CEUs.
Do I need to submit proof of my completed CEUs?
Every legitimate CEU provider, including MedBridge, will give you a certificate of completion when you finish a CEU course or activity. The Oregon Board of PT does not require that you submit this document or any other proof of your CEU completion with your license renewal.
Instead, you will simply report the CEU information on your application and retain the records for a few years after your license renewal period ends. Be sure to store these documents safely in case you are selected by the board for a continuing competency audit.
How much is a Physical Therapy license renewal in Oregon?
It costs $200 to renew your PT license, and $130 to renew a PTA license.
When does my Oregon Physical Therapy license expire?
All Physical Therapy license expire March 31st every even-numbered year.
How long does it take to renew an Oregon Physical Therapy license?
For many states, it can take 4-8 weeks to process your request, so be sure to start the process early!
Compare Physical Therapy CEUs by State
Take a look at all of the requirements for CEUs based on your state in this comprehensive article.