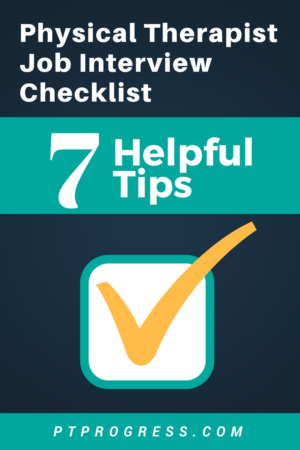 Before you go on your next Physical Therapist job interview, consider this checklist of 7 items to make sure you're prepared to ace your interview. For other Physical Therapy job advice, check out our article on how to negotiate a salary.
1. Know your Resume Well
It's surprising how many people forget what they've written on their resumes. Be ready to talk about every bullet point you've included. It's helpful to have someone read through your interview and ask you specific questions to elaborate on your experiences. I know you wrote everything, but having someone ask you questions will force you to put your thoughts into words – a valuable skill needed for your interview!
2. Research THIS About the Company
At a minimum, you should have spent 3 to 5 hours researching the company before your interview. Devour as much as information as you can from their website. If they're a large organization, research how many clinics they have in the area/state. Have they expanded recently?
Also, be sure to research the company on job sites like Glassdoor, Indeed, and even LinkedIn. These sites will often have employee reviews and ratings and even salary estimates for the position.
Finally, try to do some research on the person interviewing you. Even if you're only given the first name of the person, try to do a LinkedIn search and you might find out more about the person, their background and even common interests.
3. Make Your First Impression Count
Your attitude goes a long way during an interview. For some people, the first impression happens during a phone interview. For many interviewees, meeting face to face is the first interaction beyond the initial email or application submission. The interviewer will make assumptions based on the first few minutes of your interview, so use this time to present a positive attitude, a genuine smile, and an eagerness to be there. By demonstrating that you are flexible, pleasant, and approachable, you will start your impression on a good note.
4. Arrive Early and Dress to Impress
If you are able to drive to the location the day before, you'll feel less stressed the day of your interview. Scoping out a place to park and even identifying the building for the interview will make your interview day start with less stress.
In terms of what to wear, try to dress one level up from business casual. If you're applying for a job as a PT, a suit and tie may not be necessary, but definitely arrive in nice slacks and a dress shirt. I would personally recommend choosing to wear either a tie or a suit jacket. Dress slacks and a blouse or suit jacket is appropriate for women. While conservative attire is most common for an interview, you can still show your unique personality with a bit of color and style. Avoid jewelry and items that may distract during the interview. Also, for women choosing to wear a skirt, make sure it is an appropriate length. You don't want to be constantly adjusting your clothing, as this will be distracting to you and your interviewer.
Once you start your new job at the clinic, they may give you some custom apparel like a polo or a button up, which is a great way to represent your new clinic.
5. Prepare Examples of Successes
Your interview is an opportunity for them to see your personality, learn your story, and to understand why you would be a great fit for their program.
It can be difficult to talk about yourself, especially when you go to answer the question: "Tell me about your strengths / weaknesses"
Before your interview, prepare 3 to 5 examples highlighting your accomplishments and greatest wins. It's even helpful to list 1-2 not-so-successful projects and what you learned from them. Reviewing these beforehand will prevent the awkward silence when the inevitable question is asked: What are your greatest strengths/weaknesses or accomplishments/failures
6. Prepare at Least 3-5 Questions To Ask
Hopefully you can be conversational with your interview, asking questions along the way. But sometimes interviews are a little more structured, leaving time for the end for the interviewers to ask their final and very important question for you: Do you have any questions for us?
Having at least 3 to 5 questions planned out for your interview will show that you've prepared beyond the average applicant. Your question should not be something easily found on their website – that makes you look like you haven't done your research!
Read our recommended 15 Questions to Ask During a Physical Therapy Interview.
7. Write Specific Thank You Notes
During your interview, be sure to write down the names of those who interviewed you. If you have an opportunity to ask a specific question about the company or a new initiative, make a mental note of the person who answered you. When you write a thank you note following the interview, address it to one of the interviewers who stood out from the others.
Dear _____,

I really enjoyed meeting you and the staff at _______. During the interview we spoke about the (___growth opportunities, clinical expansion, etc.___) in the next few months and you shared (____valuable info – be specific_____). I appreciate hearing the focus on employee development (in this area), and hope to contribute to these opportunities at ______ .

Sincerely,
Consider writing the thank you card immediately after your interview and delivering it to the front desk staff the following day. Email may also be appropriate as the delivery is immediate and often times decision are made quickly following an interview.
What suggestions do you have for acing a Physical Therapy job interview?
Higher PT Salary Guide
How to Negotiate a Higher PT Salary and ACE Your PT Job Interview