Finding the best Physical Therapy continuing education courses is something we love to do here at PTProgress. As a Physical Therapist, I've taken dozens of PT courses online and in person. Some good…some not so good.
So before you spend a penny on continuing education, let's make a plan to maximize your CEUs both financially and clinically.

"Nah…I don't care how you maximize your CEUs Tim. I just want to jump down to the top CEU providers you recommend."

How I Find Physical Therapy CEU Courses
Some of you know I'm a financial advisor turned PT and love talking numbers (maybe even more than back pain…yeah I'd say that's accurate some days).

So the financial investment in a continuing education course is something I rank high on my list of considerations!

There's no shortage of therapy continuing education courses out there! So before you spend $100 or even $1,000+ on a course, let's talk numbers.

1. Continuing Education Costs Matter
Since continuing education is a requirement for almost every state, this is an expense you'll need to budget for each year.
My approach to spending money on my continuing education is simplified into two views:
Maximize CEUs per dollar spent
I personally set aside about $1,000 every 2 years for professional development since my Michigan license requires 24 new CEUs every 2 years.
I don't always spend this much (especially when I find ways to complete my CEUs for $8 per CEU) but from a budget standpoint, I set aside $1,000 every two years for continuing education.
Consider ROI (Return on Investment)
Courses that lead to advanced certifications or specific training end up in this category. Think about certifications that add completely new skills to your repertoire:
Clinical Specialist Certification
Dry Needling, Graston, etc.
Lymphedema certification
These types of certifications can lead to new job opportunities or increased revenue potential at your clinic. But they may not lead to a pay raise, unless you can prove there is increased revenue generated because of your new specialty.
One of the best examples I've seen in my own clinic is with the pelvic therapy specialty. One of my colleagues recently completed an advanced training course to focus on pelvic health therapy and the referrals continue to rise as more patient success stories make their way back to the physicians.

Not All Courses are Created Equal
I've been to great continuing ed seminars as well as some really bad ones. The same is true for online continuing education.

So it begs the question: how do you know a continuing education course will be worth it?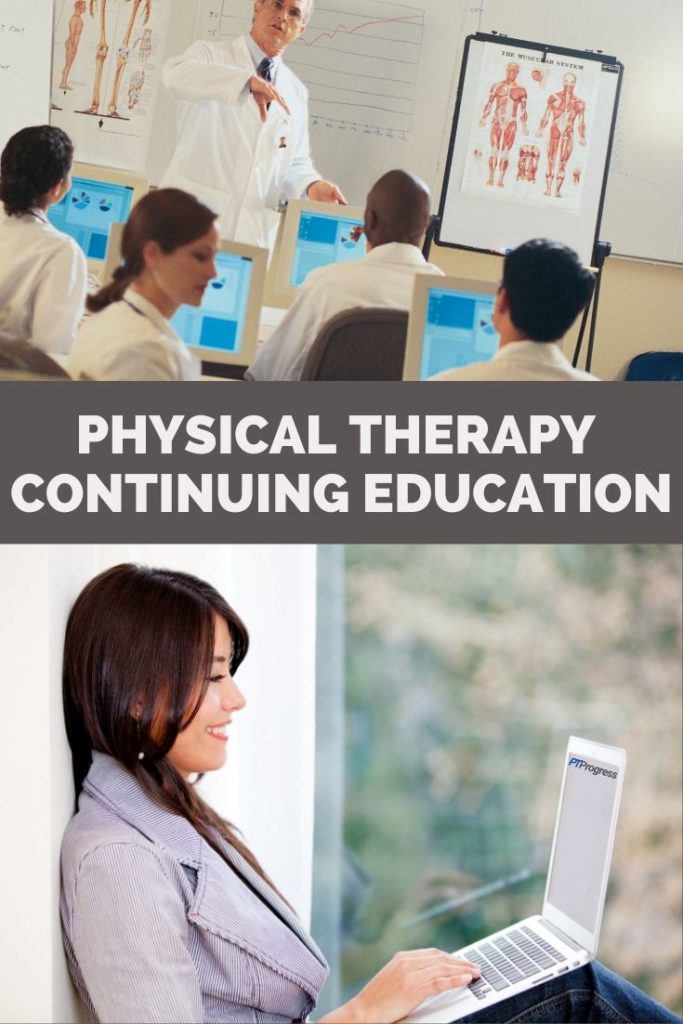 Choosing Physical Therapy Continuing Education Courses
Below you'll find some of the PT courses we like to recommend for continuing education. It's because they check all three boxes (financial, clinical, career).
1. It Makes Financial Sense
I have a very difficult time recommending courses that cost $1,500 or more for a single course. It's not difficult to find 'advanced' certification courses in this price range. But before you pull the trigger, you should consider the financial impact this can make. A course with the price tag of $1,500 completely drains my entire continuing education budget in just one weekend! I'm not saying you shouldn't ever spend money on a course that is $1,500, but if you're considering it, that course better satisfy these next two points.

2. It's Clinically Interesting to You
I would not enjoy taking a course on burn management even if it was free – it's just not interesting to me. I personally feel that it's so important to pursue education and training that is interesting to you. Don't just attend a cheap course that has no clinical interest. You're wasting your time and money just to 'check the box' for your therapy continuing education requirement.

3. It Aligns with Career Goals
Not every CE course needs to lead into a new career opportunity. But you should be strategic with how you spend your time and money when it comes to your career advancement. We only have so much time to spend on courses, so consider where you want to take your therapy career in the next 3 or 5 years.

Physical Therapy Continuing Education (Online & Live) Recommendations
Now that we've covered some of the main considerations I make before signing up for continuing education courses, let's take a look at a few recommendations that meet the criteria.


You probably know that MedBridge is one of the largest providers of online continuing education. But did you know they provide live seminars online that satisfy the in person or 'live seminar' requirement for most states? I personally use MedBridge to complete over half of my CEUs each year.

Not only does MedBridge meet the financial criteria I described above, they have over 1,600 courses that cover all interests.  In terms of career development, you can enroll in any of their specialty certification study programs at no extra cost!  
On a side note, I pay for the premium plan ($275) because I really like their HEP builder and use it everyday in the clinic. 

Use promo code "PTProgress" to save $150and
access MedBridge for just $200!
2. Summit Education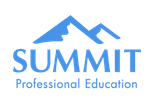 Summit Education is known for live, in person continuing education courses for therapists. But, you can also take courses online if one of the 300+ courses seem interesting to you. While Summit Education does not have the largest library of online CEUs, they do have an impressive number of live courses throughout the country.
You can choose to pay for live courses 'a la carte' or just pay for the All Access plan, which gives you access to ANY Live CE course and the video course library.
Practical Example:
Let's say you live in Michigan which requires 24 CEUs every two years. Half can be online and half need to be 'live' or 'in person.'
You can complete ALL your CEUs for less than $500 every two years with this simple strategy.
Purchase MedBridge for $225 to access over 1,600 online courses and specialty certification training
-and-
Purchase Summit Education All Access to attend any live seminar as well as their 300 online courses.

Why both? First off, spending $500 every two years to satisfy ALL your continuing education requirements is a fantastic deal. (I budget up to $1,000 so saving $500 goes a long way!)
Personally I think the MedBridge online courses are definitely superior to the options at Summit Education, but the in person course option through Summit Education fulfills the 'in person' requirement for each state.

3. PhysicalTherapy.com

If you're wanting to complete a few online courses and don't mind a limited course selection at a lower price, check out PhysicalTherapy.com. You can access any course from their 20 topic areas for just $99 a year. Right now they have about 400 courses for Physical Therapists and offer CEUs for OTs, SLPs, and Audiologists. You can also participate in live webinars which allow you to interact with the expert presenters in a live question and answer session, satisfying the 'live' component for many state CEU requirements.

4. ContinuingEducation.com

With a name like ContinuingEducation.com, it's hard to confuse what this company does. 🙂 I'd consider this continuing education provider to be one of the leaders when it comes to 'a la carte' CEUs. Their library of online continuing education courses covers a wide range of professionals (not just PTs), so you'll find courses for Aud, SLP, nursing, pharmacy, medicine, and more. You can take a course for free to see if you like the format. Many of the physical therapy continuing courses range from $19 to $49 per course (1-3 CEUs).

5. Institute of Clinical Excellence

By far the best in person continuing education course I've attended was through the Institute of Clinical Excellence. Jeff Moore is building a quality team of topic experts who make the live courses engaging, informative, and well worth your investment. You can expect to pay about $600 for a live weekend course (16 CEUs). Combining an in person CEU course through ICE as well as a MedBridge membership, you can complete all of your CEUs for less than $1,000 and actually feel like you're learning something valuable.
Physical Therapy Continuing Education Live Seminars
A quick search for live seminars will leave you sifting through hundreds of options. Personally I recommend starting with a reputable company, searching through the course options available in your area.

One of the biggest considerations for live courses is the cost to travel and the cost of taking time off work to attend the course. Before you cash in 8 hours of PTO and spend two nights in a hotel, make sure you consider any pre-recorded online options first. For skill heavy courses like the awesome courses through the Institute of Clinical Excellence, try to find a local course to save as much money as possible on travel.
Orthopedic Physical Therapy Continuing Education Courses
Orthopedic Physical Therapy continuing education courses are by far the most widely attended courses in our field. If you're interested in expanding your orthopedic knowledge, take a look at these orthopedic PT continuing education courses:
OCS Certification through MedBridge
Institute of Clinical Excellence (PTonICE.com)
APTA Physical Therapy Continuing Education
What about the APTA Learning Center? As an APTA member, you have access to the APTA learning center. While you should definitely check out the courses available, I've found the platform to be a bit clunky and not very user friendly. Personally I think the other continuing education providers on this page do a much better job than the APTA.