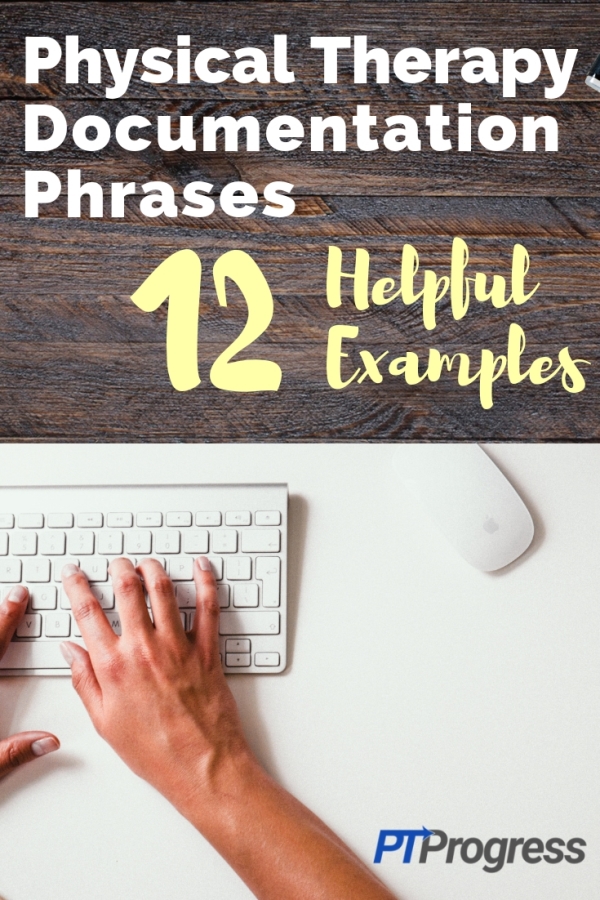 If there's one area of training that could improve in Physical Therapy school, it would be on how to document effectively. Knowing appropriate Physical Therapy documentation phrases can help to share your intended treatment and also provide justification for more complex treatment such as neuromuscular re-education, therapeutic activity, and self-care.
Physical Therapy Documentation Example Phrases
Neuromuscular Re-Ed Documentation Examples
The following examples highlight treatments performed (in bold) and provide sample physical therapy documentation phrases that appropriately identify the skill involved in performing the treatment. These sample phrases may be used in the objective area (observational) or even the assessment (interpretation and judgment) section.
Quad set sequencing
"The patient demonstrates lack of quad muscle recruitment. Instructed patient in co-contraction of quads to improve motor recruitment in order to achieve greater knee extension.
Glute set sequencing with bridging
"Poor recruitment of glutes is a major factor in the patient
's lack of hip stability. Our focus was on glute activation prior to hip extension."
Abdominal contraction prior to squatting (timing)
"A change in sequencing of abdominal recruitment prior to squatting improved lumbar posture and reduced pain."
Partial squatting on balance board
"The patient was challenged with achieving proper squat technique due to balance deficits. Progress further with removal of hand hold assist.
Single leg stance for balance
"The patient lacks balance and stability required to stand on single leg. This task is useful for meeting goals of independent dressing."
Serratus punches in supine or into ball
"The patient demonstrates poor scapular upward rotation with reaching. Improving serratus activation through protraction will aid in upward rotation of scapulae."
Therapeutic Activity Documentation Examples
Ascending / Descending Stairs
"Instructed patient on performance of stairs x5 with multiple cues to lead with appropriate leg on descent."
"Performance of stairs x5 without upper extremity support for simulation of home environment."
Stepping up onto a curb (3-6")
"The patient demonstrated ability to properly perform front step up in order to navigate stairs at home."
Reaching to Top Shelf with Weight
"The patient demonstrates poor body mechanics with lifting 5# object to shelf overhead. Reinforced proper posture and provided cues for safe lifting of items overhead throughout treatment."
Squatting with or without weight
"Providing verbal cues to correct for anterior translation of femur with squatting will promote the appropriate body mechanics for sit to stand transfers and other functional activities."
"Performance of squatting with weighted object in order to improve sit to stand function. "
"Educated patient on proper performance of sit to stand, emphasizing body mechanics and proper alignment of knees."
Access full documentation examples for the following treatments in the Therapy Documentation Example Guide: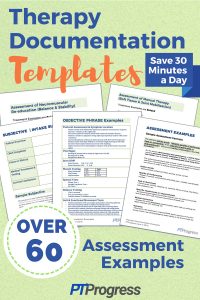 Lifting or pulling 20# resistance
Reaching with 2# Weight/ Lifting
Pinching or Gripping an Object
Lunging forward to bosu, dyna disc
Throwing
Pulling/Pushing
Gripping/ Carrying
Lifting weight
Transferring
What about Phrases for Therapeutic Exercise or Manual Therapy?
For the full 60+ therapy documentation examples, take a look at the Therapy Documentation Template below.