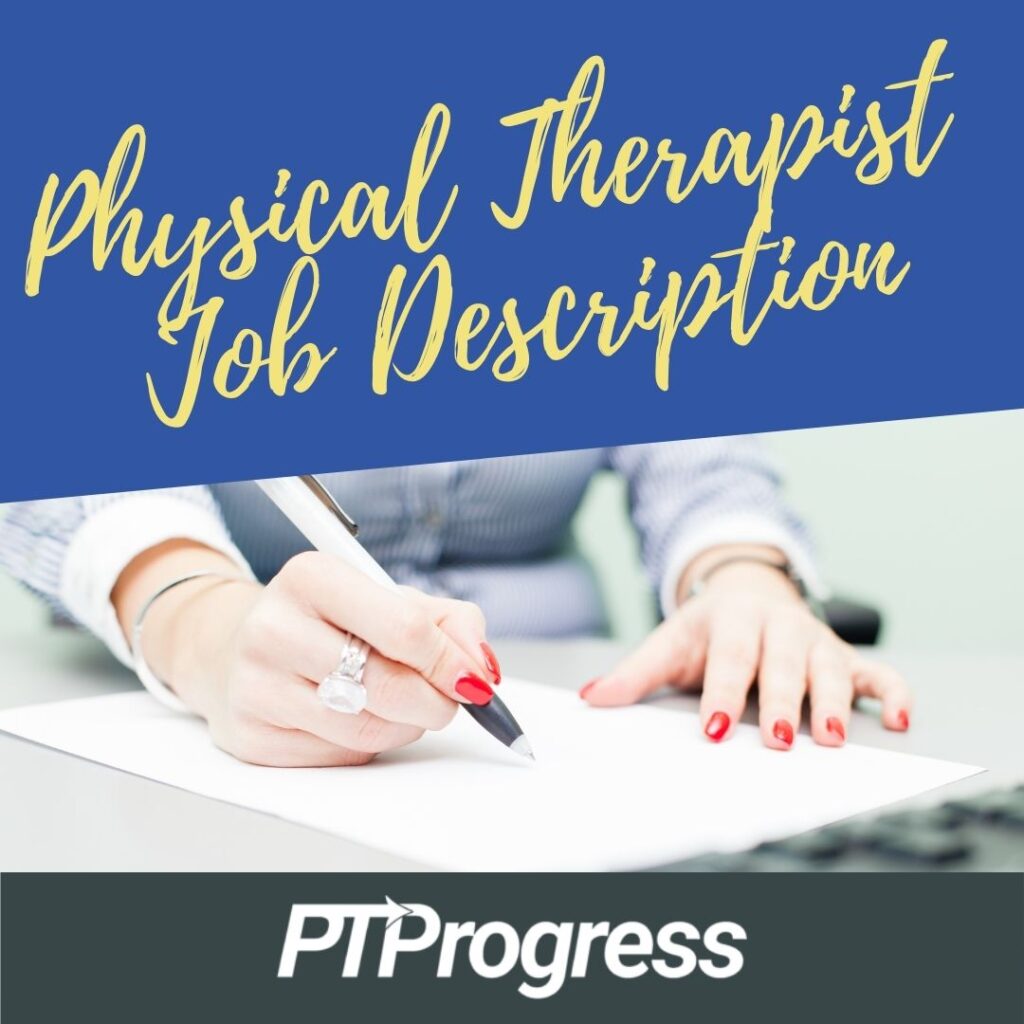 A posted job description is a window into the world of physical therapy employment. As a future employee's introduction to a clinic or agency, it testifies to the company's expectations and values. Because the fate of many applications, interviews, and potential hires rests on an effective physical therapy job description, it's important to get it right.
Maybe you own a clinic and have used the same, tired job description over and over for years. Or perhaps your job posting brings in too few applicants or candidates who don't meet your criteria. If that's the case, your job description might need a makeover.
Even applicants themselves should learn to distinguish a good job description from a poor one, and what it may say about the company.
The Anatomy of a Physical Therapy Job Description
You probably thought you finished anatomy class in your undergrad, but one system you probably didn't cover in school is the components of a good job description.
Head: The opener
Most posted job descriptions begin with an introductory blurb, providing an overview of the job and its context within the company.
Body: The meat
The majority of the post should outline the responsibilities of the job as well as the qualifications the company seeks to meet those needs.
Extras: The appeal
A good job description wraps up by listing the benefits and perks of the job, as well as describing the company's culture, mission, and values.
Overall, these components work together to make the job description clear, appealing, and reflective of the company and what it's looking for.
Let's take a closer look at these components one by one.
Writing an Initial Overview
The opening summary gives the reader an overview of what the job is and how it fits within the company. For instance, in an outpatient clinic setting, the description should mention whether the clinic has a particular focus or specialty, and whether that specialty applies to the physical therapist position.
If you're using this job description to advertise, you may try leading with a more personalized approach, like the following: "Are you looking to work in a small, outpatient clinic dedicated to pediatric medicine?" This is fine, and might diversify your post from others. Just don't make this introductory section too large. It's important to draw in the reader for the overview, but keep the summary brief, like an elevator pitch. The reader should land on job responsibilities and necessary qualifications quickly without having to sift through a long introduction.
A good job summary: 2-5 sentences long, concisely contextualizing the job
A bad job summary: non-existent, or too long; focuses too much on the company, or is too generic and without context.
Save Time on Therapist Documentation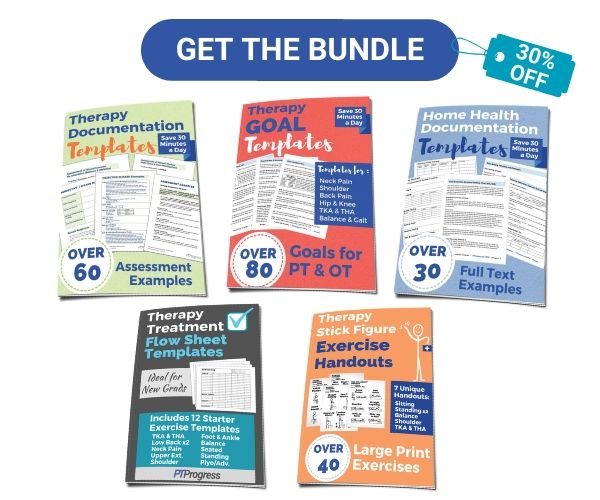 The Body of a Physical Therapy Job Description
There are two main elements of a job description body: the responsibilities and the requirements. Generally, it's better to list the responsibilities first before describing what you expect of the applicant.
Physical Therapist Duties and Responsibilities
The duties listed in the job description should reflect the role the position plays in the company, beginning with key responsibilities and most major daily tasks. End the list with any other specific tasks unique to the clinic or agency. For quick reading, keep each responsibility to a single-line bullet point.
When writing a job description, the best way to guarantee an accurate list of job duties is to consult current employees. They will quickly spot obsolete duties, overlooked responsibilities, or other much-needed updates. The current staff may also suggest reordering the list to reflect current priorities in the clinic or agency.
Examples of Physical Therapist Duties
Just like in a resume, a job description reads much stronger when you use precise verbs or action words in your bullet points. Common descriptors for primary physical therapy duties include the following verbs:
| | | |
| --- | --- | --- |
| Consult | Evaluate | Diagnose |
| Develop | Treat | Provide |
| Teach | Advise | Assist |
For the secondary duties, you may need to use some of these verbs, depending on the setting or specialty:
Complete (documentation/certification)
Comply (with __ regulations)
Communicate (with physician/family/coworkers)
Assist (with paperwork/clinic administration)
A good job duties section: 6-10 descriptive single-line bullet points, from key responsibilities to daily or specialized tasks
A bad job duties section: a handful of generic tasks, a long paragraph of block text, or too many bullet points to read.
If the job is for a specialty position, such as pediatrics or neurotherapy, the job duties list should reflect it. Otherwise, candidates might apply without realizing that such a specialization is expected of them. You should also designate any specialization requirements in the second section, the qualifications.
How to List Requirements and Qualifications
Even an entry-level physical therapy job has a few non-negotiable requirements, such as a Bachelor's degree (or higher) in physical therapy and a current state license. These credentials should sit at the top of your list of qualifications.
Follow these credentials with other must-have requirements as dictated by your company's team. For instance, will the therapist need Spanish language proficiency in order to care for the patients in your clinic? Should they already have some home health experience, or are you willing to train the right person?
As you complete your "wishlist," be careful not to be too stringent on these qualifications; you might turn away perfectly capable talent. Unless your hiring process reflects such specific rules as "3 years' experience" or "must work weekends," qualify such statements with a "preferred."
It's common to see soft skills as well as hard skills on a list of qualifications. You may be looking for physical therapists who are "compassionate and patient-focused," or "demonstrating strong written communication skills." Whether they're required or merely preferred, soft skills help the applicant know the rubric you'll use to weigh their candidacy.
Examples of Common Requirements and Qualifications:
Physical Therapy license required (specify state if necessary)
Prior experience in an outpatient clinic preferred
CPR certification preferred (or any other certification)
Strong verbal communication skills required
Willingness to travel required
Able to work evenings and weekends preferred
A good qualification section: 3-8 short bullet points, starting with necessary credentials and including any qualities that may determine or sway a hire.
A bad qualification section: leaves out must-have qualities, reflects outdated ideals, or doesn't differentiate needs from wants,
The good stuff: the benefits and the benefactor!
If the applicant has read this far on your job description, they're clearly interested. Use the last quarter of your posting to market the perks and benefits of working that specific position.
Don't leave the reader guessing the salary; they will be looking for it. Include compensation and benefits as explicitly as possible, qualifying figures with "starting at" or "commensurate with experience" if it's flexible. Express whether an employee can expect paid time off, medical benefits, or a 401(k) contribution. If your clinic or agency offers any unique perks, such as a self-made schedule or mileage reimbursements, include those as well.
This may leave the applicant wondering, "The job sounds right and I'm a good fit; I like the benefits, but will I enjoy working there?" So after listing the job's main offerings, share a little more about the company. Elaborate on what you mentioned in the job summary and include any relevant descriptions of the company's values and work culture.
If the clinic maintains a standard of ethics quantifiably higher than its peers, brag on it. If the agency won awards recently for quality of care or patient satisfaction, take pride in it. Use these company strengths to reflect core values, which the prospective applicant may or may not share.
Check the Job Title
Finally, all the elements in a physical therapy job description should support the job title. Stick to standard titles typical in physical therapy, but feel free to specify information such as "Senior," "Entry-level" or "Part-time."
If a particular specialization or setting is required, put it in the title. That might resemble something like this: "Physical Therapist – Neurological Rehabilitation" or "Pediatric Physical Therapist."
Examples of good and bad physical therapy job descriptions
Below are a few examples of good and bad physical therapy descriptions. If you're job hunting, you'll be sifting through dozens of these blurbs every day. The quality of a job description reflects on the company; a poorly-written job description implies oversight, inattention, obsolescence, or worse – lack of employee care.
A well-written job description gives the applicant a clear sense of the job, the benefits on offer, and the character of the company.
Good job descriptions are efficient; after a short summary, they lay out the primary duties and the secondary/specific duties. They list all determining qualifications from most to least vital, and they specify what's being offered (salary and benefits). The end of the description explains more about the company, including its mission and culture.
Bad job descriptions are either much too wordy or too terse; the summary is copied from other listings or is too company-centric. The physical therapy job duties might be vague, or so detailed that it reads like a preamble to the handbook. They may hide benefits information or withhold specialty requirements and other determining qualifiers.
Here are some sample job descriptions, starting with a good one.
Example 1: Good Physical Therapy Job Description
Job title: Home Health Physical Therapist
Summary: Come join a compassionate team of traveling PTs at Road2Health, serving the greater Houston area. As a home health physical therapist, you'll lead patients on the road to recovery from the comfort of their home, using therapeutic exercise, neuromuscular rehabilitation and other techniques from the clinic. Many of our patients are elderly or require assistance, so we're looking for therapists who enjoy educating not only the patient but also their caregivers. With a self-set schedule and paid documentation time, you'll have the flexibility and autonomy to deliver patients high-quality care.
Job duties:
Consult patients in their homes and evaluate for treatment
Develop detailed treatment plans and home exercise programs
Educate patients and caregivers of safe rehabilitation practices
Communicate with overseeing physicians regularly
Complete weekly documentation using agency-run EMR
Comply with state guidelines for home healthcare
Required Qualifications:
A Bachelor's degree (or higher) in physical therapy
Previous experience in a clinic setting
Reliable transportation
Excellent time management and punctuality
Preferred Qualifications:
CPR and First Aid certification
1-2 years' experience in home health
Willingness to work weekends
Benefits:
Salary starting at $45/hour, minimum 30 hours/wk
Medical, Dental, and Vision, and PTO benefits
Access to Road2Health company car; fuel costs included
About us:
For over 50 years, Road2Health has equipped physicians, therapists, and personal care aides to provide exceptional, effective healthcare in the privacy of patients' homes. In 2016, Road2Health received the Digital Health Award for attaining unmatched excellence in telehealth medicine. By keeping up with the latest practices and equipment, Road2Health delivers patients a service that is as good or better than what they receive at the clinic. Our healthcare professionals appreciate Road2Health's commitment to fair compensation, as well as the flexibility to set their own schedules. Road2Health maintains a firm anti-discriminatory policy for all employees, and welcomes applicants of diverse ethnicity, age, gender identity, sexual orientation, and any other protected status.
This job may or may not be a good one, but the job description gives the reader a good glimpse of the overall job duties, benefits, and work environment. Applicants are also told what qualifications are required and which are preferred. Nothing is left to guesswork, and the candidate can make an informed choice to apply or not.
Contrast the transparency of a good job description with a bad one:
Example 2: Bad Physical Therapy Job Description
Job title: Therapist
Summary: Sunnyside Healthcare comprises nonprofit hospitals and medical professionals in the Greene, Harrison, and Chester counties. Sunnyside Healthcare combines expert physicians, cutting-edge technology and state-of-the-art facilities, and nonprofit values to provide human-centered healthcare across a variety of specialties, including Oncology, Pediatrics, Cardiovascular, Therapy, Neurosciences, Orthopedics, and Family Care. Sunnyside Healthcare is connected to area hospitals and outpatient clinics — Mulberry Hospital, St John's Hospital, Riverfield Clinic and Hopewell Hospital in Greene county, and Northern Harrison Hospital, Murray Outpatient Center and St Anne's Medical Center in Chester county — plus multiple primary care practices and specialty clinics, including The Wellness Center, a leading provider of therapeutic medicine, and two emergency clinics. Non-acute care is available to residents of Greene, Harrison, and Chester counties through affiliates such as the Hopewell House for physical rehabilitation and nursing, and the Sunnyside Healthcare organizations. For more information about Sunnyside Healthcare, visit our website at sunnysidehc.org
Job duties: Provides therapy to patients based on medical guidance and the needs of the patients. Provides education on use of adaptive equipment to patients or caregivers as needed.
Qualifications:
Graduate of accredited physical therapy program
3 years' relevant experience
Basic Life Support (BLS) 90 Days Required
Benefits: For full-time employees
There are countless ways to write a bad job description, but this example shows a few bad habits widespread among job postings. First, the job title is too generic: Therapist. If the reader wanted to cross-check the title with the job duties to ensure they've found a relevant listing, they'd have no help. The job duties themselves are too generic to specify what kind of therapy is provided. It's not until the Qualifications section that the reader understands the job description is for a physical therapist.
But the elephant in the room is the lengthy paragraph, right at the beginning, all about the company. This is a huge turn-off for prospective applicants. It appears that the author has simply copied the "About Us" blurb from the company website and stuck it to the beginning of each job listing. Don't do this. There is a time and place to wax eloquently about the features of the organization, but the job summary is not it.
Finally, the Benefits section is bare-bones and gives the applicant no sense of what is offered, or even whether the full-time benefits apply to this particular position.
Here is another set of examples, this time for a outpatient clinic specializing in sports therapy:
Example 3: Good Physical Therapist Job Description
Job title: Physical Therapist – Outpatient Sports Therapy
Summary: Be a part of a team of therapists who specialize in sports therapy and rehabilitation for the vibrant community of southeast Austin, TX. As a physical therapist with ActionPT, you'll provide outpatient therapy for a variety of patients, from college-level athletes to weekend warriors as well as active adults and children. We are looking for a PT who loves to work with a mix of non-surgical and post-surgical patients and who values one-on-one care and autonomy when guiding the patient through their plan of care. The friendly staff at ActionPT accommodates our busy patients by offering early morning appointments, so the ideal PT team member is interested in working early hours starting at 7am.
Job duties:
Perform evaluations and develop individualized treatment plans based on ongoing observation.
Identify clear and relevant patient goals and develop treatments to help the patient achieve their goals.
Provide evidence-based Physical Therapy treatment to restore strength and mobility and to address relevant physical impairments.
Educate patients and caregivers of safe rehabilitation practices.
Document patient evaluations, treatments, progress notes, and discharges using the company-supported EMR.
Communicate with overseeing physicians regularly.
Comply with state guidelines for ongoing license renewal and Physical Therapy practice standards.
Required Qualifications:
A Bachelor's degree (or higher) in physical therapy
Current Physical Therapy license in state of Texas
Previous experience in an outpatient clinic setting (new grads welcome to apply)
Excellent time management and punctuality
Preferred Qualifications:
CPR and First Aid certification
Willingness to work early morning or evenings
Benefits:
Salary starting at $74,000 annually
Medical, Dental, and Vision benefits
401k, HSA, and Continuing Education benefits
About Us: ActionPT is an outpatient physical therapy clinic in Austin, TX specializing in rehabilitative services for the active population. Recognized as a "Top Physical Therapy Practice" in the AustinHealth magazine, ActionPT continues to place individualized patient care at the center of all we do. With 3 locations serving the Austin region, ActionPT is dedicated to being a trusted resource for the community. If you're interested in being a part of the ActionPT team, complete the application here.
Again, this job description delivers a balanced set of expectations and provisions. The job summary hits all the major points of what kind of clientele the therapist would be serving as well as some specific things the clinic is looking for. This outpatient clinic is upfront about their starting salary and their physical therapist duties, and the accolades of the company don't get in the way.
Example 4: Bad Physical Therapist Job Description
Job title: Lead Physical Recovery Engineer
Summary: GET PAID to do what you LOVE here at the TheraX Sports Medicine Clinic. You'll be the head honcho and lead recovery engineer, helping your patients and your staff blitz through treatments and therapeutic practices. We need a therapist who is confident making health decisions on a dime and who has experience working in an outpatient clinic.
Job duties: Attends staff conferences quarterly and committee meetings at least once monthly. Evaluates the patient's function and needs for physical therapy. Assists the physicians in developing a plan of care. Provides services according to state law within the plan of care and in coordination with other healthcare team members. Leads in-service education to PTAs and other staff members as needed by agency leadership. Prepares a discharge summary or a written summary on patient's condition at least every 30 days of ongoing treatment. Supervises PTAs in accordance with LHC policy. Observes and documents the patient's response to physical therapy treatment as well as any changes in their function and condition. Leads patients through treatments to relieve pain, develop strength, restore function and/or maintain function in keeping with practice standards. Instructs and informs the patient and healthcare team members regarding the treatment plan, functional impairments, and progress toward specific goals. Follows an individualized Plan of Treatment, documents progress notes for each visit, and reports progress notes according to LHC policy. Completes patient evaluations and develops PoC according to state guidelines, and reports evaluation, treatment plan, and goals to supervisor within 24 hours of an evaluation. Complies with LHC Standards of Therapy Practice within all services to all patients. Completes all other duties as assigned.
Qualifications:
Problem-solving skills
Time-management skills
Dexterity
Thinking outside the box
Detail-attention
Compassion
Athleticism
Interpersonal communication skills
Benefits:
Competitive pay
Free staff snacks
Therapy dogs on Fridays
Community library and career resources
About us: TheraX diagnoses and treats sports injuries in compliance with state physical therapy guidelines.
This job description could be improved by a few major changes. Firstly, a cheeky job title only works against the employer. Because job postings are often filtered by keyword search, a creative title such as "Physical Recovery Engineer" will not show up in a search for "physical therapist jobs." A creative title is best reserved for internal use or elsewhere in the job description.
Furthermore, the physical therapist duties are much too long and specific; a prospective applicant doesn't need to know such particularities as needing to "submit progress documentation every 30 days."
Making matters worse, the duties are displayed in a block text, increasing the likelihood that the reader will just skim the block and not realize the leadership/supervisory role this position has. (An industry-standard job title, such as "Senior Physical Therapist," would convey that role better.)
The qualifications are all soft skills; for a leadership position like this one, the employer should specify must-haves such as years of previous experience, let alone licensing and standard credentials.
Finally, "competitive pay" is meaningless to most applicants, and while the company perks like free snacks and therapy dogs are worth mentioning, they shouldn't be in place of express employee benefits.
General Tips for Writing a Good Physical Therapy Job Description:
Consult the appropriate current employees
Be transparent about what your team is looking for, but keep an open mind regarding requirements vs preferences.
Specify the location, setting and specialty, if applicable.
Watch for typos; have multiple people review the job description.
Divulge the compensation: salary and benefits.
Advertise the company's mission and culture after the description; otherwise it'll just be skimmed or skipped.
General Tips for Identifying a Good Physical Therapy Job Description:
Read everything, but be choosy in what you apply to.
Check the title against the job duties and required qualifications.
Read between the lines; did they leave anything out?
Don't assume the worst (or the best); take catchy hooks and marketing tactics with a grain of salt.
If things are unanswered, write down questions for your interview.
Remember it's just a blurb; it can say a lot about a company, but it may also just reflect the author. You'll get a better read from your interview.
Physical Therapy Job Board
If you're a PT looking for work, I have a resource for you that goes beyond sifting through job descriptions. PTProgress has launched a job board for clinics and agencies to post new listings. You can sort the listings based on region and receive notifications about new jobs in your area. The job board is updated weekly and provides you with the most current positions available in your area.
Browse the current listings on the Physical Therapy job board and join the weekly email updates for the latest listings