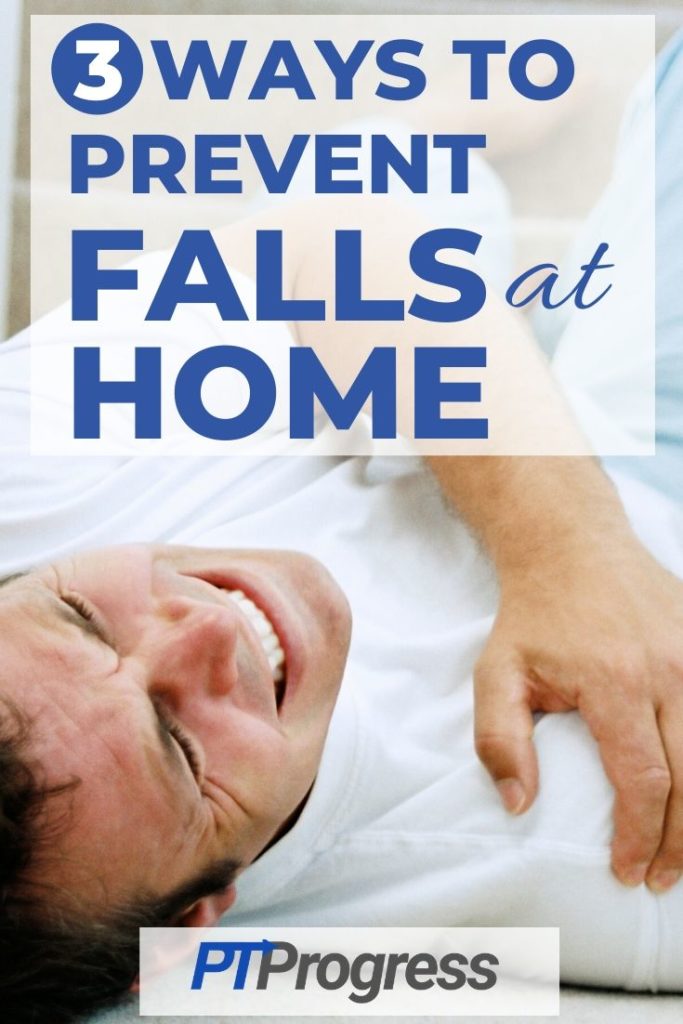 Over 60% of falls happen at home. It's a high statistic that can be prevented with some simple changes. 

If you have an older parent who has fallen recently, you might be wondering what you can do to help prevent falls. 
As a physical therapist, I've worked with older adults and their families on ways to make living spaces safer. 
But if there's one common thread with most families it's this: most older adults do not like making changes in their home.  This is why it's important to be sensitive with recommendations and try small changes first. 
The good news is that a few small changes can make a huge difference in preventing falls without feeling cumbersome or intruding on normal life.
1. Install Grab Bars at Stairs and Showers 
Slipping and falling can be greatly reduced with a well placed hand rail or support handle. 
There are two places to consider adding a handle or grab bar:
Bathroom Wall In or Near Shower
Most falls happen in the bathroom, so this is the absolute first place I recommend adding a grab bar. It's best to install this on studs, but sometimes it's not possible. With new technology, you can install these grab bars on tile with heavy duty suction supports. Here is the grab bar I recommend most for my patients. 
Moen 8724 Home 24-Inch Bathroom Grab Bar, Stainless
Coordinating Finish: Stainless finish coordinates with today's popular kitchen appliances and accessories
Supportive Design: Bathroom grab bar supports up to 500 pounds when installed in a stug or when using SecureMounts (not included)
Safe and Secure: SecureMount design for easy, secure installation (sold separately)
Peace of Mind: Designed for hassle free installation
Garage steps
Most garages have steps to enter the home, but few have support rails. At a minimum, having one grab bar is going to reduce the chance of a misstep in the garage. If you don't have a rail, consider double grab bars (one on each side of the door).
2. Replace Old Rugs with Non Slip Mats
If your bathroom rug slides across the floor easily, it's time for a different rug. Since most falls happen in the bathroom, a non-slip bath mat is one of the cheapest and easiest ways to prevent falls. 
I highly recommend a non-slip grip for the bathtub or shower floor too. If you're on a budget or you're trying to avoid too many changes at once, then go with the non-slip rug.

Bathroom Rug Non Slip Bath Mat for Bathroom Water Absorbent Soft Microfiber Shaggy Bathroom Mat Machine Washable Bath Rug for Bathroom Thick...
【INCREDIBLY SOFT】- Premium bath mat features a luxurious, fluffy and soft pile that soothes tired feet and shields toes from the cold floor. The...
【ULTRA ABSORBENT】- High-pile, constructed out of premium thick microfiber fabric.The microfiber bath rug is much more absorbent than cotton bath...
【EASY TO CLEAN】- The microfiber strands dry five times faster than ordinary non-slip bath mat.Refetone bath rugs have been tested and can be...
【ANTI-SLIP & STRONG BACKING】- We researched to find the backing with the strongest hold and found it! The Refetone Premium Bath Rug includes the...
3. Install Motion Lights in the Hallway or Bathroom
Our vision accounts for a significant portion of our balance.  This is why so many falls happen at night in a dark room or bathroom.  If we can't see well, our balance will be significantly compromised!
One of the best ways to prevent falls due to poor lighting is to install motion sensor lightbulbs in the bathroom, hallway, or walkways.  
These new lightbulbs have a motion sensor built in, so it will turn on automatically when it senses motion.

Sale
Outdoor Motion Sensor Light Bulb, 12W(100W Equivalent), Automatic Activated by Motion,A19,E26, Indoor 6000K Dusk to Dawn Security Bulbs for...
IR INFRARED MOTION SENSOR: PIR infrared motion sensor is in the top of bulb,the motion detector works like a small electronic eyes that detect...
DUSK TO DAWN: Built-in a photocell sensor, deactivates the motion sensing light bulb during the daylight hours to save energy.(Automatically turn on...
EXCELLENT FEATURES: Super bright, gives off 1000 lumen, 85% energy saving, 12W LED replace 100W halogen bulb.
WHERE TO PUT THEM? :For best effectiveness, position a motion sensor light to cover the walks leading to your front and back doors and the driveway,...
Best place to install: Try installing it in the bathroom or in a hallway lamp. Placing a motion sensor bulb in your bedroom may not be good since it may turn on if you move around in your sleep.

Final Thoughts
These changes may seem too simple to make a difference. But when you hear the reasons why people fall in their homes, it's usually because of simple things that could have been prevented.
Sometimes it's as simple as buying a second cane and keeping it at the bedside. (see recommended canes for balance) Other times it's as simple as turning on a light if you need to use the bathroom at night.
Falling is no joke and can happen to anyone at any age! Protect yourself with a few precautions and you'll greatly decrease your risk of falling at home.