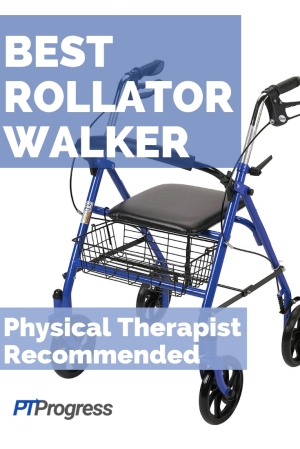 You might have seen a walker with four wheels and a seat or a basket and wondered what they're called. This type of walker is called a rollator walker and is one of the most commonly used medical devices.
What is a Rollator Walker?
A rollator walker has 4 wheels and seat, basket, or a combination of both. (Compared to a standard or front wheel walker has two wheels and no seat.)
The purpose of a rollator walker is to provide the user with an opportunity to sit at any moment. Rollator walkers allow patients to have greater mobility around the community with the security of sitting any time they need a break.
Many of my patients are interested in finding a rollator walker with a seat because of the convenience of sitting down when walking long distances.
While this style walker is very convenient, there are some drawbacks to these walkers.
Pros and Cons of Rollator Walkers
Pro: Improved Mobility
Con: Decreased Stability
Since a rollator walker has 4 wheels, it glides very easily over surfaces. Sometimes, these walkers can glide too easily and actually get away from the user. For someone who has balance difficulties, a rollator walker may be challenging to manage if you're not careful.
Pro: Brakes can provide increased stability and safety.
Con: Poor grip may be challenging to use brakes when needed.
Most rollator walkers have brakes that help to slow down or stop a walker while you are using it. However, the brakes are not automatic. In other words, the user must grip the brakes in order to engage them. If the user cannot grip well or respond quickly to grab the brake handles, a rollator walker may not be the best option for you.
Best Rollator Walker for Seniors
Selecting the best rollator walker will come down to a few key points:
Quality – You can find cheap rollator walkers. But most of the time you get what you pay for with medical equipment like this. Be careful not to skimp on safety features just to save a few dollars.
Price – The cost of a rollator walker will depend on where you're purchasing it. If you purchase a rollator walker online, you may have to pay for shipping or wait a few days, but the cost is usually lower.
User Ability – The person using the walker needs to have a good understanding of the safety features and proper handling of the walker. If the user isn't able to follow simple one or two step commands, it may be difficult to instruct on the safe use of this device.
One of the best rollator walkers available is the Drive Rollator Walker.
The Drive Medical rollator walker is the #1 selling rollator on Amazon for good reason! With over 5,900 customer reviews averaging 4.5 stars, this walker has proven to be durable, easy to use, and well designed.
Top Features:
Padded seat with backrest and basket for convenient storage
Adjustable handles for customizing height of walker
Large caster wheels for smooth gliding on indoor/outdoor terrain
Quick lock hand brakes
Easy fold for quick storage or transport
Limited lifetime warranty
High weight limit: 300 pounds
Biggest complaints:
The walker is not very light, weighing in at 20 pounds. If you plan on folding it and putting it in your vehicle, you may need assistance.
The brakes can be a little stiff, which may be challenging for some people with arthritis.
Fairly large footprint when folded (may be difficult to fit in small vehicles).
Where to Buy a Rollator Walker?
You can buy a rollator walker Walmart, Walgreens, CVS or Amazon. Due to the size, most big box stores will offer the product online and have it shipped to the store for you to pick up.
If you know that this style walker is right for you, consider purchasing it on Amazon in order to get free shipping to your home!
Rollator Walker Accessories
There are actually a few interesting rollator walker accessories that you might consider purchasing. I've included a few ideas below:
Cup Holders
Accessory Hooks
Waterproof hanging storage bag
FAQ
Are Rollator Walkers Covered By Medicare?
Yes, Medicare Part B will cover rollator walkers as durable medical equipment (DME). The walker must be medically necessary as prescribed by your physician. You must first meet your deductible for Medicare Part B and will likely have to cover 20% of the cost of the walker unless you have Medigap insurance.
Is a rollator walker good after a knee replacement?
Typically a standard front wheeled walker is used for a couple of weeks after a knee replacement. A rollator walker is more of a long term solution for someone and usually isn't the first choice of physical therapists for someone who is recovering from a knee replacement. Also, within a couple of weeks, you progress to a cane after a knee replacement.
Are there bariatric rollator walkers available?
Yes, the standard rollator has a weight limit of around 300 pounds. This Medline rollator walker has a weight limit of 500 pounds.
What questions do you have about rollator walkers?