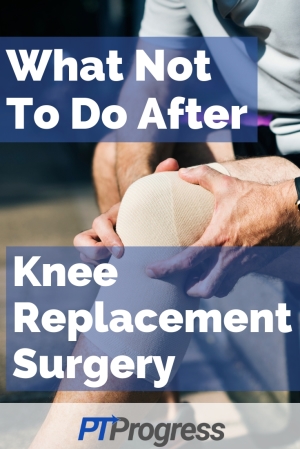 As a Physical Therapist, I work with patients in all stages of their knee replacement. We do our best to instruct our patients on what to do, but there are a few things that you should not do after knee replacement surgery. Here are the top 7 things you should not do after a knee replacement surgery.
What Not to Do After Knee Replacement Surgery
Do not apply lotion, cocoa butter, or essential oils to your new incision right away
You need to keep your incision clean and dry in order to avoid the risk of infection. Putting essential oils or lotion directly on an incision that is not fully closed is just a bad idea. Once the skin is healed, your physician may approve the use of lotions or oils. If the skin around your incision becomes increasingly swollen, red, warm, and constantly drains, you may have an infection and you should contact your physician's office immediately.
Do not kneel on the new knee until the skin is healed
Most people will not even attempt to kneel on their new knee because of stiffness and pain. However, it is important to avoid kneeling on your new knee replacement until your physician has cleared you to do so. The skin must be fully healed, or you risk opening the incision which can lead to an infection and further complications. Kneeling on a soft mat or pillow can actually be helpful in desensitizing the knee once the incision is healed.
Do not overdo it
It's common to want to get better faster after a knee replacement. But the body is going through a healing process and you need to be smart about how much movement you do and the kind of movement you choose to do. Your physical therapist will instruct you on how to walk properly which is important for you to regain your mobility. However, walking through a large department store just days after your knee replacement is not a good idea. You need to build up your walking tolerance gradually, and use the assistive device as instructed by your therapist or physician.
Do not ditch the walker or cane too soon.
It may be tempting to get rid of the walker so that you can use a cane instead. But it is important to use a walker until you can comfortably walk with a cane after knee surgery because you want to avoid increased pain or strain to your knees, hips, and back. If you still have any sort of limp, lean, or pain in your knee or hip, you must continue to use an assistive device like a walker or cane until you correct these movement patterns.
Sale
Do not lift heavy objects right away
After your knee surgery, you should avoid lifting heavy weights or performing heavy chores until cleared by your physical therapist. It may take four weeks or more before you can resume lifting or performing heavy chores around the house. This is because you want to restore strength and balance as much as possible to prevent further injury falling.
Do not soak in water immediately
Do not soak in a tub, hot tub, swimming pool, lake or ocean until your doctor gives you permission to do so. This is because the incision must be fully healed before you soak your knee, otherwise, you risk getting an infection which can lead to significant complications with your knee replacement.
Do not place a pillow under your knee
After your knee surgery, you will need to begin working on bending the knee (flexion) as well as straightening the knee fully (extension). Maintaining a position that is semi-bent is not good for your new knee, especially for long periods of time. It's very important to keep your knee as straight as possible when sleeping or laying down and to sit with as much bend as possible so you can achieve your range of motion goals.
Do not forget your physical therapy exercises
It's important to follow the instructions of your physical therapist when performing your exercises at home. Each exercise has an important function to restore your range of motion or strength, so be sure to do these simple but very effective exercises as instructed.
Be smart and ask your physical therapist or surgeon if you are unsure of an activity.
What questions do you have about knee surgery and things to avoid afterward?