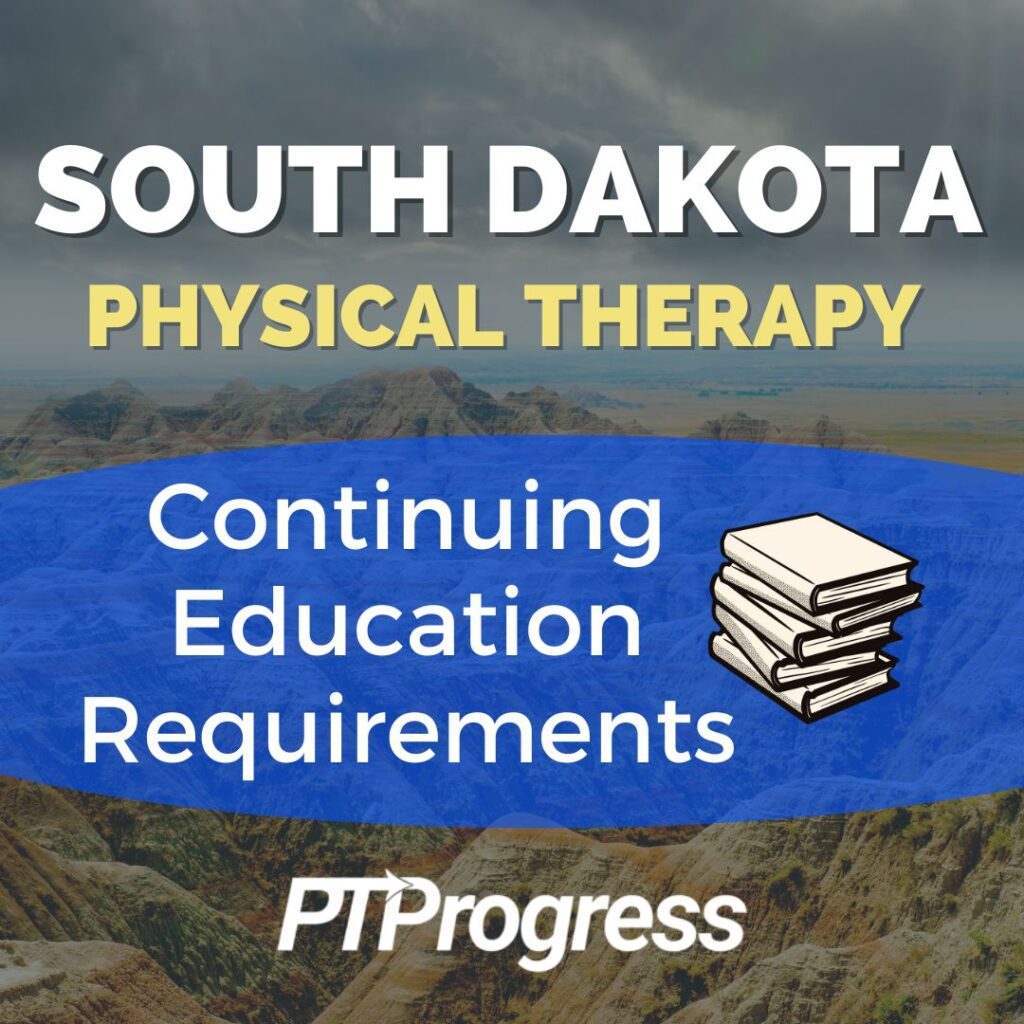 If you're a Physical Therapist or Physical Therapist Assistant in South Dakota, then you'll need to renew your license annually. Besides paying a fee and submitting paperwork, the law requires that you complete 15 hours of continuing education. But getting in those 15 hours might be easier than you think, especially when you consider all the options for online CEUs. Below I answer all your questions about South Dakota physical therapy continuing education requirements!
At a glance:
South Dakota – 15 CEU hours every year by December 31st.
South Dakota Physical Therapy CEU Requirements
From the South Dakota Legislature Website: (SD source)
"An applicant to renew a license shall complete 15 continuing education hours in a one-year period in professional education activities updating competency in physical therapy.
"Activities that qualify for credit toward completion of the continuing education requirement include programs sponsored or approved by the American Physical Therapy Association or other national or state physical therapy association, activities conducted by a hospital or related institution, and programs sponsored by a college or university. The educational activities must have significant intellectual or practical content dealing primarily with matters directly related to the practice of physical therapy or to the professional responsibility or ethical obligations of the participants."
What CEU Courses are Allowed in South Dakota?
All license renewals are regulated by the South Dakota Board of Medical and Osteopathic Examiners (SDBMOE). They have set some guidelines for the kind of continuing education you may credit toward your license renewal.
All CEU courses must be sponsored or approved by one of the following institutions:
The American Physical Therapy Association (APTA) or its state chapters
Any other national or state physical therapy association
A hospital or related institution
A college or university
In addition, all continuing education must have "significant intellectual or practical content" that is "directly related to the practice of physical therapy." Courses that pertain to professionalism or ethics may also qualify.
These parameters are surprisingly bare, and the SDBMOE has left little guidance on their website for licensees who may want to complete their CEUs outside of coursework. For example, many other states regulate the amount of CEU credit you can earn from professional activities—such as in-service meetings, publication, and clinical supervision. Completing a specialty certification or residency may also qualify towards your overall CEU count.
Because the SDBMOE's website is silent on these particulars, it's a good idea to simply contact the Board and ask. You can also reach out to the Board if you need to obtain approval for a specific course that doesn't meet the criteria above.
Can I Use MedBridge in South Dakota?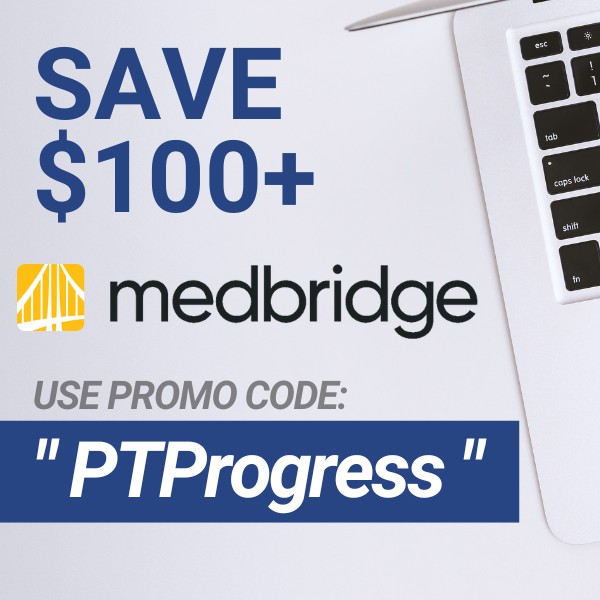 Yes, you can use an online CEU company like MedBridge Education to complete your South Dakota Physical Therapy continuing education. A quick check on the MedBridge website shows hundreds of courses approved by OPTA for PTs and PTAs in South Dakota.
An annual subscription to MedBridge Education grants you unlimited access to their vast library of CEU courses, as well as free registration for live and interactive webinars all year long. Whether you're a PT or a PTA, you can find plenty of eligible courses on MedBridge. Use the MedBridge promo code PTProgress to save 40% on unlimited CEUs.
Do I need to submit proof of my completed CEUs?
Every legitimate CEU provider, including MedBridge, will give you a certificate of completion when you finish a CEU course or activity. You don't need to submit this proof unless the Board requests it, such as for a formal audit. So it's a good idea to hang onto all your CEU documentation for at least 3 years after your license renewal period is over.
How much is the renewal fee?
It costs $50 to renew a PT or PTA license in South Dakota.
When does my South Dakota Physical Therapy license expire?
Licenses expire every year on December 31st.
How long does it take to renew a South Dakota Physical Therapy license?
For many states, it can take 4–8 weeks to process your request, so start the process early!
Compare Physical Therapy CEUs by State
How does your state compare? Take a look at all of the state-by-state CEU requirements in this comprehensive article.