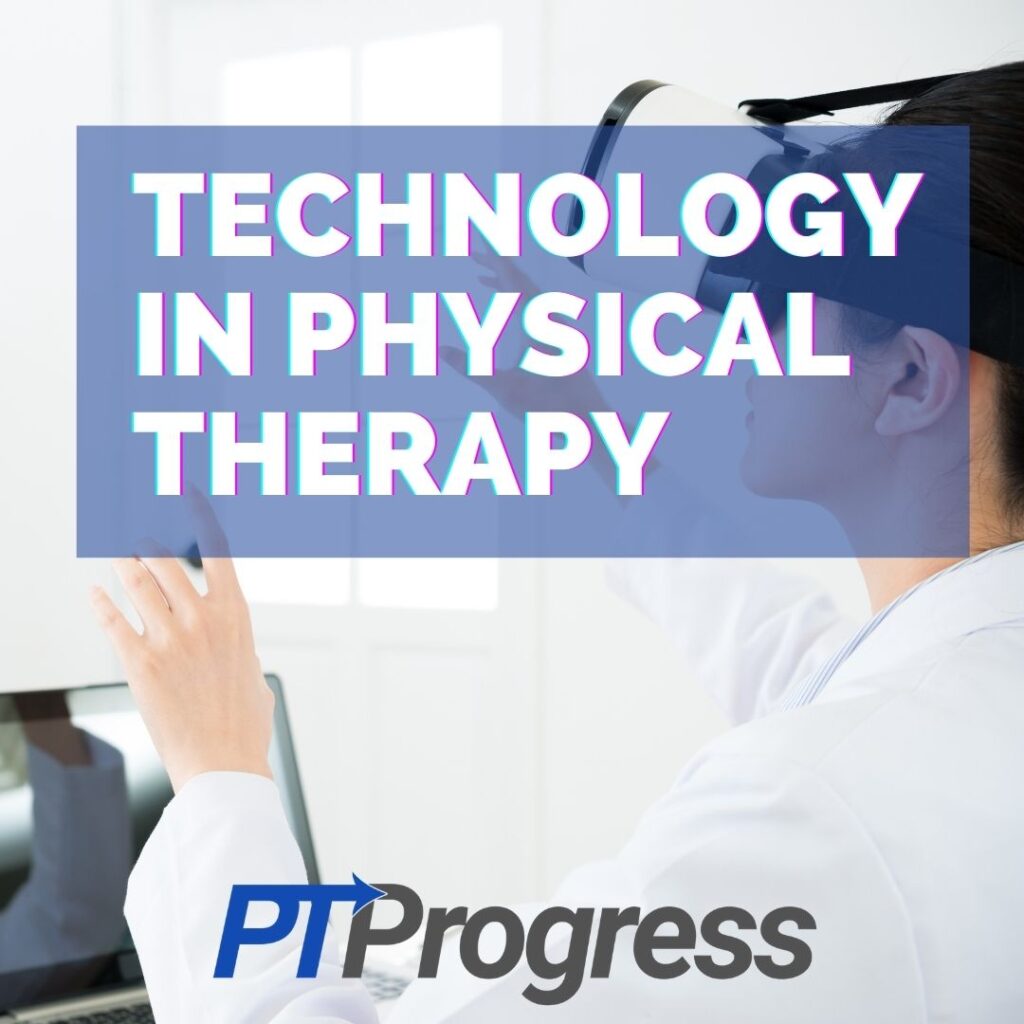 Technology in Physical Therapy continues to evolve as therapists learn new ways to help people recover from injury and restore movement. Keep reading to learn about some of the exciting developments of technology in physical therapy practice, treatment, and career!
A Range of Technology in Physical Therapy
Physical therapists are innovators of rehabilitation, drawing on hard-earned expertise and techniques to construct the best recovery plan for each patient.
Recently, however, the tool-bag of a PT has expanded to make room for new gadgets, software, and apps. As varied as they come, these technologies can make therapy treatment more effective, from administration to documentation to completion.
Wearable Technology in Physical Therapy
When you think of the phrase "wearable technology," maybe you imagine the Bionic Man stomping around the clinic. As fanciful as this image is, you wouldn't be so far off in picturing real-life gadgets now used in physical therapy labs and clinics nationwide.
For example, Ekso Bionics has developed an Eksosuit for total-body muscle rehabilitation. A type of exoskeleton, the full-length machine-turned-suit is strapped to the patient's legs, hips, and shoulders to help all aspects of mobility impairment. With the Eksosuit, patients relearn how to walk, overcome limb paralysis, and circumnavigate fatigue in therapy.
For a less bulky, wearable-tech experience, instrumented insoles measure pressure distribution from inside a shoe, using Bluetooth technology to send the data to a computer. Cheaper and more convenient than a force plate, these insoles-from-the-future provide therapists accurate, real-time information on their patient's dynamic pressure distribution.
Finally, for more comprehensive data, Cipher Skin is a sleek, new technology measuring all points of a patient's movements, from hand to toe. This wearable tech wraps around the arm or leg (or both!) to assess range of motion, force production, muscle expansion, and vital signs such as heart rate, body temperature, and oxygen.
Technology in Physical Therapy Treatments
Perhaps the most impressive new technology sweeping physical therapy are the tools of a Computer-Assisted Rehabilitation Environment, or CAREN.
Originally developed for use in military clinics, CAREN synthesizes cutting-edge technology in physical therapy with feedback mechanisms for patient response. A typical CAREN setup includes a movable platform, treadmill, theater-like sensory environment, and motion-capture equipment. Patients strap into the platform harness and explore immersive, virtually-realistic scenes while a computer records their balance, gait, and other measures.
CAREN has opened all kinds of doors for rehabilitation innovation. Engineers and researchers alike use CAREN to build and test new prosthetics and rehabilitative devices in virtually realistic settings. Therapists, too, benefit from the efficient research a tool like CAREN provides. This technology makes physical therapy observations and treatments more accurate and effective.
Virtual Reality
One of the key technologies in a system like CAREN is virtual reality, a simulation produced through realistic visual, audial, and force feedback.
VR technology in physical therapy is primarily used to simulate environments for movement, such as walking, skiing, running, and sports. When used for assessment purposes, these simulations help the therapist develop a more accurate perspective on the patient's condition or ability. However, virtual reality can also make therapy treatment more game-like and engaging for the patient.
For instance, Jintronix is a virtual rehabilitative technology designed to help senior patients keep up with their home exercise program. Through fun simulations, Jintronix guides patients through each treatment while recording their progress. The software includes over 100 exercises and assessments, from muscle strength to gait analysis to problem-solving.
Another example of effective therapy gamification is called Wii-Hab, a reference to Nintendo's WiiFit video games. Studies have shown that game-like rehabilitation boosts interest in therapy treatments and increases the frequency and duration of a patient's exercise. Because Wii-Hab includes a balance board, it has the potential to seamlessly simulate the clinic.
TeleHealth Technology
In this day of work/learn/shop/socialize-from-home, it's no surprise that even physical therapy treatment has become remote. The field of telemedicine has made significant improvements in recent years, and physical therapists (and their patients!) are benefitting from this technology.
TeleHealth therapists rely on two-way video conferencing to make assessments and guide treatments. A few of the many softwares available for teletherapy include the following: Neofect Teletherapy for home and clinic use, Physera for physical therapy exclusively and SWORD Health for remote treatment of musculoskeletal pain.
Technology for Specific Treatments
Physical therapists play a key role in guiding patients through musculoskeletal surgery. FocusMotion is a unique suite of digital tools that can help therapists track and promote patient progress, both pre- and post-operation. Patients wear a "smart" wrap around their operative joint, which sends data to an app that both patient and therapist monitor.
For a physical therapist in a sports clinic, concussion management might be a big part of the job. An app called Sway allows patients to measure and track their symptoms both in the clinic and at home. By using a mobile phone's motion sensor software, Sway can also measure balance data, yielding readings more accurate than that of a force platform.
10 Best Apps for Physical Therapy
Sometimes the best tech is what you use every day on your phone or computer to stay organized, stay on target, or stay informed.
For physical therapists, dozens of apps exist to help treatment instruction and daily organization – including continuing education!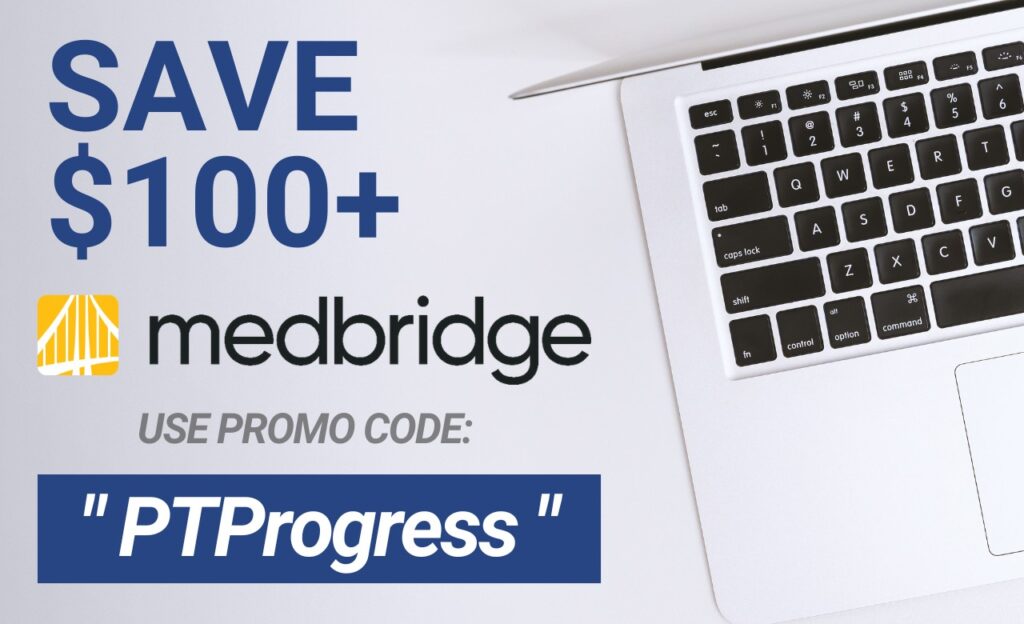 Technology in Physical Therapy Documentation
Like most healthcare providers, physical therapists spend a significant portion of their day documenting their clinical treatments. Recording these notes by hand can cause errors and result in poor patient care.
In 1972, Larry Weed developed the first Electronic Medical Record to correct these failures. As computers became more prevalent through the 1990s and 200s, more and more healthcare providers implemented an EMR.
Although the technology has improved patient care, it has also caused duplication in documentation and, thus, wasted time. One solution is a data management system like Extract, which reads documented notes and records them in a clinic's EMR. This saves the therapist from retyping into an EMR what they documented elsewhere.
Another way to save time is to use a template. Right here on the blog, PTs can download phrases and examples to help jump-start the documentation process and ensure that skilled treatment is reflected accurately in writing.
The Electronic Medical Record continues to improve as software engineers find ways to synthesize data and standardize systems.
Consumer Tech
The nifty gadgets and tech toys of modern physical therapy aren't exclusive to PT clinics. In fact, there are many products now on the market, widely available to consumers with or without a script for physical therapy. However, a buyer should always check with their doctor before using a medical device.
Massage guns
You can find detailed reviews of several different massage guns elsewhere on this blog. For the purposes of this article, the Bob and Brad Massage Gun is a perfect example of affordable consumer tech. For under $150, this device delivers powerful percussive action for handheld, deep-tissue massage.
Neuromuscular Electrical Stimulation (NMES)
One of the many treatments physical therapists provide in the clinic is e-stim, or electrical stimulation. By contracting muscles through electronic impulse, these devices help manage pain and strengthen muscles. They are available for purchase at online retailers such as Rehabmart or Amazon.
Cervical Traction
For patients with neck pain, a cervical traction unit can help relieve discomfort by decompressing the spine. When used properly, a great device like the Saunders Cervical Traction Unit can significantly reduce neck pain and improve quality of life.
Technology in Physical Therapy: Conclusion
Clearly, technology in physical therapy has not yet reached its limit, in innovation, implementation, or convenience. Through video conferencing, virtual reality, and wearable tech, technology continues to make physical therapy treatment more accurate, insightful, engaging, and accessible. It's a great time to be a PT!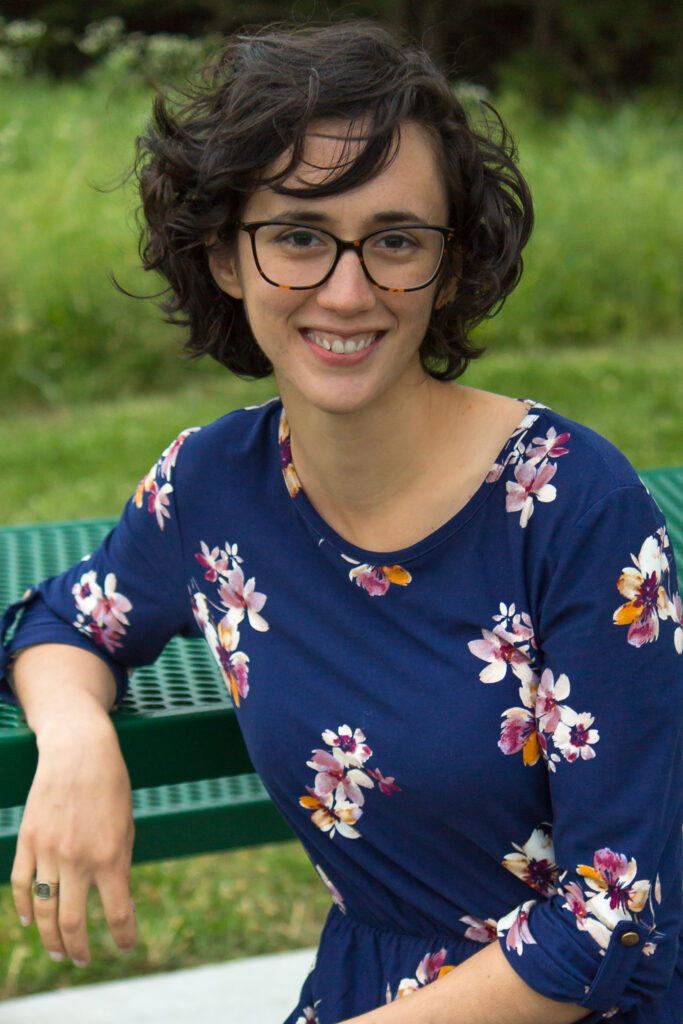 This article was written by Naomi Benecasa, a cellist with a Bachelor's in Music Performance and a Master's in Music Psychology. Fascinated by fitness and fermentation, she provides copywriting and editing services for PTProgress from her home in New York.