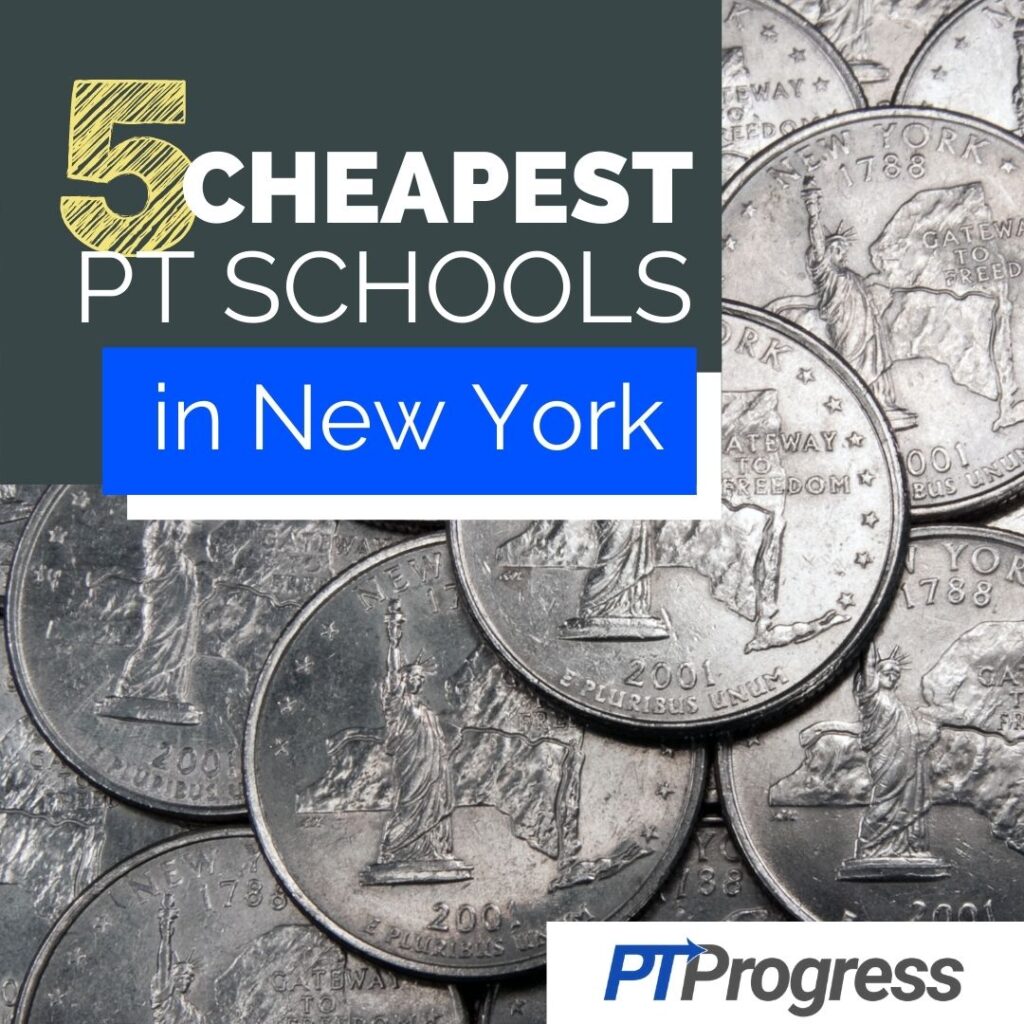 PT School is expensive, no matter where you go. But you can save yourself thousands of dollars each year by staying local, snagging in-state tuition, or even relocating to a more affordable city. I've done some of the research for you and put together this short list of the most affordable PT schools in NY.
A Case for Cheap PT Schools in NY
Instead of gunning for the tippity-top DPT program on some made-up ranking, find an affordable school. Why? Because once you start your career, where you went to school won't seriously impact the decisions you make in the clinic. Your coursework, clinical rotations, and all the studying you did for the NPTE will provide the framework for your professional life, and thankfully, every CAPTE-accredited program in the U.S. hits these marks.
Consider the effect a high-cost program will have on your quality of life for the first 5 or 10 years of your practice. Wouldn't it be nice to graduate with a manageable amount of debt? To that end, I recommend striving for a debt-to-income ratio of less than 1:1. What you'll make as a physical therapist should be the upper limit of the debt you'll take on in school. So in a few years when you've finished your DPT and passed your NPTE, how much can you expect to earn as a new PT?
For New York state, the low end of starting salaries averages $62,000 annually, while the average for PTs in the NYC metropolitan area is $69,000. Even with scholarships, you'll be hard-pressed to keep your school debt below $70k. That's because tuition fees are only one part of the price tag: you also have to factor living expenses such as rent and health insurance. It's important to keep the big picture in mind as you price-compare.
Living expenses vary widely throughout the state of New York, so let's take a look at some of the cheapest PT schools by region. If you're a resident of New York, you're eligible for the in-state tuition discount at any one of these locales.
5 Affordable PT schools in NY:
Reflects 2020-2021 tuition rates. Subject to change.
5 Affordable PT Schools in NY: By Region
Upstate/Central New York: Syracuse
Syracuse is nicknamed "The Heart of New York" for its geographical centricity but also its historical placement as a transportation hub. Known for its snowy winters, Syracuse records an average of 115 inches of snow per year. Despite such precipitate impediments, Syracusans get around town all year long on extensive roads, rails, and buses. The cost of living in Syracuse is lower than in most regions of New York; on average, the rent for a 1-bedroom apartment ranges from $700-990/mo.
Prospective physical therapists in Syracuse should consider the DPT program at Upstate Medical Center. This three-year degree comprises 121 credits of coursework and 36 weeks of clinical rotations, completed locally near Syracuse as well as around the state, region, and country. With the in-state tuition rate, the entire program would cost you $98,570. Although this price is higher than what you'd make in a year as a working PT, it's considerably lower than any private school in the area and competitive with other public schools on this list.
Upstate is affiliated with several SUNY (State University of New York) schools, so even if you haven't completed your undergraduate degree yet, consider enrolling in one of their SUNY 3+3 programs. Instead of spending 4 years on your Bachelor's degree, you'd complete an accelerated version in just 3 at a SUNY school and jump right into the DPT program at Upstate. This move requires some planning ahead, but it will save you time and money in the long run (not to mention the hassle of a second round of college admissions).
Western New York: Buffalo
Buffalo is at the far west end of New York, separated from Canada by the curvaceous Niagara River. Being close to the beautiful Great Lakes does guarantee snowy winters, but the region also enjoys four vividly distinct seasons throughout the year. The university area is serviced by Amtrak and a single-line rail system, though most students use a car to get around.
The School of Public Health and Health Professionals at the University of Buffalo offers a DPT program over a 3-year, 6-semester period. As part of the curriculum, candidates spend 52 weeks – a full year's worth – in clinical rotations. Most PT schools in NY don't dedicate nearly as much time towards hands-on experience.
What's more, UB takes the 3+3 perk offered by UMC a step further; instead of needing to transfer from a participating SUNY school, UB students can complete both their 3-year Bachelor's degree and their 3-year DPT at the same school. The DPT program alone costs in-state residents $73,170 in tuition.
Buffalo may or may not be close to where you currently live in New York, but University of Buffalo is by far the most affordable place to earn your DPT in-state. That's because living expenses in Buffalo are among the cheapest in New York: average rent ranges from $700-930/mo for a 1-bedroom apartment. If you choose to live in Buffalo during your schooling, give yourself a conservative $19k each year for expenses.
Manhattan
The draw of the Big City is strong for many New York residents, and you'll find several reputable DPT programs at home in the Big Apple. A few of these programs are operated by public universities, such as SUNY and CUNY (City University of New York). Considering the astronomically high cost of living in the New York metropolis, the following three public programs can help you secure a relatively affordable DPT.
Situated in the heart of Manhattan, Hunter College is a CUNY school with a robust, 9-semester-long DPT program. Besides completing the 105 credit hours, DPT candidates cover rotations at any of the 230+ clinics around New York and across the country. You'll be in a big city, but not a big class; Hunter caps its class size at just 28 students per year.
Staten Island
Hunter has a sister school: CUNY's College of Staten Island, just south of the city. As the only physical therapy program on the island, CSI offers a 105-credit DPT program similar to what you'd get in Manhattan. Both Hunter College and CUNY Staten Island charge the same price for DPT tuition. New York state residents pay $72,280 for the total program.
When comparing this tuition rate to that of University of Buffalo, you might surmise that the cost of attendance is similar. You'd be wrong; don't forget that CUNY schools are located in the most expensive metropolis in the nation. As such, rent is 2.5 times higher in NYC than in Buffalo; a 1-bedroom apartment averages $2,000-3,100/mo, depending on how far you're willing to commute. Other expenses, such as food costs, are on average 50% higher in NYC than elsewhere in New York State. CUNY recommends budgeting an additional $100k in living expenses for the duration of the 3-year program.
Long Island
If you want to be close to NYC without the high-octane hubbub, you might enjoy Long Island. This 118-mile-long, aptly-named island is home to many historic estates, mansions, and museums, as well as long stretches of ocean and bay beaches. Although many of its residents commute into the city for work or school, the island really is a place all its own.
Long Island is home to Stony Brook University, a SUNY school with an exceptional physical therapy program. For the 3-year DPT total tuition, in-state residents pay $99,586.
Despite the high cost, the program has a lot to offer. 100% of Stony Brook's DPT graduates have passed the NPTE the first time around, a statistic that reflects well on the quality of the education. The program splits its 85 DPT candidates across its two locations, in Southampton and Stony Brook. Besides the 94 credits of course material, students also complete 35 weeks of clinical rotations at any of 400 affiliated clinics nationwide.
Living expenses on Long Island are approximate to that of NYC: steep, with 1-bedroom apartments costing $1500-2800/mo. What's more, public transportation on Long Island tends to be a bit more limiting than it is in bustling, brimming New York City. However, the entire island is serviced by Long Island Transit, an extensive railway system.
How to Find Cheap PT Schools in NY
This article illustrates that, depending on where in New York state you plan to live, you should factor between $55k – $100k+ for living expenses throughout your 3-year program. The tuition estimates I listed only cover the base rate, excluding school fees (which can add another $5k – $20k) or mandatory health insurance, ranging from $3k – $5k annually.
PT students can save a lot of money on their schooling by relocating to a different state. Besides a lower cost of living, a few of the schools on this list offer out-of-state tuition rates well below the $73k from University of Buffalo – with much less snowfall involved. However, you could establish residency by moving to a new state at least one year in advance to snag the in-state tuition. (Do your research, though; some universities are very suspicious of this kind of move.)
A word about research:
Getting to the bottom line on a university's cost of attendance is enigmatically difficult, especially for a DPT program. Keep nearby a calculator and a renewable source of patience; you'll need both for converting semesters and credit hours and years into the variable dollar figures offered on university tuition schedules. If the DPT program is part of a larger university, it may not qualify for the standard graduate tuition rate (meaning, it will cost more). As you investigate PT schools in NY, watch out for departmental fees charged per credit hour, and with due diligence keep track of one-time fees as opposed to annual fees.
Schools, both public and private, use their websites to present the bells and whistles of their programs while hiding the true cost of attendance. As a prospective applicant, weed through the web-pages without losing sight of your low-cost priority. Remember, it's your experience, your license, and your working knowledge of physical therapy that will bring you success in your career; not your swanky school sweatshirt or the 250k mountain of debt it represents.