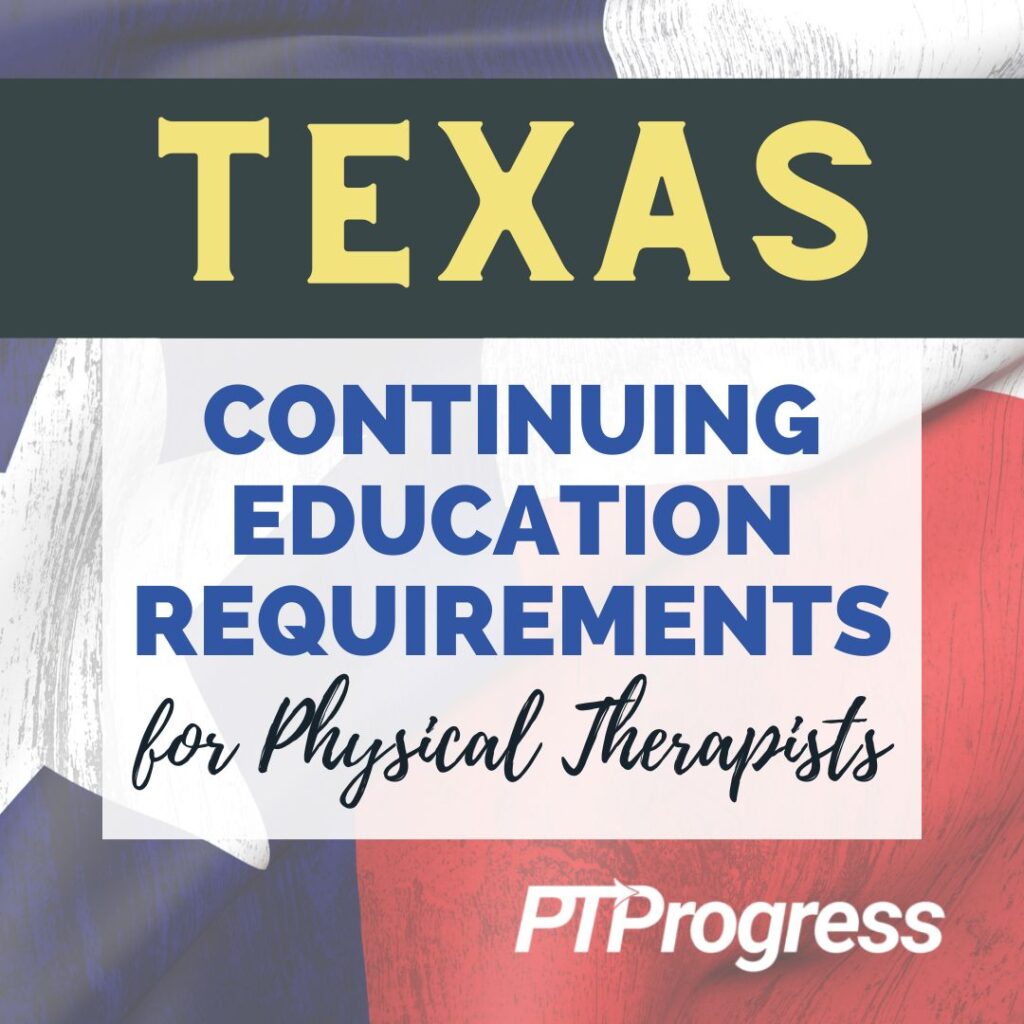 If you're a PT in Texas, you must complete 30 hours of continuing education every two years in order to keep your license current. PTAs in Texas have to complete 20 hours. As part of that total, the Texas Board of Physical Therapy Examiners, which oversees license renewals, has set specific requirements for continuing education. For example, every licensee must devote at least 1 hour to Human Trafficking Prevention Training as well as 2 hours to the Texas Jurisprudence Assessment Module (JAM). Keep reading for more details on Texas physical therapy continuing education requirements!
At a glance:
Texas – 30 CEU hours every 2 years by the last day of the license holder's birth month.
In this article, I use the terms "continuing competency" or "CCU" and "continuing education" or "CEU" interchangeably. However, the Texas Board of PT Examiners prefers the term "continuing competency" because it more broadly encompasses not just education activities but also professional and academic engagement.
Texas Physical Therapy CEU Requirements
From the Texas Physical Therapy Practice Act Website: (TX source)
"A license may be renewed at any time in the three months prior to its expiration date, with no change in expiration date.
"The requirements for renewal are:
Renewal application and fee
Approved continuing competency units (CCUs):
PT = 30 CCUs
PTA = 20 CCUs
Passing score on the Jurisprudence Assessment Module (TX JAM)
Criminal Background Check obtained via Fingerprinting…if they have not previously submitted fingerprints
Human Trafficking Prevention Training
Social Security Number, or a notarized affidavit stating that one has never been issued to the licensee."
What Counts as Continuing Competency?
By far, the most common way to demonstrate competency is to complete continuing education. This includes CEU courses, seminars and workshops. But there are many other ways to earn your 20 or 30 CCU hours, from authoring a poster and supervising a student to finishing your residency or passing a specialty certification exam.
With so many options for continuing competency, it's not always clear how much an activity will be worth in terms of CCU hours. So check out the CCAP website and peruse their list of Qualifying Continuing Competency activities. They've compiled everything you need to know: what qualifies as CCU, how many CCU hours each activity is worth, and whether there is a maximum of CCU you can earn from any one activity.
What CEU Courses are Allowed in Texas?
All activity, including CEU coursework, must meet the approval of the Continuing Competence Approval Program (CCAP), which is appointed and run by the Texas Physical Therapy Association (TPTA).
In general, all CEU coursework must meet the following criteria:
Be "pertinent to the physical therapy profession" and related to "ethics, professional responsibility, clinical application, clinical management, behavioral science, science, or risk management."
Be "presented by a licensed health care provider" or person with "appropriate credentials and/or specialized training."
Be approved by CCAP or be offered by a provider accredited by the CCAP.
If in doubt, check the course approval numbers. Courses that are already approved by the CCAP have unique Texas approval numbers listed on the certificate of completion. You can also just contact the CCAP directly to verify whether a course or activity qualifies for continuing competency.
Can I Use MedBridge in Texas?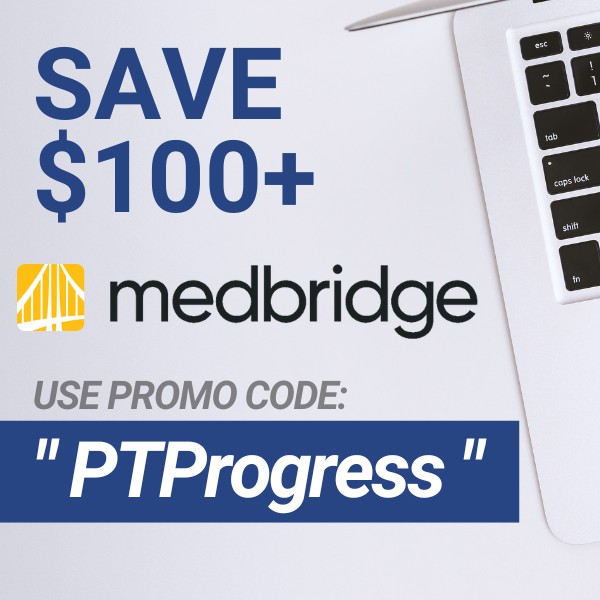 Yes, you can use an online CEU company like MedBridge Education to complete your Texas Physical Therapy continuing education. A quick check on the MedBridge website shows hundreds of courses fit for Texan PTs and PTAs.
There's no limit to how many CCUs you can earn online, which means MedBridge Education can be your one-stop shop for all your CCU needs. (Except your Jurisprudence Assessment Module, which must be completed through the FSBPT website.)
In fact, you can use MedBridge to complete your mandatory course in Human Trafficking Prevention Training. Check out the course Human Trafficking for Health Care Professionals by Hanni Stoklosa. Her 2.75-hour class will more than cover your 1-hour requirement while delivering a robust, thorough presentation on this important topic.
An annual subscription to MedBridge Education grants you unlimited access to their vast library of CEU courses, as well as free registration for live and interactive webinars all year long. Whether you're a PT or a PTA, you can find plenty of eligible courses on MedBridge. Use the MedBridge promo code PTProgress to save 40% on unlimited CEUs.
Do I need to submit proof of my completed CEUs?
As part of the reporting process, you'll need to send documented proof of your completed CEUs to the CCAP. This may include a CCAP approval letter, a transcript, course syllabus, or a certificate of course completion. Refer to this chart to determine what you'll need to supply.
Be sure to retain all documentation for at least 4 years after the renewal period ends, in case you are selected for a formal audit.
How much is the renewal fee?
In Texas it costs $248 to renew a PT license and $184 to renew a PTA license. You should also set aside $48 to cover the fee for taking the Texas JAM.
When do I need to renew my Texas Physical Therapy license?
License renewal occurs every other year on the last day of your birth month. Check your license to find the exact expiration date—and give yourself plenty of time to complete all your CEUs!
How long does it take to renew a Texas Physical Therapy license?
For many states, it can take 4–8 weeks to process your request, so start the process early!
Compare Physical Therapy CEUs by State
How does your state compare? Take a look at all of the state-by-state CEU requirements in this comprehensive article.