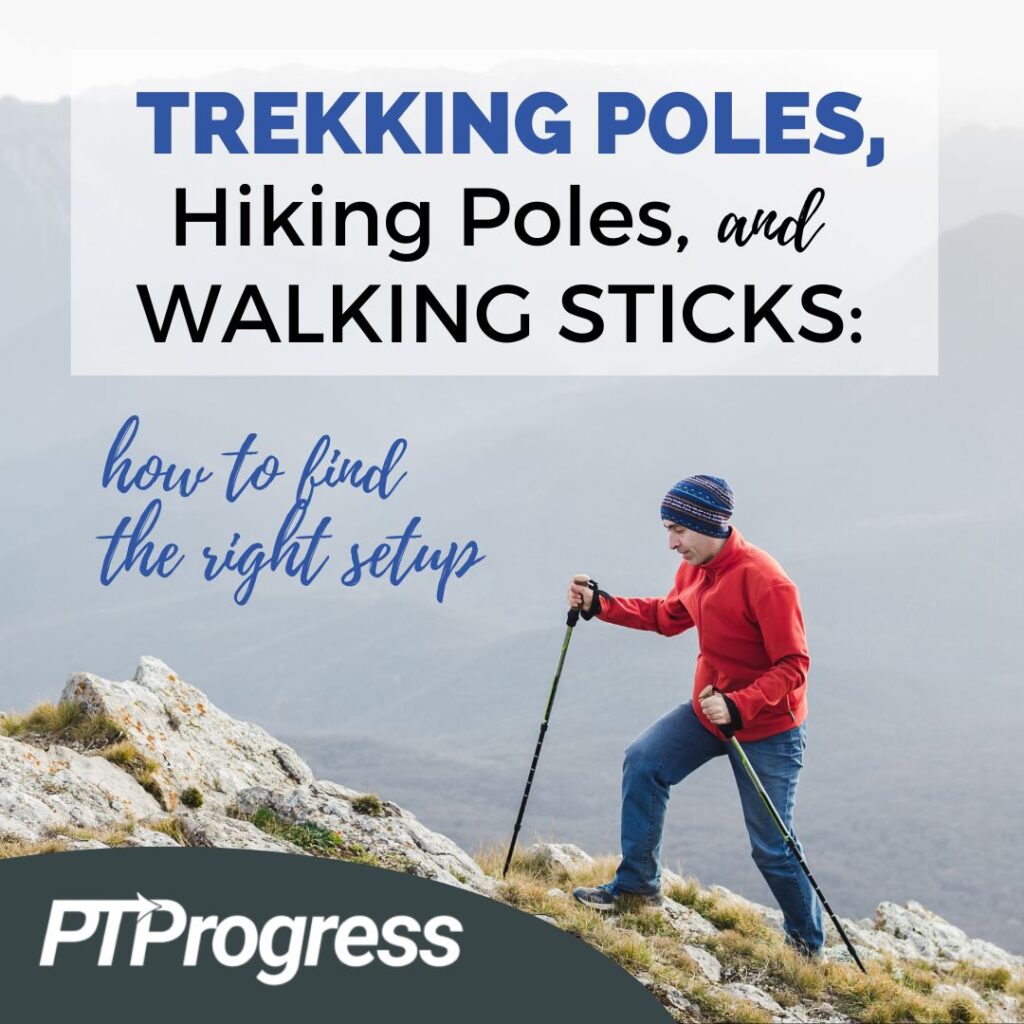 When you're ready to tackle a hiking trail, trekking poles or a sturdy walking stick can help you ascend new heights.
Finding the right setup of hiking poles can be tricky, however, with the options about as wide-ranging as the outdoors. So keep reading for my guide on how to find the best trekking poles.
Why Use Trekking Poles?
Walking with a set of trekking poles can bring many benefits. On steep inclines and declines, a set of trekking poles can help offload your joints and protect your knees. No matter the terrain, you can use poles to stabilize your movements and ensure proper footing as you hike.
When it comes to stability, three or even four legs are better than two. The added support of a walking stick or set of trekking poles can help improve your balance and give you the confidence to walk further for longer. And if your gear fits you properly, you'll walk with better, more erect posture.
Using a walking stick or trekking pole also activates your arm muscles, which don't typically get much of a challenge on a hike (unless it involves a rock scramble!). What's more, the rhythm of placing and lifting the poles with each footfall can help maintain a consistent and brisker pace.
Other uses for trekking poles include maintaining balance, like a tightrope walker, as you cross narrow passages or logs; vaulting yourself onto or over rocks; scaring off wildlife by waving overhead; or pitching a tent.
Difference between trekking poles, hiking poles, and walking sticks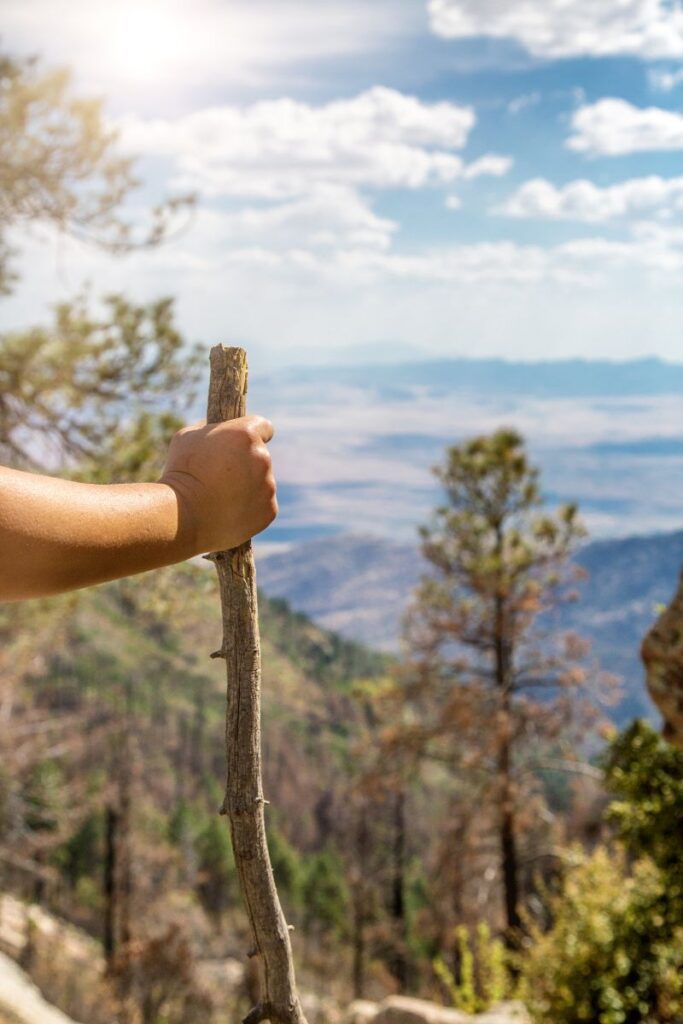 Hiking poles and trekking poles are essentially the same kind of gear, designed for uneven, rocky terrain. You typically use a hiking or trekking pole in pairs, and they tend to be just above waist level. Most trekking or hiking poles are lightweight and meant to be easily packed away or carried.
A walking stick, on the other hand, is a long singular staff, traditionally made of wood, that's more sturdy than streamlined. Whether it's a stick you picked up at the trailhead or a custom-made wooden staff, with a walking stick you can stabilize your footing, clear brush, or cross slippery streams. Unlike trekking or hiking poles, however, a walking stick isn't height adjustable and usually doesn't include straps. And as a singular stick it can provide only limited stability on one side as you walk.
In terms of bilateral support, terrain versatility, and compact packability, trekking poles have a lot more to offer than the traditional walking stick. They might take a little getting used to, but after some saved knees and caught falls, you won't want to leave home without trekking poles!
How to Fit and Use Trekking Poles
Your trekking poles won't be very useful if they don't fit you properly. Make sure the equipment you buy is suited both for its task and its user—you!
To fit your trekking poles, measure the distance from the floor to your elbow. When you hold a trekking pole, your elbows should be at a 90º with the pole tips on the floor. A lesser angle indicates the poles are too tall for you, while an angle greater than 90º means you probably need longer poles.
If you're over 6 feet, look for a pole that can go up to at least 51 inches. Otherwise, a standard one should be sufficient. Consult the sizing chart here from REI for a general idea of how long your poles should be.
Once the poles are properly fitted, remember that you won't always be standing on level ground. As you go up and down steep slopes, you may want to adjust the length of your poles by a minimal 5-10 centimeters. A shorter pole will be more helpful on a steep incline, while a longer pole can modify a severe downhill grade. You may also set the poles to slightly different lengths for hiking at an angle, with one leg more uphill from the other.
To walk with your trekking poles, simply place one pole down at a time with the opposite leg. Otherwise, walk naturally and let your arms swing with your steps. You may prefer to walk with the poles landing together in front of you, either to quicken your pace or to vault yourself over an obstacle.
How to Choose Trekking and Hiking Poles
The first step in finding the best trekking poles is knowing what you want. You'll be more likely to consistently use—and benefit from—gear that best meets your needs and adventures. So it's worthwhile to put careful thought into what kind of trekking pole you want.
Structure: Adjustability and Collapsibility
The first feature to consider is whether the poles should be adjustable or fixed in length. At first glance, you may think that adjustable is always better. However, an adjustable pole tends to be heavier than a fixed pole due to extra bulk from its locking mechanisms and the telescoped part of the shaft you don't use. Hikers who need to travel as light as possible may prefer a set of ultralight, fixed-length poles such as the Black Diamond Distance Running poles, which weigh a wee 95 grams each. 
On a related point, some trekking poles collapse tightly while others must be disassembled before packing away. The collapsibility of your trekking poles may determine whether you can fit them in your pack or will have to carry them on portions of your hike where you don't or can't use them. Keep in mind that, if your adventures require any airline travel, you may need your trekking poles to collapse into a checked bag.
Locking mechanism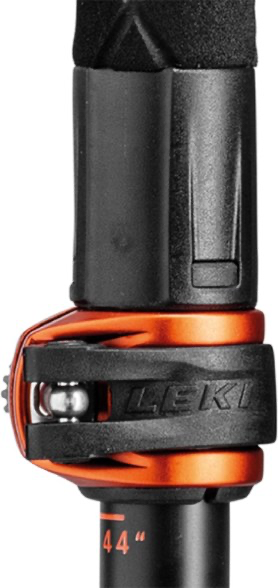 Among adjustable poles, there are a couple types of locking mechanisms to consider. The older of the two is the internal twist lock, which uses friction to lock into place the sliding telescoping poles. An external lever lock, by contrast, is a latch on the outside of the pole you manipulate to loosen and tighten the pole as you adjust it.
Some people prefer external lever locks because they are easy to adjust with gloves on and don't require hand strength to secure. However, external lever locks are usually bulkier and heavier than internal twist locks.
Even if your pole doesn't adjust, if it collapses or folds up it may feature a push-button release. These mechanisms have come a long way, some with rapid-deployment to quickly retract and tighten the pole into place. Check out the Black Diamond Distance Z for a fixed-length, collapsible trekking pole with a state-of-the-art locking system.
Shaft Material
The weight of your trekking poles is influenced not just by the design but also by its construction. There are two main materials for trekking poles—carbon fiber and aluminum.
Aluminum is usually cheaper than carbon fiber and more durable. Under intense pressure, an aluminum trekking pole will bend, not break, whereas carbon fiber is likely to snap in two. Generally speaking, a bent pole is more useful than a broken one when traversing a precarious mountain pass.
However, the lightest, most compact poles are made of carbon fiber. So if you're looking for an ultralight set of trekking poles, you may prefer shelling out more money for carbon fiber. But if heavy-duty durability is more important to you than saving a few ounces, go with aluminum.
Grip Material and Design
Your contact point with trekking poles is your hand grip, perhaps one of the most important features to consider as you shop for poles. Three materials characterize most grips on the market: cork, EVA or rubber, and foam.
Cork grips are perhaps the most popular among summer hikers. This durable, porous material wicks away sweat and moisture, ensuring you have a stable grip the whole hike through. Plus, cork molds to the hand after a while, making the pole fit like a glove by the end of the season.
Many winter hikers love rubber grips, which stand up to all kinds of weather. Rubber isn't absorbent, however, so it can get slippery if you use them without gloves on a rainy day. Foam grips are perhaps the most comfortable, soft to the touch and absorbent. Poles with foam grips also tend to be cheaper, since foam is less durable.
Sometimes, you don't have to choose between one type of grip. The Cascade Mountain Aluminum pole, for instance, features a cork grip at the top and an EVA grip lower down the pole. This double grip means you can skip the pole adjustment when going uphill and simply slide your hands down. (Though you might have to adjust your straps to do so.)
Straps
Wrist straps can help you retain your trekking poles without a death grip. However, improperly-fitting straps can irritate the skin and lead to other injuries, so if you're going to use them, wear them properly. And always look for straps that are adjustable and lined to minimize chafing.
Some straps are a simple loop that locks into the pole, while other poles—such as the Leki MCT Superlite, feature a hand-conforming glove-like strap you can eject from the pole in order to grab a photo or eat a snack.
To be most effective, make sure you wear the straps properly. With the strap flat against the top of the pole, thread your hand through the bottom of the loop (not from above). The strap loop should cradle the inside of your palm and around your thumb, while staying flat like a bracelet on the top of your wrist.
Pole Tips
If you've got big plans for your treks—plans that include all seasons or all terrains—you may need to consider what's at the end of your pole. Most poles can accommodate interchangeable tips, like a carbide tip for ice or a rubber "paw" for pavement. If you plan to trek through snow, mud, or other soft terrain, consider adding baskets to the ends of your poles. A basket is a round disk that increases the footprint of the pole's tip and prevents sinking.
Some trekking poles are designed to do double duty as ski poles. Check out the Black Diamond Alpine poles, which accommodate 100mm ferrules for treks through deep snow.
Price
It's no secret that hiking gear gets expensive. The price points for trekking poles are all over the map, with higher-end brands costing over $250. That doesn't mean you can't land a good deal on a quality set of trekking poles, though, such as the Trail Buddy Aluminum poles at under 20 bucks!
Your budget may also determine what kind of poles you should buy, whether carbon fiber or aluminum. For example, you'll pay $220 for the Leki Makalu Carbon Fiber trekking poles but just $120 for the Leki Khumbu Aluminum poles—a $100 difference!
Ultimately, be patient in your shopping and browse around before settling on one price, especially if it's steep.
Best Trekking Poles
Finding the best trekking poles for you and your wanderlust is all a matter of preference. But here's a roundup of the poles featured in this post, from four of the top-rated brands: Leki, Black Diamond, Cascade Mountain, and Trail Buddy.
I've sorted them first by whether they are fixed-length or adjustable.
Fixed-length trekking poles
Adjustable trekking poles
| | | | | | |
| --- | --- | --- | --- | --- | --- |
| | | | | | |
| Name | Black Diamond Alpine | Leki Makalu | Leki Khumbu | Cascade Mountain Aluminum | Trail Buddy Aluminum |
| Length range | 24–51 inches | 43–51 inches | 39–53 inches | 26–54 inches | 24.5–54 inches |
| Collapsible | No | Yes, to 16 inches | Yes, to 26 inches | No | No |
| Shaft | Carbon fiber | Carbon fiber | Aluminum | Aluminum | Aluminum |
| Grip | Cork | Foam | Cork and EVA | Cork and EVA | Cork |
| Lock | External lever | External lever | External lever | External lever | External lever |
| Weight | 240 grams each | 250 grams each | 245 grams each | 295 grams each | 275 grams each |
| Price | $200 | $220 | $120 | $25 | $17 |