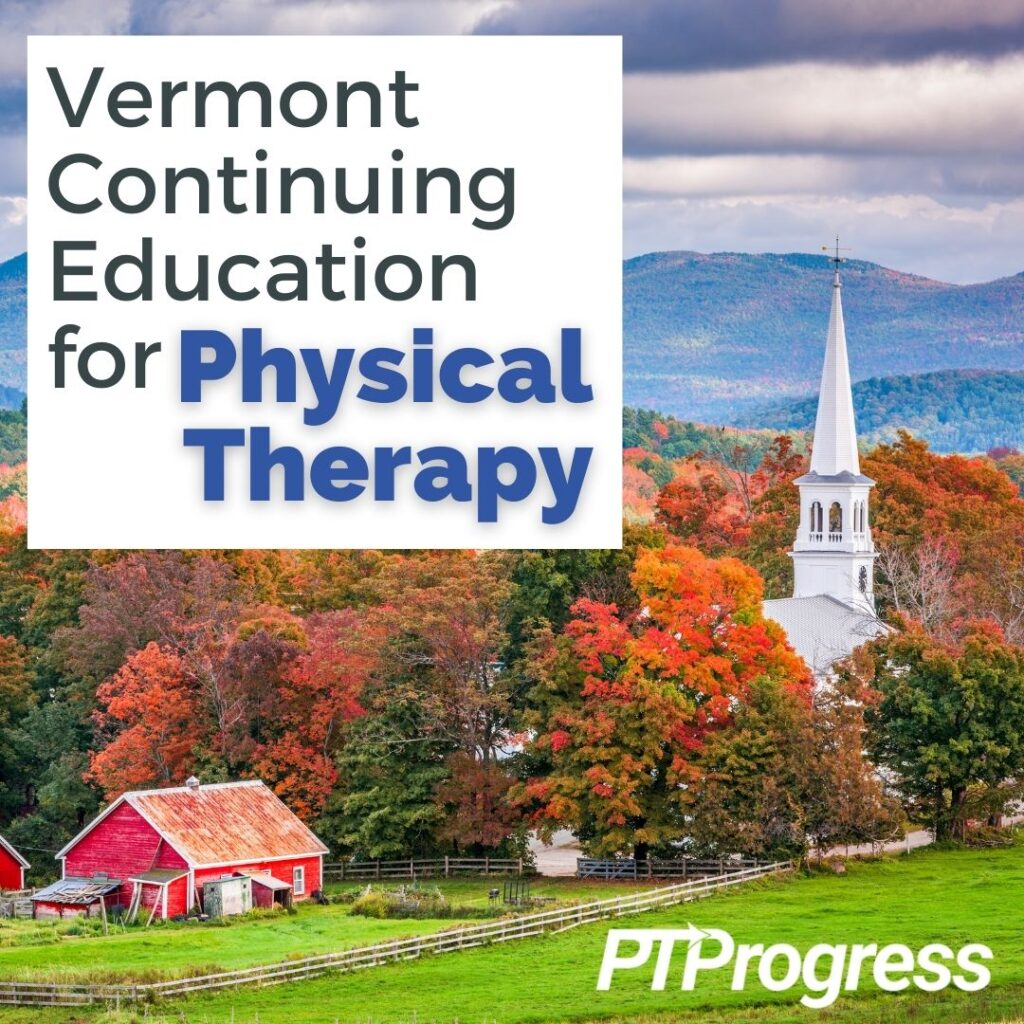 As part of their license renewal, all Vermont PTs and PTAs have to complete specific Vermont physical therapy continuing education. For example, a Physical Therapist in Vermont must complete 24 continuing competency hours every two years by September 30th of even-numbered years. Physical Therapy Assistants, however, need just 16 hours.
Technically, these hours are referred to as "Continuing Competency Units," or CCUs. Although education is a great way to demonstrate competency, certain professional activities or achievements may also count as CCUs.
At a glance:
Vermont – 24 PT CEUs every 2 years by September 30th in even years.
Vermont Physical Therapy CEU Requirements
From the Vermont Physical Therapy Practice Act Website:
"Physical Therapists attain/document 24 Continuing Competence Units (CCUs) in each 2 year reporting period and Physical Therapist Assistants attain/document 16 CCUs in each 2 year reporting period."
What CEU Courses are Allowed in Vermont?
Like many state boards, the Vermont Physical Therapy Board allows several different formats for CCU credit. You may take courses, participate in research, attend conferences or complete specialty certification.
Just know that the Board differentiates activities that are sponsor-approved from activities that are not sponsor-approved. Those sponsors include the following:
APTA (and its state chapters)
The FSBPT and any board responsible for licensing physical therapists
Agencies recognized by the US Department of Education or Council on Postsecondary Accreditation
But if your course or activity isn't approved by one of the above sponsors, it isn't worthless. You may be able to still apply it towards your overall CCUs, with hour limits. Fortunately, you can plan ahead and check this chart to find out how much each activity will be worth.
If you're still unsure whether a course or activity qualifies for continuing education, contact the Board.
Can I Use MedBridge in Vermont?
Yes! The Vermont Board of Physical Therapy hasn't specified a limit to online courses. Therefore, you can use an online CEU company like MedBridge Education to complete your Vermont Physical Therapy license renewal.
In fact, the courses on MedBridge qualify as Vermont CCUs, so you could use MedBridge to complete all 24 hours! Plus, there are hundreds of courses on MedBridge specifically approved for Vermont PTs. You'll have no trouble finding courses that both interest you and meet the requirements.
Whether you're a PT or PTA in Vermont, MedBridge has everything you'll need to demonstrate continuing competency this renewal period. Use the MedBridge promo code PTProgress to save 40% on unlimited CEUs.
Do I need to submit proof of my completed CEUs?
Every valid CEU provider, including MedBridge, will give you a certificate of completion when you finish a CEU course or activity. The Vermont Board of Physical Therapy does not require this document or any other proof with your license renewal.
Instead, you will simply report the CEU information on your application and retain the records for at least 5 years after your license renewal period ends. Be sure to store these documents safely in case the Board selects you for a continuing competency audit.
How much is the renewal fee?
It costs $150 to renew a PT or PTA license.
When does my Vermont Physical Therapy license expire?
All Physical Therapy licenses expire on September 30th of even-numbered years.
How long does it take to renew a Vermont Physical Therapy license?
For many states, it can take 4-8 weeks to process your request, so start the process early!
Compare Physical Therapy CEUs by State
How does your state compare? Take a look at all of the state-specific CEU requirements in this comprehensive article.