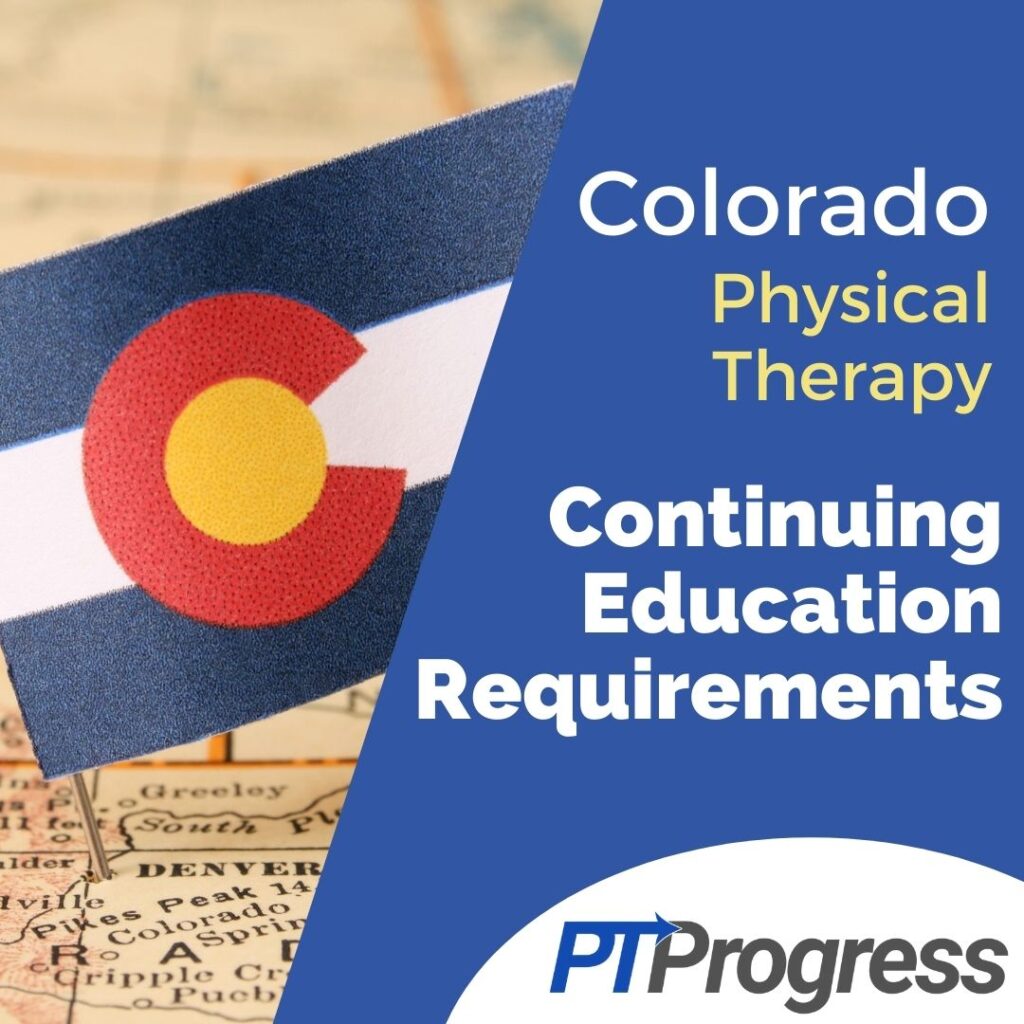 Are you a PT or PTA in Colorado? Then you probably know there are state-specific requirements for your license renewal. Keep reading for the full scoop on Colorado physical therapy continuing education, renewal fees, and deadlines.
Colorado PT License Renewal
As a Physical Therapist in Colorado, you must complete 30 continuing education hours by October 31st of even-numbered years. Physical Therapy Assistants must complete 20 hours.
Technically, these hours are credited as "Personal Development Activities," or PDAs. There are two types of PDAs:
Educational Coursework, Fellowships, or Residencies
Other Professional Development Activities*
*PTs may earn up to 10 PDAs from this category, and PTAs may earn up to 5. The remaining hours should be from educational coursework, fellowships, or residencies.
At a glance:
Colorado – 30 PT CEU hours every 2 years by October 31st of even years.
Colorado Physical Therapy CEU Requirements
From the Colorado Physical Therapy Practice Act Website:
"The licensee shall complete the Reflective Self-Assessment Tool (RSAT) and the Learning Plan once per 2-year renewal period using the Board-approved form.
"Professional Development Activities (PDA) must be relevant to the licensee's practice as a physical therapist and pertinent to the licensee's Learning Plan. The Board will not pre-approve specific courses or providers. The licensee shall determine which activities and topics will meet their Learning Plan, and select an appropriate provider.
"Hours will be accepted if the activity is included in the Board's Professional Development Activities list. A minimum of 20 of the required 30 hours must be in the Educational Coursework, Fellowships, or Residencies category."
What CEU Courses are Allowed in Colorado?
The Colorado State Physical Therapy Board does not pre-approve PDA courses or providers. Instead, it's up to you as the licensee to find courses that align with your Learning Plan goals.
Don't forget that at least 20 hours (for PTs) or 15 hours (for PTAs) must qualify as educational coursework, fellowships, or residencies. This chart can help you figure out each activity's category.
Finally, if you're unsure whether a particular course qualifies towards your PDA credit, just contact the Board.
Can I Use MedBridge in Colorado?
For educational PDAs, the Board hasn't set a restriction on study format. Therefore, you can complete your CEU courses many different ways: in person, online, privately, or in group settings.
In fact, you can use an online CEU company like MedBridge Education to complete all the required CEUs for your Colorado Physical Therapy license renewal. A quick check on the MedBridge website shows hundreds of Colorado-worthy courses.
As long as the course fits in your Learning Plan, it's eligible for PDA. Use the MedBridge promo code PTProgress to save 40% on unlimited CEUs.
Do I need to submit proof of my completed CEUs?
Every valid CEU provider, including MedBridge, will give you a certificate of completion when you finish a CEU course or activity. You'll need to include this document with your license renewal application.
Additionally, you'll need to retain your CCU records for at least 5 years after your license renewal period ends. Be sure to store these documents safely in case the board selects you for a continuing competency audit.
How much is the renewal fee?
It costs $78 to renew a PT license or $18 to renew a PTA license.
When does my Colorado Physical Therapy license expire?
All Physical Therapy licenses expire on October 31st of even-numbered years.
How long does it take to renew a Colorado Physical Therapy license?
For many states, it can take 4-6 weeks to process your request, so start the process early!
Compare Physical Therapy CEUs by State
How does your state compare? Take a look at all of the state-specific CEU requirements in this comprehensive article.