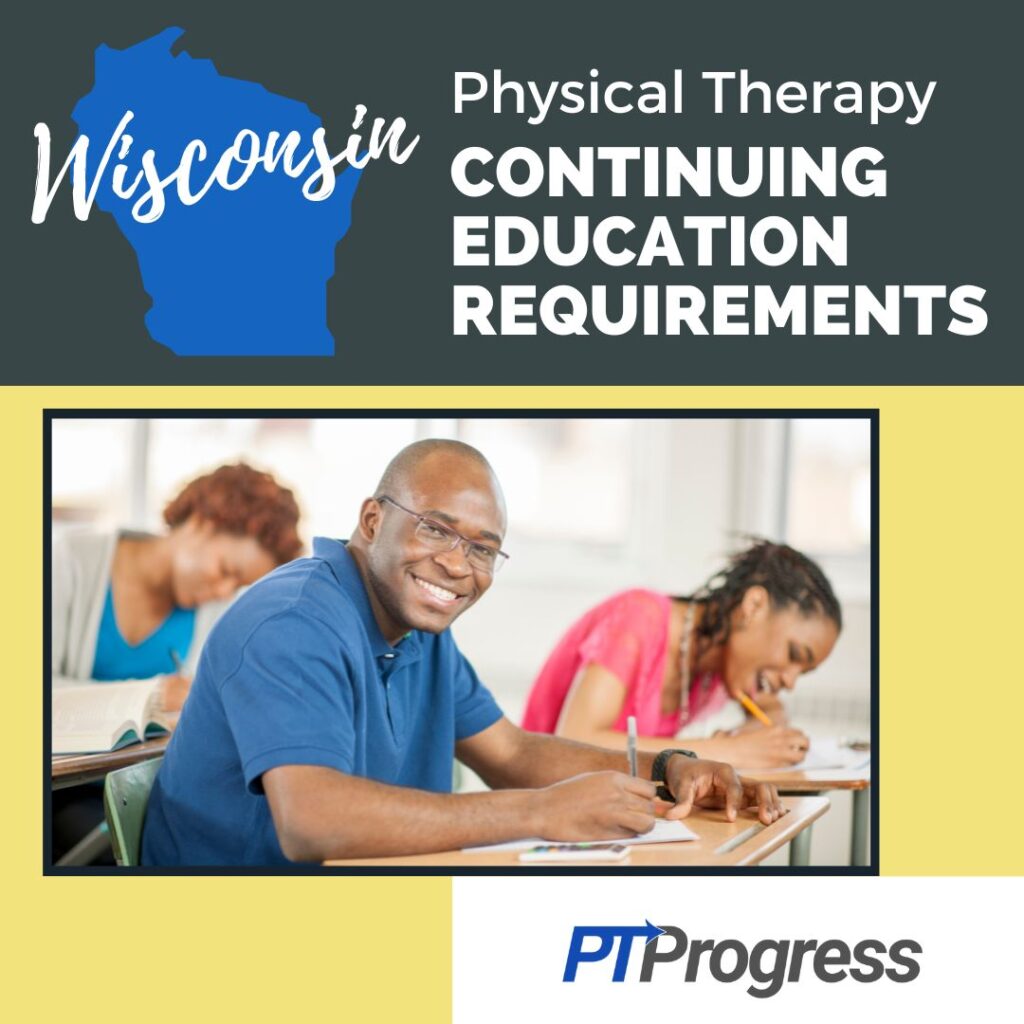 Every year that ends in an odd number is a renewal year for PT and PTA licensees in Wisconsin. In order to renew their license, they must complete 30 hours of continuing education, with at least 4 of those hours in ethics and jurisprudence coursework. In this article, I'll cover everything there is to know about Wisconsin physical therapy continuing education requirements!
At a glance:
Wisconsin – 30 CEU hours every 2 years by February 28th in odd years.
New licensees don't need to complete CEU with their first license renewal.
Washington Physical Therapy CEU Requirements
From the Wisconsin Physical Therapy Practice Act Website: (WI source)
"Physical therapists are required to complete at least 30 contact hours of approved continuing education during each biennial (2 year) registration period. The 30 required contact hours must be Board approved continuing education activities as described in the administrative code listing PT 9.04. In addition, at least 4 contact hours of the 30 must be in ethics and jurisprudence."
What CEU Courses are Allowed in Wisconsin?
As a PT or PTA in Wisconsin, you have many opportunities for completing continuing education. There's no limit to how much coursework you can complete online, through either self-paced learning or live, interactive webinars.
But whatever the format, all CEU coursework should fit the following criteria, set by the Physical Therapy Examining Board of Wisconsin:
The program should contribute directly to the knowledge, skill, and abilities relevant to physical therapy practice.
Course providers should have specialized education, training or experience that qualifies them for the course's subject matter.
The program should both set and fulfill specific goals and objectives.
Licensees should receive some sort of proof of attendance or certificate of completion.
But you don't have to rely solely on coursework to fulfill your 30 CEU hours. In fact, you can complete continuing education through the following activities:
Serving as a clinical instructor
Teaching a physical therapy course
Completing a clinical residency program
Publishing original research in a peer-reviewed journal
Attending a conference or workshop
Passing a certification specialty exam
Each of these activities comes with its own requirements and hour limits, so be sure to check this link for all the important details.
And if you're unsure whether your CEU course or activity qualifies for continuing education, contact the Board.
Can I Use MedBridge in Wisconsin?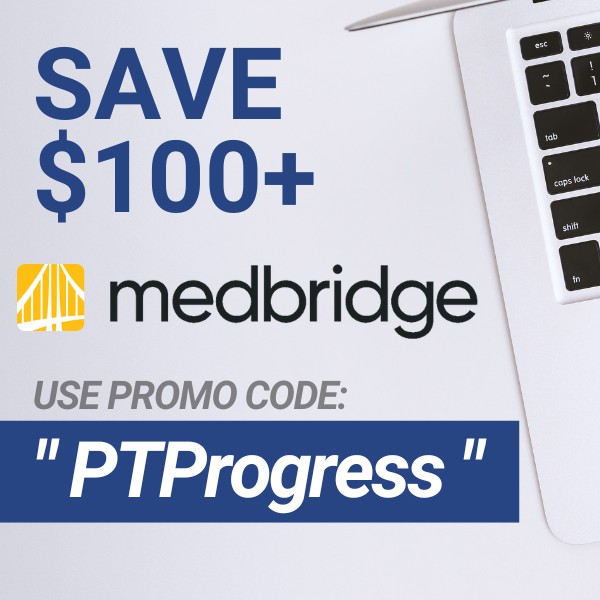 Yes, you can absolutely use an online CEU company like MedBridge Education to complete your Wisconsin Physical Therapy continuing education. A quick check on the MedBridge website shows hundreds of approved courses for Wisconsin PTs and PTAs.
Their vast library of online content includes courses in all kinds of topics, from clinical intervention and patient management to marketing and business practice. With MedBridge you can fulfill even your state-specific course requirements.
For example, check out the course Wisconsin Jurisprudence for Physical Therapy by Sheila Nicholson. This 1.5-hour course is designed specifically to cover all the laws and customs particular to Wisconsin physical therapy. To meet your 4-hour ethics quota, round it out with this 2.5 hour course by Ellen R. Strunk: Professionalism in Practice: Examining Common Ethical Challenges. You can find even more courses in ethics and jurisprudence on MedBridge, making it easy to fulfill this requirement year after year.
According to the Wisconsin Board of PT, there's no limit to how many hours of CEU credit you can earn through online coursework, be it a self-paced class or a live, interactive webinar—and MedBridge offers both. With an annual subscription to MedBridge, you'll enjoy unlimited access to top-notch continuing education all year long. Use the MedBridge promo code PTProgress to save 40%!
Do I need to submit proof of my completed CEUs?
Every legitimate CEU provider, including MedBridge, gives you a certificate of completion when you finish a course. The Wisconsin State Board of Physical Therapy does not require this document with your renewal; instead, they ask that you attest to the completed CEUs on your renewal form.
Meanwhile, retain all CEU documentation—including items such as your certificate, proof of attendance, and course information—for at least four years after your renewal. That way, if you're selected for a formal audit, you'll be able to provide proof of your coursework.
May I carry over any completed CEUs?
No. The Wisconsin State Board of Physical Therapy will not allow you to carry over any CEUs from one renewal period to another. All qualifying CEUs must have been completed within your current renewal period.
When does my Wisconsin Physical Therapy license expire?
All Wisconsin PT and PTA licenses expire biennially on February 28th of odd-numbered years.
How much does it cost to renew a Wisconsin PT license?
A PT or PTA in Wisconsin must pay $56 to renew their license.
How long does it take to renew a Wisconsin Physical Therapy license?
For many states, it can take 4–8 weeks to process your request, so start the process early!
Compare Physical Therapy CEUs by State
How does your state compare? Take a look at all of the state-by-state CEU requirements in this comprehensive article.