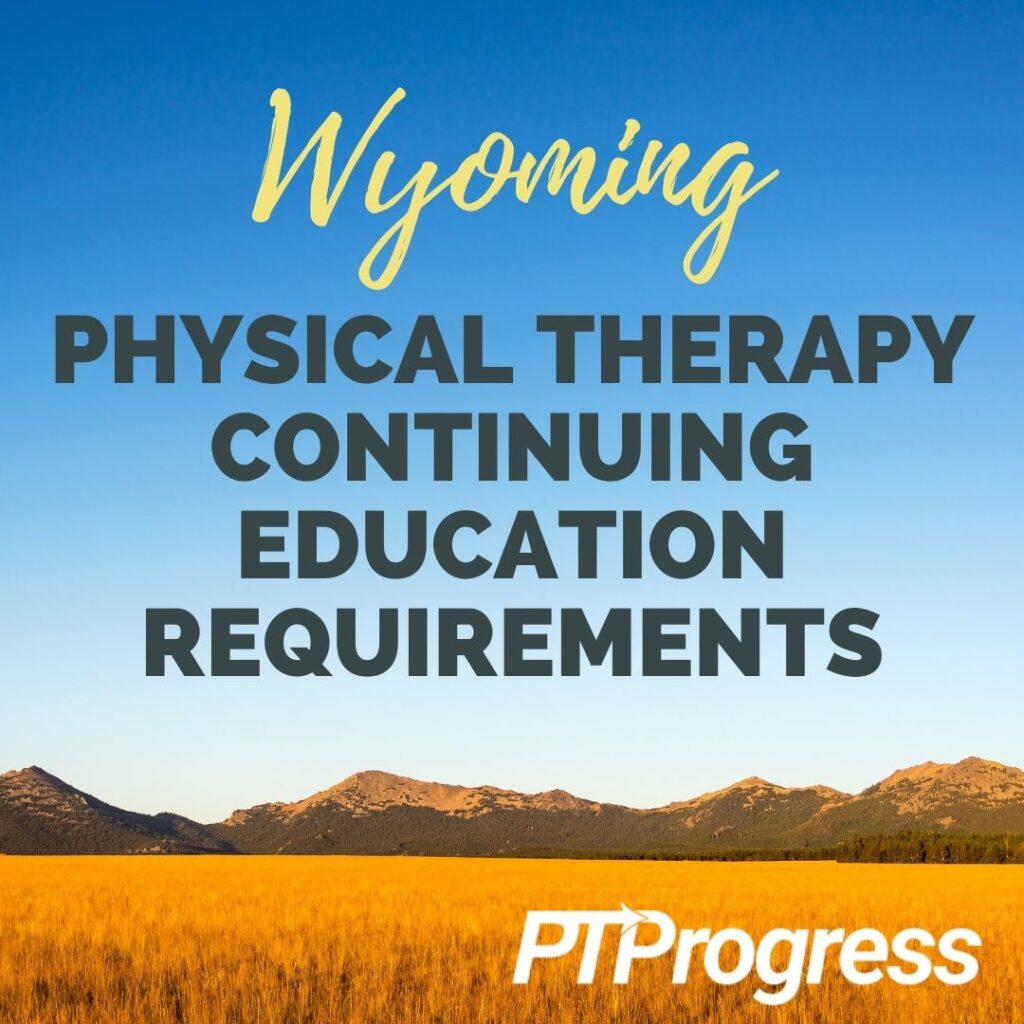 As a Wyoming-based PT or PTA, you must complete 30 hours of Wyoming Physical Therapy continuing education. Technically, these hours are called "Continuing Competency Units," or CCUs, and they're due every other year by October 1st.
At least half (15) of your total CCUs should be from Category A activities. This class of CCU has been certified by select providers which the Board approves. 
In addition to your 30 CCUs, you'll also need to pass the jurisprudence exam with a score of 75% or better.
At a glance:
Wyoming – 30 PT CEU hours every 2 years by October 1st.
Wyoming Physical Therapy CEU Requirements
From the Wyoming Physical Therapy Practice Act Website:
"It is the license or certificate holder's responsibility to renew before the October first deadline. Renewal of a license or certificate shall include:
The successful completion of thirty (30) continuing competence units, including successful completion of the jurisprudence examination every two years;
A score of at least seventy-five percent (75%) is required on the jurisprudence examination.
"At least fifteen (15) of the required thirty (30) CCUs shall be from Category A."
What CEU Courses are Allowed in Wyoming?
Again, the Wyoming Board of Physical Therapy asks that you complete at least half of your 30 hours through "Category A" coursework.
But in order to be eligible for Category A, courses must be live, in real time, and from one of the following providers:
APTA or its sections, subsidiaries, and state chapters
FSBPT
IACET
Any provider approved by the above entities
Up to 15 of your CCUs may be earned through Category B activities, which may comprise the following:
Self-study courses
In-service education programs and clinical instruction
Teaching or lecturing healthcare professionals
Authoring or reviewing a publication
Serving on a physical therapy association committee or licensing board
If you're unsure whether a particular course or activity qualifies towards your CCU credit, contact the Board.
Can I Use MedBridge in Wyoming?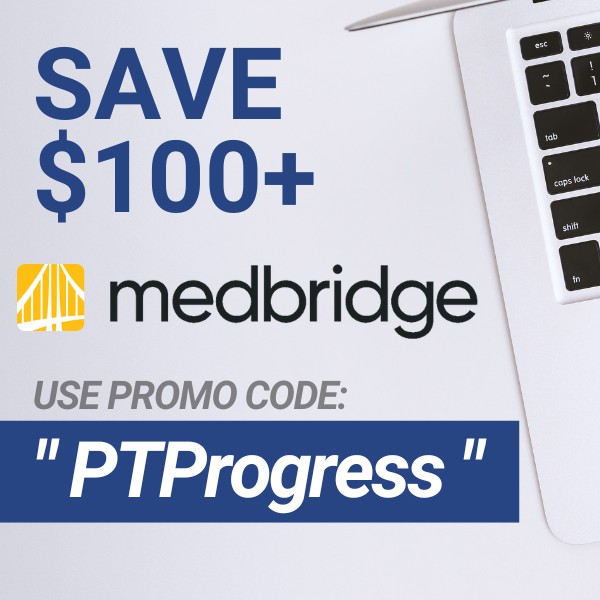 Although your Category A courses must be live, that doesn't mean they have to be in-person. You may be able to take all your courses online, as long as half of them are live webinars or live, interactive coursework.
In fact, you can use an online CEU company like MedBridge Education to complete all the CEUs you need for your Wyoming PT license renewal. A quick check on the MedBridge website shows hundreds of Wyoming-approved courses.
In addition to their vast library of courses, MedBridge hosts webinars every month that count as CEU credit. Because they're from an approved provider, these live events also qualify as Category A activities. All you have to do is sign up; webinars are included in the price of a MedBridge subscription.
Use the MedBridge promo code PTProgress to save 40% on a year's access of live webinars and CEUs.
Do I need to submit proof of my completed CEUs?
Every valid CEU provider, including MedBridge, will give you a certificate of completion when you finish a CEU course or activity. You'll need to retain this record, and other proof of your CCU activity, for a few years after your license renewal period ends. Be sure to store these documents safely in case the board chooses you for a continuing competency audit.
May I carry over any completed CEUs?
No. The Wyoming Board of Physical Therapy Examiners will not allow any CEUs to be carried over to a future renewal period. 
How much is the renewal fee?
It costs $75 to renew a PT license or $50 to renew a PTA license. This amount is due annually with your renewal, while the 30 CEUs are due every two years.
When does my Wyoming Physical Therapy license expire?
All Physical Therapy licenses expire biennially on October 1st.
How long does it take to renew a Wyoming Physical Therapy license?
For many states, it can take 4-6 weeks to process your request, so start the process early! Online renewals in Wyoming are no longer available, so give yourself extra time to mail in your application.
Compare Physical Therapy CEUs by State
How does your state compare? Take a look at all of the state-specific CEU requirements in this comprehensive article.