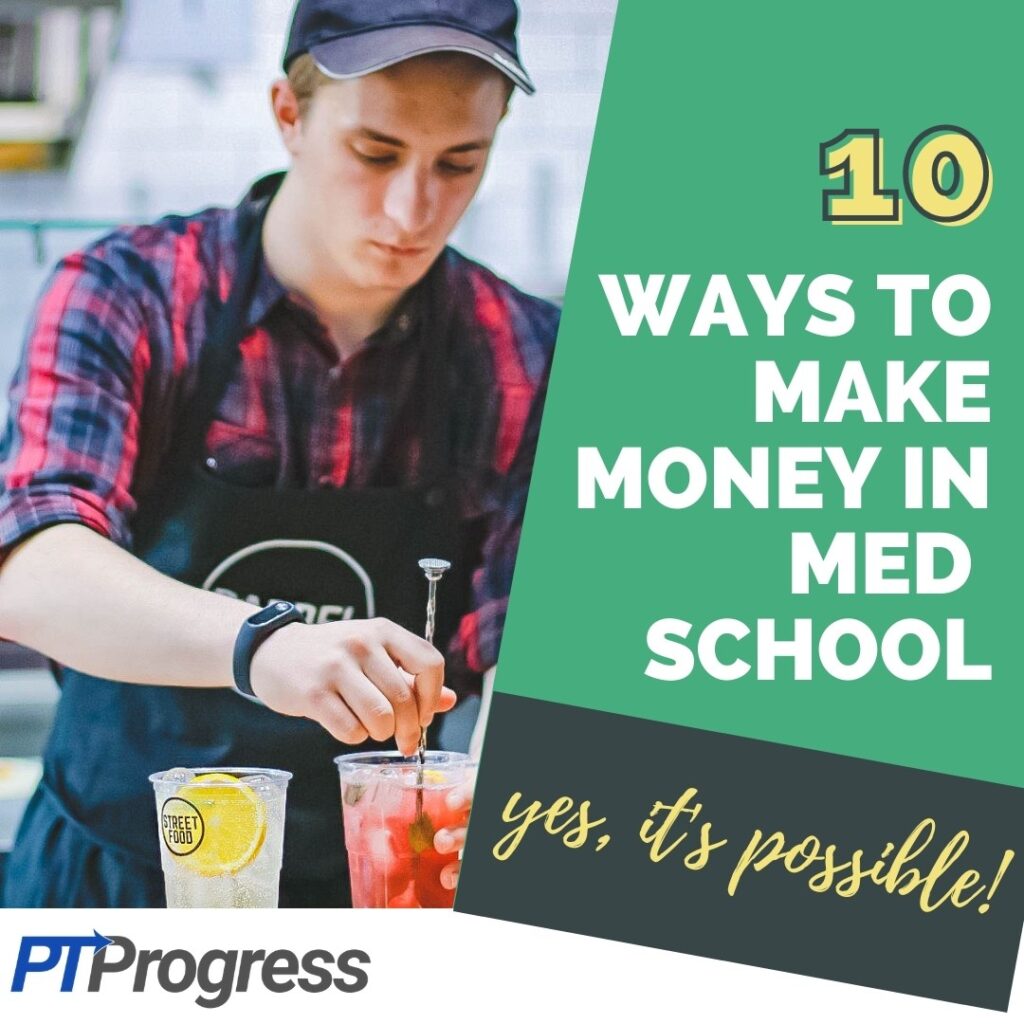 There's no doubt med school is expensive, but for many students, keeping a side job is out of the question. If you're in medical school and are looking to earn a few extra dollars each month, keep reading. Below I've listed ten creative ways to make money while in med school.
Need to Make Money in Med School? We've Been There.
If you're a poor med student, don't worry; you're not alone. As a physical therapist, I've been through those tight times and know what it's like to carry around massive student debt – and an even heavier workload from school.
What's more, my wife graduated from med school in 2016, which means we both attended a school of medicine at the same time. Together we've learned a few things about making (and saving) money in med school.
As a physical therapist and med school spouse, I've come across 10 creative and effective ways to make money in med school, including a way to earn a full-time income in grad school.
How to Make Money in Med School: 10 Ways
1. Become a Tutor
Whether you're in medical school or physical therapy school, you can earn money by becoming a tutor. My wife went this route and made extra cash tutoring medical students who needed a little extra help in anatomy class. Tutors make $10-15 per hour, which could amount to an extra $100/month for studying current material with another student each week.
2. Find a Work-Study Job
From your time in undergraduate, you're probably familiar with work-study job opportunities. Commonly referred to as "campus employment," these jobs provide a low-demand opportunity to work and study at the same time. For example, at my wife's medical school, work-study students monitored the front desk at the Activities Center or Library and studied in between occasional requests for help.
In my physical therapy program, students managed the camera and audio setup in the back of the room before each lecture. These students literally earned money for sitting in class (so long as they remembered to turn everything on!).
As a work-study student, you may only "work" 5 to 10 hours a week, but those hours will quickly amount to a few extra hundred dollars a month, covering plane tickets home or unexpected expenses. Plus, this type of job won't drain much of your study time and might even help you designate more time to it.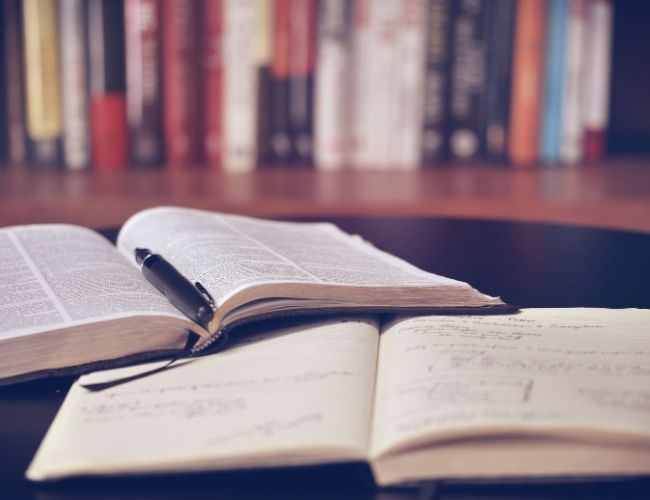 3. Become a Standardized Patient
Most healthcare professional programs require a team of standardized patients, or patient actors, for practical exams. You might not be allowed to be a standardized patient in your particular program, but if your school has other healthcare professional programs, keep an eye out for posted opportunities, especially when they're having practical exams.
Personally, I made a few extra dollars as a med school spouse by participating in some research opportunities while my wife was in med school. (And in case you're wondering, no they weren't medication trials – I wouldn't recommend doing something like that in med school.)
4. Use a Rewards Credit Card Responsibly
Aside from the previous two job opportunities, this is probably my favorite way to make money in med school.
Some people are surprised to learn that my wife and I traveled quite a bit during med school, and we still do now during her residency. For us, travel has been possible because of the points we earn on our Chase Sapphire card. Right now Chase is offering 80,000 points for new cardholders who spend $4,000 in the first 3 months of opening an account.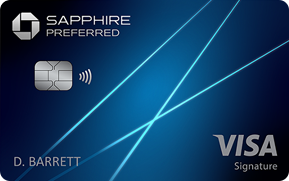 For a med student, you may think it's unlikely you'll spend that much money in such a short amount of time. However, if you time it right, you could use the card to pay for a few large expenses that you have to pay anyway, reaching $4,000 faster than you think. We did this by pre-paying our auto insurance for 6 months, buying new tires and brakes on our car, and using the card for all eligible purchases such as groceries, utilities, books and other necessary med school supplies.
The best part? Those 80,000 points are worth $1,000 in travel expenses. We found this to be a huge benefit from just paying for items we needed to buy anyway.
In general, the key to responsible credit card usage is to never run a balance on the card. No matter how good the points are, if you can't manage paying off the card in full each month, you shouldn't use a credit card.
5. Promote a Study Tool
Another way to both study and save money is to recommend and promote tools like Picmonic. If you're not familiar with Picmonic, it's a study aid that's hugely popular among medical students and now physical therapy students also.
With Picmonic, you earn credits by sharing a link with friends as you use the app. Those credits can be redeemed for Picmonic gear or even free months of Picmonic for yourself.

Although that's different from actually earning cash, promoting Picmonic could help you cover the cost of the tool so that it pays for itself. This opportunity deserves to be on the list because it's a great way for med students to study while saving money at the same time.
6. Lead an exercise class
Med school students spend so much time studying that, oftentimes, they neglect their own health in the process. By leading an exercise class or becoming a personal trainer, you can ensure you're looking after your health and your bank account simultaneously.
For example, one of my good friends in PT school made a couple hundred dollars a month as a personal trainer, and another student led a spin class each week in order to have her gym fees waived. Both are good ideas to make or save money while keeping your health a priority.
7. Join the Health Professions Scholarship Program (HPSP)
If you're interested in serving in a branch of the military, you can earn a stipend from the HPSP. Right now this program isn't widely available for physical therapists except for the Baylor DPT program, but physicians, dentists, and other medical professionals can receive a stipend well over $2,000 a month.
The catch? With this scholarship, you'll be enlisting in a branch of the military and committing to an Active Duty Service Obligation.
HPSP isn't for everyone, but it's definitely worth knowing about as a way to earn money in medical school (and in some cases, study tuition-free).
8. Win a Scholarship Stipend
If joining the military isn't for you, you can still earn cash in med school through the NHSC – National Health Services Corps. Their scholarship program is for students pursuing a primary care specialty in a Health Professional Shortage Area, or an area of particular needed.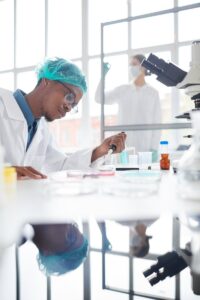 Who's eligible for this scholarship? At the moment, not physical therapists. However, many other healthcare professionals can apply for this scholarship: medical students (both MD and DO), dentists, nurse practitioners, and physician assistants.
If you win the scholarship, the program will pay your school's tuition expenses and a monthly stipend of ~$1,400 (as of 2020). With that "side" income, you could pay down your student debt without needing to sacrifice time working a job.
In sum, if you're considering a primary care specialty and want to work in an underserved area, check out the NHSC scholarship stipend!
9. Start a Blog
While my wife and I were in med school and PT school, blogging enabled us to earn over $2000 a month. In truth, it took about two years for the income to grow that much, but eventually blogging became a great source of income in medical school.
Before starting a blog, be aware that it's very time-consuming and sometimes takes months and months to generate income. In our situation, I started blogging at an opportune time before either of us started grad school. Consequently, I had time to gradually increase revenue from advertising and marketing (e.g., Amazon Associates and Google Ads).
If you want to start blogging to make money in med school, it's relatively inexpensive initially. The investment is more in time than in finances. Expect to spend at least 10 hours a week or more writing content, formatting images, and posting to your site.
Since med school is a full-time job in itself and should be the primary focus, blogging isn't for everyone. However, I would be remiss to not include this option on the list, because it is a legitimate way to earn extra money in med school. For us, blogging generated the equivalent of a full-time income while we were in school.
10. Create a YouTube Channel
This avenue is an extension of blogging, but it's easier to get started. A YouTube channel provides a platform for sharing your knowledge with other people, and if you're in med school, you've done something many people are interested in doing. You have a unique perspective that others may value.
Whether you share medical school insight, offer specialist tips, or compile study material for others to see, a YouTube channel could be a great – and lucrative – creative outlet.
Getting started is pretty straightforward. If you record video on your phone and edit with iMovie, it won't cost you anything but your time. However, in med school, your time is sorely limited, so keep that in mind if you go this route.
Make Money in Med School: More Resources
If you're interested in learning more about how I make money blogging, check out this article.
I also have lots more resources for physical therapists and med students, including ways to manage money in and out of med school.