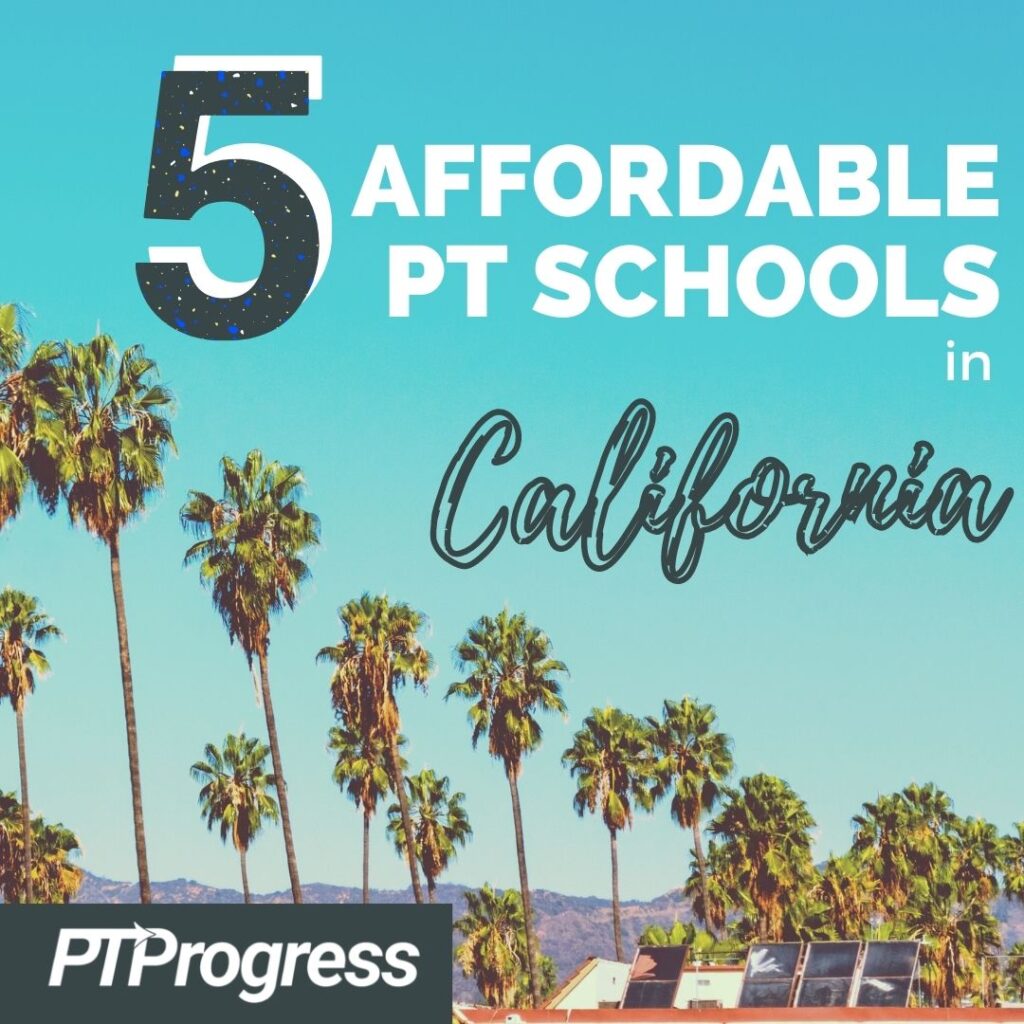 PT school is expensive, but it doesn't have to be. You can earn a high-quality DPT at an affordable price by staying local, attending a state school, or even relocating to a cheaper state. By researching the cheapest PT schools in CA, you'll cut costs, reduce your overall debt, and start your career as a PT with solid financial footing.
It Pays to Attend State Schools in CA
Physical therapy is a worthwhile career, with continual job growth and high career satisfaction. But when it comes to finances, the outlook is less rosy. On average, PTs graduate with over $116k in school debt, while DPT tuition rates nationwide have inflated over 17% in just ten years.
If you don't want to graduate with a mountain of debt, don't go to an expensive school in the first place! Private universities typically charge their students nearly twice the amount in tuition that a state university charges in-state residents. Besides, all DPT programs are CAPTE-accredited and sufficient to prepare their physical therapists for licensure and clinical practice.
Don't let an expensive school's (mostly made-up) ranking sway you. Where you earn your DPT won't impress your future employer as much as your clinical experience, soft skills, and working knowledge of PT practice. In contrast, owing hundreds of thousands of dollars to your alma mater could significantly hamper your professional life.
Making matters worse, the high tuition rates among PT schools in CA far exceed a PT's starting salary. In California, an entry-level PT earns an average of $66,880 each year. Although this salary is higher than the national average, it might not be enough to keep you out of debt unless you choose your DPT program carefully. Furthermore, the average starting salary in the LA metro area is actually lower than the statewide average at just $60,000 annually. This may be because a high density of PT graduates tends to lower competitive wages.
No matter where you end up, I recommend keeping a debt-to-income ratio of less than 1:1. As you price-compare available PT schools in CA, weigh their tuition costs against your future starting salary. The best way to achieve a low debt-to-income ratio is to stay local and snag an in-state tuition rate at California's cheapest PT programs.
Lastly, remember that a school's tuition rate is just one part of your overall program cost. Living expenses vary widely throughout the Golden State, especially near its major metropolitan areas.
Cheapest PT schools in CA:
Based on 2020-2021 tuition rates. Subject to change.
Let's take a closer look at these 5 PT schools in CA, by region.
No-Cal
Sacramento
The state capital of Sacramento marks the first stop on this tour of PT schools in CA. Sacramento State was established in 1947 under the umbrella of California State University, which now oversees 23 universities statewide. Today, "Sac State" comprises 8 distinct colleges of its own, the largest being the College of Health and Human Services.
Since its accreditation in 2012, the DPT program has featured a small class size of just 32 candidates each year. The program entails 114 credit hours of coursework and 36 weeks of off-site clinical rotations over a period of 9 semesters. Tuition reflects the low price of a California state school: just $77,382 for the total program cost.
If the high-value education weren't appealing enough, you'll love the setting. Sacramento's pristine American River Parkway and its extensive riverfront trails snake nearby the campus, contributing to the city's 5000 acres of parkland. Students also have quick access to "Old Sacramento" – a historic part of the capital beloved for its cobblestone streets, horse-drawn cabs, and reconstructed 19th century buildings.
Living in the capital region isn't cheap, though it won't cost the arm and leg you'd expect from Cali's larger metropolises. With monthly rent around $1200-1500 for a 1-bedroom apartment, budget at least $38k for annual expenses.
San Francisco
The only school on this list that is not part of the colossal California State University system is the UCSF/SFSU program in San Francisco. The University of California is a distinct university system comprising 10 universities, of which UCSF is the only one dedicated exclusively to graduate and professional degrees. San Francisco State University has partnered with UCSF to offer the DPT program, a 3-year course encompassing 9 semesters of interprofessional education and 34 weeks of clinical rotations.
In addition to this core curriculum, DPT students may pursue elective coursework such as research, specialty therapy, or neuro groups. An Orthopaedic Residency and Acute Care Residency are also available at UCSF, following graduation.
Tuition at UCSF reflects a reasonable, state-wide rate: $74,412. Only 50 students are accepted to the DPT program each year, and the faculty-to-student ratio is kept at 1:12. With its location in the heart of San Francisco, you'll have unique professional opportunities in the many affiliated clinics, hospitals, and outpatient centers downtown as well as statewide.
The UCSF campus is just a short walk to several of San Francisco's cultural offerings, including the Golden Gate Park. Despite its big-city status, San Francisco features dozens of nature walks, urban parks, and hiking trails. Perhaps best-known for its wharf, cuisine, and quirky culture, San Francisco offers a comprehensive DPT experience unmatched by other California institutions.
The catch? The privilege of living in SF comes at a high cost. Rent is higher here than almost anywhere else in the country, with average 1-bedroom apartments in downtown SF costing $3200/month.
Most students tolerate this expense by sharing apartments or living outside of town, where average rent drops to $2500/month. However, such a move incurs long commutes, a toll on your already-slammed DPT schedule. If you decide to bite the bullet and live in San Francisco, budget about $60k in annual expenses.
Central California
Fresno
The physical therapy department at Fresno State – a California State University – has been in operation for nearly 40 years. Since 1973, Fresno State has kept up with changing licensure requirements, issuing Bachelor's, Master's, and now Doctoral physical therapy degrees as standards evolved. Today, the DPT program entails 110 credit hours of didactic and clinical coursework. Students complete 30 weeks of clinical rotations both off-site and at the university's numerous clinics and labs, including their Musculoskeletal Clinic and Fresno Amputee Gait Clinic.
The total cost of DPT tuition from Fresno State is $68,784, making it the cheapest DPT in California. Although the semester tuition rate is a constant $8,598 across CSU schools, DPT candidates at Fresno finish their degree in 8 semesters instead of 9.
Despite this early finish, you might choose to stick around for the love of Fresno. This city of half-a-million Californians promises big-city resources with small-town charm. As the agricultural hub of California, Fresno offers its residents a plethora of farmer's markets, farm-to-fork vendors, and roadside fruit stands peppered throughout its 112 square miles. The state university itself boasts an on-campus vineyard and winery.
With ideal geographical centricity, Fresno is short driving distance from the major metropolises of San Francisco, Los Angeles and Sacramento. Yosemite and Sequoia National Parks are each just an hour away.
From the perspective of a PT student, perhaps the best part of Fresno is its affordability. The average rent for a 1-bedroom apartment in Fresno ranges from $850-1000. Annual expenses run about $26k each year, the lowest among California's major cities.
So-Cal
Long Beach
California State University offers another affordable DPT at their Southern California locations. CSU Long Beach is one of the largest universities in California, with nearly 40,000 students enrolled. Despite such a large student body, the Department of Physical Therapy keeps class size small, admitting just 35 DPT candidates on average. The tuition rate is the same as at the other CSU colleges, totaling $77,382.
It takes 9 semesters to complete CSULB's 118-credit DPT. Students undergo thorough clinical training – 36 weeks of off-campus rotations, in addition to 4 semesters of on-campus clinic work. Additionally, DPT students complete original research in small groups as part of their doctoral project.
Taken together, this integrative approach to education has yielded positive graduate outcomes: 100% of DPT graduates pass their licensing exam, with 97% passing on the first try. Following graduation, PTs can stick around for CSULB's Orthopaedic PT Residency.
Completing your DPT doesn't have to be all work and no play. As the name suggests, CSU Long Beach's campus is minutes from the beach. Residents and tourists alike enjoy the shoreline shops and marine museums of Long Beach, not to mention year-round music events, food festivals, and nightlife abuzz.
Because Long Beach is such a tourist destination, living expenses tend to run high. Rent for a 1-bedroom apartment ranges from $1400-1900, depending on how close you are to school. Long Beach is well-serviced by public transit, and there are many low-priced or free ways to travel downtown. In total, you should budget $50k annually for living expenses.
Los Angeles
The final stop on our tour of the cheapest PT schools in CA is CSU Northridge. CSUN has been accredited since 1969, and today enrolls 32 DPT candidates each year. The program comprises 6 semesters of didactic instruction and 18 weeks of clinical rotations, totaling 9 semesters of coursework.
DPT candidates are given a wide range of options for their clinical placement and final project format. Elective course offerings include sports medicine, neuroscience, and international PT practices, to name a few. Tuition for the CSUN program is commensurate with other CSU colleges, totaling $77,382. You may be able to apply for a Doctoral grant to offset these tuition costs.
Northridge has a population of 62,000 residents and is situated 30 miles northwest of downtown LA. Although CSUN students have close access to the largest city in California, they'll be a short drive away from some of LA's most serene nature escapes. The Santa Susana State Historic Park, Santa Clarita Woodlands Park, and Topanga State Park are just a few of the many outdoor recreational spots in the area. Otherwise, the city of Northridge features numerous museums, art centers, and sites, including a historic roller skating rink.
The high cost of living in Northridge can be attributed to its proximity to downtown LA, with monthly rent for a 1-bedroom apartment costing $1800 on average. To be safe, you should budget $53k for annual expenses in Northridge.
How to Find Cheap PT Schools in CA
When it comes to finding a cheap DPT in California, your best bet is to start with a state school. Competing academic institutions such as the University of California and California State University strive to keep tuition rates low and consistent throughout the state, no matter its location.
Although the tuition rate is consistent, living expenses won't be. Prepare to budget an additional $80-180k on top of your total program cost to account for living expenses. You should also watch out for other variable expenses such as student fees, which can add $5k – $20k on top of your base tuition rate. Most schools require health insurance as well, which in California ranges from $2500 – $4500 annually.
Alternatively, you could save a lot of money on your tuition by relocating. In fact, the out-of-state tuition from some of these schools is less than the $68k you'd get at Fresno State. To really pinch your pennies, you could move to a cheaper state one year in advance, establish residency, then snatch the super-low in-state tuition. Just be sure to research your university's eligibility requirements ahead of time.
The bottom line on costs
When shopping for cheap PT schools in CA, sometimes it's difficult to locate the exact cost of attendance from a university website. I recommend retaining a calculator and an ample supply of patience for converting credit hours, semesters and years into the dollar amounts listed on elusive university tuition menus. Be aware that many schools charge an additional departmental fee per credit hour for their DPT program. To find the bottom line, you'll need to account for all fees, both one-time and annual.
And finally, don't be swayed by a brandished ranking on a university website. Schools will give you any reason to apply to their program, oftentimes while obscuring the true cost of attendance. By sidestepping their sales pitch and selecting a state school, you'll earn a DPT that won't put you deep in debt. And remember, your career success isn't determined by where you went to school. It's supported by your clinical experience, your working knowledge of physical therapy, and your board-certification process. A fancy private school won't add anything to your education other than a mountain of avoidable debt.